East Coast Bicycle Academy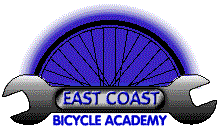 1010 Greystone Street, Harrisonburg VA 22802
540-433-3013 Voice
Hours (typically available for appointments), Please call, or email, to schedule your visit:
Tuesdays and Thursdays 11am-4:30pm
Wednesdays and Fridays 11am-6pm
Saturdays 10am-1pm and by Appt.
Other hours are entirely available, please enquire!
Welcome to ECBA. Our Shop is small, and our staff smaller.
We are a full service bike shop. We are repair and upgrade specialists, but we also offer new and used bikes and frames. We are small enough to offer the best in personal service, but big enough to handle any repair challenge. Our experience allows us to offer service for modern and vintage bicycles.
Among our specialties are road racing and road riding, causal riding, mountain biking, Time Trial, Tri, custom made and custom built bikes, handbuilt wheels, commuting, touring...
ECBA also offers bike fit services, on your current bike, or your next bike.
We try to do most fittings and major work by appointment, to ensure the best service.
Please email Les, ecbales@gmail.com, to make an appointment!
Les Welch, Owner
ECBA Links
DIRECTIONS
Photos Bike School
Independant Fabrications Redline Fuji Soma Calfee Design
Les Wins Tire Changing Contest 2005
Taz's Summer Adventure 2006