Funky Stuff!

This page is dedicated to miscellaneous Funky musings, memories, and other stuff related to Tom Batiuk and the strip. If you have a Funky memory to share, send some e-mail and I'll post it.
Funky Memoribilia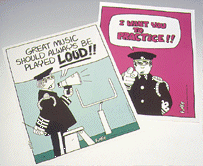 Hey, band folk! Need some inspiration while practicing your flute or clarinet? Looking for a great Christmas gift for your favorite band booster? Head on down to the Music Treasures website and request a catalog of music apparel, gifts, awards, and posters featuring the greatest band director in the world, Harry L. Dinkle! Also available from this company are the Funky books featuring Harry. (check the Funky Books section for titles)

Music Treasures also offers a free catalog, full of other great music-related items and books.



Funky In the News
New! September, 2003 Tom Batiuk writes to let us know that Funky placed third in a recent comics poll done by the Cleveland Plain Dealer. Very fitting, since Funky is set in Ohio.

Tom also sends news of a new storyline arc featuring Lisa, which will touch on the death penalty debate. Watch for this story to develop over the next few months.

April, 2003 Tom Batiuk has kindly sent me this official statement regarding the changes in Funky's artwork. To contact him directly, please do so through King Features.
Over the course of my career, I've been blessed to have worked with some very talented artists. On John Darling I worked with Tom Armstrong of Marvin fame, and of course the art on Crankshaft has been handled from the very beginning by the amazing Chuck Ayers. The brilliant Batman colorist, Lee Loughridge, has been coloring Funky for several years now. Chuck has also been helping me with the penciling on Funky, and when some recent foot surgery among other things caused us to get a little behind in our schedule, I asked John Byrne, one of the top comic book artists in the business today and an artist whose work I've long admired, to step in and do a guest shot sharing the art duties with my Funky characters for a few weeks on a cool story I had in mind. Fortunately, he was able to do it and the work he did is exceptional.

While it's extremely flattering my readers are so engaged in the lives of the characters in Funky that the slightest change upsets them, it tends to make things a bit confining. Over the years my work on Funky has evolved and grown, and will continue to do so. When the current story arc concludes (and it is a very cool, contemporaneous story), the art will settle into a more familiar but improved version of the characters which will afford me the opportunity to work with a more mature and nuanced type of humor. Rather than an obsessive fealty to a tedious status quo, what I do owe my readers is the very best comic strip that I can give them, and I've found that trusting my creations to others, especially others as talented as those I've just mentioned, can bring a whole new energy level to the work. It's akin to the electricity created by having a talented musician sit in with your band. Besides, it just makes it flat out more fun, which in the end is what this should all really be about.

Tom Batiuk
New! Check out the Funky air guitar up for auction at the Guitar Mania Auction, to benefit the Rock and Roll Hall of Fame and Museum education fund and other charities.

I was thumbing through a copy of Gene Simmons's biography Kiss and Make-Up and, lo and behold, in the photo section there is a John Darling strip depicting Darling interviewing Gene in his full KISS regalia. I don't recall the specifics of the strip, but in the end Gene blows fire and burns John to a crisp.
The next time the "Homer Vs. Dignity" episode of The Simpsons airs, keep an eye out for the Funky Winkerbean balloon in the parade!
Tom Batiuk received a major comics award in 1999. Get the story here.
Funky Winkerbean was featured on the cover of Issue #1225 of Comics Buyer's Guide!
Funky, The Musical
Did you know there was a musical based upon the strip? Funky Winkerbean's Homecoming was set while Funky and the gang were in high school. Homecoming is a favorite among high schools and is still being performed today; keep a look out in your area. Since launching this site I have received a number of e-mails from people who have performed the play.

Mail from an anonymous source: "We (the high school) just performed the musical last Thursday and Friday. Here is some info on it: It takes place when Les and Funky are still in High School. The big Homecoming game was just days away, and Holly Budd was nominated for homecoming queen. Their homecoming gets cancelled, but in the end, Les saves the day for all of them by changing back the schedule on the computer.

Another e-mail about the play (1-30-02): "One of the lines I remember from the brief glance I got at the script, was an announcement over the P. A. system..."Applicants for the Fulbright scholarship report to the Principal's office. Applicants for the Half-bright scholarship report to the gym."

Did you also know that there was once a musical based upon John Darling? This information comes from an online library archive:

John Darling : A musical in two acts based on the comic strip by Tom Armstrong & Tom Batiuk / book by Shubert Fendrich ; lyrics by Shubert Fendrich & Bill Francoeur; music by Bill Francoeur. -- Denver, Col. : Pioneer Drama Service, 1984. -- 43 p. ; 22 cm. -- Call no.: PN6728.J6F4 1984

Anyone with further information on either musical is welcome to send it this way.
Funky Fan Mail
From Karla P. of North Olmsted, OH: "Just found your site: I'm surprised there isn't an "official" site (note: this letter arrived before the official site launched), so good for you for doing it for the rest of us. Tom Batuik was a teacher at Midview High School. (Midview is in Lorain County, but I forget the name of the city.) He also got his braces from a Dr. Herberger, who has lived (possibly had, it has been a long time) in Elyria, OH which is where I grew up. Tom gave him a couple large blowups of a cartoon strip where Les is under the chair of his orthodontist, who not surprisingly, looks like Dr. Herberger. Thought you'd like to know."

From Mark R. Bradbourne: "Hey, I'm not sure if you have this tid bit or not, but [Batiuk] saved Kent State University's Marching Band program. He lent Dinkle's images the the Beta Psi chapter of Kappa Kappa Psi for promational purposes when they where attepting to get the band back. I am a brother of the Zeta Omicron chapter at the near by University of Akron, and to my understanding he was made an honorary member of Kappa Kappa Psi in 1994 or so... All band folk everywhere should be thankful to him, because it's a shame to see band programs fall by the wayside."
Special thanks to the following
...to "Crash" for the Inkpot award information