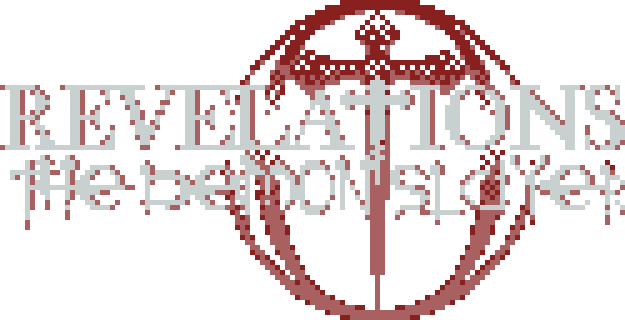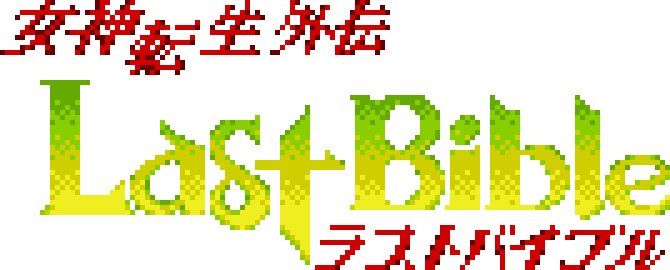 (Original Japanese title: Megami Tensei Gaiden: Rasuto Baiburu,
which translates to Reincarnation of The Goddess Side Story: Last Bible. )


Bestiary

Gameboy Color: 111 characters total utilizing 100 unique battle sprites.
Game Gear: 101 characters total utilizing 101 unique battle sprites.


I increased the size of all of these sprites 400% from their original resolution, for easier viewing. So, in other words, a sprite that was 24 pixels tall to start with is 96 pixels tall here. All copyrighted images, names, etc. seen on this page belong to Atlus, not to me. These sprites are presented for informational/archival purposes only.



The first image for each character is from the Nintendo Gameboy Color version of the game, the second image, if available, is from the Sega Game Gear remake. It's fascinating (at least to me anyway) to see the changes in monster graphics between the two, many of them quite drastic. While largely complete, I'm still missing ten sprites from the Game Gear version (Cerberus, Solion, Ashura, Loki, Pazuzu, Odin, Michael, Kishe, Uranus, and El). I wasn't able to get into Nova on the Game Gear port (it's shown in the ending, so I assume it's still in the game)--either the programmers changed the way to access it or I've somehow screwed myself out of entry (while I can read the Japanese hiragana/katakana text, comprehending it is another matter entirely). The Game Gear version also didn't let me continue the game after I beat it (maybe because I wasn't able to visit Nova?). Hopefully, I'll be able to update this page with those missing sprites sometime in the future, even if I have to resort to getting them from somewhere else instead of screen capturing them myself.



In addition to finding the creatures in the listed encounter locations, you can spontaneously create many of them by fusing together different monsters with Kishe's "Combine" spell (for example: Chimera + Banshee = Gozuki). Otherwise, you'll have to resort to diplomacy using the "Talk" command in battle to try to recruit them. I've given a sample recipe for each of the four strongest non-boss monsters that you can obtain by fusing (Odin, Pazuzu, Loki, and Ashura) in their individual entries.



Monsters with missing statistics, designated by "???", represent creatures that I wasn't able to successfully recruit or ones that are impossible to obtain. Uranus, Kishe, and El's statistics are listed as "variable" because they are entirely dependent on (1) what experience level you've obtained, (2) how you've distributed bonus points as you've leveled up, and (3) what, if any, attribute-point-raising Light/Water/Wind/Earth Charm items you've used on them.



I consider this web page a work in progress. If you see any errors/omissions, have some missing data/images you'd like to share, or would just like to comment, please e-mail me. I will credit you on this page for any relevant information you provide that I choose to add.





I found this index of Megami Tensei sprites to be a helpful resource, particularly for matching up the Gameboy Color names with the Game Gear version (the site is in Japanese, so, it probably won't do you much good if you don't have any familiarity with the language). Lacking another player to link play with, I also got the Michael and El sprites from said bestiary (I got Kishe and Uranus from the game's ending, if you're wondering). No matter how different some of the Game Gear monsters look, I assure that they are indeed the correct sprites, I cross checked their names with said list, along with their encounter locations in the Gameboy Color version, to be certain. Unfortunately, while there are a lot of Megami Tensei games covered at said site, the Game Gear port of the first Last Bible game isn't one of them.