www.friesians.org "My treasures do not chink or glitter...
They gleam in the sun and neigh in the night."

Ravenwood

Friesian Horses
(near Houston, Texas, USA)
"Cold land Friesland, from whence I came...
Sun-lit Viking masts, wind-whipped mane.
From Hadrian's Wall to Crusader's call...
I'm the noble bearer of victory and fame!"
Uwe - "Oovay"
He's getting Raven Reviews!
Friesian gelding - dob: July 4, 1998
Sire: Yk - Dam: Ourenske (by Doeke)

June 12, 2004
Uwe and Chuey, one of his caretakers at Creek Colony Ranch

Saddle package for sale! See this and MORE tack for sale!
Click here for Equus USA eBay auctions!

~ Featured Site ~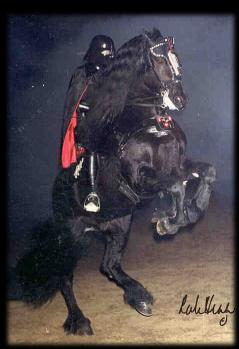 World of Dancing Horses
Diane Rossi's Website
RARE Chestnut Friesians!
Foxy Friesians
Friesian Associations


Friesian Horse Society

Friesian Horse Assoc. No. America


Friesian Farms
Honor Bright Farms - California
Friesian Dreams - Wisconsin
Frieze Frame Friesians - Florida
Ballard Friesians - California
Frysk-Andaluz - Overseas
Proud Meadows - Texas
Twin Lakes Ranch - Texas
Fantasy Friesians, Inc. - Texas
The Ghost Ranch - California
Leyendekker Friesians - California
Mulberry Lane Farms - Oregon
Laurel Highland Farm - Pennsylvania


Unique Glass Horse Pendants!


General Friesian Info.
The Friesian Exchange
www.FriesianList.com


Friesian Extras:
The Feathered Horse
Equine Fine Art
Friesian Horse Art
Divoza International
Black As Knight
"...and God took a handful of southerly wind,
blew His breath over it, and created the horse."