---

Well before I start all this let me just say my name is Misty. I am a 26 year old female who was raised in Texas and stuck in Georgia and for some reason (perhaps it's due to being raised around a military base) and that most of the males in my family are either in the military or have been in at one point or another! I have a love for military things, but especially military movies. I'm also a big aficionado of military aircraft. This is my sort of "salute" to the great military movies. There are many more great military movies, but these just happen to be my personal favorites *smile*. I want to say a great big thank you to all of my faithful site visitors and all of the new ones, I have been surprised just how many people have viewed my site from many different parts of the world! AND THANK YOU TO OUR VETERANS, without you, we would not be free! II suppose as far as humor goes, Full Metal Jacket is my favorite one. At least, the first half of the movie. The second part which is in Vietnam is much more serious. So, here goes!
FULL METAL JACKET
Gunnery Sgt Hartman is, to me, the reason Full Metal Jacket was so memorable. Part of the reason he was so effective in playing the role, other than the fact he is a good actor, is that he was in real life an actual marine corps drill instructor. His constant insults are hilarious as he tries to turn these "maggots" into "marines". Gunnery Sgt Hartman uses his cruel insults and extreme tactics to prepare the Marine Corps recruits for Vietnam. His favorite object of torture? Private Pyle. Poor Private Pyle! Private Pyle is an overweight recruit who is definitely not prepared for the rigors of recruit training.
He is called "fatbody"by the drill sgt. There are two scenes in particular that stick out in my mind. There is a scene where all the recruits are doing their physical training (PT) and at that time they are all attempting pull-ups (or "chin-ups"). It's Private Pyle's turn. Even to Gunnery Sgt Hartman's surprise, Pyle can't even do one pull-up.(his God given name is actually Leonard Lawrence in the movie). "You gotta be shittin' me Pyle, you can't even do one pull up?". The famous jelly donut scene is one I can't forget either. Private Pyle's wall locker is left unlocked, which Gunnery Sgt Hartman "hates more than anything, and the gunnery sgt looks inside to see if anything is missing. Instead, he finds a jelly donut. "Holy mary mother of---Private Pyle, what is this?""It's a jelly donut, sir""A jelly donut?how did this get in here?""I got it from the chow hall, sir""Is chow allowed in the barracks?""No sir""Why did you get the jelly donut?""I was hungry""You were hungry!!!!!" The next scene was Hartman making the other recruits do push ups while Pvt Pyle commenced to eating his jelly donut. The movie has a lot more to it than just an insulting marine corps instructor and an overweight recruit who gets picked on relentlessly for his lack of physical capabilities. The recruit who seems to have it together the most, "Joker", is actually the star of the movie. During the recruit training he had a lot of leader qualities and even tried to help Private Pyle. Another recruit "Cowboy" was a decent recruit who also went on to play an important role in the movie. "Joker" and "Cowboy" were both sent to Vietnam. It goes on to describe their experiences in Vietnam and the Tet Offensive. If you haven't seen it, then I recommend you do. I am not going to give away any key moments otherwise I would ruin the movie for you!
OTHER MOVIES:
"Apocalypse Now"---starring Martin Sheen, Marlin Brando. This is a brilliant movie about the Vietnam war. Probably the best military movie in my opinion, or tied very closely with the movie "Patton". It is narrarated by Martin Sheen and in the movie he is a former CIA assassin "unofficially" turn officer in the Vietnam War" and was selected by his superior officers to go deep into Vietnam and to track down a Special Forces commander (Marlin Brando) and assassinate him. The Special Forces commander's service record is impeccable, but, something in him snapped during his tour in Vietnam. The movie is very graphic and very realistic, and the actors all do a wonderful job. It is a great movie. I strongly recommend you see it.
"Patton"--starring George C. Scott. This movie is about 3-4 hours long and it consisted of two tapes when I rented it from the video store a few years ago. I was a bit skeptical because usually a movie that is so long loses my interest about halfway through. But not this movie! It was a brilliant, effective look at General Patton during World War II. Gen George Patton was a tactical genius especially in tank warfare. He always seemed to overcome his enemies in the movie, but could never seem to overcome his superiors. Some of his tactics in various things were not always welcomed by his superiors.An excellent movie!

"FROM HERE TO ETERNITY"---starring Frank Sinatra. It's a movie set in Hawaii during World War II. It is a wonderful movie with a terrific cast of some of the most well known actors of that time. The story has a revolving story line. From romance between an enlisted soldier and his commander's wife, to a drunken wild night at a local club, to the bombing of Pearl Harbor. This movie truly grips the heart.

SAVING PRIVATE RYAN

This is the one of the only military movies that has come out within the last 5 years that is actually a quality film. In a one word description, WOW!. From the graphic and realistic war sequence at the start of the movie all the way until the beautiful ending, this movie had me fixated the entire time. You could feel all the veterans who had been in the war in the movie theatre actually shudder and get rather emotional at watching the dramatic first war scene of this epic movie drama depicting World War II. From there, the story revolved into finding Pvt. Ryan, the last surviving Ryan brother in the War. All of his other brothers had died in combat. They had to find him and notify him, and then bring him back home. Not an easy task, traveling all accross a war torn country searching for one soldier in thousands upon thousands sort of like looking for a needle in a haystack. A few of the soldiers sacrifice their lives in order to bring Pvt Ryan home. The movie goes on to describe finding PRivate Ryan and his defiance to leave the battle that he is in and how the Capt (Tom Hanks) and the soldiers who accompanied him in the search for Pvt Ryan stand by Pvt Ryan and help him finish his battle. And the story goes on, but I dont' want to give anything just in case you are one of the few souls who hasn't seen. I recommend you get to the video store immediately and watch it, it's a rare fair, honest, accurate representation of our BRAVE WONDERFUL VETERANS who sacrificed their lives and risked their lives in the name of the U.S .


My other remark is it's a shame how our country treated our Vietnam vets, whether the war was right or not, these men and women who went over there did so because their American president asked them to, and it was good American boys and girls, fathers and brothers, who went over there for the American principle, patriotism, and belief in freedom and protection for our families. I hope God forgives the people who treated our vietnam vets so viciously, because it sickens me to even think of it. Politics aside, they were doing what was asked of them and they did so with bravery
WHEN WE WERE SOLDIERS Starring Mel Gibson, Sam Elliott, Chris Klein

This movie is based on a book by Harold G. Moore who is portrayed by Mel Gibson in the movie. This is an excellent movie from start to finish and based on factual first-hand knowledge by Lt. Colonel Hal Moore who based the book on his experiences. It features one of the most savage military battles in our country's history. the battle in the Ia Drang Valley in Vietnam which happened on November 14, 1965 in a place dubbed Landing Zone X Ray.
The movie starts out at Fort Benning, GA where Hal Moore is sent not long before his deployment to Vietnam. It portrays his large family and his devotion to his wife and young children (I believe there were 5 or 6) and their strong religious beliefs. Several of the key players of the movie are introduced such as the spunky pilot (played by Greg Kinnear) and a young soldier who shares the same family values and religious beliefs as his superior Mr. Moore (played very well by Chris Klein). And my personal favorite character in the movie played by Sam Elliott, who portays a battle-hardened and sarcastically encouraging Sgt Major Basil Plumley. It isn't long after they are sent to the war in Vietnam and to the first major battle and perhaps the bloodiest, "Landing Zone X Ray". It goes on to show Lt. General Moore's firm devotion to his soldiers (U.S. 7th Air Cavalry) and his expertise and knowledge helps eventually overcome his Vietnamese counterparts who strongly outnumber his 400 troops by at least 1500. There are many brave and uncommon acts of valor during this battle, some extremely saddening parts, and even a few uplifting ones. I must say, Lt. General Moore's devotion to his soldiers is a true testament to our military that still stands firm today, as well as Sgt Maj Plumley. He ignored the upper brass from repeated calls for him to report to base during the battle so he could stand by his soldiers through the entire battle. Like he said "I'll be the first one on the ground, and I'll be the last one to leave". He most certainly stood by his promise. I give this movie a very high rating. At least 4 and a half out of five stars. There is a lot more to the movie. It also shows the hardships of the wives left back at Fort Benning and the dreaded feeling each of them has on a daily basis praying they do not receive a telegram from the military. Please go see this, it is a wonderful movie! God Bless Hal Moore, Sgt Major Plumley, and the rest of the young men in that battle who died bravely, and the wonderful souls who came home successfully and with pride.


I do have other interests!
http://www.poetry.com( a place to enter your poetic words in real time in your own journal and to read poetry by other inspired souls)
http://www.armytimes.com( a site with informational articles about today's Army, promotion listings, and a variety of interesting military-related subjects)
http://www.pogo.com (a great site for trivia and chances to win money on bingo and keno)
Well this site rocks, go Army!
http://www.navyjobs.com( The branch which my brother chose and for which I am very proud of him for serving his country so honorably.Love you, Dusty)
Here is a pic of me and my 4 year old daughter. We both had killer tans. It was August in Texas and it was usually somewhere between 95-100 degrees. But, hey, don't feel sorry for me. I LOVE HOT WEATHER! If it were 95 degrees all year around I would be in heaven! WOO HOO!
Here is a pic of my girl when she was a baby. She was SOOO adorable. I'm sorry if you dont like the kid pics, I put these on here for friends and family :)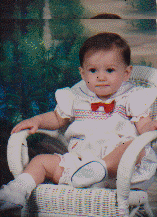 I guess that's enough of that. My other great love is poetry. I have even had a few of my works published and I just started trying to get them published about 5 months ago so I'm just not truly starting to get into it more heavily and I plan on adding a link to a future poetry page if you want to come back and check it out.

You have absolutely GOT to sign my guestbook! I will return the favor. Leave your homepage URL and I will come and check it out. :)
Sign My Guestbook
View My Guestbook

Another great love of mine is basketball. My father was a basketball coach my entire life and it definitely rubbed off on me. I played actively all through school and did pretty well but I'm at my prime right now. I'm a really big Indiana Hoosiers fan, even though the legend Bobby Knight doesn't coach for them anymore. Despite the controversy surrounding him, there is no disputing he was an excellent coach Here is a hoosier link for all of you hoosier fans.



Another passion of mine is dating and making friends. I am a member on this site below. Click and join and search for me on there! Misty911


Join FriendFinder - Largest Premium Personals Site!

Other passions of mine include mountain biking and hiking. They are both adrenaline pumping and outdoor sports that I enjoy. I love being in the outdoors and getting good exercise. I recommend it for anyone who likes to stay in shape and be outdoors! Finding a good mountain biking spot is so great......I would be out there for hours upon finding one! Best places in my opinion? Colorado, of course....or anywhere where there is a nice biking trail or just anywhere where there is a bit of rugged terrain and challenging areas in the outdoors to make it more extreme. Hiking is great too and that can be done almost anywhere. It's sort of like mountain biking for me though. I have to find a bit of rugged terrain and uphill areas to make it the most challenging!
Mountain Biking from Dirtworld! Great Directory of trails in your local area and general biking info
I have ICQ! Please add me to your contact list I am on there quite a bit. I really enjoy chatting on there!Just go below and add me or send me a message to say hi!

Here is a great webring. Follow the links on here to go to some military sites full of information about the military, service members and families, and our wonderful Veterans.












Any questions regarding this site can be mailed to