Jaleel White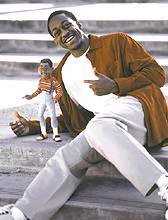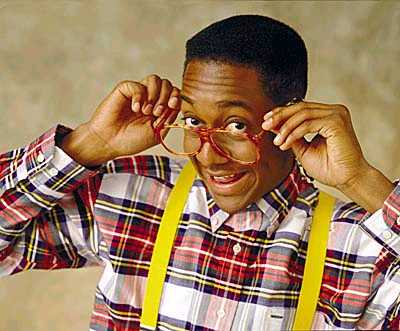 Jaleel White has spent the last nine years being the ever annoying and loveable Steve Urkel for Warner Brother's Hit series Family Matters. The role of Steve Urkel started out as a guest spot for the 1989 episode "Laura's First Date". The reaction to Steve was overwhelming and it was decided that Steve would stay on the show. Since then Steve Urkel has become one of America's favorite icons of the 1990s. Steve Urkel's image has been made into a talking doll (1991), a cereal called Urkel O's (1992), and spoofed by many television shows. Steve's popularity has sent Family Matters into the televison history books: The show is one of 21 shows to reach 200 episodes (Cheers, The Simpsons, Married With Children, MASH, and Murphy Brown are a few of the others) and it is a hit overseas in Spain and France.
Jaleel White was born November 27, 1976 in Pasadena, California. He started acting in commercials for Jack In The Box and other companies at the age of 3. His first televison role was on CBS's The Jeffersons in 1985. He then landed the role of Robert Richmond on CBS's Charlie and Company from 1985-86. It also starred Flip Wilson and Gladys Knight. He did three TV movies prior to Fmaily Matters. Silence of the Heart (84) as Henry, the movie also featured Chad Lowe, Charile Sheen, Alexandra Powers, and the Late Dana Hill. Kids Don't Tell (85) and Leftovers (86) as Jake. This movie featured Pamela Segall of King of the Hill. Then came to role of Steve on Family Matters in 1989. He then played Dennis Brooks in the TV movie: Camp Cucamonga in 1990. He played Steve on two other shows on ABC: Full House and Step By Step. He appeared on THe Fresh Prince of Bel-Air as Derek (96) and Kevin (93). Both were Ashley's (Tatyana Ali) boyfriends. He joined many stars in Magic Johnson's AIDS Awareness video in 1991 and appeared on The Arsenio Hall Show many times.
In 1992, ABC allowed Jaleel to do his own TV Special called: Urkel's Other Side: Jaleel White Special. He wrote starred and directed the entire 1 hour special. It featured Steve, Tatyanna Ali, Bumper Robinson, and others. In 1993, Jaleel did the voice of Sonic the Hedgehog for 3 animated series based on Sonic. He continues to write plays at UCLA where he studies Film.
He was featured in the UPN series, Grow Ups as J(aleel) Calvin Frazier. The role was orginally written for a white male, but the show creators decided to give the role to him. The series was canceled after one season with an unresolved cliffhanger.
When Jaleel first did Steve, he was 13 and 5' 10. He now stands at 6'0. He lives in a condo in California and enjoys basketball, writing, the NBA, and does not sound like Steve Urkel in real life. He loves New York and does not worry about being typecast as Urkel.
Jaleel Websites
My Favorite Things About Angelfire