Motorcycles in my life, past and present:

1975 Yamaha DT 400 Enduro I had in SA. (not mine, but very similar).



1978 Yamaha XT 500. (not mine, but very similar).



1978 Suzuki GS750 with a Vetter Windjammer fairing. (not mine, but very similar).



1978 Honda GL1000 Goldwing. Good bike with weird handling. Traded it for a car later on, at one point I had 3 bikes and no car when I was living in Dallas.(not mine, but very similar).



1982 GS 1100E, loved that bike! (not mine, but very similar).



1972 BMW 75/5 "Toaster Tank" Started eyeing the air-cooled Boxer motor BMW's. I was buying a house at the time (1984) so a new one was out of the question. I was up in Buffalo, NY for work and found one just like this in the paper. I rode it all the way back to Dallas non-stop. Well actually, I only made it to Muskogee, OK when I had to stop due to flooding storms and lightning.




Due to getting married, having kids and moving, I got out of motorcycling for about 5 years. The next bike was purchased in Denver, the 1978 Yamaha SR500 I had for 10 years, which I lightened extensively. The battery was removed and replaced with a large capacitor and the stock muffler was replaced with a light, cool sounding SuperTrapp. It was a fun, inexpensive,easy to work on bike.





Later on, another big thumper, 1993 Suzuki DR 650.(not mine, but very similar).



Then a 1994 Honda Goldwing 1500. Nice bike, but it felt like too much of a 2 wheeled car.(not mine, but very similar).



I went down to a new 1998 Honda Nighthawk 750. 33% fewer cylinders and 50% smaller in capacity. I wish they still sold these in the US, great bikes!






I then took delivery of a 2001 HD RoadKing in Jan 2001. As luck would have it, I happened to be in the Milwaukee area the week before, for business and was 10 miles from the plant. We got a free day and it happened to be on one of the plant tour days at the Capitol Drive factory, where the Sportster/Buell engines are manufactured, (as well as the EVO engine remanufacturing program). It was amazing to see a cruddy old EVO come in, go through the reman process, and come out looking like a brand new engine with a full 12month warranty. Later on, I was near the Kansas City plant where the Sportsters (and now, V-Rod's), are assembled. Unfortunately, tours were postponed while the model changeover to the new V-Rod (at the time) was in progress.





Kansas City HD plant near the KC airport.



Capitol Drive HD plant outside Milwaukee.



1/27/2001


The big Harley day finally arrived on a cloudy,cold, wet Saturday morning. The 85 mile ride to Waco to get the scoot couldn't go fast enough. As soon as we arrived I made a beeline for the front door to see if my new ride would live up to my expectations. It did!
I want to put in an unofficial plug for HD of Waco and my salesman, Paul. The transaction was very low stress, the price was very fair and the whole staff made us feel right at home. We were on our way home from Dallas to Round Rock on New Year's eve when we made our stop at HD of Waco. I was planning on buying a scoot in the summer, but with all of the '01's gone, forget it! The used bikes were pretty high when Paul informed me of two RK's that were available. To make a long story short, I made the deal. This is the bike I have always wanted. I don't see another HD in my future as I have the one I wanted. I have been eyeing the very similar FLHS/FLHT for 10 years and the RK was the cherry on the top. Here's the scoot right before the long cold putt home.





My son, William turned into a heavy duty Harley fanatic. I think we have another HD rider in the making. He never bugged me for the rides, or to have him picked up from school on my other scoots. He can identify most HD models and really likes old school choppers.





The bike in the showroom when I picked it up in Jan 2001.



My son William on the bike not long after I got it.



Austin ROT rally, June 2002


My brother,neighbor and myself, got together on a Saturday in June '02 to ride around Austin with fellow motorcyclists for the '02 ROT rally. We rode around Lake Travis and Volente Beach. There were TONs of scoots and the weather couldn't have been better.





Here's the bikes in my driveway before we left.





The RK after a year and a half with a few accessories.



I added a Ness Big SuckerII aircleaner, jetting, Samson slip-on's, Mustang seat (highly recommended!)and some HD poseur-chrome.


---


The 'king right after the 2005 ROT rally:





I have done a few inexpensive touches to make this scoot mine. I swapped out some of the fasteners for acorn nuts and added some star washers to dress up dull areas on the cheap. I got on the dice kick after getting dice valve caps a few years ago, so I put some on the license plate and shift rod as well...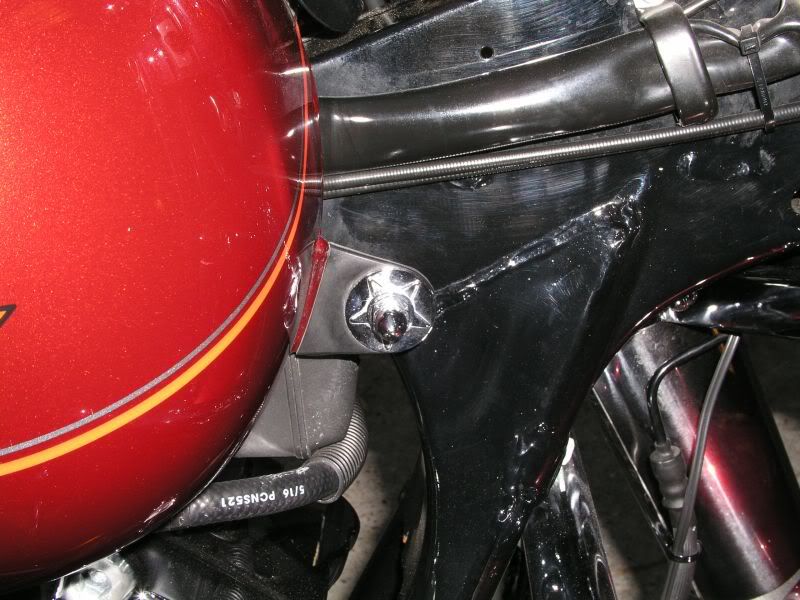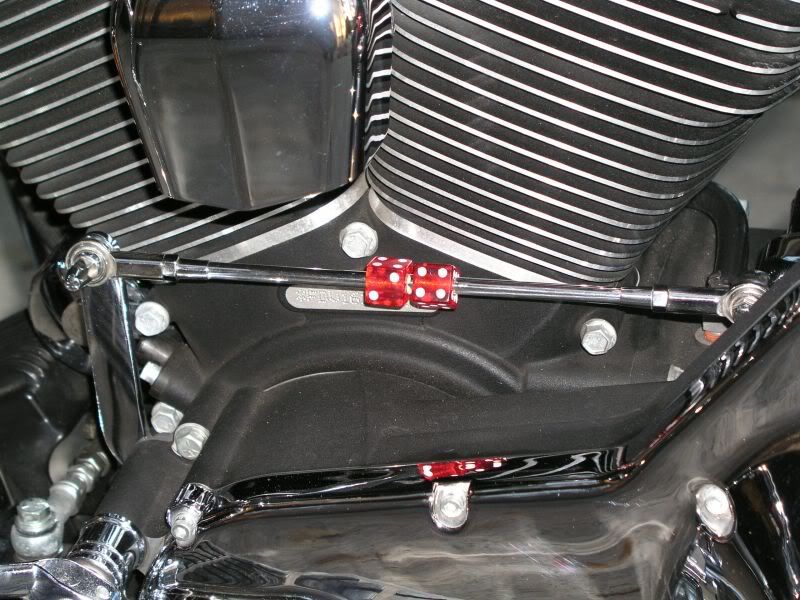 Some more assorted HD pix: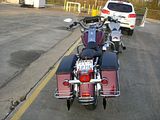 Other Bikes


I wanted to broaden my motorcycling experience, so earlier in 2003 we purchased a Honda XR70 and XR100 with Honda's great incentives. This pretty much whet my appetite to get another big thumpin' dualsport bike,(I have owned two '78 XT500's and a 1993 DR650 in the past), so after a lot of research I settled on the Suzuki DR 650SE. I liked the simple aircooled engine, screw/locknut valve adjustments, gear driven balancer and the price. The late 2003 models have the upgraded metal base gasket, finally ending a problem area. Here's a pic of what to look for when DR shopping, you will see the metal tab at bottom of the cylinder (2 tabs), with a brass rivet: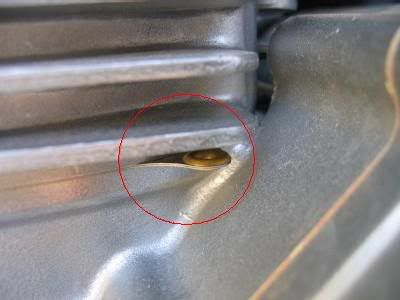 I added an IMS tank, Corbin seat (much better!), Dual Star skid plate, gel grips, Suzuki tail rack and a Spitfire S06 windshield. Last on the list will be a lighter exhaust, jetting and progressive springs, front and rear.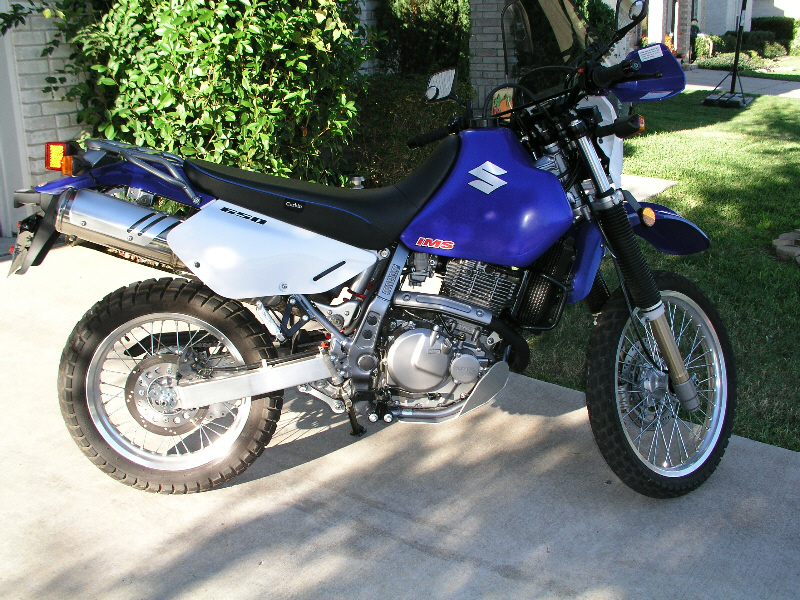 The DR with the DRZ250 tailight in 2005: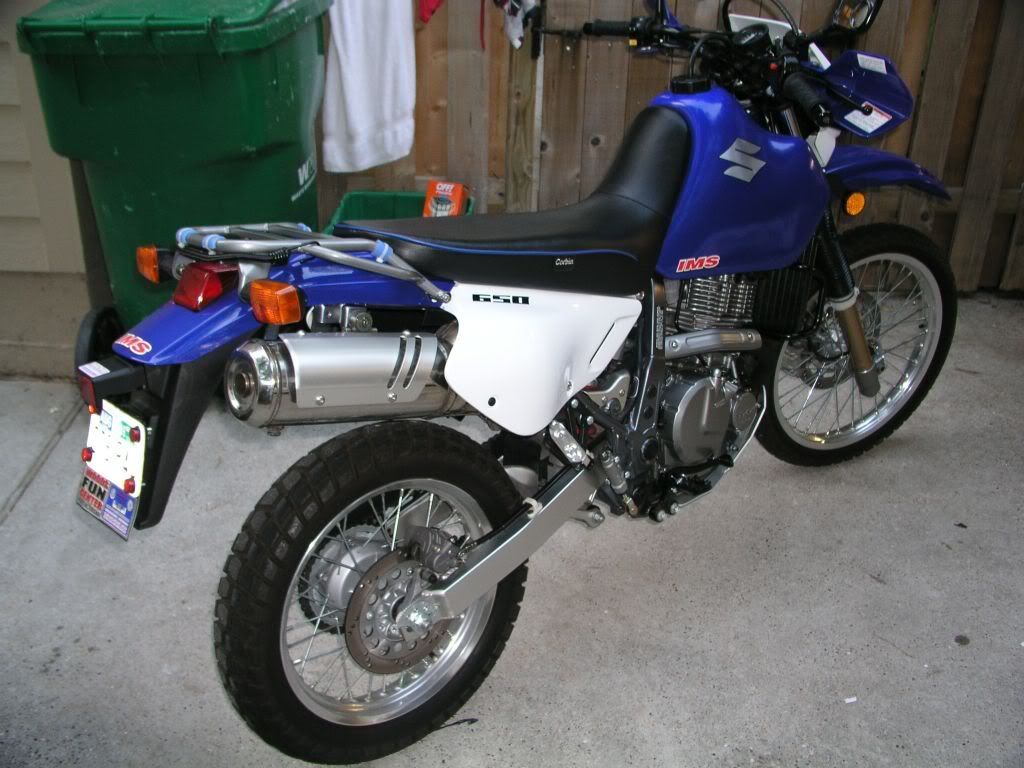 I added Dirtly.com risers and the bike feels like a Goldwing instead of a mountain bike Highly recommended for taller riders.







I also added a Kientech.com extended pilot screw, so airscrew adjustments take mere seconds.






Since I haven't been travelling for my job anymore, I now commute on the DR, which is great in these expensive gas days. Also, I have more time to do upgrades on the DR. The following pix show some of the upgrades.

Moose Racing alum handguards with wind deflectors on Renthal 7/8" RM250 bend handlebars. You can see the Koubalink mirror extenders as well: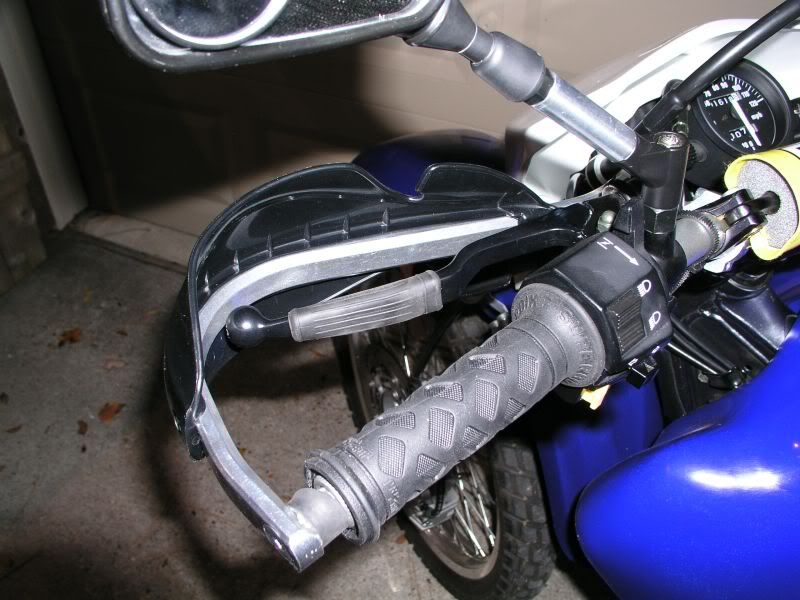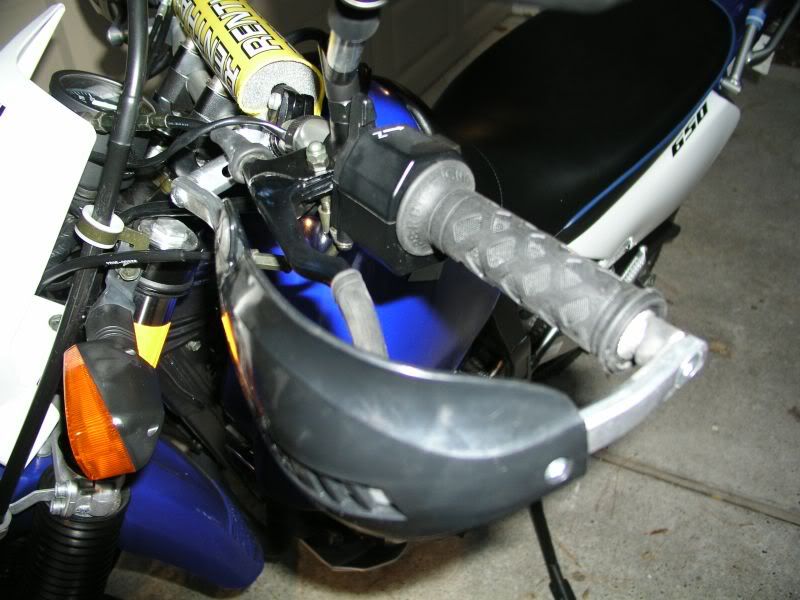 Advanced Concepts aluminium case cover: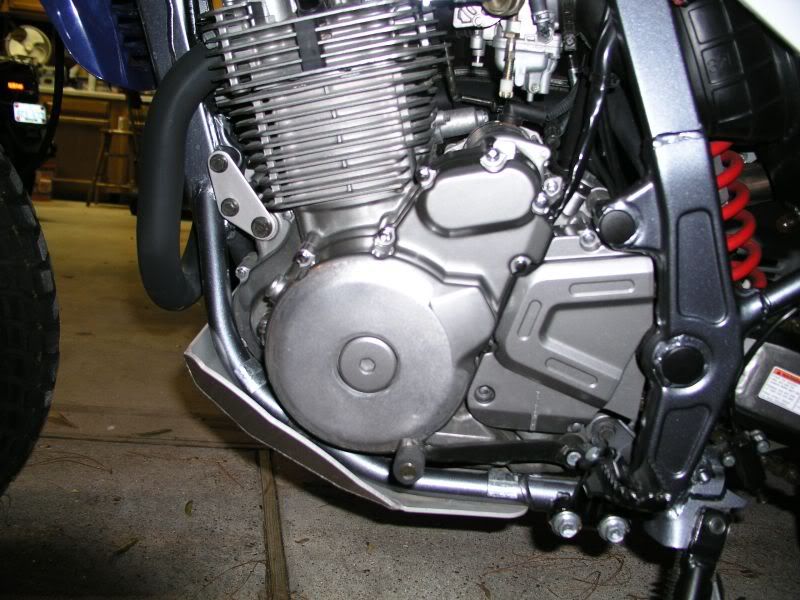 I rejetted the DR with a Dynojet needle and .160 Mikuni main jet. I removed the airbox lid as well. The bike has definitely picked up more power. I have the Keintech airscrew out 2.5 turns. http://kientech.com/

I added Racer-T cf fork wraps and exhaust in Jan 2006. The bike has a lot more pull on acceleration and it sounds like a thumper should!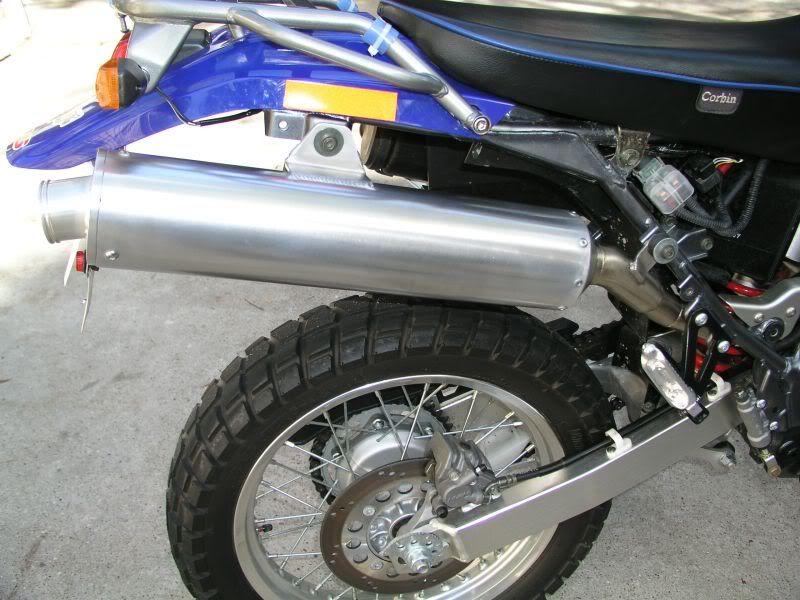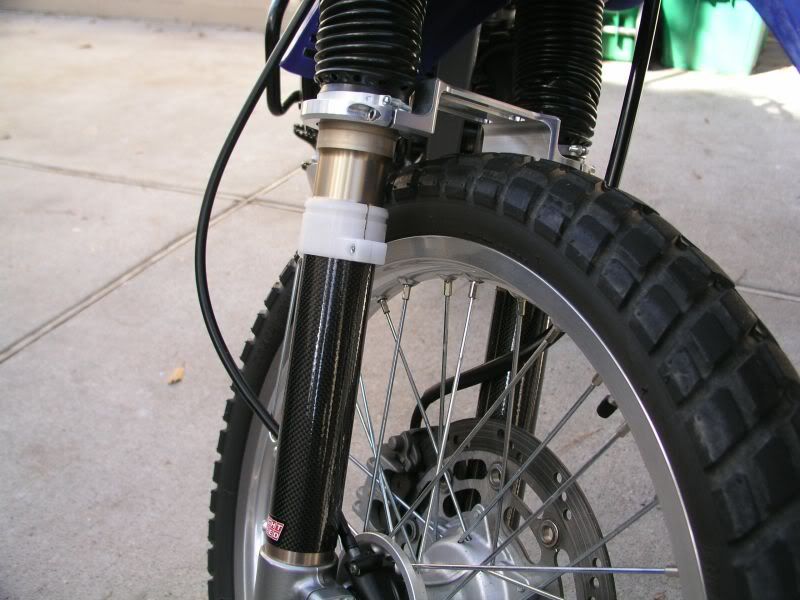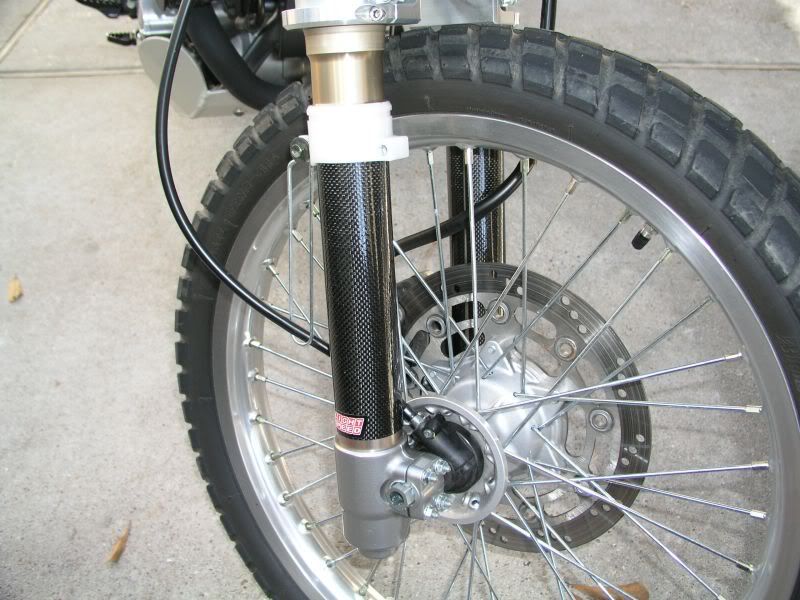 Thumpertalk.com decals..gotta have a little bling!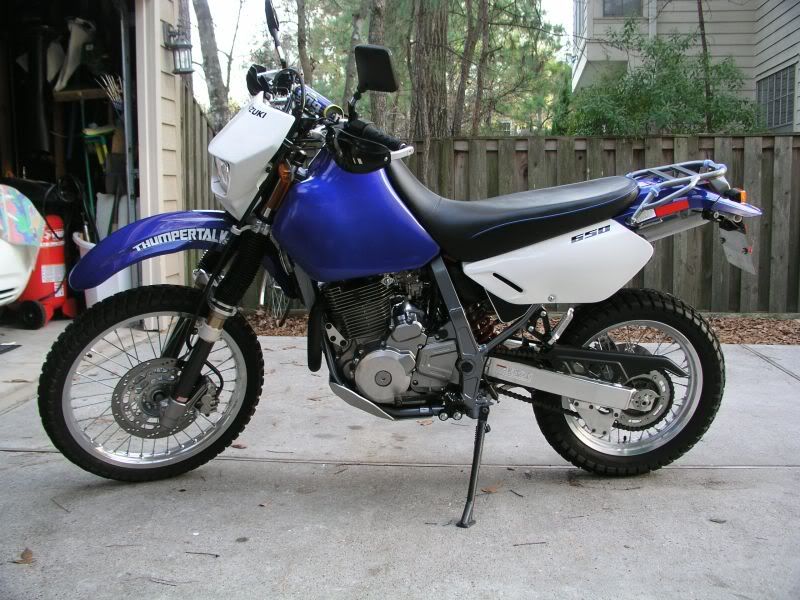 MORE DR UPGRADES: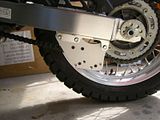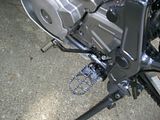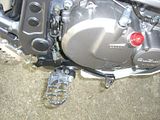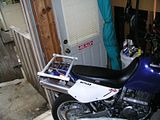 ---
2006 LONESTAR MC RALLY
Some assorted pix taken on the Seawall in Galveston, TX:











---

MISCELLANEOUS


Got to ride my bro's 2004 FJR1300....wow! What a bike! It's everything my Roadking's not and everything everyone said it is! Only improvements I would recommend is a 6th gear and less engine heat on the legs, all in all a very impressive scooot















---