Bugout Vehicle Buildup


This build (or maybe assembly is more accurate) has been rolling around my head for almost 5 years when I purchased the truck. Now that I'm back in the oilfield, the dream is coming to fruition. My preference would have been a 4x4 truck, but this is the truck I have and it's paid for so I'm making the best of it with some thoughtful mods and upgrades.

Most of my inspiration came from the cheaprvliving.com site. I highly recommend people to visit this site for a different viewpoint about how we live our lives and what our actual needs are, vs what we THINK we need.



Firstly I swapped the wheels for 15X7 Cragar Soft 8's and Goodyear Wrangler 235/75/15 A/T's. For them to clear, I installed an add-a leaf in the rear, raising it 2" and a spacer lift in the front, giving me 1.5" extra clearance.

I had Brian at Beefed Taco in Fallbrook, CA weld me some sturdy HW tube bumpers front and rear to replace the flimsy stock bumpers. I then installed a pair of 100W Hella's on the tabs of the new bumper.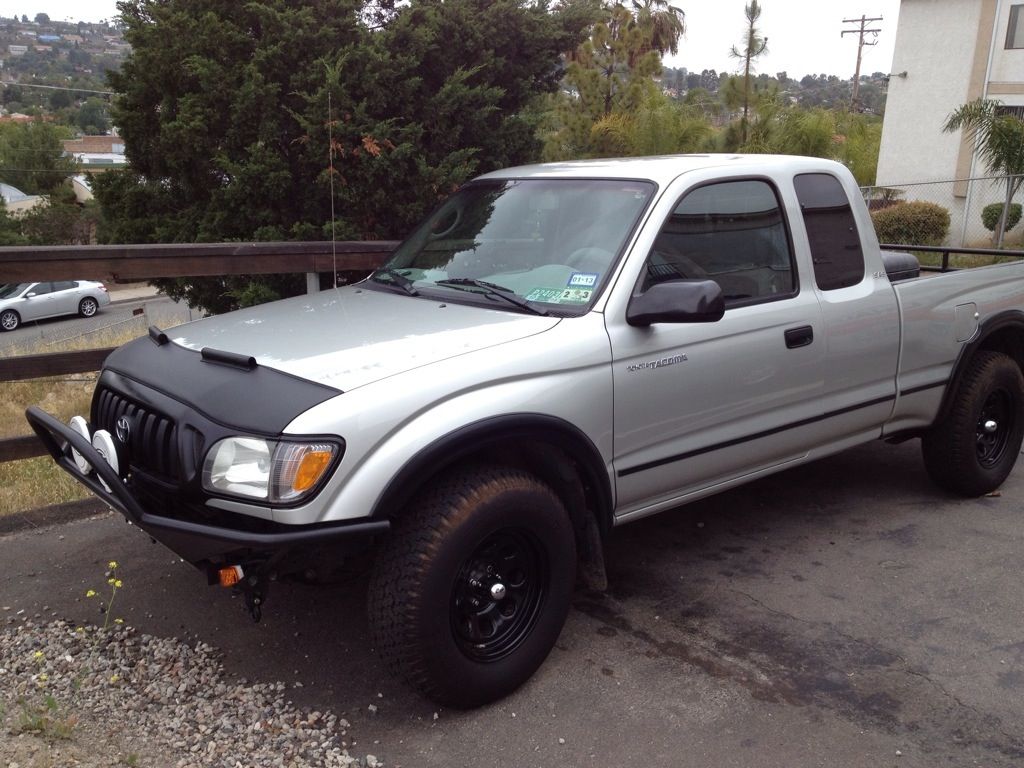 Next came the Durashell 165 slide-in utility body purchased from Fleetwest in Tempe AZ. It's supposed to weigh 350 lbs and is pretty aerodynamic..no wind noise, but you can feel it back there. It's stout fiberglass and stainless hardware, built in Canada. It's 67" high from the bed floor, 75" long at the bed, 110" from the front of the overhang to the doors and 62" wide at the bedrails.


Leaving Fleetwest right after the install. Very happy with the product and customer service.





Three years of OTR trucking taught me how to live in a small space and what to use to be comfortable. It's basically a flat top truck sleeper turned lengthwise. Also, If I ever replace the truck, it will be another Toyota with a 6' bed, allowing me to keep this rig.





This Freightliner FLD flattop tractor (below) is virtually identical to the one I drove, including the size of the sleeper. The sleeper is virtually the same volumes as the Durashell. But I have the extra room of the Tacoma cab for my appliances. I can sleep completely stretched out in the shell (I'm 6'2").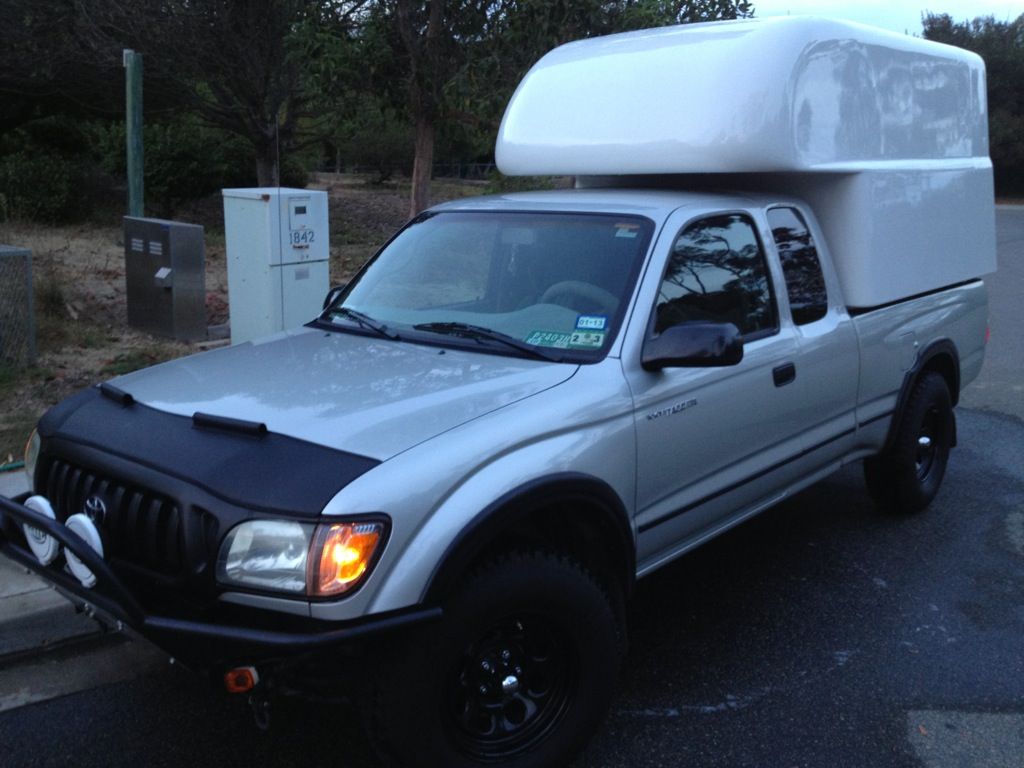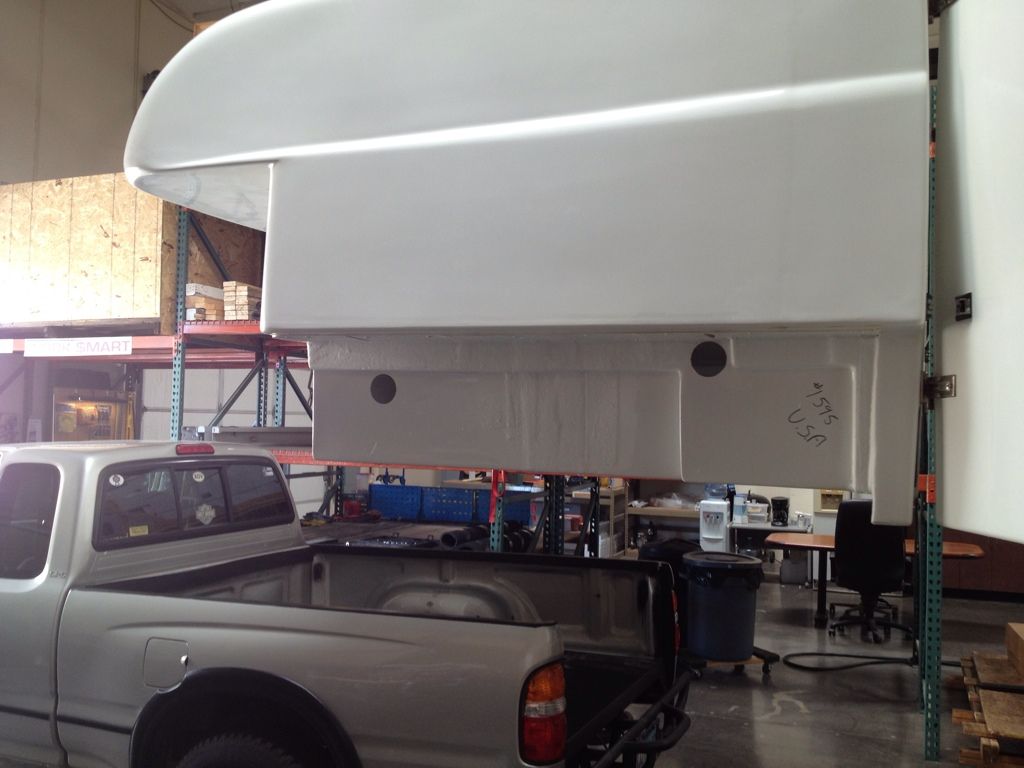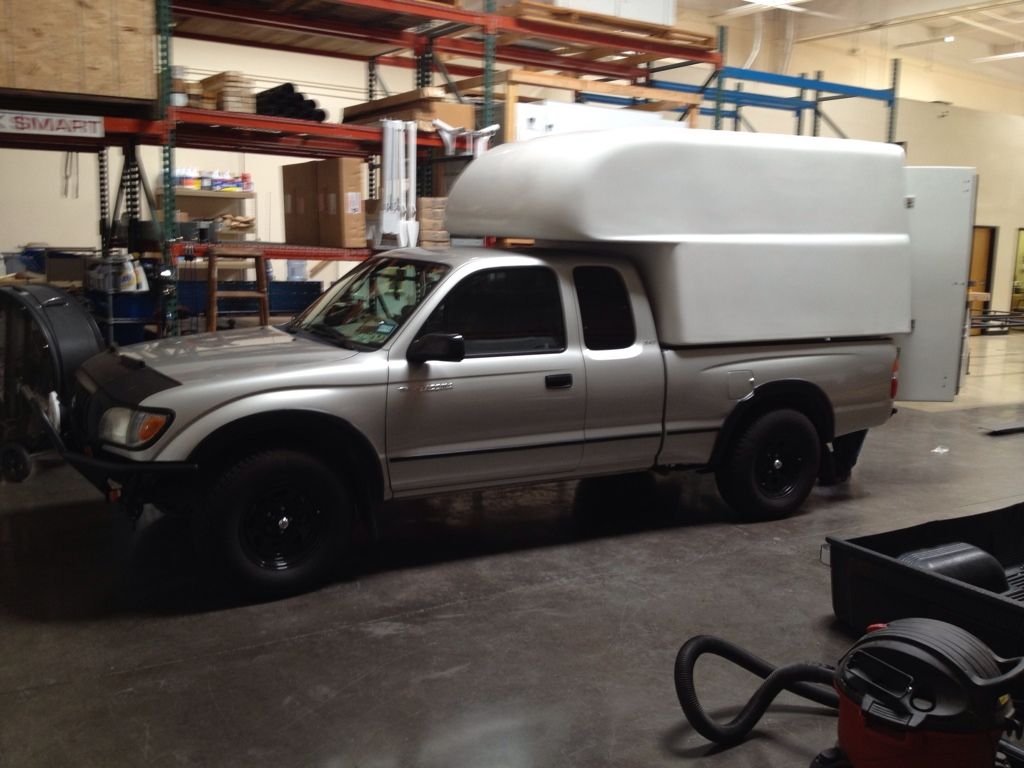 I put in a plywood deck with a carpet runner which raises up for easy access to my food and clothes below. The cot gives a little more storage below for taller items and full access to my plug in cooler.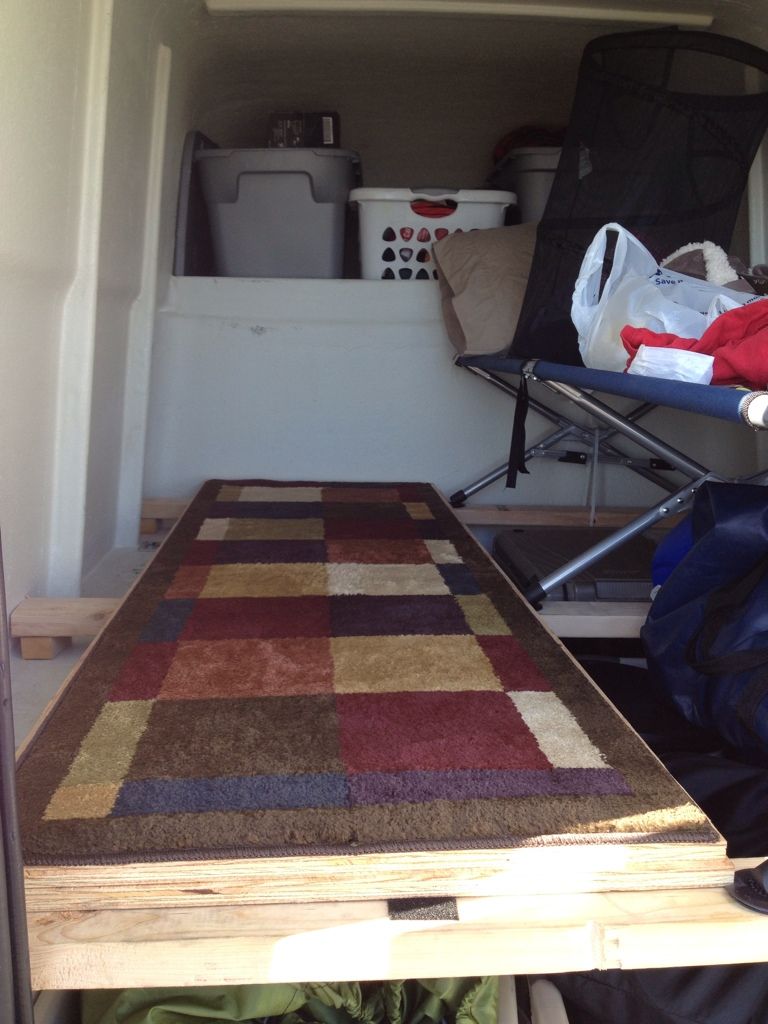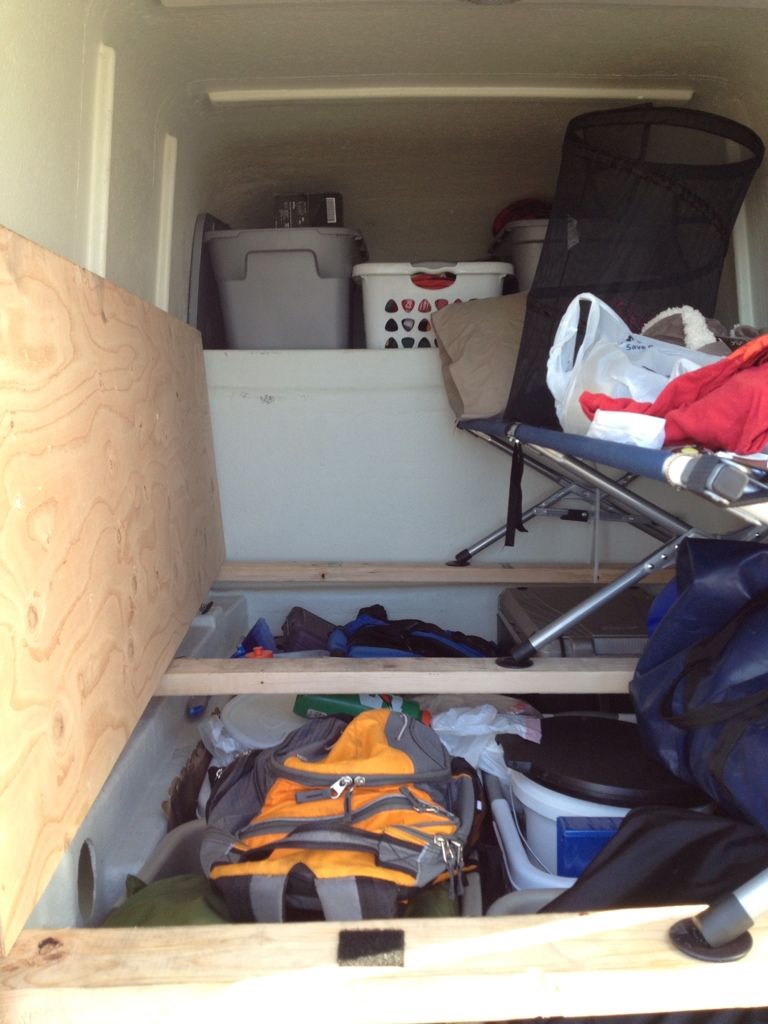 The generator came in handy for installing the hatches:
Power strip on the left side and the cord is snaked out between the bedside and shell: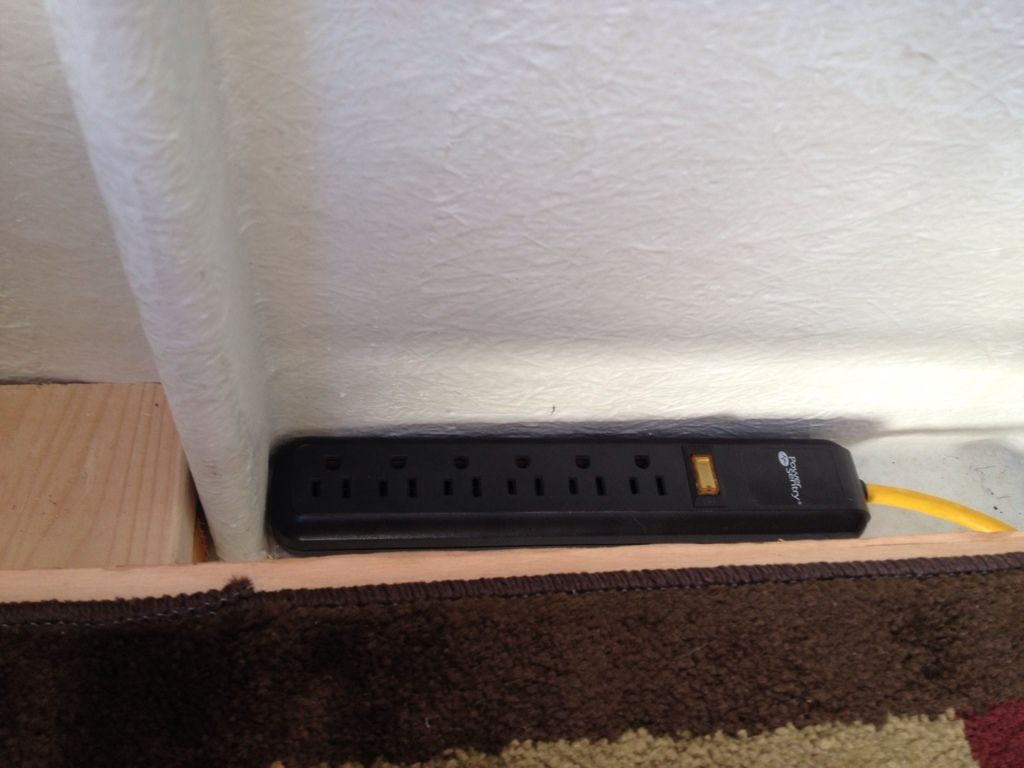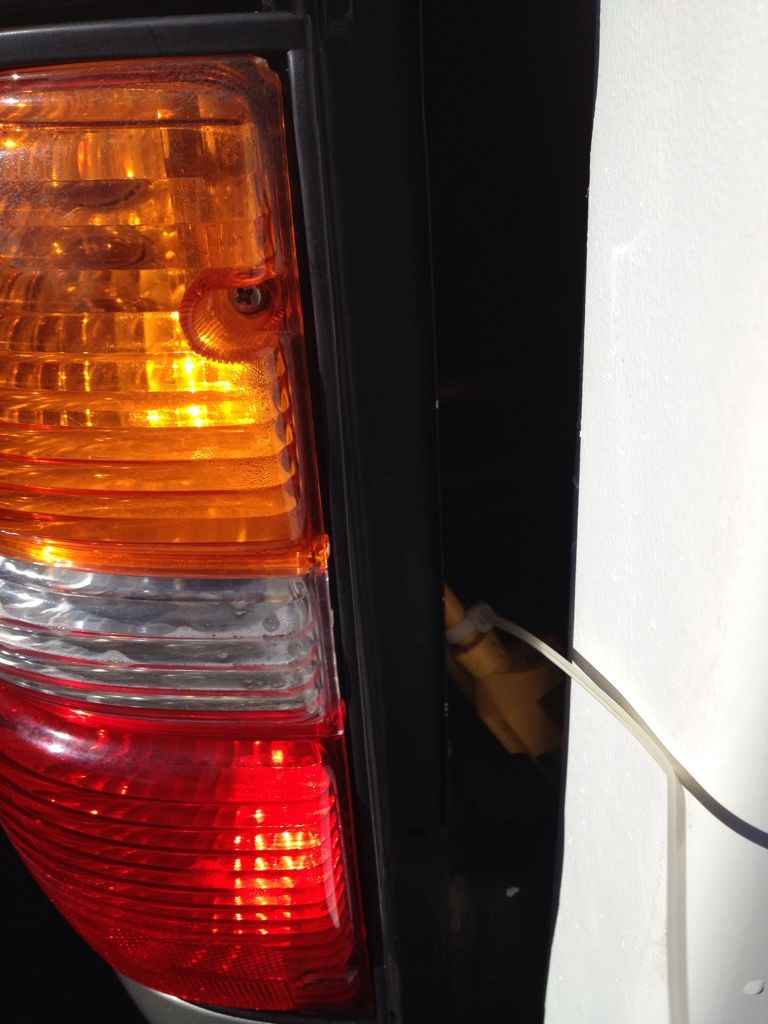 Put in a carbon monoxide detector for extra safety: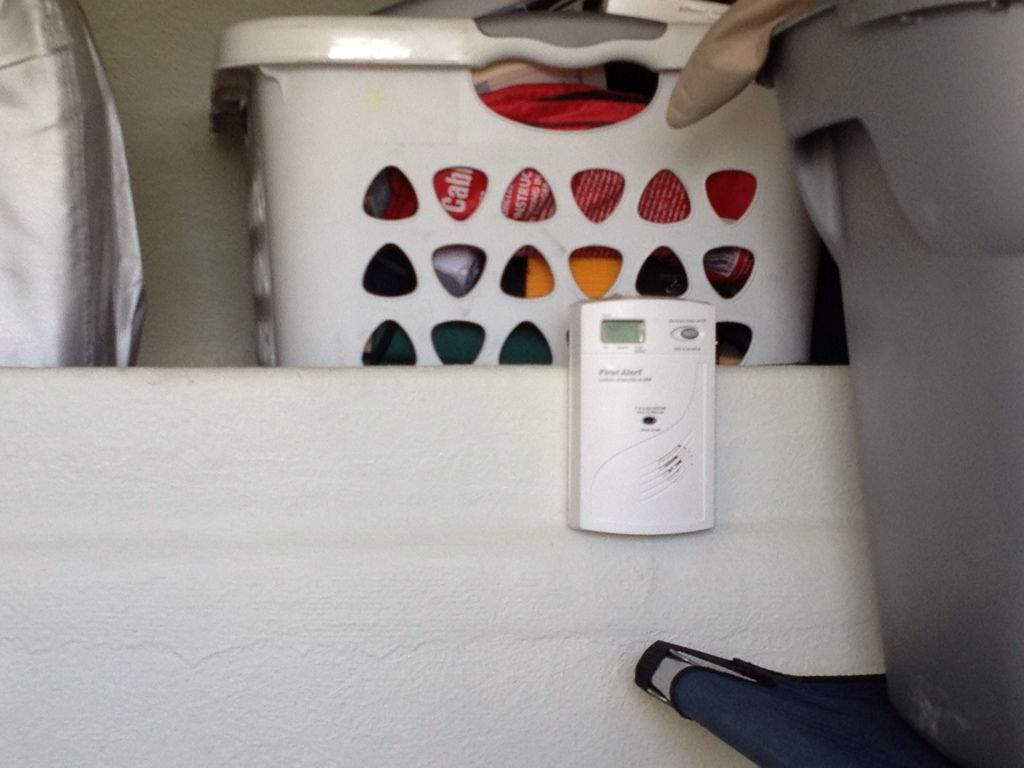 Hatches being installed:
The hatches fit perfectly above the ribs.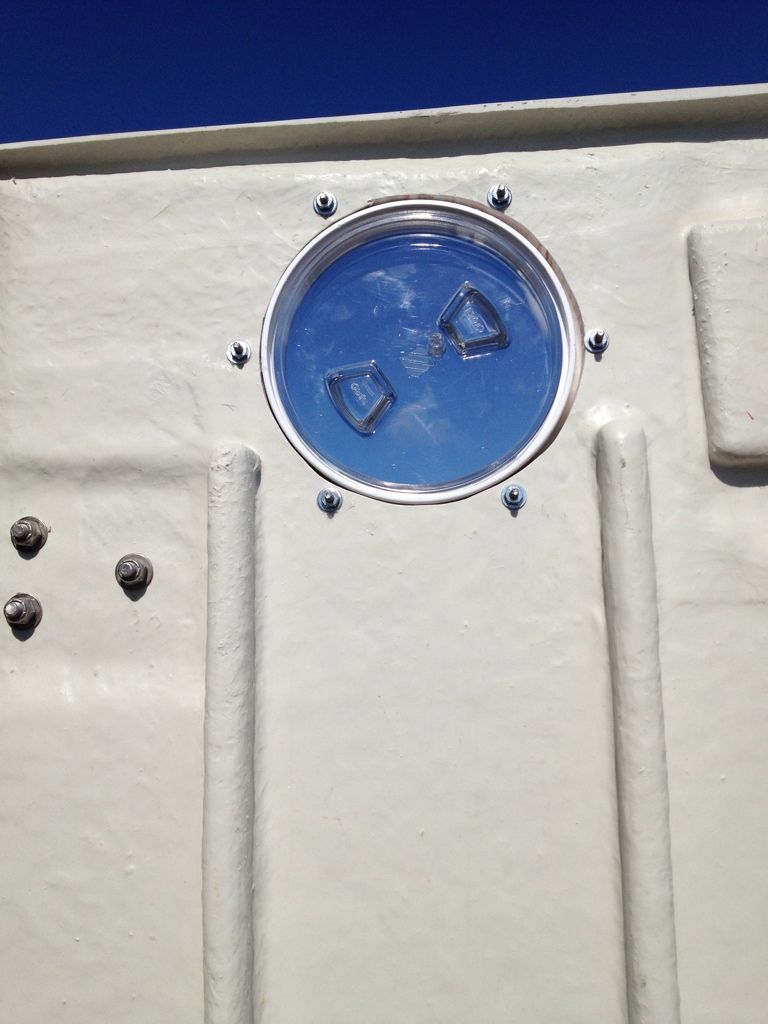 The results, I'm pleased..
I just had a 8" clear hatch installed in the forward bulkhead as a pass through to the sliding rear truck window. This will enhance cross ventilation, a little more natural light & allow me to duct heat/air from the dash as well as running a 12v extension cord to the back. I could also put a fan in the hole to move air as well.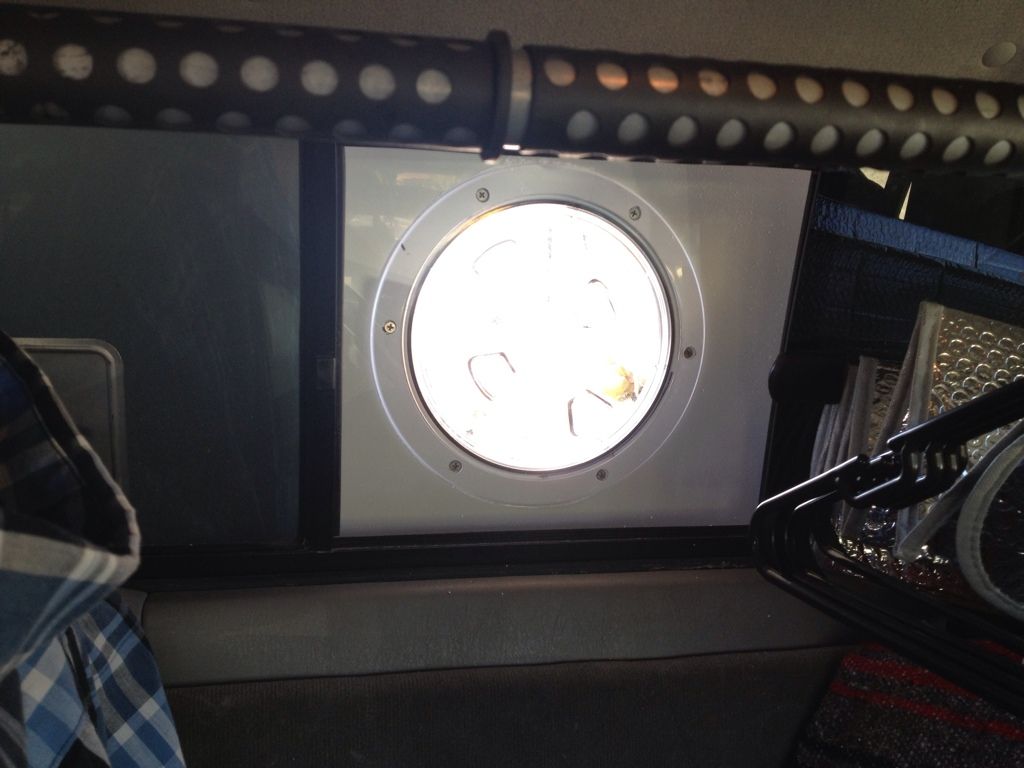 11/16/12:

Since my last post I have done a few more things. I got the Mr Buddy round propane heater head and did some organizing. Yesterday was very productive. I got down to Houston to visit my daughter and addressed some maintenance items. The battery was replaced as the current one was almost dead. I installed new spark plugs as the originals had 140k miles, got an overdue oil change and last but not least I installed my SSA7 SuperSprings. I'm very happy with them! Got all of my ground clearance from the add a leaf back and no more rolling in corners. The ride is still very acceptable. I do need new shocks as my no name junk replacements (Mar 2012) are shot. Going to get some good ones in the front and hold off on the back as the new springs are doing so good, the shocks can wait. Here are some pix of my SuperSpring install.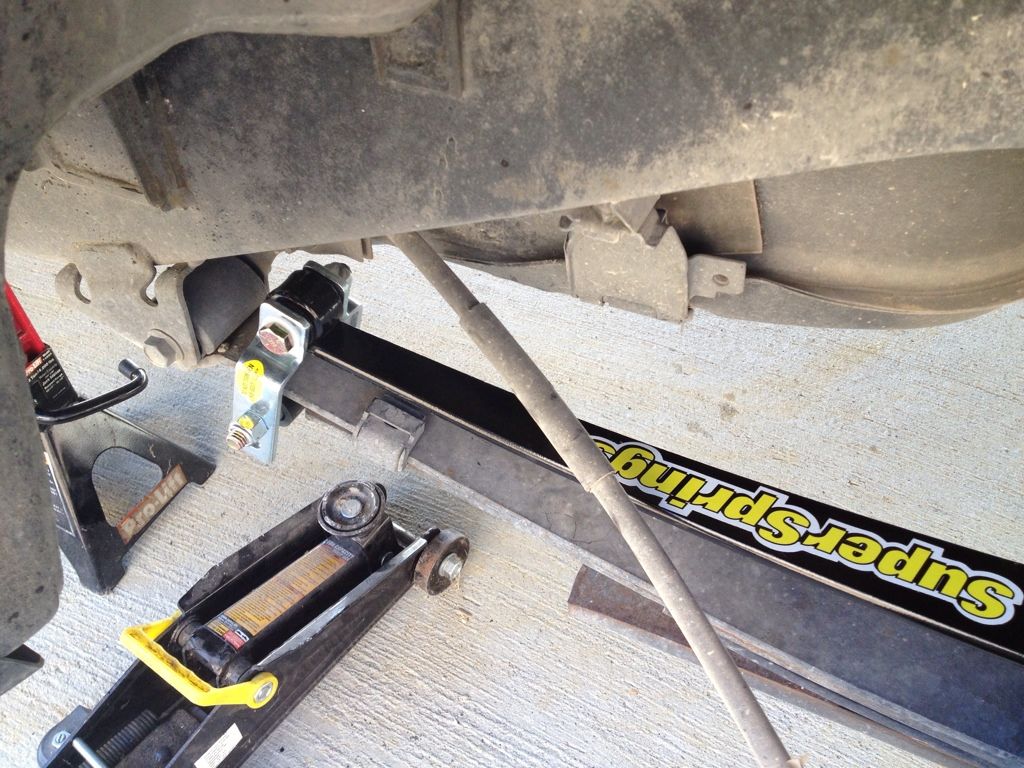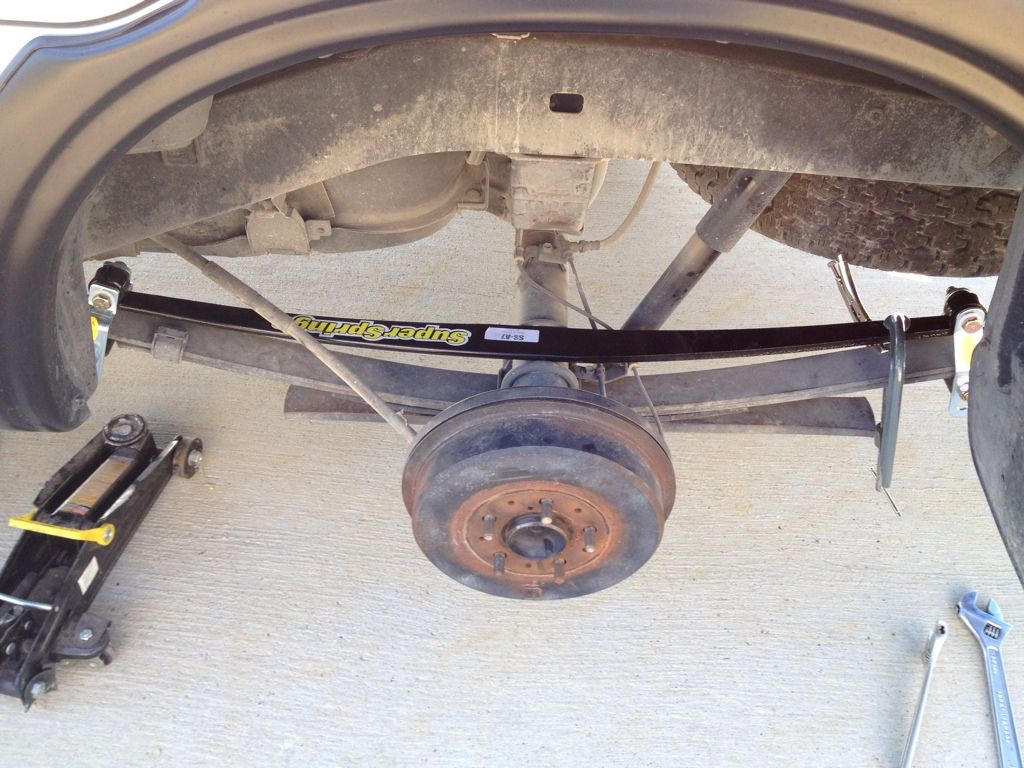 The rear isn't sitting low anymore. The ride is much firmer and confidence inspiring.





I'm looking hard at getting a 2005+ Tacoma Xtracab as it will be more suitable for my needs. It's hard to contemplate getting back into payments but I don't think I can go a lot further with the Tacoma I have.





UPDATE 11/28/12:

I went out on a job near Medford, OK and it ended 3 days later. I was given the choice of going "home" to Houston or where ever as I wasn't needed for awhile. So, I decided it was as far to go to Estes Park, CO as it was to Houston, where I have to stay with family. It was go time now, to cast off the umbilical cords of bricks and sticks and actually start living in the little beast. Prior to that, I stayed in it for 3 nights on my way back to work from San Diego. It was time for my 3 years of OTR trucking to kick in and make it work. Of course family members think I have lost my mind living in the back of a truck. I think the stressed out lives of material gratification is more insane than my plan, who's the one working and who's the going camping in Colorado, huh? lol I drove 40-50 miles of dirt roads to get to a blacktop working my way through Medicine Lodge, KS on the 281 to reach the I-70. I shut down about 30-40 miles E of Denver at a big Loves TS. I have a few observations to make: My truck is very underpowered with the 2.4l I4 5 spd. I spent a lot of time in 4th gear fighting wind and of course the mileage took a huge hit. When I spent the night I was sleeping in a cheap $15 Walmart sleeping bag and using the smaller round Mr Buddy propane heater. Because I was so cold, I ran it continiously, I went thru one bottle and was started on my second. Job one, buy a real sleeping bag. I went to a huge REI in downtown Denver and ended up the Kelty Cosmic Down bag, permanently on sale, I got the last long bag.




I just slept in it last night in Boulder, CO and it was a huge difference, I only used the heat when I went to bed and when I got up. I got a great night sleep, down really makes a difference. I also picked up some thermal clothing at Walmart. I'm donating 2 of the 3 Walmart bags today...lol. I'm going to try the piece of steel on top of it to reduce condensation. I have a huge 8" diameter open hatch 1 foot from my head, so I won't be suffocating with the heater. It has an awesome tipover cutoff feature, so good that I shake the heater to turn it off and a low oxygen cutoff too. With the new sleeping bag, the propane has been lasting MUCH longer. Mr Buddy heater: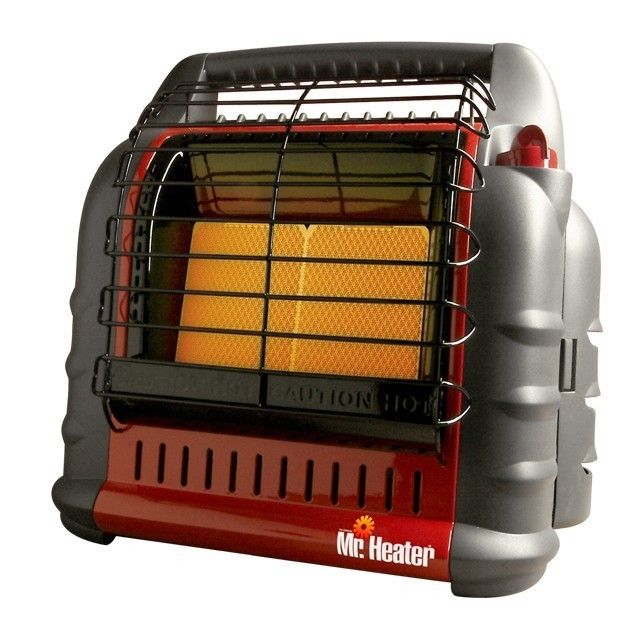 Another priority down the road is to get a more suitable truck and keep my current one as a backup. Had it rained at the rig site where I was, I would have been stranded with all of the dirt roads I traveled. 4x4 is a must and it WILL be another Tacoma. This current truck is my first Toyota and most trouble free vehicle I have ever owned, including NEW vehicles. As Bob stated, I too have way too much stuff and will be jettisoning it as I go. I heat water in a metal cup with a 12v heating coil to wash my hair from a squirt bottle and brush my teeth. I "wash" with unscented baby wipes and usual toiletries. I use an empty liquid detergent bottle for number 1's and have a Luggable Loo for the very rare number 2 situations. I keep all of my stuff in laundry baskets under the floor and cot and in the overhead. The floor is pretty well clear when I go to sleep. More adjusting and modifying will occur as I figure this out. If I get a couple of weeks in it, I think I will have weaned myself of the bricks and sticks mentality. Pix to follow..
UPDATE PART DEUX: After getting the sleeping bag, I headed to Boulder with the intention of heading up in the mountains. As I was coming in on the main drag, I spied a white Tacoma at a dealership on my right. I whipped in and it was exactly what I was intending on buying next year, so I pulled the trigger right then! It's a 2008 Access Cab 4x4, 4.0l V6 base model with steel wheels. It has suicide doors for rear access, power windows, locks, 5spd auto trans and the usual a/c, radio, cruise ect. It has 59xxx miles. It also has a quick release tonneau cover. It's a family owned dealership and they have been letting me camp on their lot while I'm waiting for the campershell installation hardware to come in. They are going to store my '04 taco, tailgate and cover until I can come back to get it. Very nice people and a real easy, low stress transaction. It's Gebhardt Imports in Boulder. Here are some pix: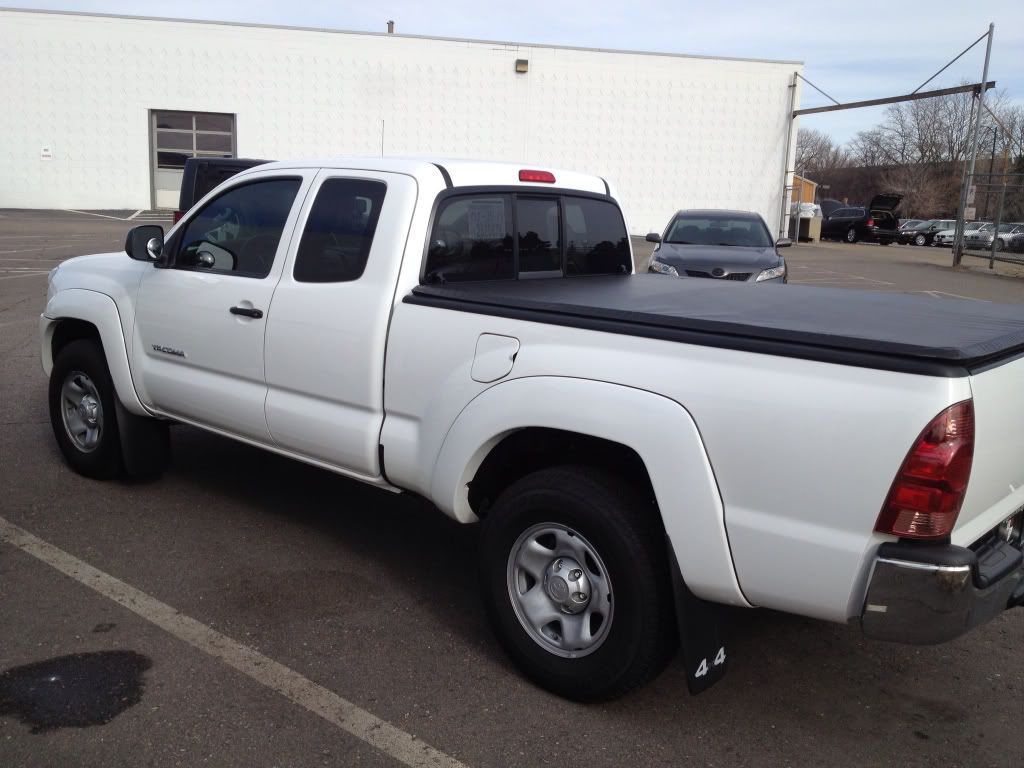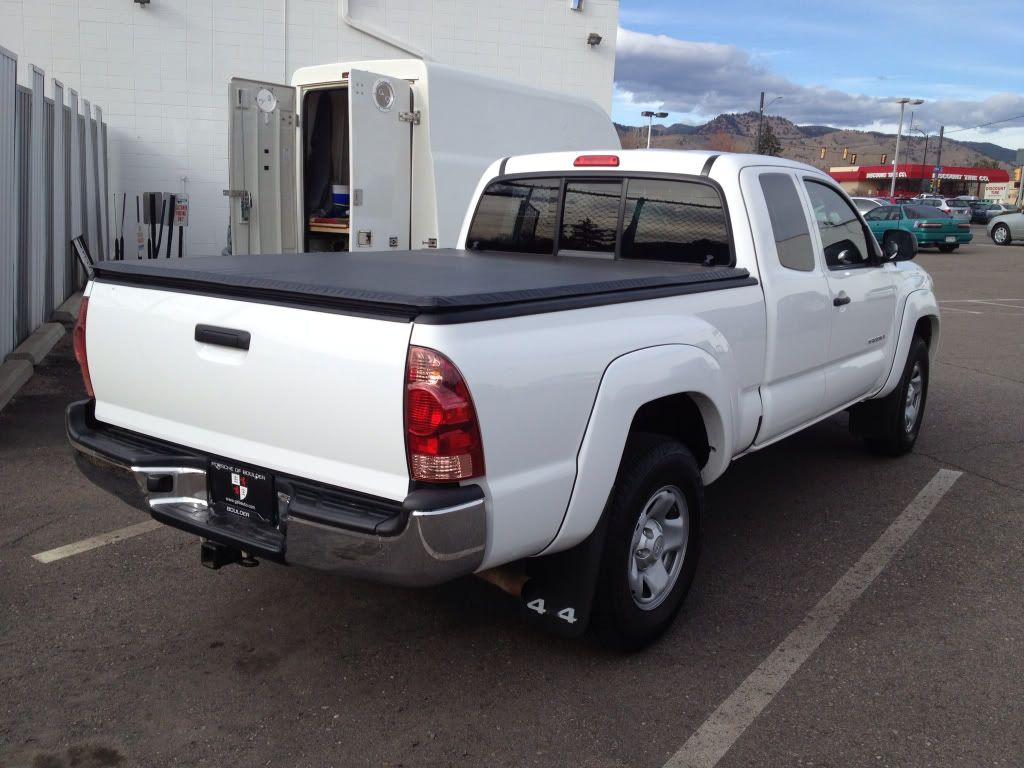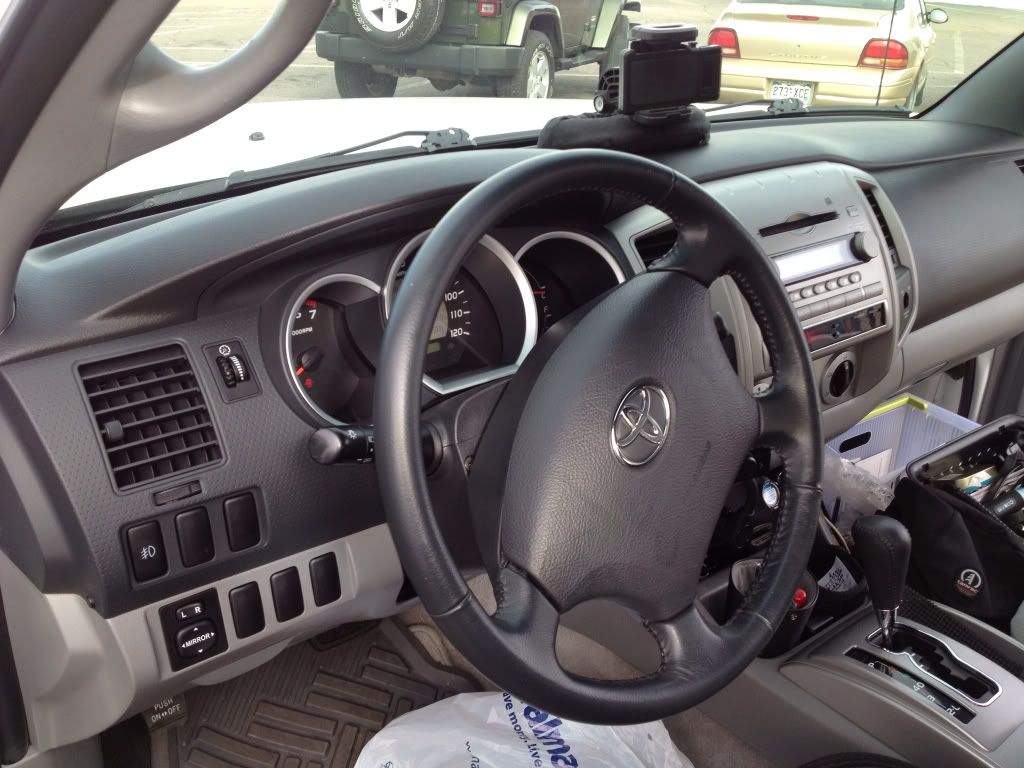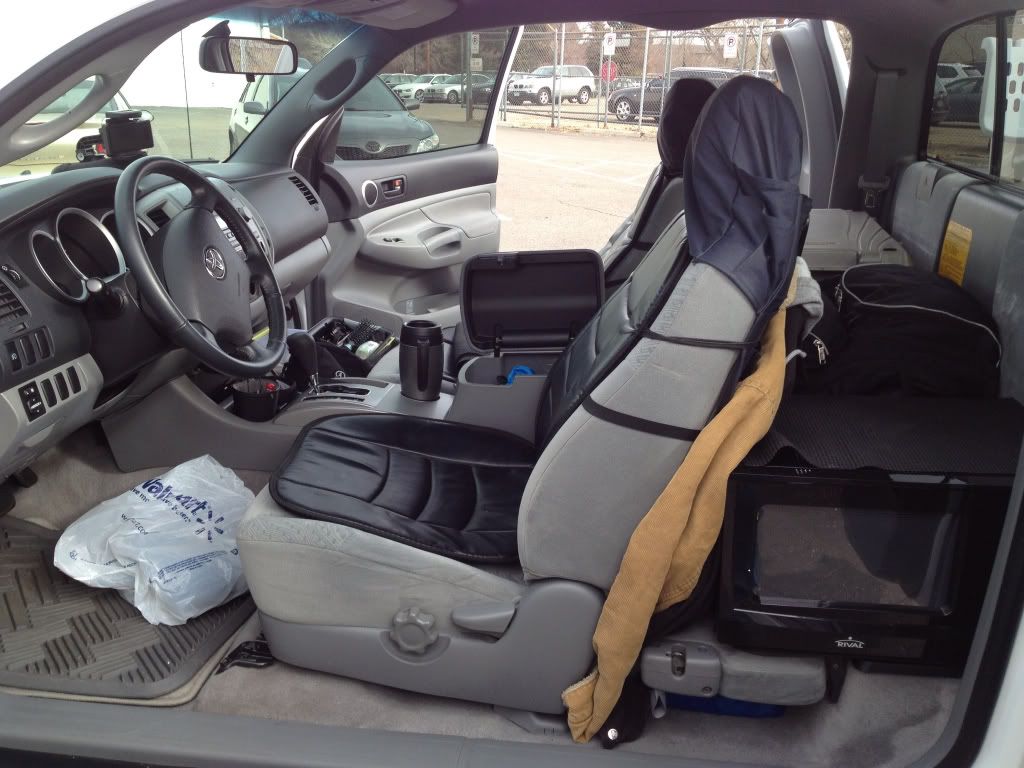 Microwave behind the drivers seat and is connected to a 1000W inverter under the hood (weather sealed)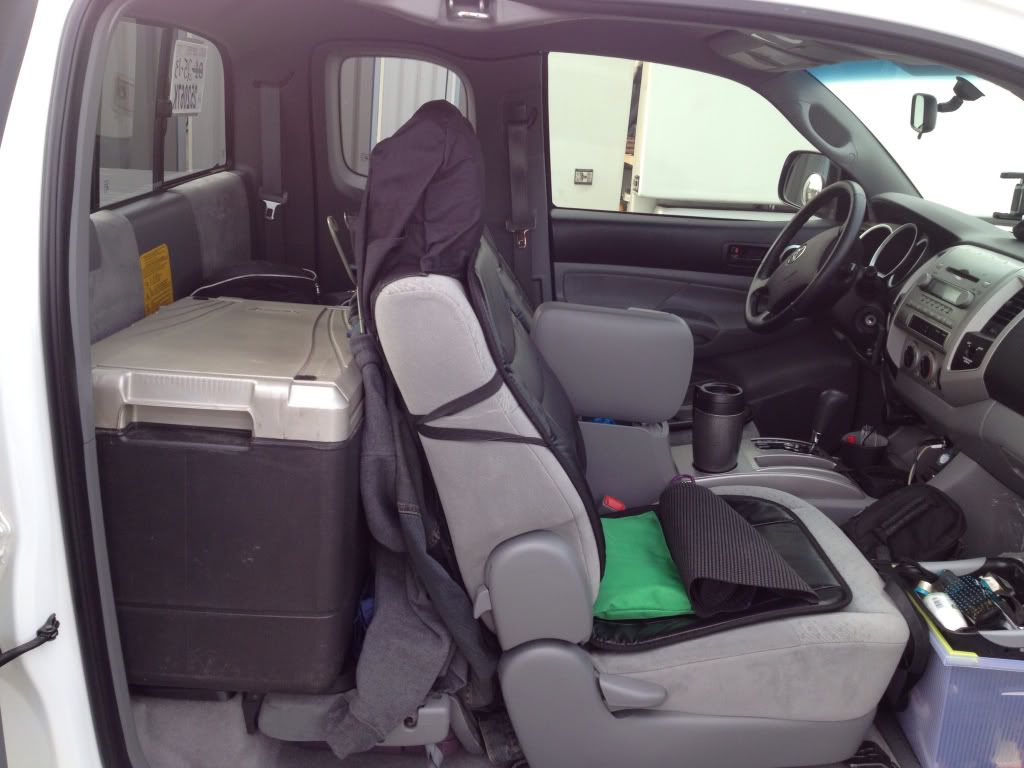 Coleman 12v cooler behind the passenger seat, soon to be replaced with a much more effcient ARB 50qt fridge/freezer which shuts off automatically on low battery voltage. Sucide doors make access so easy compared to flipping the seats forward on the previous Tacoma.

I figure a very average hotel room would cost $50 per night. 7 x 50 = $350 is what I have saved already and I have the convenience of parking anywhere and never wondering if the hotel is full. Now with this new rig, I can pretty much go anywhere and boondock.

12/05/12:

Well, the shell is now on my 2008. Six strong guys from the service department wrestled it on 2 days ago. Yesterday was brutal because I had to unload/reload it 2 more times for a total of 3 times because I had to acquire the correct hardware and reposition the camper. But it's done. I really have it efficiently set up with better access to my clothes and easier deployment of the generator. I also replaced the 2 gallon water jug with a narrow 7 gallon container. I have tubs and baskets on the floor but for the second layer of stuff under the cot, the baskets were replaced with 3 large 32" duffle bags, all labeled of course. The bad news? The new truck is on the bump stops because of the weak 3 leaf spring packs. Toyota has a TSB on my truck for replacement 4 leaf packs. Maybe Toyota never thought anyone actually works their trucks.. Working with a dealer in Denver now. Other than the bottoming out issue which will be fixed, the camper almost disappeared as far as the truck power was concerned. It accelerates easily with the other traffic. Will test it out on the freeway when I go to get the spring issue resolved. Will post more pix of my rig, the sun glare was bad for pix this morning:





I had SuperSprings installed along with an add-a-leaf in the rear with a 2" lift front/rear. I swapped the steel rims for 16" M/T Classic Lock black rims and 265/75/16 Procomp tires. I was able to sell off the stock wheels on Craigslist while I was up in Boulder. I added Tough Country bumpers (in 2013) thinking I would need them to fend off deer in the oilfield, but I was laid off. They are well made bumpers, but are HEAVY. My friend bought my 2004 Tacoma and was able to pick it up in Colorado. I still have visitation rights, lol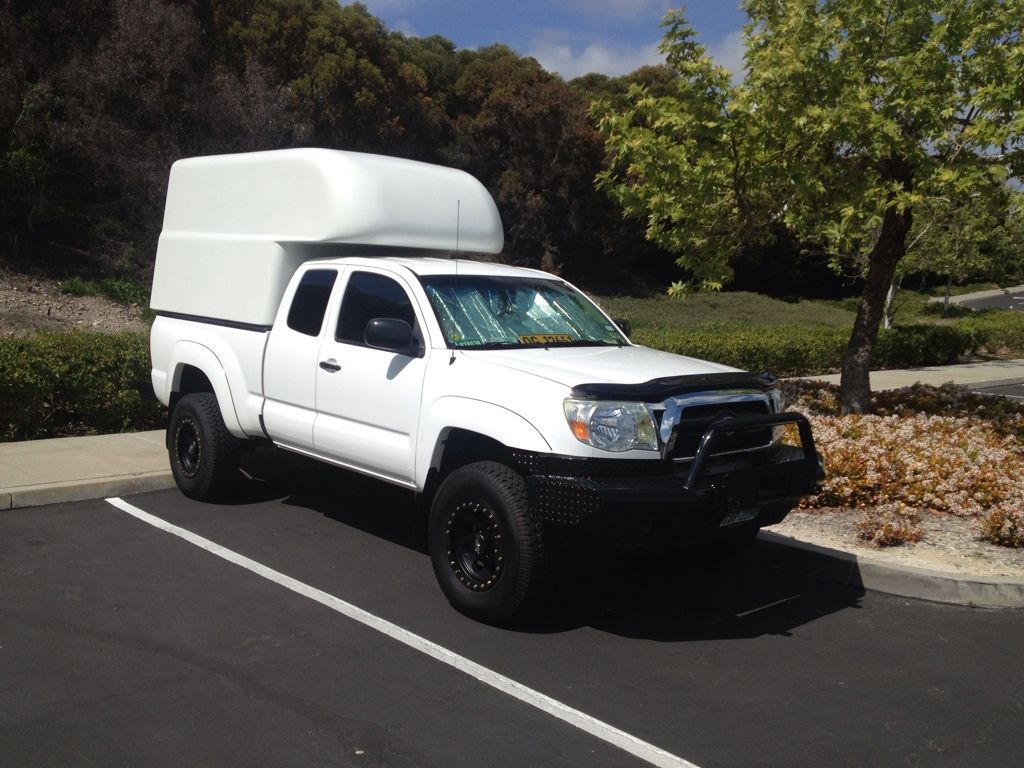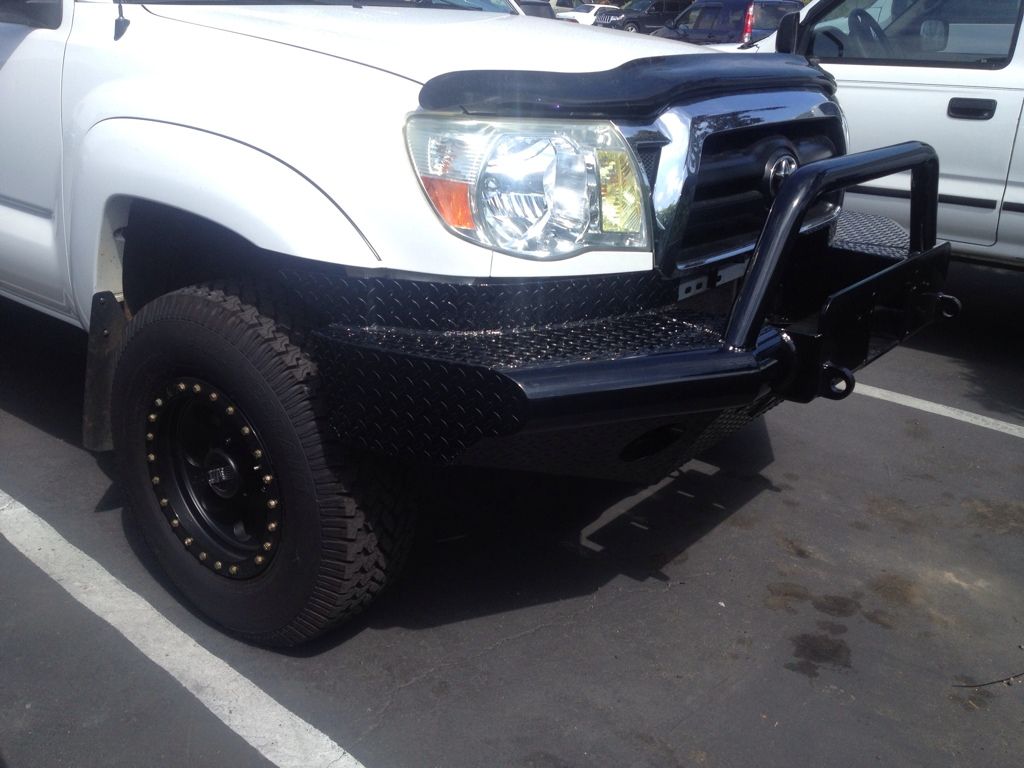 Installed a 300 watt inverter and some USB chargers in the glove box. I ran a fused, hardwired cord with a female 12V outlet to power it all up with. Does not require the ignition switch to be on.




Installed a 1000 watt inverter under the hood to power the microwave. The power runs through a 150 amp breaker which is turned off except in use.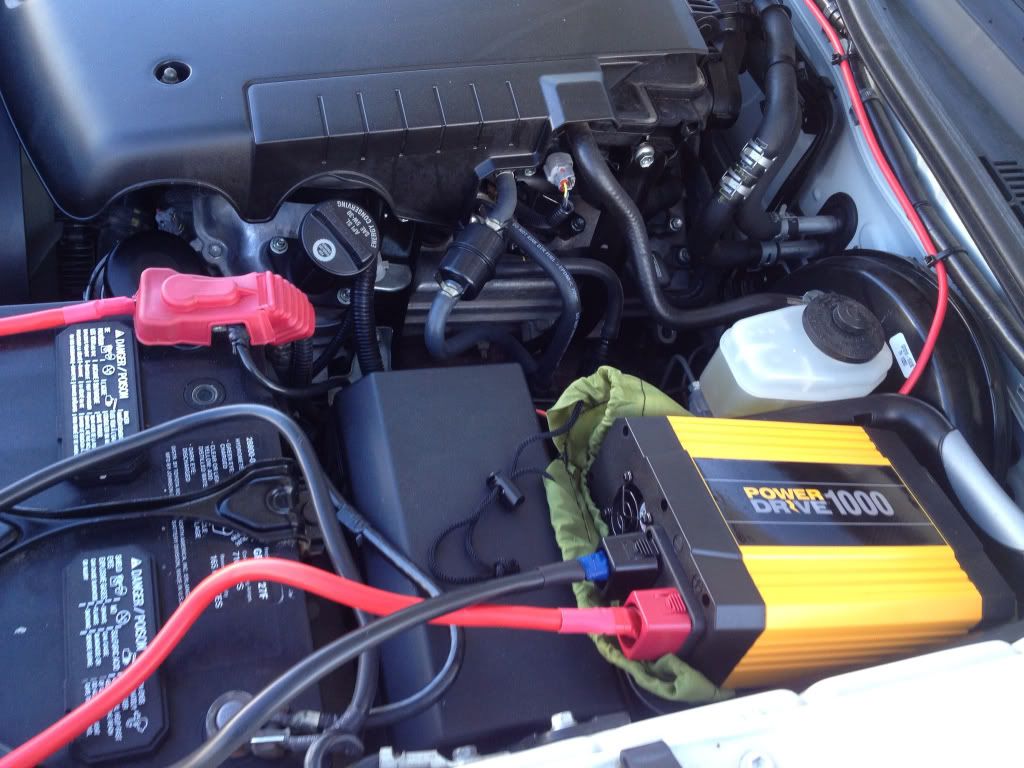 The inverter is kept in a nylon drawstring bag to keep moisture out.




I installed an ARB fridge/freezer behind the passenger seat. It can be set to freeze food if desired. I think it has a 50 qt capacity.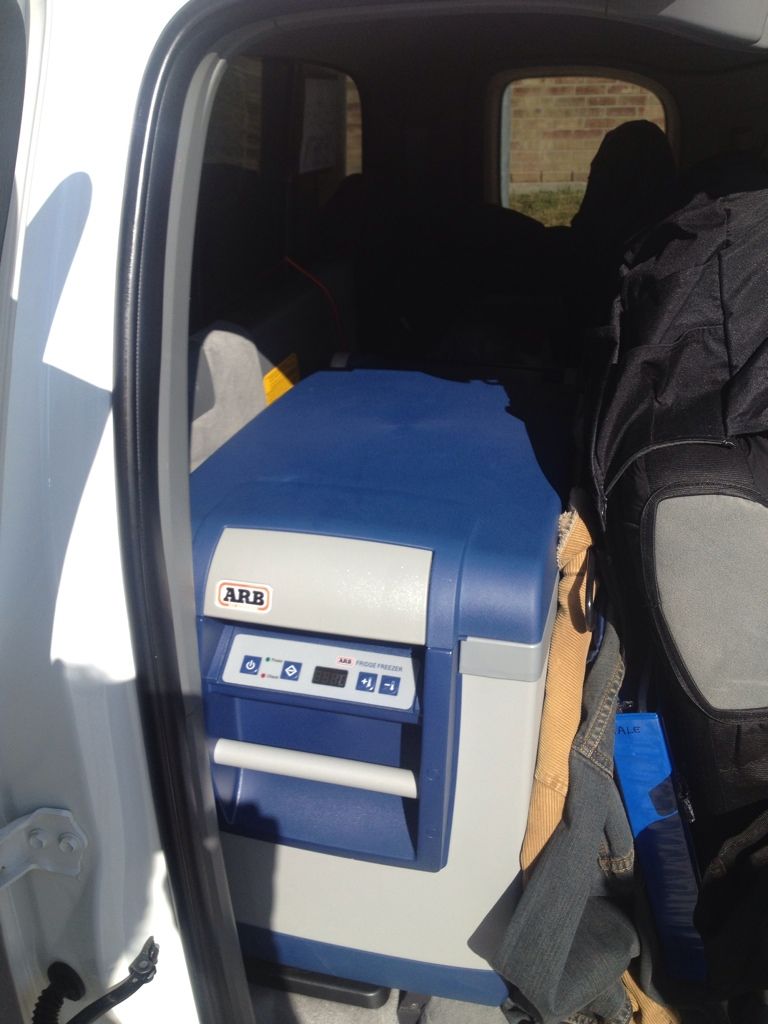 Added 12v incandescent drop lights (2) to get away from the cold , sterile LED lighting. I'll look into some more natural LED lights later on..




Got a little snow the night before in Boulder, but I was nice and comfortable in my sleeping bag and Mr Buddy heater (indoor rated, VERY safe)




28th street near downtown Boulder, nice to see some snow right before Christmas, 2012.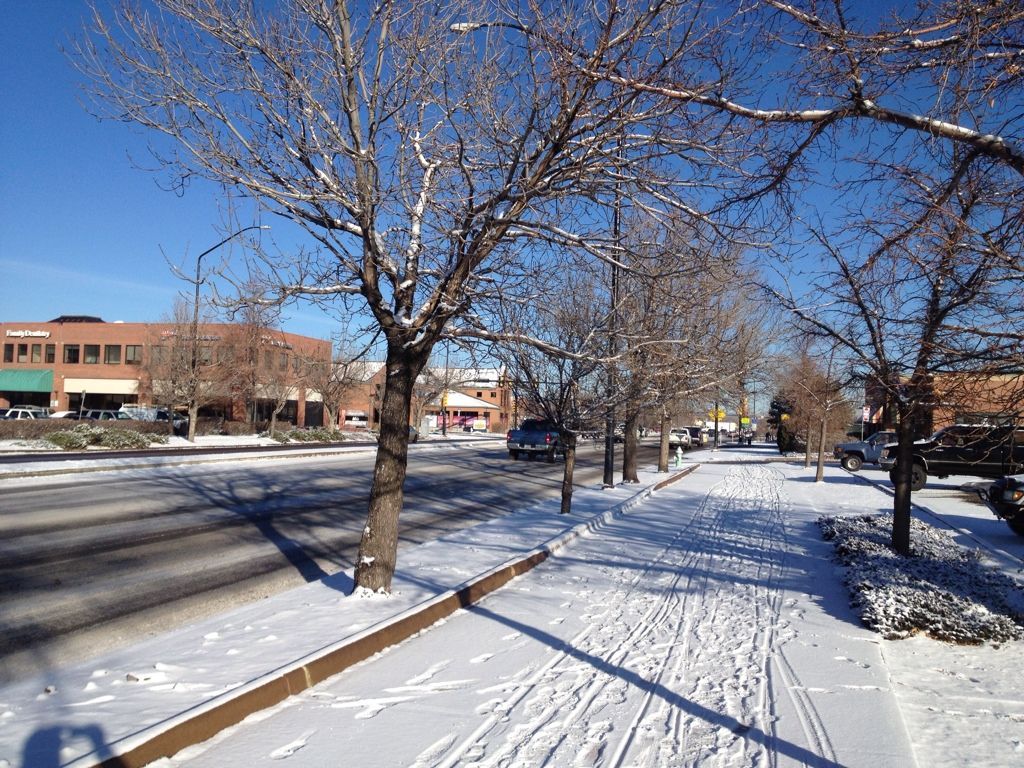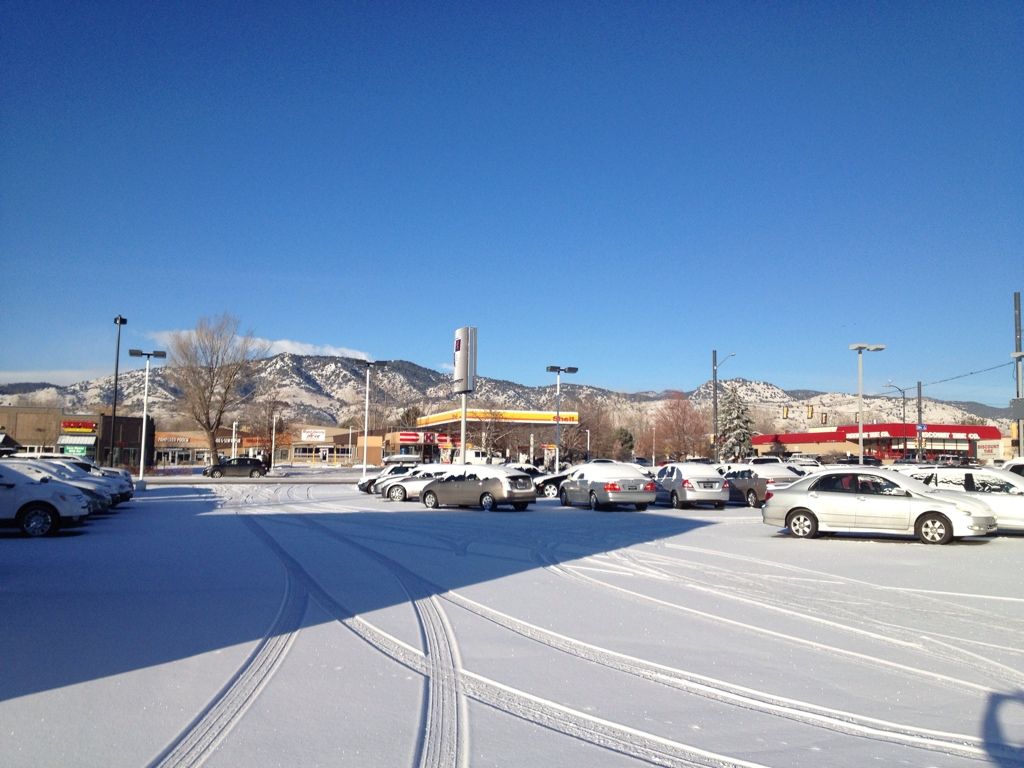 With the cold and snow, the tasty espresso from my Brikka pot tasted great. Makes great foam!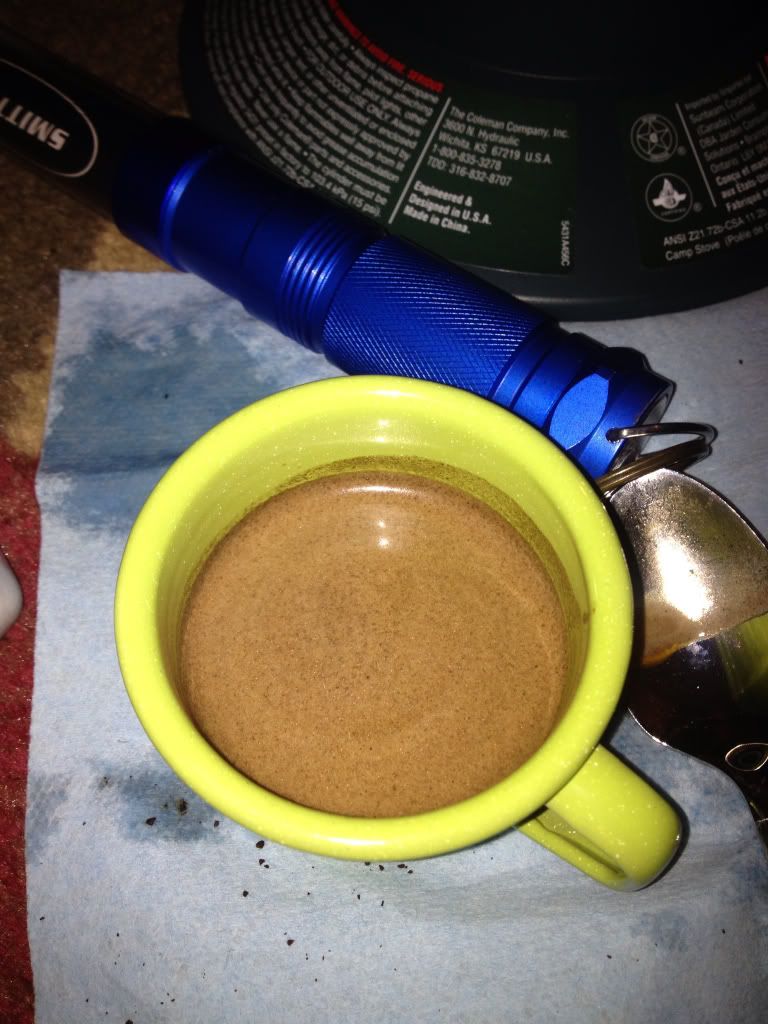 Installed the winch and a Kenwood radio I had purchased previously in Feb 2014:
Got the winch installed today, took about 4-5 hours because I would put something together and would have to take it apart because I forgot something..grrrrr. If I had to do it again, I could easily do it in half the time. A huge tip to make it easier, PUT THE WHOLE THING TOGETHER BEFORE YOU INSTALL IT IN THE VEHICLE!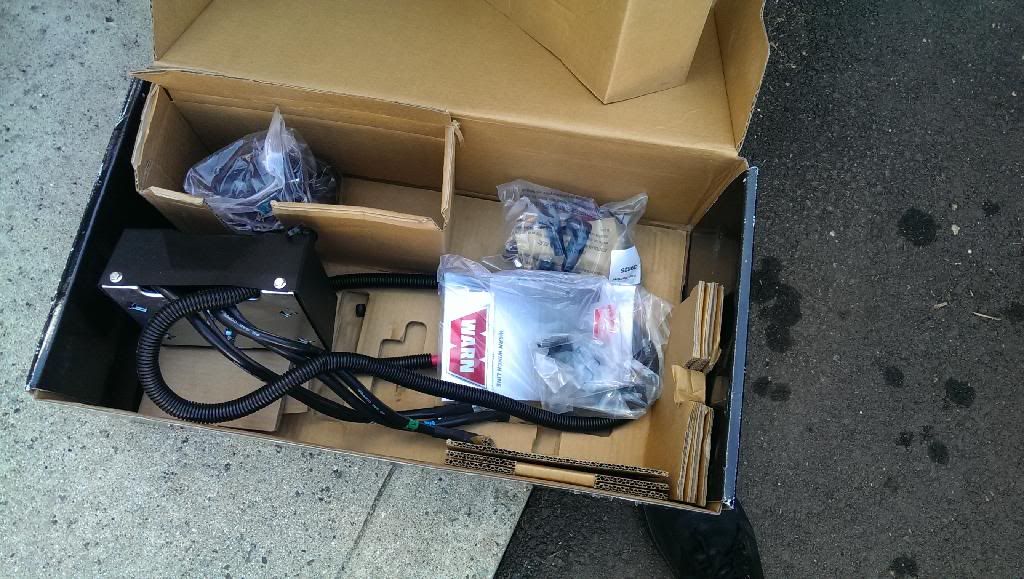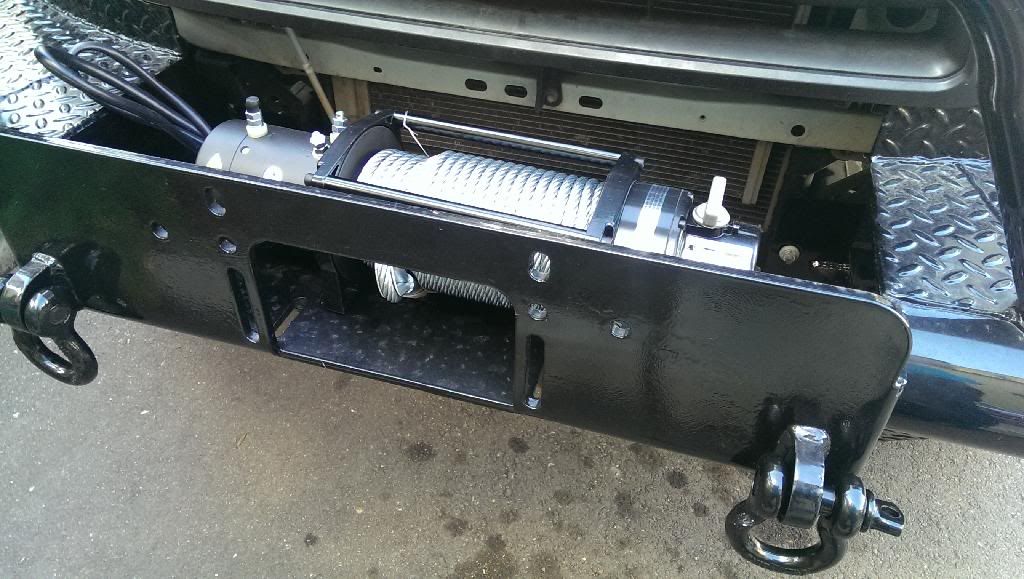 I bought two of these Factor 55 security bolts to discourage theft..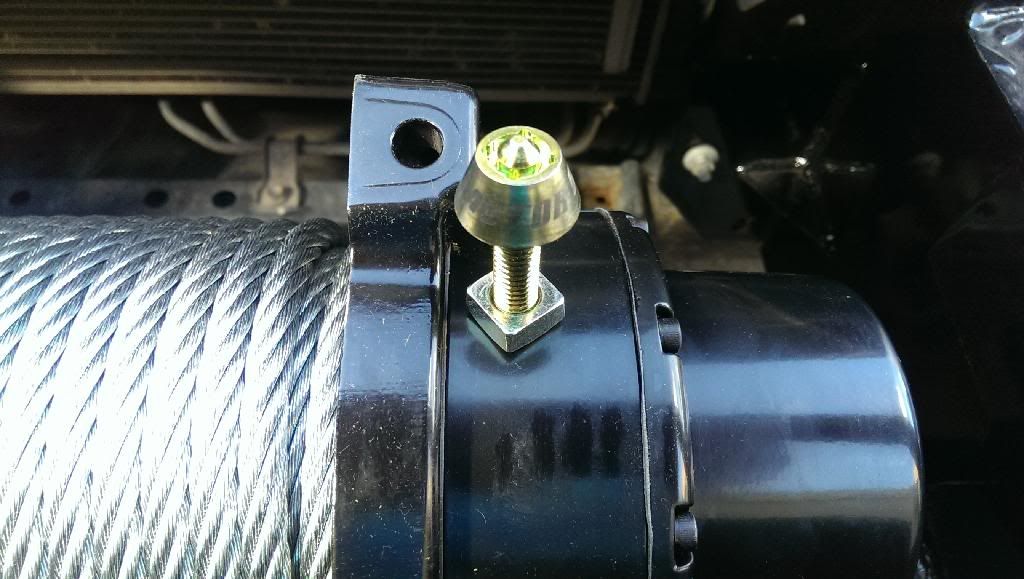 The finished project.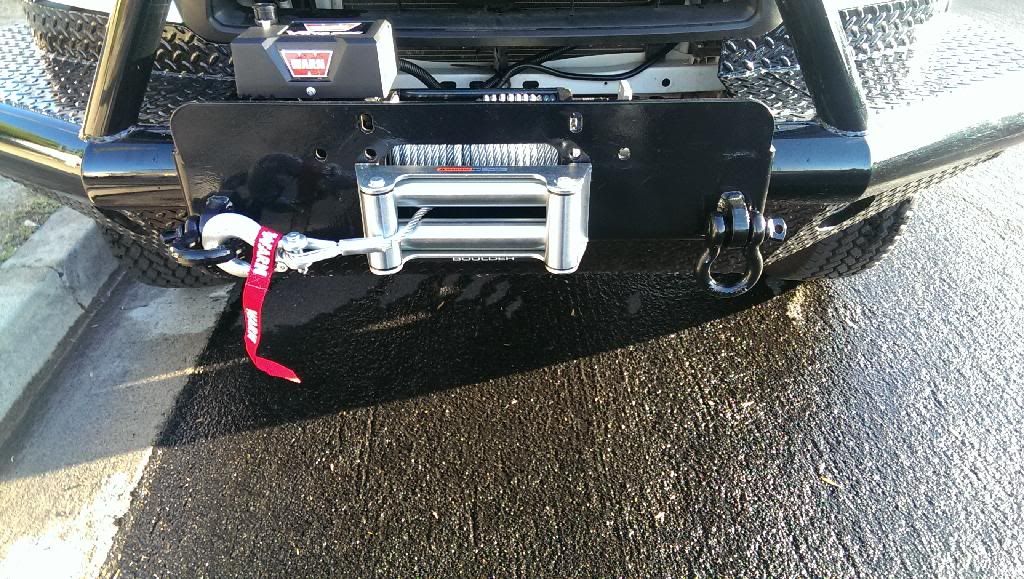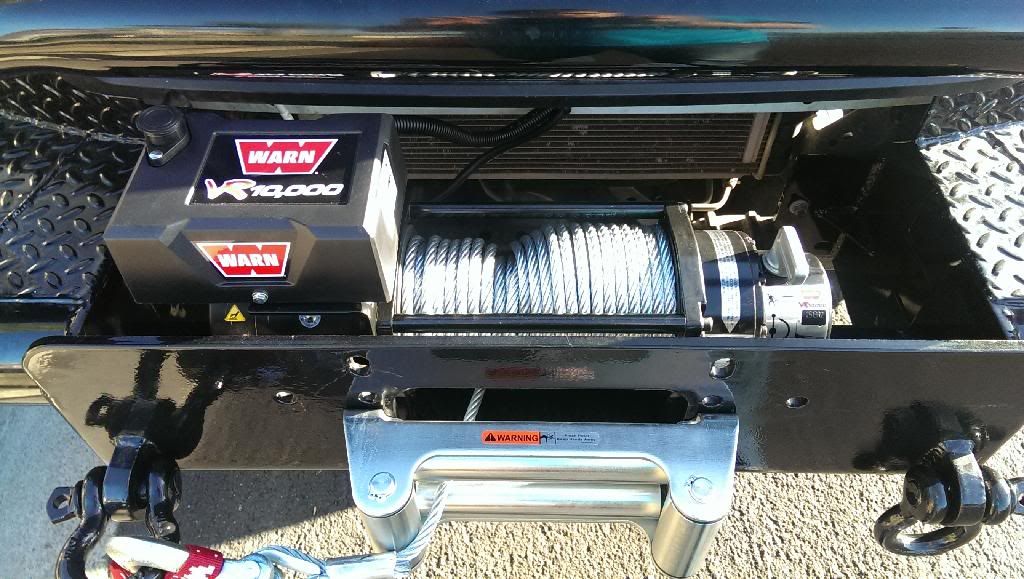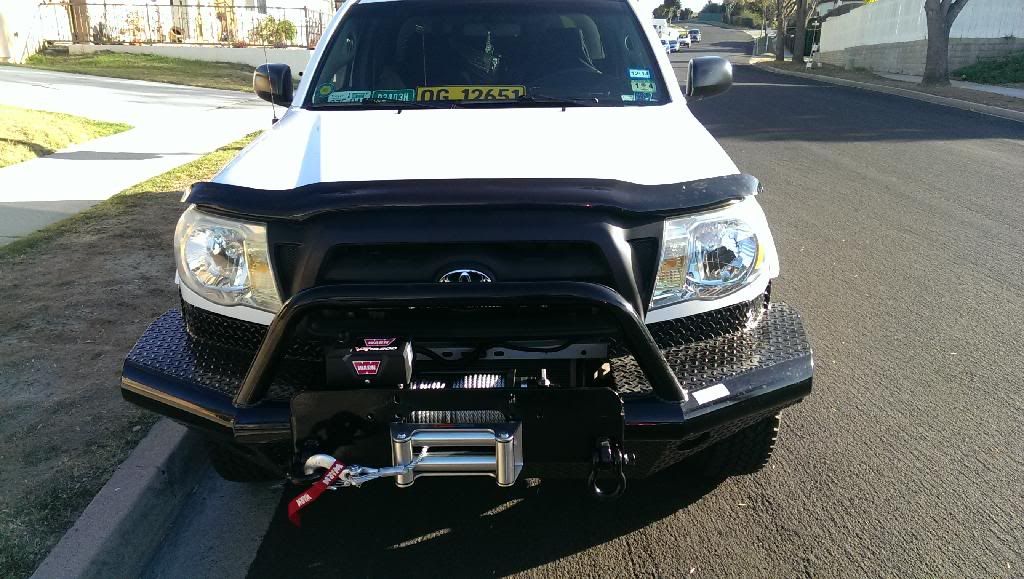 Shackles added to the rear bumper as well.




Swapped in a Kenwood radio to replace the limited stock unit. 4X50 watt output, bluetooth, AM/FM/CD/USB, remote, cell phone connectivity..

Original unit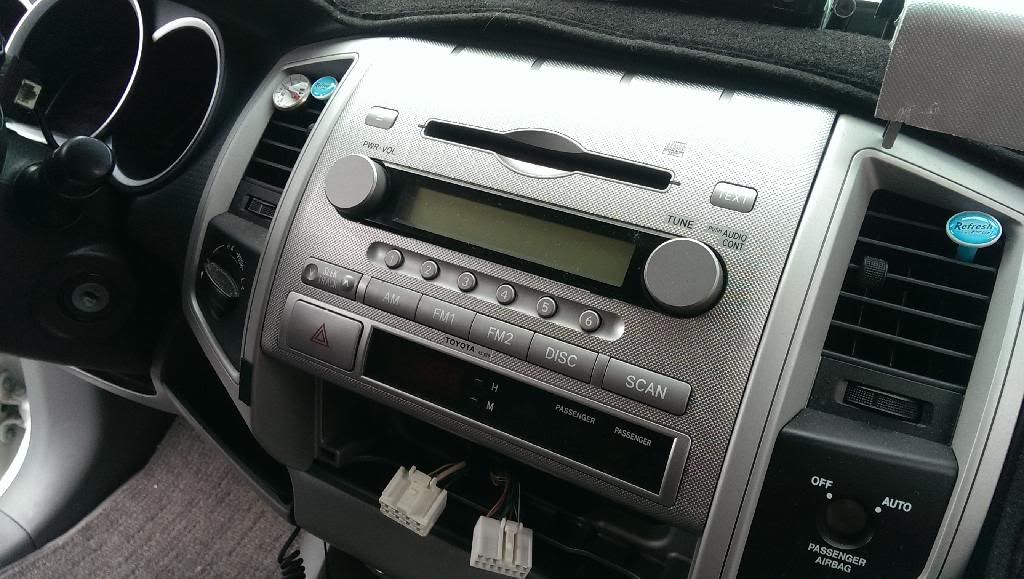 Replacement Kenwood with an installation kit including a new panel.




As promised, pictures of the shell with the cot removed. Much more headroom, I like it much better.

Before: with the cot.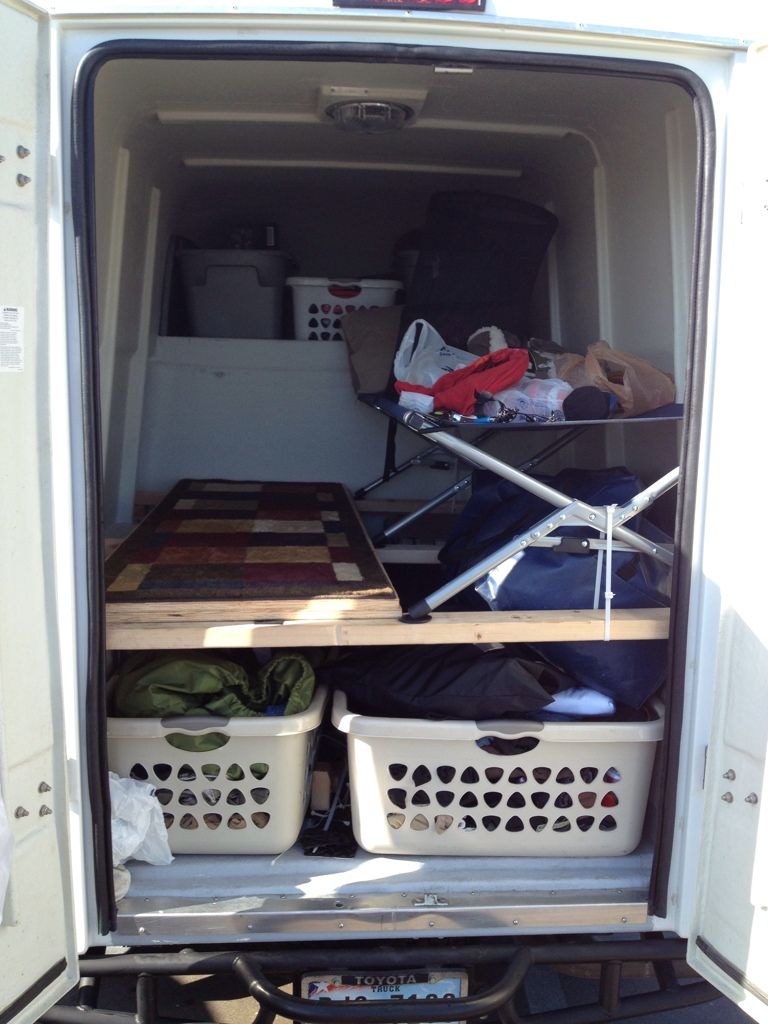 After: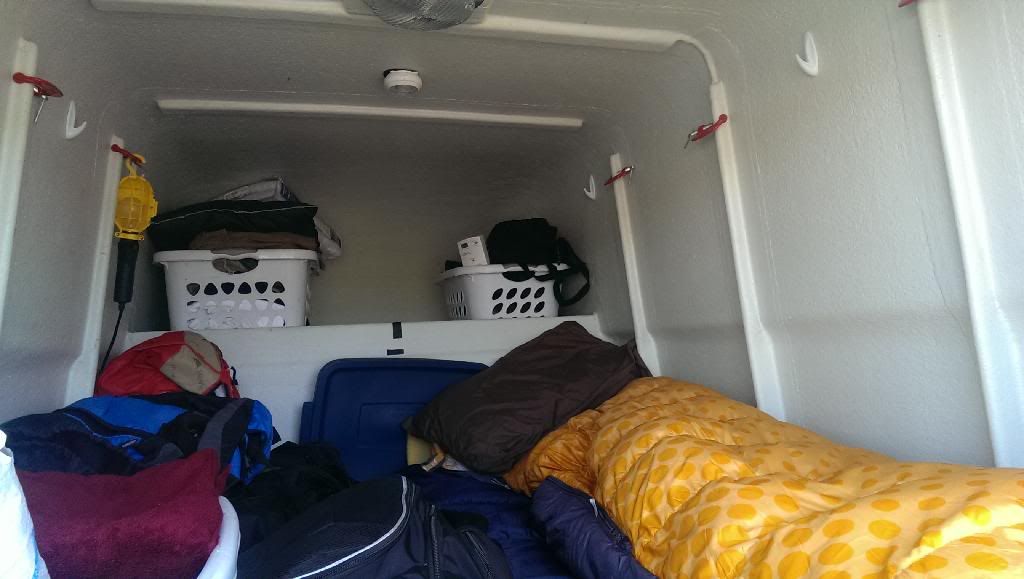 I drove hard and long in trucking in 2013/2014 while throwing money at my vehicle loan. I paid it off 3.5 years early in July 2014 putting me closer to more freedom. My mantra in life is : AQUIRE LESS, LIVE MORE.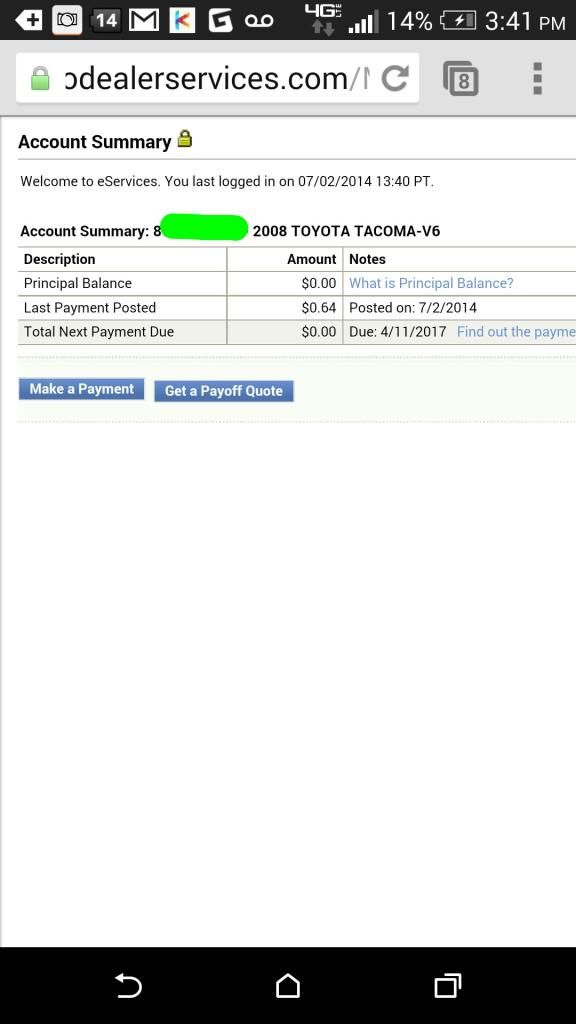 ---

I got off the truck in August 2014 ( yet again,lol ) So, I had time to do some more work on my rig. I purged a lot of unneeded stuff, mostly bags of clothes. I freed up a lot of open space below the deck, going to put some thought into it before I aimlessly fill it up again. I mounted my TV from the big truck to the lip on the front bulkhead. It can be easily slid left or right. I plan to run it off a small inverter. I repurposed a Harbor freight load lock into a clothes rod, allowing me to organize my remaining shirts.




I ran a 12' propane line from inside the shell through an access hole to the outside between the lower shell and truck bedside. I installed a filter as I plan to use the 20lb bottles. The Mr Buddy is inside rated and is EXTREMELY safe. I camped for 3 weeks in the same shell using the same heater.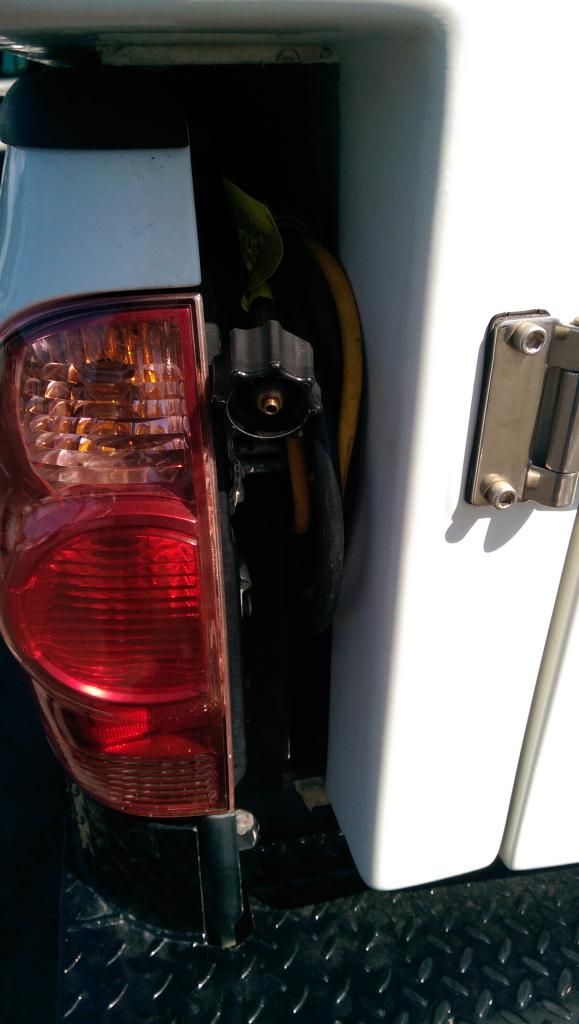 I attached pull straps on each deck half to ease lifting and securing to C-clamps when raised. I also attached a strap to the door to ease closing when I'm inside the shell.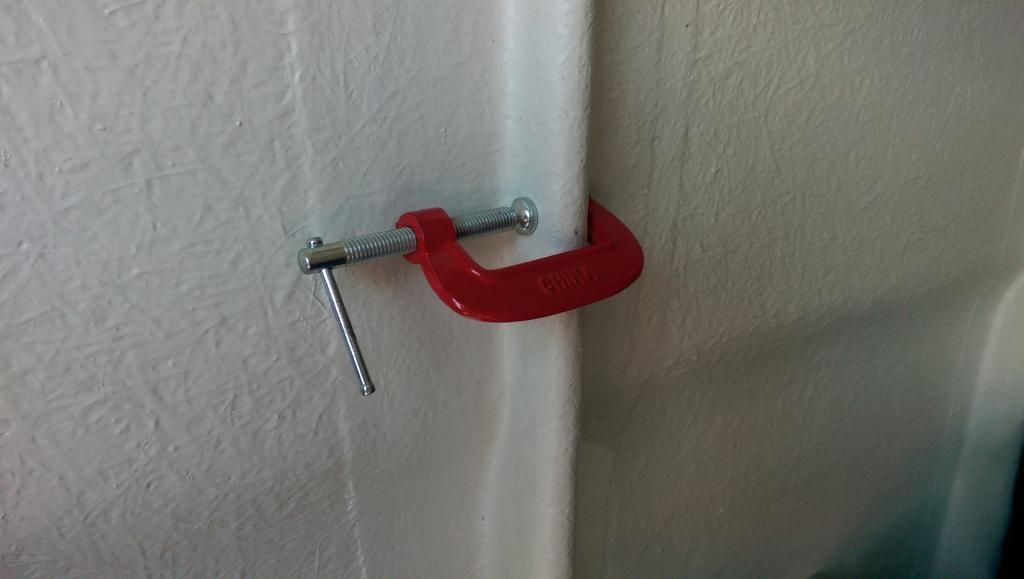 I reorganized the cab to clear out the passenger side. Also, consolidated my tools behind the seats to allow easy access to the ARB fridge and microwave.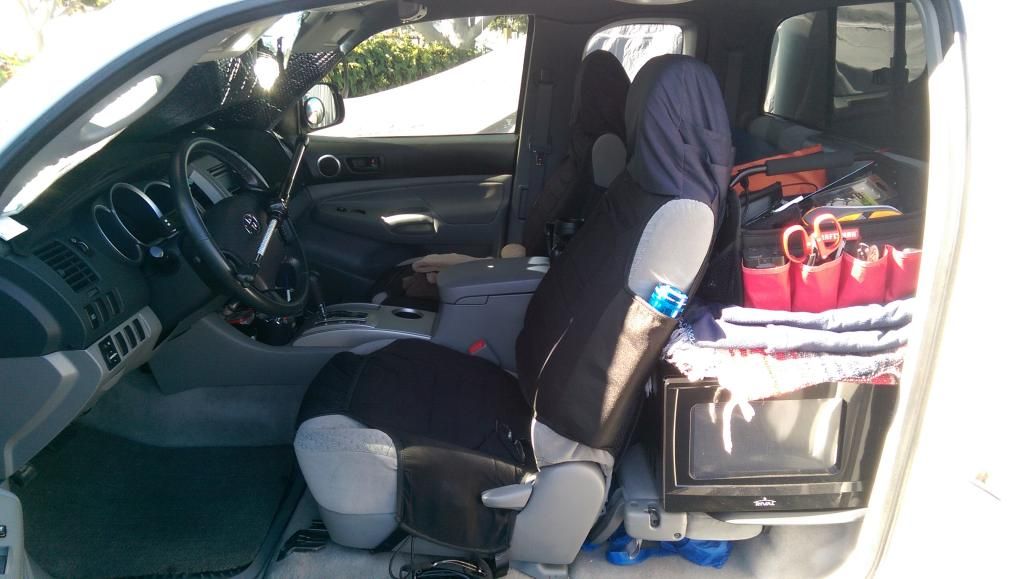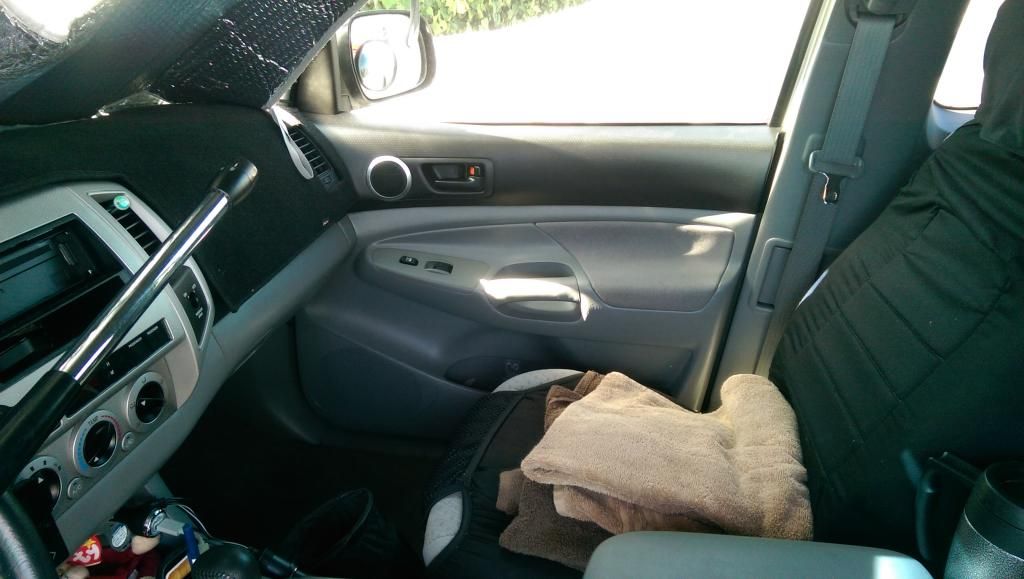 I ran the microwave extension cord through the threshold panels and front fender to make it simpler to use the microwave.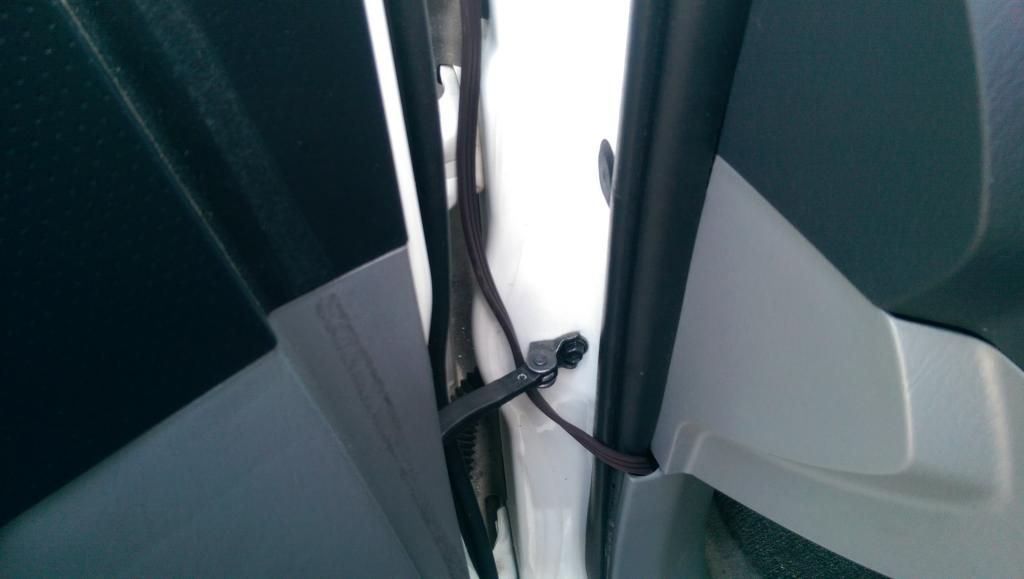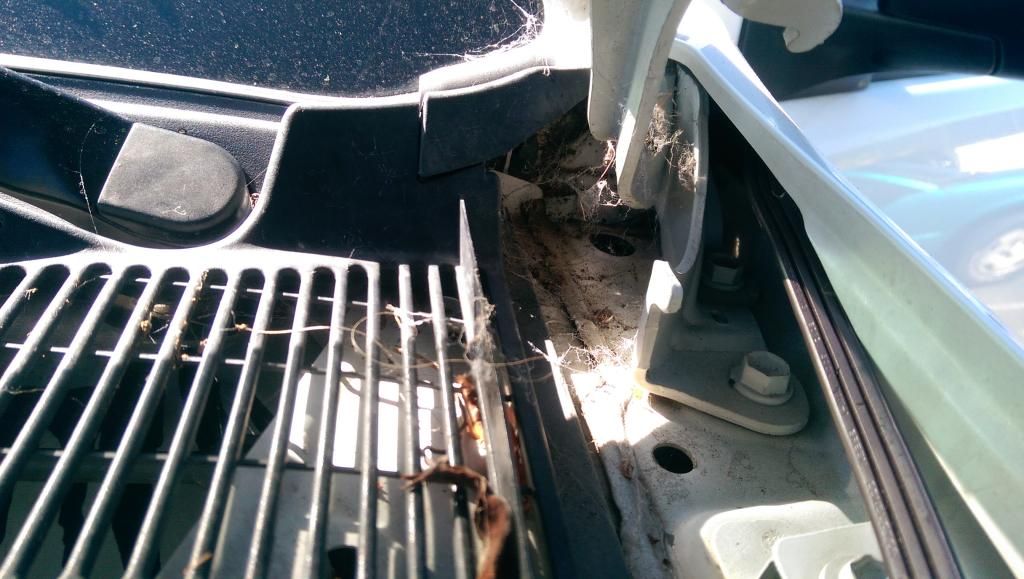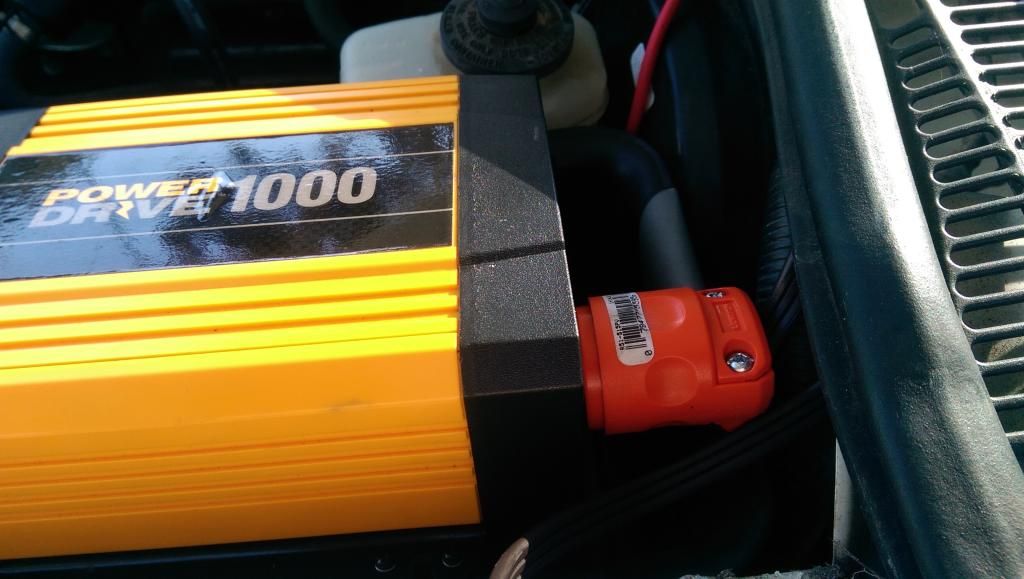 I'm collecting common kitchen items to keep in a bag for quick easy access. Included is a stove attachment for a propane bottle along with the usual items.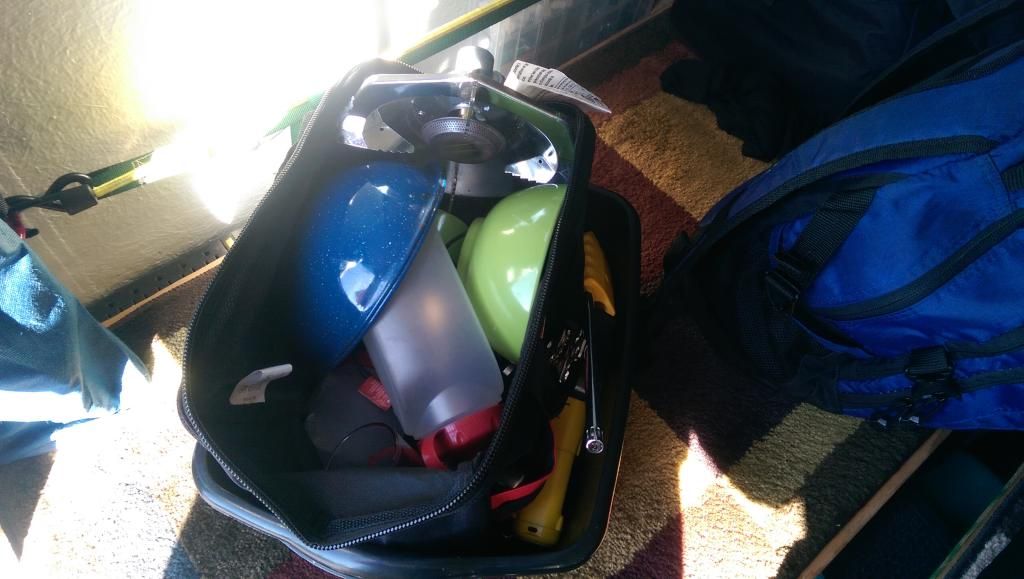 I made a curtain rod out of PVC pipe and two T-fittings. This is set on the door latch bars. A camping tarp can quickly be clamped on to make an impromptu shower stall. With a solar shower bag, a plastic tray and some swimming trunks, I'm good to go.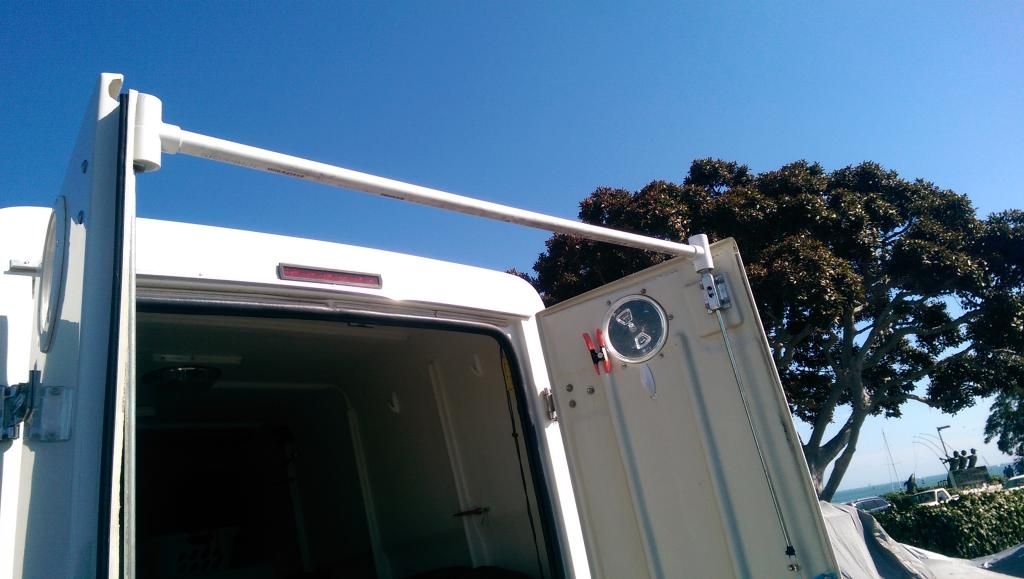 With the price of gas these days, I'm limiting the amount of driving in the Tacoma as much as possible. The modifications haven't helped fuel mileage on an already thirsty vehicle either. I'm getting my 2003 Suzuki DR650 out of retirement shortly. I need a new back tire, battery and tags to get it road ready. I'm going to use a hitch rack to carry it should I head out on the road. It weighs approx 375 lbs.




I acquired some more devices to aid my off the grid aspirations. The Kill A Watt is a line powered monitor giving volts, amps and watts of monitored appliances. I'm having fun going around testing the wattage around the boat. This will allow one to chart everything for future solar panels, inverters and generators.




Also, I bought a Black Box portable folding solar charger. It got good reviews on Amazon, so I decided to try it out. I have my HTC One M8 Android phone charging right now. Seems to be real slow, so the jury's not out yet (10-11-14).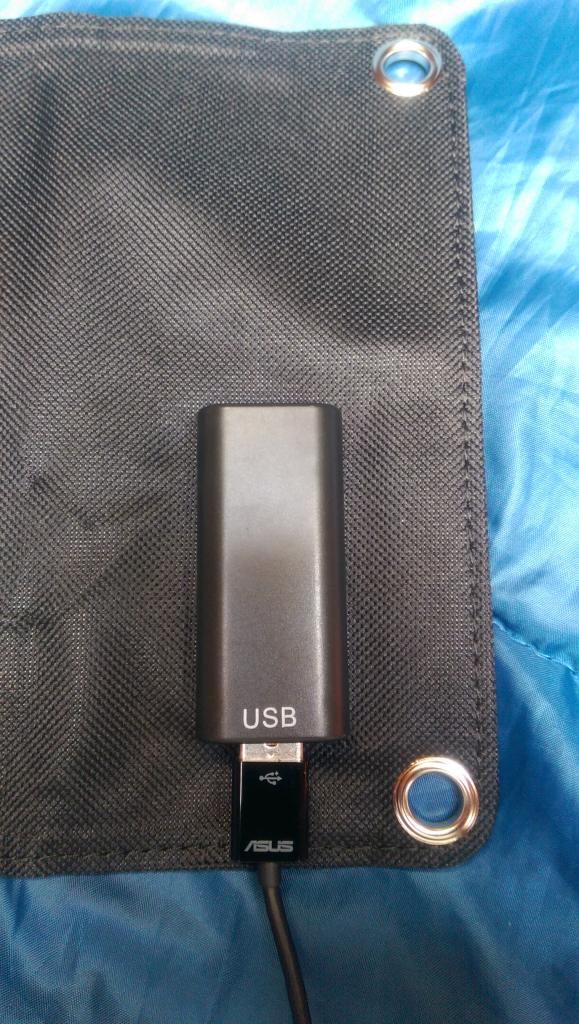 One of my friends works for a commuter train car manufacturer and had excess flooring carpet. Very durable and nice looking. I put a piece on the floor to ease access to the baskets in the camper basement. Now everything slides in and out with ease, but fits tight enough to not slide around when in motion. I hook the baskets with a pole and slide them out easily over the carpet. No more lifting the deck and climbing around in the back like Houdini ..lol.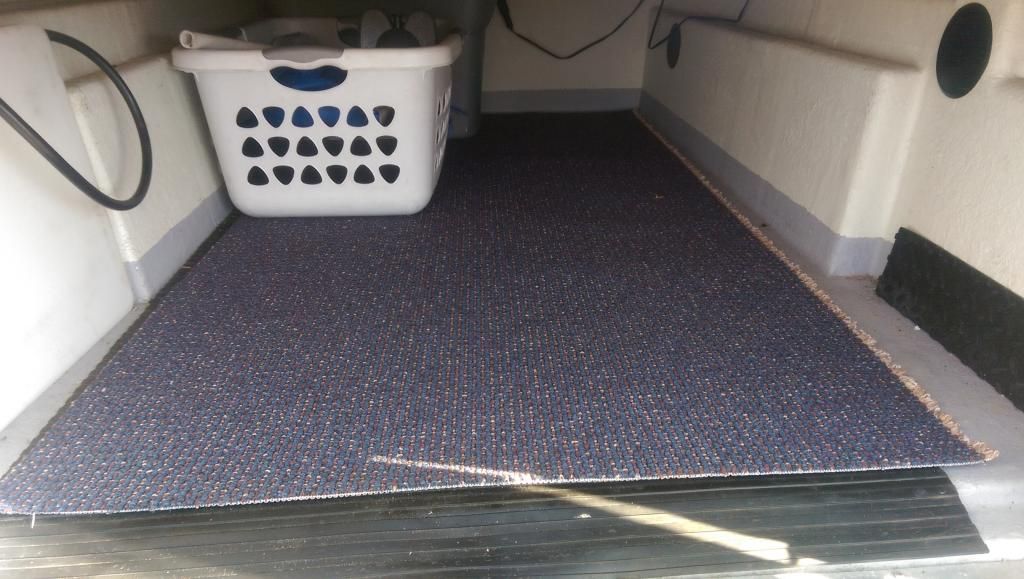 Updated photos, Nov 2014.




I'm using an Electrowarmth heating pad tucked into an extra large rectangular sleeping bag. I put memory foam inside as well, ending up with a comfortable heated mattress for the work truck or my camper shell. The foam and sleeping bag cost approx $80 and I believe I paid around $70 for the heating pad on sale at a truck stop. It works very well!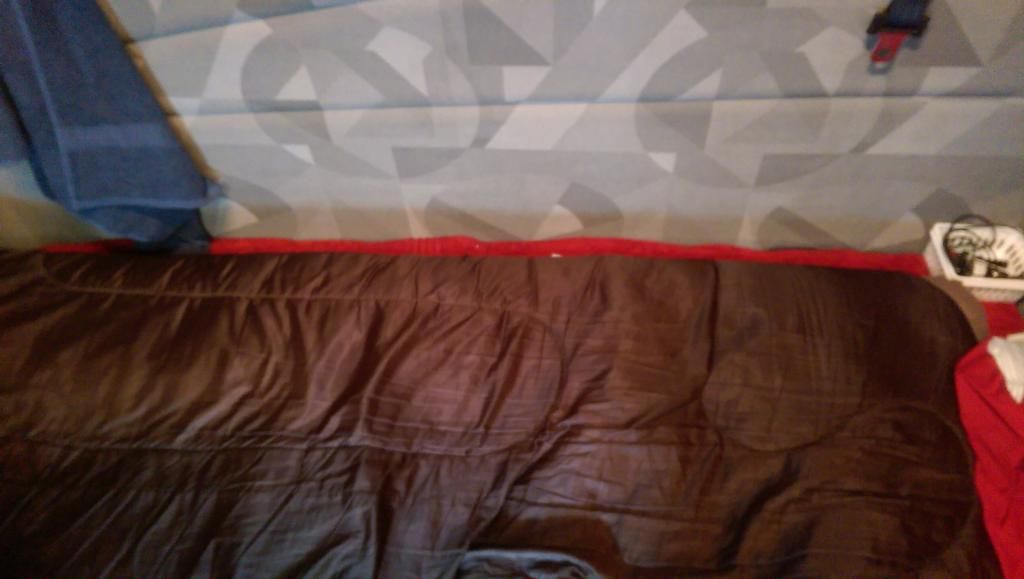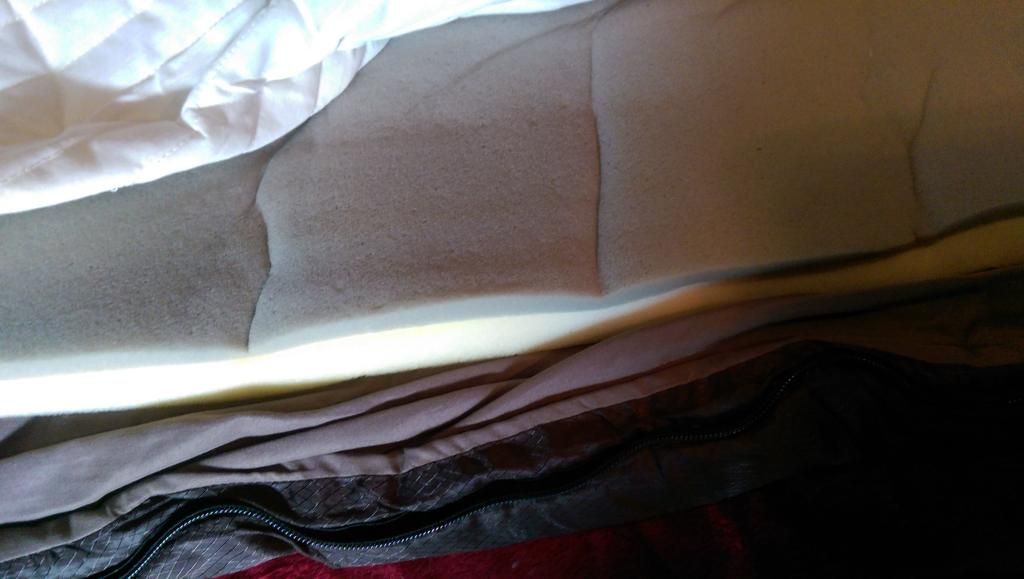 I had the grille coated with Line X as part of my blacking out and de-chroming strategy. Everything else I tried on the grille either peeled or chipped off, along with fading.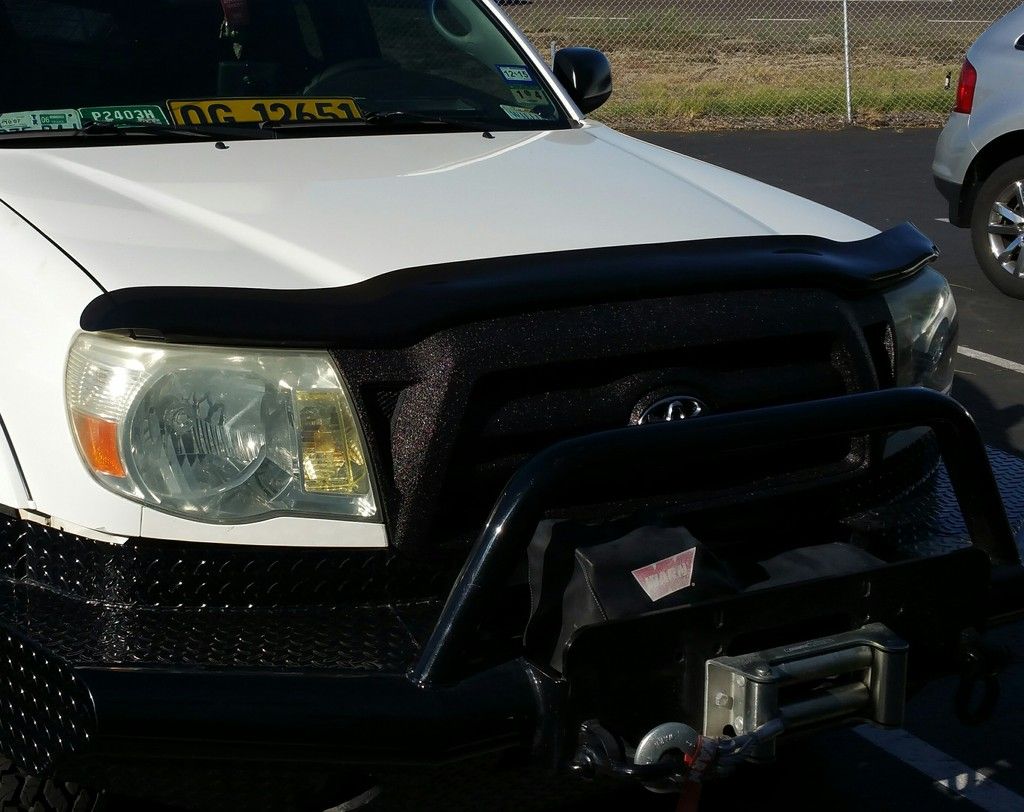 Another recent picture in 2015.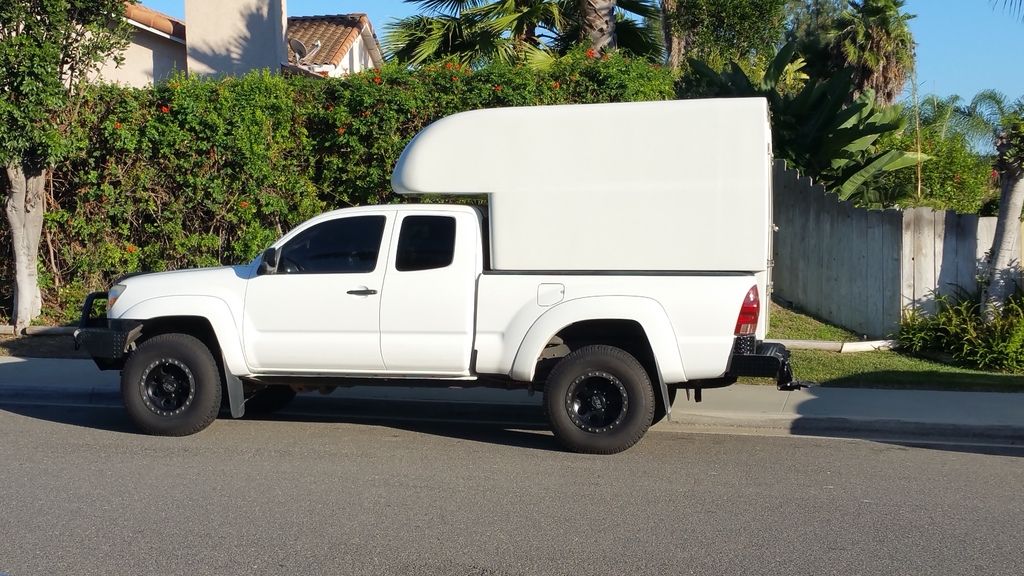 ---