Shema Nails is Really Purdy Fallar!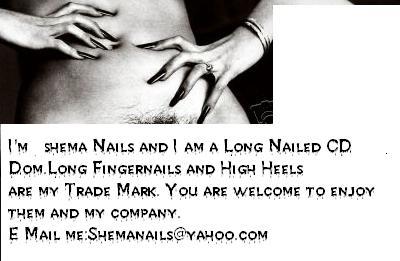 My Favorite things about Long Nails and High Heels
Who is Purdy Fallar?
Why So Much Interest in Long Nails?
Meet the Friends of Shema Nails!
Who Are The Idols of Purdy Fallar(Shema)
Web Sites Related to Long Nail,High Heels, Cross Dressing and Fetishes
Videos of Nails in action
E Bay Link For Used getting Large Size High Heels
My Collections Of Fingernail and Toenail Clippings
Cross Dresser and Transexual Party and Group Links
Links for Information on Wearing High Heels, Transforming into Your Desired Gender, Care For Long Nails
Men with Long Nails
Men in High Heels
Yahoo Groups
Dom Women with Long Fingernails and Toenails
My Favorite Web Sites
Angelfire - Free Home Pages
Free Web Building Help
The Toe Nail Zone
Men With Long Nails

Thank you for visiting my page at Angelfire. Please come back and visit again!
Email: shema13@lycos.com