My collection! I just started and I currently have 33 episodes ranging from 1957-2000. I am currently waiting on 18 new episodes, ranging from 1947(!) - 1996 and the tapes are still pouring in! Get in on the action! CLICK HERE!


GREED Fan Page!



In this site, you will find:

The Rules of GREED

Rare Pictures

The Reign of Dan Avila

The Reign of Curtis Warren

Super Greed

GREED Trivia


HOW TO PLAY:
To get an in-depth summary of how to play GREED, click Here

RARE PICTURES
Here you will find some *rare* pictures from GREED. So sit back and enjoy!

a three-way tie on the qualifying question!



The Tower of Greed!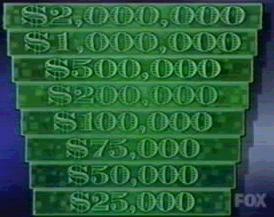 Doesn't Curtis Warren look thrilled to be hit by the terminator?


(By the way, Curtis Warren is the biggest winner in GREED history, winning $410,000 in his game & $1 Million in his "Million Dollar Moment"!)

Something you *NEVER* see! A close-up look of the buttons!



THE REIGN OF DAN AVILA

Dan Avila is probably the best known contestant in GREED history. Below, you will find a complete summary of all his GREED experiences!

Here's Dan's team winning the $1,000,000 question! This is pretty impressive!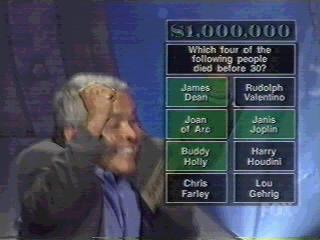 After the picture above, Avila was the only one who elected to go for the $2,200,000 (it was more than $2,000,000 because when GREED first started, the jackpot would rise whenever a team did not go for the top question)

Dan Avila's $2.2 Million question!!!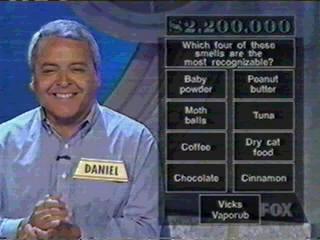 Let's see how he did.....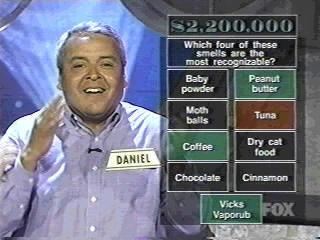 Oh no! He lost $2.2 Million! Oh, how TERRIBLE!!

However, when GREED did a "tournament of losers", they brought Dan back for a chance to win $1 Million in the "Million Dollar Moment".

Unfortunately, he lost that too!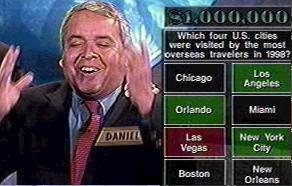 Poor Dan. As if losing $2.2 Million wasn't enough. They should have given his $1 Million anyway, just because of all the agony he went through

THE REIGN OF CURTIS WARREN

Curtis Warren is another unforgettable contestant in GREED history. He was on Dan Avila's team and, like Dan, Curtis made it to the million dollar queation, but...



Unlike Dan, the terminator got Curtis Warren before the million dollar question...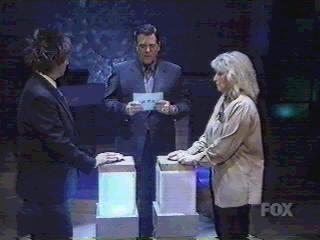 And he won it, so he was playing for $410,000 (Dan Avila was only going for $200,000)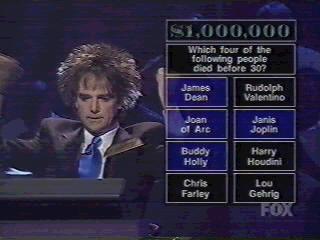 Curtis Warren knows they won the million BEFORE the answers were revealed!

Also, he took the money ($410,000) making him, if I'm not mistaken, the biggest game show winner at that time

Also, like Dan Avila, Curtis Warren appeared on a million dollar moment (not for the tournament of losers, obviously) but let's see how he did...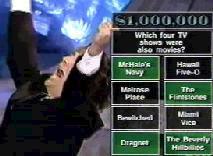 He won the million dollar moment!!! Giving him a total of $1,410,000!!! Again, making him the biggest game shows winner in game show history (until the almost unbeatable record of $1,765,000 was set by David Legler on Twenty One)

SUPER GREED

To see my SUPER GREED site, click here

GREED TRIVIA


Coming soon, a GREED Trivia game. Played just like a game of GREED!