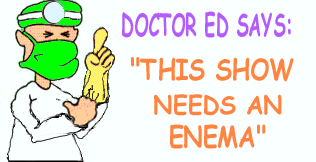 What is a "doctored" show? Basically any movie or tv show that's been altered for comedic effect. Sometimes the audio has been redubbed, taking the film in directions the producer never intended. Other times, a third party's comments or wisecracks are added. Maybe different video clips are added to the show. If you know about any "doctored" shows that are not in this list please let me know! Email: entrynotfound@hotmail.com
Mystery Science Theater 3000 HIGHLY RECOMMENDED

If you don't know about this show you've been living under a rock. This is this most amazing of all "doctored" shows. The films themselves aren't actually altered, but there is a silhouette of a man and his two robots on the screen. They bombard the film with a steady stream of wisecracks and jokes usually filled with obscure references. For an episode guide and tape trading info follow this link:
Dynaman HIGHLY RECOMMENDED

There used to be a great, quirky latenight show on the USA Network cable channel called Night Flight. The show featured music videos and movie reviews and interesting bios. Probably the closest thing to a magazine on television. They also featured a superhero parody called Dynaman. Actually it was a japanese kid's show like Mighty Morphin' Power Rangers only the dialogue had been removed and hilarious new voices added and popular rock songs made up the soundtrack. New plotlines were created and the result was hilarious. Here's my Dynaman trading info: Dynalist
Svengoolie HIGHLY RECOMMENDED

There is a horror show host out of a local Chicago tv station who dresses like a kind of odd hippy vampire with a top hat. He hosts bad horror movies each week and does skits and sings parody songs about them. The best part is a section called Svensurround, where part of the movie has Sven's wisecracks or funny sound effects added. Here's my Svengoolie trading info: Svenlist
What's Up, Tigerlily?

This is probably the most famous instant of comedy film dubbing. This is a Woody Allen film that is actually a Honk Kong James Bond-type movie that Woody removed the dialogue from. He then inserted his own dialogue that changed the plot completely. The result is more oddly intriguing than consistently funny.

Rocky Horror Picture Show

This may be more infamous than famous. But as midnight showings of this are becoming more endangered, future generations may be left only with videotapes. This would be terrible since the bizzare film is nothing without the great audience participation that makes this a wild and unique experience!

UPDATE

The 25th Anniversary Edition Rocky Horror Picture Show DVD includes an audience participation track. Although it's not the same as being at a performance, it does preserve the audience banter that makes this a special event.

Night Of the Day Of the Dawn...

The full title of this is longer than your arm. It's a redubbed version of George Romero's Night Of The Living Dead. Weird and kind of uneven. Fairly funny and broken up with odd tidbits. Very rare!

Mary Tyler Marx

Another oddity. Very rare. A Mary Tyler Moore episode with the audio redubbed to change the plot into one concerning the staff of WJM-TV becoming depressed and disillusioned with there roles in life and they find themselves in an existential crisis. Note: although it dabbles a little (very little) in pop philosophy, it really has nothing to do with Marxism. Pretty funny if you ask me.

Davey & Goliath

This used to be a quasi-religious children's show with a claymation boy named Davey and his dog Goliath. It was an Art Clokey (creator of Gumby) tv series. Someone has redubbed the dialogue to be a steady stream of profanity with, pretty much, no plot or direction. Tiresome and not funny really, unless you consider lots of dirty words with no context funny. Kind of a shame really because if you wanted to do a pornographic yet creatively funny redubbing, this insipid show had good comedy potential.
J-Men Forever

The 70's comedy duo Proctor & Bergman formed the Firesign Theatre, a cutting edge comedy troop that gained a devoted cult following. Mainly known for their comedy albums, they also released this great film that merges many clips of characters from famous serials to tell the story of government agents, J-Men, that fight an evil underground radio DJ trying to take over the world. Hilarious! Recently released on DVD.
Firesign Theatre's Hot Shorts

The famous 70's comedy troop released this follow up to J-Men Forever, where they redubbed 7 episodes of different cliffhanger serials (including Commander Cody) with hilarious new dialogue. Not as cohesive as J-Men, but there is still a lot of really good stuff here.
Being Geddy Lee HIGHLY RECOMMENDED

Dave Bytor is a genius. This amazingly creative guy started off exploring the art of film synching. A few years ago some stoners discovered that if you play Pink Floyd's Darkside Of The Moon while watching The Wizard Of Oz, certain events synch up with the music in a cool and weird way. (see THE DARK SIDE OF THE RAINBOW) Dave Bytor started purposely synching different music to different movies. Most notable was his Rush/Wonka Project. Recently he went a step further and dubbed Rush interviews over the soundtrack of the outrageously oddball movie Being John Malkovich. The result was incredible. Follow this link:
LA Connection's Mad Movies

I remember a short-lived tv series in the late 80's called Mad Movies. Each week this comedy troop (The L.A. Connection) would redub a severely edited version of a famous movie with their own great dialogue. I remember them redubbing a Shirley Temple movie so that it seemed like the plot of the Exorcist. Anyone remember this? I think it only lasted for about 5 or so episodes.

UPDATE

One episode was Night Of The Living Dead. The humor wasn't as good as I remembered. The LA Connection has a website but they aren't offering tapes for sale. They offer a strange membership that sounds VERY shady. I wouldn't risk it

http://www.laconnectioncomedy.com/enter.htm

More on the level is A&E's website offering a tape of the LA Connection redubbing Sherlock Holmes - The Woman in Green. It's $25 here:
A&E TV STORE
Fractured Flickers

Now this is probably the first instance of film dubbing! Jay Ward and the Bullwinkle gang took old silent film clips and added funny commentary and dialogue. Great stuff from 1963. Hosted by Hans Conried and featuring the voices of Bill Scott, Paul Frees and June Foray.
Ferocious Female Freedom Fighters

Normally I'm not a fan of Troma pictures. Ok, Toxic Avenger is midly amusing but just try to sit through Tromeo & Juliet. Well this is different. Here Troma has taken an Indonesian film about lady wrestlers and redubbed the dialogue. One of the characters is now an Elvis impersonator. The new dialogue is pretty raunchy and very funny. This is easily the best stuff Troma has done.
Revenge Of The Sun Demon

Also known as What's Up Hideous Sun Demon. Here's the classic 50s B-movie The Hideous Sun Demon but some LA improv comics redubbed the audio and changed the plot into a story about the tragic effects of a strange suntan lotion. Added footage includes appearances of Cameron Clarke, son of the original Sun Demon, Robert Clarke. But the main appeal here is that the great new dialogue is voiced by an uncredited Jay Leno. This film was acquired by Wade Williams, the guy that bought up all the old Ed Wood stuff and other assorted "so bad they're good" films, and is now part of his archive.
If you are interested in tape trading or have any questions or comments regarding "doctored" shows, please email me. Email: entrynotfound@hotmail.com
Mystery Science Theater 3000
Satellite News
News from The Official MST3K Website
Torgocorps
My episode guide and tape trading info
Dynaman
The Dynaman Foundation
Rokitt88's excellent guide to everything you ever wanted to know about Dynaman
Svengoolie
The Svengoolie Web
Svengoolie trailers, streaming video, message board and tape trade board.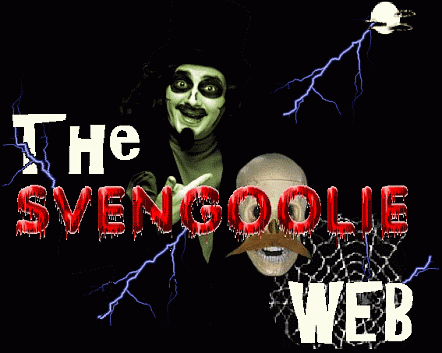 TV Horror Hosts
Thomas Rude's excellent site about all horror hosts. HIGHLY RECOMMENDED
Rocky Horror Picture Show
Official Rocky Horror Picture Show Web Site
Everything you ever wanted to know about the Rocky

Film Synchronicities
Sync Lynks
Explore the world of music & film synchronicities


Being Geddy Lee
See an amazing bizarre redubbing HIGHLY RECOMMENDED