&nbsp&nbspBest veiwed at 800 x 600
td>

My name is Alf Beharie the Engineer for Team Hammertron. Me and my Brother Robert, the Team Captain, were spurred on by our young Nephew to build and enter a Robot on Series 3 of UK Robot Wars. I favoured building an advanced suction-imovability design that would be invunarable to being 'pushed into the Pit' and Rob decided to construct his own design, called ARMSTRONG.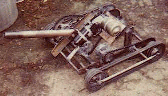 Armstrong




This "unarmed" Robot used automotive fan belts as caterpiller tracks, fan pullys for the wheels and would right itself with a motorised arm. There were many flaws in Armstrongs design but it did make me decide to forget the suction-imovability design in favour of a better engineered version of Armstrong, called HAMMERTRON (Mk.1)

Rob stubbonly carried on construction of Armstrong until he could see that Hammertron was the more viable machine and from then on we both worked together.

I decided to make it cheap, simple and easy to assemble/dismantle, something that was not possible on the permanently-welded Armstrong. I decided to use automotive Timing Belts as Caterpiller Tracks, because their larger surface area would increase the grip available.

The drive Motors were Bosch Windscreen Wiper Motors connected to Ford Pinto OHC Crankshaft Sprockets, to drive the Belts and simutaneously tension them.

The Wheels were 2" sections of 4 1/2" Steel Tube press fitted either side with turned end caps, made from 15mm flat Polypropyline sheet.

The weoponry would consist of two 2 1/2lb "Club Hammers", hinged from a rotating Turret to give glancing blows.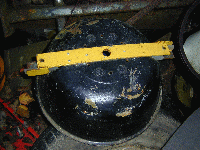 This is all that is left from the first Hammertron, the rotating Turret.
Rob designed his own Switchgear to control the Motors, that was simple, light and above all, cheap. In fact it cost nothing! It was constructed from copper sheet, cut out like a flattened doughnut then cut into segments. Each segment being a seperate contact. Copper arms were attatched to the servo and these slid against the copper segments to switch the supply.....simple!
The bodywork was strictly cosmetic, being made from folded and pop-rivited 0.65mm Alluminium sheet. This was made just the day before the Audition so we did'nt even have time to fix it to the Chassis. In fact the paint on it was still tacky when we were showing it off!
Overall it looked vaguely like a stealth-beetle!
It was this Robot that we took to the Audition in May 1999. It passed with flying colours despite, at 3 mph being probably the slowest Robot there. We tested our weopons against the stack of breezblocks, creating clouds of brickdust and smashing pieces off them. It had taken around two Weeks to build at a cost of just £1!







After the Audition
There was much advice and constructive critisism available at the Audition and this all pointed to one thing - Hammertron would need to be bigger, faster, better armoured and better armed if it were to stand any chance against the competition.
It was to use a refined version of my Timing Belt drive system that had proved so effective before but the Tracks were widend to 3" either side, to give even better grip and the motors were upgraded to 24 Volt Klaxxon Wheelchair Motors. The Sprockets needed to be made larger, to increase the speed and were changed to Vauxhall Cavalier 42 teeth Camshaft Sprockets, sourced from my local Scrapyard. Six in total were found and then welded together in two lots of three. The sprockets were only 22mm wide so were spaced out to match the centres of the 25mm wide belts, before welding.
The Chassis was all Alluminium, using both extrusions and sheet bolted together. The armour was 3mm Duralluminium sheet bolted to an steel "Angle Iron" perimeter frame, for protection against Grinding Discs.
A lifting arm was fitted to both raise and lower the Hammers and to self right itself, powered by my own invention - the Mechanical Bottle Jack. This used a telescopic screw thread made from M20 threaded bar which was drilled through to be a clearance fit for M12 threaded bar. A M20 nut was welded to the top of a 20 tooth chain sprocket and an M12 nut to the top of the M20 bar. The top of the M12 bar was attached to the arm through a steel yoke and bolt. When the sprocket was rotated the thread caused the bars to either extend or contract, thus moving the arm. This was driven by a 12V model starter motor to which a purpose made six tooth sprocket was attached to provide reduction gearing.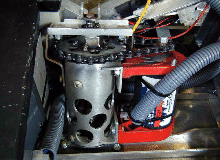 Here is the Jack that should have worked but on the day, decided not to!
The Hammers were increased in weight to 7lb each and a new rotating arm was fashioned from Alluminium 1" x 2" Box-section. The Alluminium wheels are actually just rollers, each one being fabricated from 15 seperate components. Eight wheels are used and are so light that they are over 1kg lighter than the original four, as used on the Mk1! The Axels were made from 10mm x 2mm hydraulic tube, very strong and yet very light. The total weight came to just over 73kg so giving us the option of using even heavier hammers if required.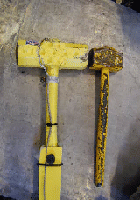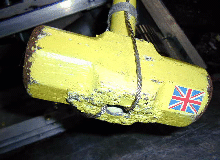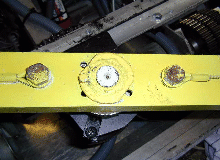 Left- Compare the 7 pounder on the left with the original 2 1/2 pounder, used at the Auditions. Center- Here is one of the 7 pounder's as used on the show. Note: The Steel Wires that Matt 'the Safety Bloke' made us fit, in case of Flyoff! Right- Here is the Hammer Arm with the Cables securely fitted to it.






The new Robot, HAMMERTRON Mark2, was started in earnest immedietly after We returned home and was complete in around four Months at a cost of just £7! The tracks and control gear being the only components used from the Mk1. The logos were sourced from my mate Gary down at:- 'The Sign shop', in Hanworth, Middlesex. The paint used is M.O.D. issue matt black containing anti infra-red detection ingredients! The tracks (timing belts) were sourced from 2-3 local Peugeot/Citroen dealers and are ex-service items that are usually thrown away, so didnt cost anything! They are from the 1.9 XUD Diesel engine.







TV Capture shots of Hammertron Vs Sonic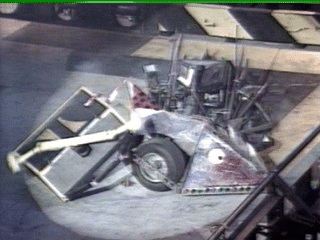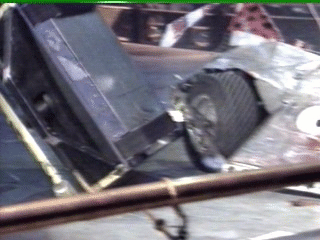 The arena spikes flipped Hammertron onto its side and then Sonic knocked it onto its back. The 'self righting mechanism' refused to work and that, unfortunatly, was that! Sergent Bash left a couple of holes in the base-skin and Dead Metal cut into the corner, to a depth of about 2 inches! The weld on the hammer-arm shaft failed and it was left on the arena floor while Hammertron was pushed into the pit by Dead Metal. The control gear was found to be at fault but it was too late by then. Phillipa got it just right when she said "you two are just gutted are'nt you?"!





Thank you for visiting HAMMERTRONS Home Page, please come back and visit again!







Back to Beharie Home Page or stay and try out these other Great Robot Wars Links-






For THE official Robot Wars UK site-



For Tectonic's Robot Wars UK site-



DMachines site-



Robotcombat site(recommended)-


g7vgg@yahoo.com