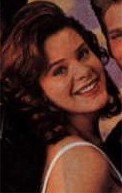 THE ACTRESSES BEHIND THE CHARACTER:

Dr. Karen Wexler is a character that originated on General Hospital in 1992 and was played by Cari Shayne (first picture). Shayne left the role in 1994, and the character was written off. In June of 1997, when Port Charles premiered, Jennifer Hammon (second picture) took over the role, but she chose not to resign her contract and her last airdate was on June 24, 1999. On June 30, 1999, Marie Wilson (third picture) became the third actress to play the role and is currently.
---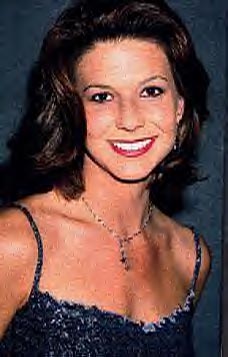 KAREN'S BIO:

Dr. Karen Wexler grew up in Port Charles and was raised by her alcoholic mother, Rhonda. As a junior in high school, she became involved with rich kid Jason Quartermaine. She left him for bad boy Jagger Cates, a fellow waiter at Kelly's, who was being pursued by Brenda Barrett. Not long after she and Jagger make love for the first time, Karen began remembering that her mother's ex-boyfriend, Ray Conway, had molested her as a child. She broke up with Jagger, feeling as though she was unworthy of love, and started going to wild parties and seedy places where she met Stone Cates, who turned out to be Jagger's brother. He took her to meet his boss, Sonny Corinthos, who owned a strip club called The Paradise Lounge. Sonny talked Karen into stripping, even though she was only seventeen at the time. He also got her hooked on pills, which she used to keep her new life secret. She started classes at PCU and began working at General Hospital in a program for future doctors, while waitressing at Kelly's by day and stripping as 'Carrie The Schoolgirl' and having an affair with Sonny by night! Jagger followed Stone to the club and saw a drugged-out Karen stripping and later found her in bed with Sonny. He beat him up and Sonny put out a hit on Jagger and threatened Karen. Karen was stealing pills from the pharmacy at the hospital and was caught by Dr. Alan Quartermaine. She finally confessed everything, including the abuse to Dr. Gail Baldwin, not knowing she was her grandmother. Karen cleaned up her act and her and Jagger got back together. She received a scholarship to Northwestern University to study medicine and Jagger got accepted to the Police Academy in Chicago. Alan, who had become close with Karen and Rhonda, offered to pay Karen's tuition. She and Jagger soon became engaged and were married at Kelly's, where they had met. On their wedding day, Rhonda revealed to Karen that her father was Scott Baldwin! Seems he and Rhonda had a one-night-stand the night of their prom in high school, and Rhonda never told Scott that she gotten pregnant. After the wedding, Karen and Jagger took off on the back of his motorcycle, heading for Chicago. They later moved to San Francisco, where Jagger became an undercover cop.

In 1997, Karen returned to Port Charles, leaving Jagger in San Francisco, to accept an internship at GH. She was reunited with Scott and met her half-sister, Serena. The long-distance marriage started crumbling and Karen went to see Jagger. Instead, she found Jagger's partner, who informed her that she and Jagger had been having an affair since Karen was in med school. They divorced and Karen began dating former childhood playmate and fellow intern Dr. Joe Scanlon. When his ex-girlfriend Courtney Kanelos came to town with her son, Neil, who was sick with Leukemia, she informed Joe that he, not Courtney's ex-husband, was Neil's father! Not long after, Joe and Karen became engaged and Courtney and Joe's brother Frank schemed to break up them up by making it look like Joe was a sex addict. Karen broke off the engagement and turned to Frank, but soon found out that Frank was the one who set Joe up, and she and Joe got back together. Karen became Chief Resident at GH. After Neil's Leukemia returned, Karen soon discovered that Frank and Courtney had an affair while she was with Joe. Rushing to confront Courtney, who was on her way to see Frank, the two got into an accident, which resulted in the miscarriage of Courtney's baby, who was going to be a bone marrow donor for Neil. When Karen found out that Frank, not Joe was Neil's father, she chose not to tell Joe. He soon found out and lost all trust in Karen for not telling him. Joe was upset with Karen for suggesting he take himself off Neil's case, and when Alan took him off, he performed an unauthorized bone marrow transplant on Neil. Karen walked in and reamed him out and Joe was suspended from practicing medicine, which has made it hard for them to find their way back to each other. Between the stess of the nurse's strike and her horrible break-up with Joe, Karen resorted to her old ways and began popping pills again. She hid her addiction and started pulling away from friends and family. When Chris and Julie found out, they used it against Scott and Lucy in a custody battle and her secret was out. Scott confronted Karen and she blew up at him for not making more of an effort to be her father now that they've been living in the same town since Karen accepted the internship at GH. After Karen finally confessed feeling neglected by Scott, the two made up and he told her he'd do anything he could to help her. When Karen was ready to admit she had a problem, she took a leave of absence from GH and took off for a rehab clinic for doctors with addicitons. Since being back from rehab, she has managed to stay clean. Even after learning of her father Scott divorcing Lucy, and the presumed death of her best friend Eve and friend Ian.
---