Dances With Marmots - Main page
Dances With Marmots
A Pacific Crest Trail Adventure
ISBN:1411656180 and 9781411656185
George G. Spearing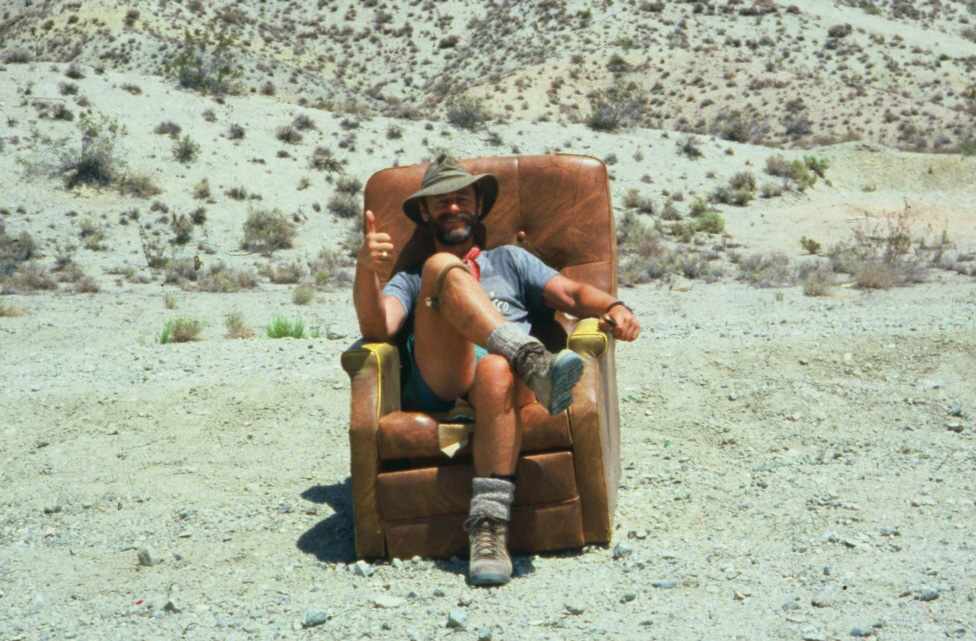 Sheer luxury at the edge of the Mojave desert
George Spearing was born and educated in the UK, spending two years as a cadet at the shore based naval training school HMS Conway before going to sea at age sixteen.
Emigrating to New Zealand six years later, he worked at a variety of jobs before joining the New Zealand Fire Service in which he served for twenty seven years in the Auckland Brigade, retiring with the rank of Station Officer. He now lives in Oamaru, South Island, NZ.
'Dances With Marmots' is his first full length book. He has had several outdoor magazine articles published plus a fictional short story published in Air New Zealand's flight magazine.

Outdoor experiences include sea kayaking. Parachuting. Cycling 'off road' across Australia's Nullarbor Plain. Summiting Mt.Cook/Aoraki, NZ's highest peak. Crewing on a 40ft sloop to New Caledonia and Australia. Through hiking the Pacific Crest Trail, USA (Mexico to Canada). Through hiking the length of New Zealand's North Island. (north to south) Through hiking the length of Great Britain (Land's End to John O' Groats) and hiking the breadth. (Coast to Coast, west to east) Through hiking the 870 mile All Wales Coastal path, Chester to Chepstow.
Picture thumbnail page
FAQ's
Map and Elevation charts of the PCT
Mileages along the PCT plus Steve Shuman's article "PCT Northbound Hiking Rates"
Bears 'n' Stuff
Hiking and Navigation tips
Backcountry Lightning Risk Management. John Gookin.
Various Books of Hiking and General Interest
Links to sites of hiking, outdoor and miscellaneous interest
No marmots were harmed in the making of this website.