Edgar Rice Burroughs:
An Illustrated Bibliography
ERB C.H.A.S.E.R. ONLINE ENCYCLOPEDIA
Compiled by Bill Hillman
1950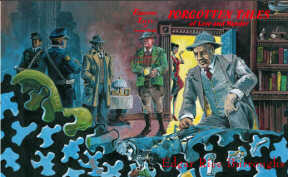 Forgotten Tales of Love and Murder (Anthology of previously unpublished short pieces)
"An Autobiographical Sketch" (originally published in Amazing Stories, June, 1941).
"Jonathan's Patience," an ironic, previously overlooked tale that appears to predate Burroughs' professional work.
"The Avenger" (1912), a dark, violent story of revenge.
"For The Fool's Mother" (1912), ERB's first Western.
"The Little Door" (1917), a powerful tale of love, war, and horror.
"Calling All Cars" (1931), murder and romance in the hills of Los Angeles.
"Elmer" (1936), a defrosted caveman comes to Hollywood. (This is ERB's original version of the story his magazine editor revised into "The Resurrection of Jimber-Jaw.")
"The Strange Adventure of Mr. Dinnwiddie" (1940), humor, seduction, and intrigue aboard an ocean liner bound for Hawaii.
"Misogynists Preferred" (1941), demonstrating what happens when a gaggle of woman-hating men meets a covey of man-hating women.
"Uncle Bill" (1944), a tale of horror in everyday life.
"The Red Necktie" (circa 1932), a stand-alone mystery puzzle.
"Murder: A Collection of Short Murder Mystery Puzzles" (circa 1932-1940), seven fictional puzzles, featuring ERB's last series character to appear in book form — Police Inspector Muldoon — and his trusted biographer and sidekick, Edgar Rice Burroughs!

"The Dupuyster Case" (circa 1932), an unfinished Muldoon mystery puzzle.

Guidry & Adkins, Publishers (2001)




EDGAR RICE BURROUGHS
September 1, 1875 - March 19, 1950

On Sunday, March 19, ERB finished his breakfast and sat in bed,
reading the comic pages.
He was alone and death came to him suddenly and quietly.
He had left instructions that his ashes should be buried beside his mother's;
he wrote:
"...bury them under the big black walnut tree on my pet lot."
According to his wishes, they were buried beneath the tree that shaded the offices in Tarzana.
Shortly before the end he had said,
"If there is a hereafter,
I want to travel through space to visit the other planets."




. WEBJED: BILL HILLMAN .


Visit our thousands of other sites at:
BILL & SUE-ON HILLMAN ECLECTIC STUDIO
Some ERB Images and Tarzan© are Copyright ERB, Inc.- All Rights Reserved.
All Original Work ©1996-2002 by Bill Hillman and/or Contributing Authors/Owners
No part of this web site may be reproduced without permission from the respective owners.