Edgar Rice Burroughs:
An Illustrated Bibliography
ERB C.H.A.S.E.R. ONLINE ENCYCLOPEDIA
Compiled by Bill Hillman
1937

The Bold dates indicate the year in which ERB created the stories.
Book dedications are indicated in quotation marks.
The information following the titles indicate: the working title (WT),
the first published title, usually in magazines (MT).
Where WT or MT are not given, the title is the same.
Following this is a list of magazine and book publishers who have put out editions of the work.
Publish dates for the first edition magazines and books are in brackets.
---
1937
---
Carson of Venus "To Florence Gilbert Burroughs"
Argosy 6(1938) - ERB Inc. (1939) - Canaveral - Ace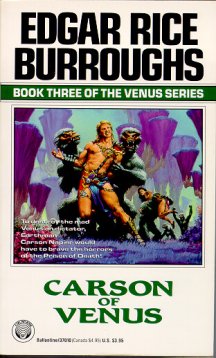 ---
Tarzan and the Forbidden City (MT=The Red Star of Tarzan)
Argosy 6(1938) - ERB Inc. (1938) - Bantam (1940) - Whitman - Ballantine
---
"'Two Gun' Doak Flies South" (unpublished) (WT1="Two Gun" Doak Flies South by John Tyler McCulloch, WT2=Mr. Doak Flies South by ERB)
---
"Mr. Burroughs Describes His Publishing Methods" (Writer's Digest, May 1937, pp 33-34)
Reprinted in A Golden Anniversary Bibliography of ERB (1964)by Henry Hardy Heins
---
"The Author - Publisher" - Article on Publishing (Same as above?)
Writer's Digest
---

"Birth of Tarzan by his Poppa"
Script Magazine, June 19, 1937
---
"Man-Eaters" (On the behaviour of lions)
L.A. Times Sunday Magazine - August 22


WEBJED: BILL HILLMAN


Visit our thousands of other sites at:
BILL & SUE-ON HILLMAN ECLECTIC STUDIO
Some ERB Images and Tarzan© are Copyright ERB, Inc.- All Rights Reserved.
All Original Work ©1996-2002 by Bill Hillman and/or Contributing Authors/Owners
No part of this web site may be reproduced without permission from the respective owners.