Edgar Rice Burroughs:
An Illustrated Chrono-Log
1935
Compiled by Bill Hillman
Our Illustrated ERB Pulp Magazine Bibliography is displayed at:
ERBzin-e 220
---
Our Hypertexted Checklist of ERB Short Works is displayed at:
ERBzin-e 219



The Bold dates indicate the year in which ERB created the stories.
Book dedications are indicated in quotation marks.
The information following the titles indicate: the working title (WT),
the first published title, usually in magazines (MT).
Where WT or MT are not given, the title is the same.
Following this is a list of magazine and book publishers who have put out
editions of the work.
Publish dates for the first edition magazines and books are in brackets.
---
---
1935
---
Back to the Stone Age (WT=Back to the Stone Age, A Romance of the Inner World -- MT=Seven Worlds to Conquer)
Argosy 6(1937) - ERB Inc. (1937) - Grosset & & Dunlap dust jacket - Canaveral - Ace
---
Tarzan the Magnificent "To Cyril Ralph Rothmund" (Chapters 1-12 ...conc. in 1936) (WT1=Tarzan the Magnificent, WT2=Tarzan and the Elephant Men -- MT1=Tarzan and the Magic Men)
Argosy 3(1936) - Blue Book 3(1937 & 1938) - ERB Inc. (1939) - Ballantine - Methuen - Four Square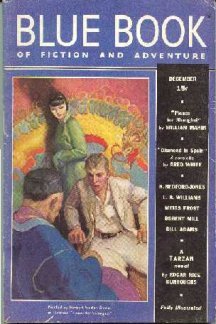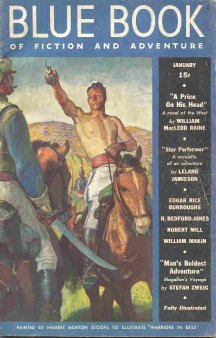 ---
Resurrection of Jimber-Jaw (WT=Elmer)
Argosy 1(1937) - Canaveral (1964) (Tales of Three Planets with Beyond the Farthest Star, Wizard of Venus)


WEBJED: BILL HILLMAN


Visit our thousands of other sites at:
BILL & SUE-ON HILLMAN ECLECTIC STUDIO
Some ERB Images and Tarzan© are Copyright ERB, Inc.- All Rights Reserved.
All Original Work ©1996-2002 by Bill Hillman and/or Contributing Authors/Owners
No part of this web site may be reproduced without permission from the respective owners.