Jim and Ken's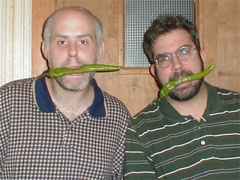 Hi! Welcome to our new site! If you love spicy... really spicy food, this will be a site you'll definitely want to check out!
We are in the process of adding several new features, so please look us over, bookmark us, and visit us often. Be sure to drop by the Pepper Pyromaniac's Discussion Board. Also, please sign our guestbook, and leave us any comments or suggestions you may have. Enjoy your visit!
---
Pepper Fact:
Hot peppers are good for you! Contrary to popular belief, spicy foods to not cause ulcers (although they may irritate preexisting stomach problems.) In fact, cayenne pepper is commonly taken in supplement form, and has been used to treat circulation problems, toothaches, and colds.
---
Pepper Pyromaniac's Discussion Board
If you are a pepper freak, here is a place for you to share ideas, recipes, favorite sauces, and other information. We are hoping to build a network of hot food fans through this discussion board. Please, keep your remarks in good taste (no profanity, racism, etc.) and have fun!
Click Here To Enter
---
Pepper Fact:
When you are eating something spicy, do
not
drink water to cool the heat. It will mix with the chile oils, which will spread them, and make the burn last even longer! Soft drinks are even worse, due to the acid content.
Instead, try cold milk or ice cream. They seem to work best. Bread, plain tortillas, or rice can also help.
---
Sign My Guestbook
View My Guestbook
Email: rhema6@juno.com

---
Please Also Visit Our Other Pages:
---