"Come on Andrew, I have a surprise for you at the house," I remember my Father saying that cold December day, "It's a Christmas present from Mamaw Joan." When I turned around to go back in the house I saw a mischievous grin on my Grandmother's face. I knew something was going on. Later I was to discover the nature of the surprise.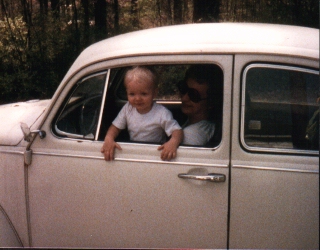 I had developed an interest in VWs cars when my Dad brought home an issue of VW Trends, but my Volkswagen car background had started way before that. I remember riding on my Grandmother's lap in my mom's white '68 down the street and to the pool. My Mother's family owned three Volkswagens cars, a blue '63 (the same one that I have now come to own), a green '64, and a white '68. My Grandfather drove the '63 for eleven years before later selling it to his nephew, a mechanic. My Grandparents had purchased it from the orginal owner in 1964 after he discovered his 6 foot tall frame just didn't quite fit into the bug car.
| | |
| --- | --- |
| | |
The family had talked about what might have happened to the '63 and after a few calls in November '96 I learned that the '63 could be mine at no charge.
"How can this be?" you ask. Well when this car was sold in 1975, the mechanic only made a small downpayment on the agreed upon price. Therefore, the car legally wasn't his or my Grandfather's, as the title had never been transferred. Since the mechanic's car lot was getting full he agreed to give me the Beetle for the price of towing it from Gatlinburg, TN, to Knoxville. December 21, 1996, the car rolled into the garage. It had sat, undriven since 1982, and although not in bad shape on initial appearance, it was in poor shape underneath. The battery fell onto the ground after the car rolled off the wrecker and the entire space under the back seat was the a nest for at least one varmit over the years.