Nails Of Cyn Fetish Page
" I must send out my prayers and blessings to al the families , friends, fireman, police, doctors,foes, and everyone World Wide who have had their lives either taken away, destroyed ,or changed by the Tradgey of The World Trade Center Attack September 11, 2001. I pray that there can be a resolution made without the sheding of innocent blood and the lost of countless lives.Remember, this is AMERICA!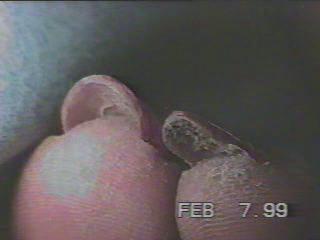 "LATEST UPDATE 18 August 2001"

"They Are Starting To Grow long again. Both my Fingernails and My Toenails.Stay Tuned!

"My Toenails without Polish- CLEAR"

"NEW TOE NAIL SHOTS No Polish"


"NEW TOE NAIL SHOTS No Polish"


"NEW TOE NAIL SHOTS"

---
---
"SORRY"
I must apologize to you all who have been faithfully visiting my Finger and Toe Nail Fetish page. I have no computer and have been on a new job. I have not been able to contact my friend due to different scheduels.I have reached him and he will be updating my page with new pictures and hopefully some video clips of My Very Sharp Toe Nails in action . I will also expose my fetish for Sexy , dominant, Fierce, Strudy , Ass Kickin Shoes.Here is the first picture from My Video on Long Toenail Domination.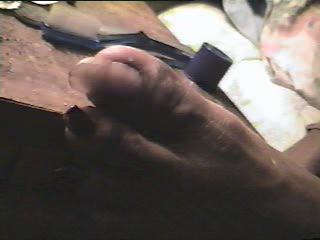 ---
Welcome to the "Official Nails of Cyn" page. This page, is just that, an "Official Photo Collection of The very attractive and Sexy Fingernails" and ,Extremely Long and Very eyescatching Toenails of The Mistress of" The Nails Of Cyn", Her Highness Cynthia.Even Her Sexy Sturdy Dominating Shoes will be featured. Her Highness will teach you and train you in the Dominating art of Finger and Toenail "Respect, Worship, Admiration , Domination, Submission , and Scratching techniques.
"NEW VIDEO SCANS "
---
Her Mistress Cyn has some very unique Fingernails, the do not twist or curve like most Long Nailed Mistresses. Her Fingernails grow straight and have a Knife-like profile side view. She has recently, since September Alowed Her "never Long Before" Toenails, GROW. The legnth of Her Mistresses Toenail , are able to be Placed In the category of "Queens" of Nails.eg. The Toenail Queen"....Virginia ! NEW VIRGINIA PAGE

---
Her Mistress Cyn has Fingernails and Toenails that have "TWO" Personalities,Good" and "Evil". Good Sinful Nails, and Evil sinful Nails. Both sides when Issues at the "Nails"of Her Highness of Nails of Cyn,one is soon to be Hypontized, enslaved and totally Submissive to the Touch of Either Her Wildly grown Toenails , or Her Razor like, 1/2 inch Fingernails.
---
I , Your Highness of Nails of Cyn, Welcome you to be one of my Toenail and Fingernails Slaves, Sevants, and Toenail Lovers. I am even able to Dominate both men and Women with Both My Real Nails and My "Special Occasion Nails Of Cyn". Only the Strong will allow themselves to become my submissive Fingernail Slave. It all strats when you see my Nails. After that, comes the "scratching", then You Are Under My complete Spell. You are guarrenteed to both "Love, Enjoy and Fear the "POWER" and Capabilities My "Nails Of Cyn".
---
I hope that you all are ready for a "Cynful" Series of pictures of both my Fingernails and Long Toenails. I never before grew Long Toenails, But, I think it was meant for me to have Long Toenails, see for yourself.



---
**********Last and Prievous Update June 6th 2000***********

Yes, I am a Bitch. Especially when I have My nails and Toenails Long and Sharp and using them to Over power the strongest of Nail Worshipers......Like I Know you would love to EXPERIENCE ! Yes I am a BITCH. LOVE it OR LEAVE it !

I hope that you all enjoy the updated page. I am sorry for the delay............Cynthia
---
"How do These Look!"
---
Here's More......
---
Do These pictures make up For the delay ?

I can't wait for these to really.."GET LONG"!


They aren't even long yet !
---
"RED" "RED" "RED"
---
Wicked red Claws

---
Imagine How they feel in the Flesh !
---
I can say I know how to use these Nails !

I want you to like these also....!

I want you to love these Too!


DON'T FORGET THESE<,adiv>

"Now Do you believe I have The Toenails of Cyn ?"

I know you wish you could feel how these scratched!


I wish I could Rip you with these Nails !


Nice....!
These Too:
Ouch !
These can HURT ! I love My Nails



Do you want to try these out ?
*****NEW****** "L"

"NAILS"
I am still trying To become a Long Toe Nail Goddess Like Virginia!

"IN THIS SECTION YOU WILL HAVE MORE OF MY VIDEO SCANS AND NEW ADDITIONS TO MY PAGE.I WILL BE SHOWING PICTURES OF MY TOENAILS UP CLOSE, AND UNPOLISHED, ALSO SOME VIDEO CLIPS . I HOPE THAT YOU ENJOY LOOKING AT THESE RAZOR EDGED TOENAILS OF MINE. I HAVE SOME UNIQUE CLOSE UF VIDEOS I WANT TO SHOW YOU CLIPS SO YOU WILL INQUIRE ABOUT MY VIDEOS."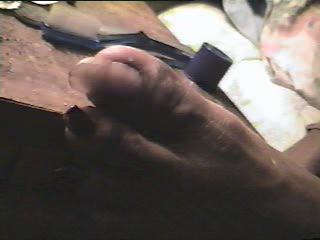 "To See More Click on the Following Links"

Close Up of Left Foot


No Polish Section


"THE NO POLISH SECTION"




No Polish Section


No Polish Section


No Polish Section


No Polish Section


No Polish Section


No Polish Section


"MORE NEW PICTURES"

>

>