Old jets' wires may be riddled with cracks
By Gary Stoller, USA TODAY
Old airline jets may be flying with thousands of cracks in their electrical wiring, based on a USA TODAY analysis of a new Federal Aviation Administration report.
The report, which is being released Wednesday, was put together by an FAA task force that hired electrical engineers to test wire on six jets, each at least 20 years old.
A Boeing 747, an Airbus A300, a Lockheed L-1011 and two DC-9s had been retired by airlines within six months of the inspections, and a DC-10 was being converted to a cargo aircraft.
It inspected two DC-9s, an Airbus A300, a Boeing 747, a Lockheed L-1011 and a DC-10. Five of the jets had been retired within six months of the inspections, and the DC-10 was inspected as it was being converted to a cargo aircraft.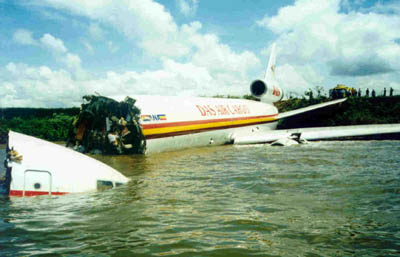 On the widebody L-1011, the task force's report said there were at least four cracks exposing bare wire in every 1,000 feet of wire tested.
Using 150 miles - the most conservative number of miles of wire that aircraft manufacturers say is on a widebody jet — an L-1011 could have more than 3,100 wiring cracks, USA TODAY calculated.
"This is shocking evidence that reinforces the seriousness of the situation and should be alarming to the traveling public," says Rep. Tillie Fowler, R-Fla., who held a congressional hearing last week on aircraft wiring problems. "Time is of the essence for the FAA to move forward to solve the problems."
She said after last week's hearing that the FAA "has been negligent in its attempt to improve airline wiring and ensure the safety of the traveling public."
The FAA said it would not comment on any details of the task force's report until it is presented this afternoon to a joint FAA-airline industry committee.
At the subcommittee hearing last week, the FAA's Elizabeth Erickson testified that "there are no immediate fleetwide safety problems," but definite wiring-related improvements are needed in maintenance, inspection, training, aircraft design and other areas.
The Air Transport Association, which represents major airlines, had no one available to comment.
Cracks in aircraft wire could result in a short-circuit and a fire.
"Not every crack will cause a problem, but every crack could cause some type of problem, " says Vince Press, a spokesman for Lectromec, which tested wire for the FAA task force.
"A crack could cause the aircraft to receive a spurious signal or result in an electrical noise," he says. "It could also cause a spark or an electrical arc that may not cause any problem at all. Or it could cause a fire that knocks out an aircraft's vital systems."
Of the six aircraft tested by the FAA task force, one old DC-9 had the fewest cracks — 0.50 per 1,000 feet of wire tested.
Experts say that narrow-body jets have 80 to 100 miles of electrical wire. Using the most conservative number — 80 miles — USA TODAY calculated that an old DC-9 could have 200 cracks.
As of last month, U.S. airlines were operating 1,709 jets that are at least 20 years old, according to Christine Francoeur, president of Jet Information Services, which publishes the World Jet Inventory. Worldwide, airlines were operating 3,270 jets that old, she says.
http://www.usatoday.com/money/biztravel/bt0052.htm