(423) 261-2939 Email for Information
Wildcrafting Plant Identification Field Trips are offered only in Georgia.
"
Fee $75/day/person
Booking fee/Reservations:
Children must be accompanied by an adult. No exceptions.
A signed liability waiver is required from all participants.
If you are in New York please contact Wildman Steve Brill!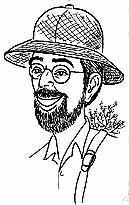 "Wildman Steve Brill
New York's Best-Known Naturalist"
WILD FOOD! LEARN ABOUT EDIBLE AND MEDICINAL WILD PLANTS, NATURE, AND ECOLOGY With New York's Best-Known Naturalist "Wildman" Steve Brill
Each person is responsible for his/her gear and food. Overnight and weekend trips available.
"
Click here to go to Herbs Homepage