Updates
The Latest News from Catrina

Catrina with her friend and mentor, Jane Alexander
on her closing night of: "Chasing Monet" at the
59th Street Playhouse in Manhattan.

Catrina hanging out with Kelly Overton out in LA.

Catrina takes a photo of the "gang" hanging out in LA.
(Eden Riegel, her husband, Andy Miller and Laura Allen)


Catrina can be seen in a small cameo role in "Law and
Order's Criminal Intent" (Season 7 season finale.)
Directed by Norberto Barba, who worked with Catrina on
the NBC show: "Conviction".

More great news: "The Speed of Life"
directed by Ed Radtke made its New York premiere this
summer. Catrina can be seen in the role of Marnie upon
its release. She can also be seen regularly in
re-runs of the "Law and Order" shows on TNT and the USA
channel. Will keep you posted for further appearances.



Catrina can also be seen in the film "Freedomland",
as Lorraine. "Freedomland" stars Julianne Moore and Samuel L. Jackson.

Eden Riegel Sighting!
Eden Riegel (Bianca from "All My Children")made a
surprise visit to Dream Yard's Family Theatre
Company of Survivor's workshop on Friday, April 9, 2004
in Harlem. Catrina Ganey (ex-Zora Jones) is the
director/coordinator of the group. Eden was a huge
hit and was welcomed by many of her fans. Photos of
the event will be posted at a later date.
A Note From Catrina:
Hello "Folks",
It's been a long time and I apologize for not sending notes. It's been a long and "strange" few months...but in some ways it's a been a good time as well. It's been noted, several folks have asked "where have I been?" and "what have I been up too?" Well...I wanted to put a general post here to give you an update....
First of all, it's been a good time for me in movies. You might have read that I worked with Paul Taylor in the upcoming independent film, "Tinsel Town". I have no idea when the movie will be presented. But you might want to check the soap magazines for possible air dates. It was nice to play Paul's mother. He is a very good actor and a nice person to work with.
This summer, I had a wonderful time shooting an original Showtime movie with Kevin Anderson ("Sleeping with the Enemy"), Penelope Ann Miller ("Carlito's Way"), Jane Alexander ("The Ring") and several other great actors in a beautiful film called "Carry Me Home". It takes place in the 1940's. So it was kind of fun to be on a farm near Poughkeepsie and to wear very comfortable "cotton" during the hot summer months of filming! The title of the movie might get changed. Once again, I have no idea when the film will be released or what the new title will be. There is talk of it going to the Sundance Film Festival before it hits the TV or major movie theatres. Most likely, it will not be out for several more months.
I was cast in another movie that is currently on hold . Can't tell you more because I don't know anymore at this time. But the part I am playing will be a lot of fun and I look forward to filming.
I spoke to Eric Dearborn several weeks ago. He is doing well. Modeling and doing commercials in LA is keeping him very busy. He seems to be happy. Laura and Eden are also doing well. We try to catch up with one another as often as possible, which isn't much with our schedules. Laura is currently working with Julia Roberts in "Mona Lisa Smile". Production is going very well.
Besides filming, I have been working with women out of rehab in Harlem and troubled teens in the Bronx; writing several scripts for them to perform. This has been keeping me extremely busy. Seeing, I've been commissioned to write my own one-woman show which has been difficult to finish with my schedule. Hopefully, I can get it done soon.
I hope this solves a lot of mystery as to what I've been doing and where I have been . I'm not around much these days with my schedule. But it's always nice when folks come up to me on the street. I've been humbled and appreciative by their nice comments.
Do be well. Catrina Ganey
These photos were taken at the St. Christopher's fundraiser
that Catrina put together in May of 2002. The fundraiser was
a huge success, and fun was had by all!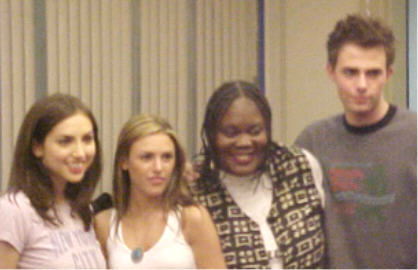 This photo was taken the next afternoon,
at a delicious lunch that Catrina treated us all to.
Thank you for a wonderful time Catrina and Laura!


© Catrina Ganey 2003-2010
All Rights Reserved