70s invasion ; 70s ROCK ; BLACKFOOT SUE, GEORDIE
'SUMMER / GLITTERY OBITUARY 45 '73
BLACKFOOT SUE
this band had a little success with a top 5 hit in the u.k. with 'I'M STANDING IN THE ROAD', and released some GREAT glam rock stompers, but like a lot of bands did not get the recognition they deserved, the started in the 60s known as GIFT, eventually changing their name in the early 70s to BLACKFOOT SUE by their management's suggestion, they had 2 lps released the 1st in ' 73, the 2nd was supposed to be relased in ' 74 but was upheld till ' 77, they had recorded material for 2 other lps which were upheld by their company as well, some tracks came out later on compilations, by the time punk came along in ' 77 they decided to call it a day like many bands did, the band briefly became LINER with one less member in ' 79 and then became a short lived new wave punk band called the SPOILERS, many yrs later some members would reform to play their brand of glam/classic rock, the members of BLACKFOOT SUE were ; TOM FARMER - lead vocals, bass guitar, DAVID FARMER - drums, EDDIE GOLGA - lead guitar, vocals, ALAN JONES - guitar, vocals, we had originally reviewed their hit single and b side on our page 21 back in ' 02, were moving those reviews here along with several other stompers.....
' I'M STANDING IN THE ROAD' ' 72
this song was the band's small hit, a pretty GOOD single, unique percussion rounds out this number with electric guitars pounding away riffs, ' I'M STANDING IN THE ROAD,A MAN WITHOUT A HOME, MY FRIENDS ALL PASS ME BY AND DON' T SAY A WORD, I'M FEELING SO ALONE, AND ALL THINGS I'VE KNOWN, JUST SEEM TO DISAPPEAR AND NEVER REAPPEAR'....NA, NA, NA, NA, NA '
'CELESTIAL PLAIN' (b-side)
the flip to their hit was a GOOD rocker with pounding drums, and gyrating guitar, lyrics to come soon....
' SING, DON 'T SPEAK '
in a style similiar to the above song, this one features the band jioing in on vocals as in that song and similiar guitar chords, this one is a little bit closer to SLADE in sound.... ' I SAID SING DON'T SPEAK, DON' T FIGHT ON THE STREET, FUNKY ! , BACK STREET FREAKS, FEEL IT STAMP YOUR FEET, SING !.....LA, LA, LA, LA, LA, LA, LA , LA LA, LA, LA, LA, LA, LA, LA, LA, LA, LA, LA, DON'T TAKE NO ONE's CHEEK, TAKE THE DRIVER's SEAT, RIGHT ON !' .....
' GET IT ALL TO ME' ' 73
SWEET influenced glam rock, monster bass, BIG rock sound, cowbell.......'GET IT ALL TO ME, THE EFFECT WILL BE SATISFACTORY, U WILL SEE, GET IT ALL TO U, DO U FEEL IT TOO, COME ON SAY U DO, CAUSE I DO,..........CAN I REACH U NOW, CAN I TEACH U HOW'....
french issue of 'STANDING in the ROAD' ' 72
'SUMMER' ' 73
the band took a change of sound here and made a perfect instrumental song that reminds one of a quiet summer evening, conjures up images of a creek flowing, birds in the air, etc. :)
' GLITTERY OBITUARY ' (b-side) ' 73
!!!! now this is SUPER-GLAM ! , this came out as a b side to 'summer', and was thankfully an lp track, but it should have been chosen as the single, has a strong SLADE-SWEET sound down pact, and some original glam sound thrown in as well, we decided to type out the complete lyrics cause their so interesting and good, THE VOCALS HERE ARE THEIR BEST.....
' OVERRATED, CELEBRATED, ESTIMATED, CHROMIUM-PLATED TOUPEE, OVERPAID, A FUTURE MAID, FROM BLUE EYESHADE MAX FACTOR's ON A ROYALTY,ROCKIN' ALL NIGHT, ROCKIN' ALL NIGHT, ROCKIN ALL NIGHT !, SATURATED WITH INFATUATED GIRLS LAST YEAR THEY WOULD HAVE CALED U NANCY, BUT STILL A DIARY HE's MADE OF THOSE HE's LAID FROM BEING ON THE TV, ROCKIN' ALL NIGHT, ROCKIN' ALL NIGHT, ROCKIN' ALL NIGHT !, GLITTERY OBITUARY's A SUMMARY OF WHAT YOUR FATE MAY WELL BE, ONE RAINY DAY YOU'LL RUST AWAY, BUT DON' T DISMAY, THE SCRAPMAN HE AIN'T FUSSY, ROCKIN' ALL NIGHT, ROCKIN' ALL NIGHT, ROCKIN' ALL NIGHT !..........(fades)
'BYE, BYE BIRMINGHAM' ' 74
another GOOD single, this one closer to classic rock than glam....' WELL I JUST GOT A LETTER , AND I FEEL A WHOLE LOT BETTER....and....' OH THE GIRL's NAME WAS RITA, WHO SAID I WAS GONNA MEET YA......
to find out more about BLACKFOOT SUE, see this in-depth site -
http://au.geocities.com/blackfootsu/bfs.htm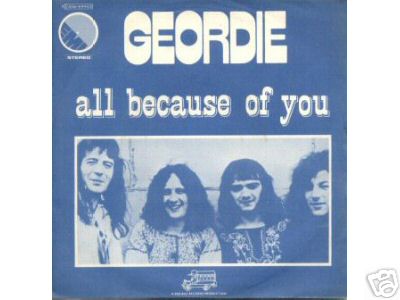 GEORDIE featuring BRIAN JOHNSON who jioned AC/DC in '80 ( see page 4 for reviews )