100% Made in U.S.A.
Packaged By Aduly Handicapped
PLUS you get a Free BONUS ( SEE Below )
ANY ONE who has ever said
"My feet are Killing me"
OR
"I'm Stressed Out"
will love using this hands free / no bending . no stretching innovation
Support the Troops
Send these to our troops Male or female
Give them to working women
and Moms to be for baby shower gifts
or for party favors to guests at A Baby Showers
Offer them to seniors citiziens / elderly you know
Send a box full to a senior home
Handicapped People will also benefit from this Hands FREE - No Bending Device

****

Use it on a tile on the the floor of rec room - office or barracks

Use it as a Hand Held / Pumice Stone - Massager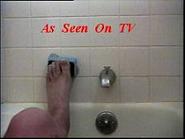 Place it on wall at foot of tub
~
Watch Our Demo Vid of this great Hands Free Foot Care Device
************
What this Device Does

You pay $8.99 EACH
WITH a FREE BONUS AND FREE Shipping


~ We're Happy Feet ~ We've been using Foot Eze for over 15 years ~
The Foot Eze was packaged by Adult Handicapped Workshops
By participating in this offer and buying these
You provided jobs for them
~~~~~~~~~~~~~
The Foot-Eze is better than anything seen on TV lately Because it is
an Easier to use NO Bending / No Strecthing / Hands Free Personal Care Device:
And
No Metal Grate to cause irritation
The abrasive Pad is made from Safe Silica Graphite
The Hands Free FootEze
* Eliminates the need for Bending & Stretching *
Removes odor causing dead skin & unsightly painful callouses
Stimulates Circulation to feet and legs
Invigorates Sore Tired Achy Feet
Exfoliates Dry Itchy skin
Leaves Feet Fresh - Attractive and Tingling
* Relaxes muscles & relieves STRESS and tension *
the user feels better ALL OVER !!!
through the fundemantals of Reflexology Foot Massage
Use it while working or relaxing
The Foot EZE Mounts with suction cups to any smooth surface
Any Tile floor - Barracks, Shower
Office ~ Rec Room
Wall @ foot of tub
OR
use it as a Hand held held pumice stone / foot massager
Remember the premise and basis of Reflexology Foot Massage is =
"If YOUR Feet Feel Good ~ YOU Feel Good ALL OVER !!!
This unique innovation may provide a more stress free life for the user
Podiatrist Approved
NOT RECOMMENDED FOR DIABETICS
*************
Limit 8 FootEze per order
email me for You quatity price
fROM SEND EMAIL LINK ABOVE
Free BONUS
Each purchaser gets a Reflexology Foot Schematic