---

INDIAN HEAD FIRE PROTECTION DISTRICT










---

FOR PROTECTION OF LIFE AND PROPERTY
LEVELS OF SERVICE
1. Fire Suppression
-Structural Firefighting
-Ventilation
-Forcible Entry
-Salvage and Overhaul
-Evacuation
-Wildland Firefighting
-Automotive Firefighting
-Machinery Firefighting
2. Rescue Services
-Vehicle and Machinery Extrication
-Carbon Monoxide Rescue
-Chlorine Rescue
-Anhydrous Rescue
-Search and Rescue in Structural Fires
-Forcible Entry
-Ventilation
3. Medical Services
-Basic Cardio-Pulmonary Resuscitation
-Basic First Aid
4. Hazardous Materials Response
-Scene Control
-Evacuation
5. Public Fire Awareness and Education
-Emergency Response Centre Tours
-Fire Service Training
-Learn Not To Burn school program
-Public Awareness information
-General Building Inspections
-Fire Service Updating and Improvements


NOW AVAILABLE WITHIN INDIAN HEAD FIRE PROTECTION DISTRICT....


**************

WHEN DRIVING IN SASKATCHEWAN, CANADA
SPEED LIMIT REDUCED TO 60 Km/h WHEN PASSING EMERGENCY WORKERS
During the spring sitting of the provincial legistature, changes were made to the Highway Traffic Act which basically defines emergency workers in the same manner as highway maintenance workers.
Current legislation requires drivers to slow to 60 km/h when passing highway workers. The new legislation will also require drivers to slow to 60 km/h when passing an emergency vehicle (police car, ambulance or fire truck) with its emergency lights in operation.
This legislation came into effect on October 1, 2000.


THINKING ABOUT AN EMERGENCY WORKERS WORLD

I wish you could comprehend a wife's horror at 3 in the morning
as I check her husband of 40 years for a pulse and find none.
I start CPR anyway, hoping to bring him back, knowing intuitively it is too late.
But wanting his wife and family to know everything possible was done to save his life.
I wish you could read my mind as I respond to an EMS call,
"What is wrong with the patient? Is it minor or life-threatening? Is the caller really in distress or is he waiting for us with a 2x4 or a gun?"
I wish you could be in the emergency room as a doctor pronounces dead the beautiful five-year old girl that I have been trying to save during the past 25 minutes. Who will never go on her first date or say the words, "I love you Mommy" again.
I wish you could know the frustration I feel in the cab of the engine, squad, or my personal vehicle, the driver with his foot pressing down hard on the pedal, my arm tugging again and again at the air horn chain, as you fail to yield the right-of-way at an intersection or in traffic.
When you need us however, your first comment upon our arrival will be, "It took you forever to get here!"
I wish you could know my thoughts as I help extricate a girl of teenage years from the remains of her automobile. What if this was my sister, my girlfriend or a friend? What were her parents reaction going to be when they opened the door to find a police officer with hat in hand?"
I wish you could know how it feels to walk in the back door and greet my parents and family, not having the heart to tell them that I nearly did not come back from the last call.
I wish you could know how it feels dispatching an officer, fireman or EMT out and when we call for them and our heart drops because no one answers back or to hear a bone chilling 911 call of a child or wife needing assistance.
I wish you could feel the hurt as people verbally, and sometimes physically, abuse us or belittle what I do, or as they express their attitudes of "It will never happen to me."
I wish you could realize the physical, emotional and mental drain or missed meals, lost sleep and forgone social activities, in addition to all the tragedy my eyes have seen.
I wish you could know the brotherhood and self-satisfaction of helping save a life, or being able to be there in time of crisis, or creating order from total chaos.
I wish you could understand what it feels like to have a little boy tugging at your arm and asking, "Is Mommy okay?" Not even being able to look in his eyes without tears from your own and not knowing what to say. Or to have to hold back a long time friend who watches his buddy having rescue breathing done on him as they take him away in the ambulance.
You know all along he did not have his seat belt on. A sensation that I have become too familiar with.
Unless you have lived with this kind of life, you will never truly understand or appreciate who I am, we are, or what our job really means to us...I wish you could though.
PASS THIS ON TO EVERYONE YOU KNOW AND KEEP SENDING IT ON. APPRECIATE AND SUPPORT THE LOCAL EMS WORKERS, FIREFIGHTERS, & LAW ENFORCEMENT OFFICERS IN YOUR AREA. ONE DAY THEY'LL PROBABLY BE SAVING YOUR PROPERTY OR YOUR OWN LIFE.
WHEN YOU SEE THEM COMING WITH LIGHTS FLASHING, MOVE OUT OF THE WAY QUICKLY.--- THEN PRAY FOR THEM.



IN MEMORY

Firefighter Don Toews
August 3, 1958 - January 3, 2004
A TRIBUTE TO DON
On Saturday, January 3, 2004 Indian Head Fire and Rescue lost a very respected member. Don Toews passed away suddenly at home. Don was a veteran of our department and had achieved his Saskatchewan Level II Firefighter. He was President of the Indian Head Firefighter's Association and one of his great interests was Public Education through the school children. He could often be seen on calls as Pump Operator of our big red truck!
Since the day that Don became a firefighter he exhibited an interest that was second to none. A man of intense conviction and belief, he made being a firefighter a big part of his life. Always wanting to be the very best he could and provide assistance to those in trouble, he made huge differences in our department. "For Protection of Life and Property" was a motto that Don lived as a firefighter and on many occasions gave of himself to see that our department was keeping to this motto.
As a person and a friend Don was exemplary. Always willing to lend an ear to listen to problems or a shoulder to lean on when times were tough. He was inquisitive and learned, never shy to find out what makes things tick and took that knowledge to help make our service better. It was Don's belief that most things were obtainable through dedication and knowledge and often donated his knowledge to "TWEEK" our fire apparatus up. Many hours of constructive conversations were spent talking about life in general and the fire service in particular.
To be a good firefighter in a non - career setting takes a dedication that not all people can provide. Often putting aside important family, or career duties to help others is something that not everyone can understand. Don knew the importance of being a firefighter and went beyond the normal duties to seek out things that would implement change. He often volunteered his precious time just because he believed that new ideas would bring on improvements.
The value of a persons work is not truly recognized until their work is done. Don's work will always be a part of Indian Head Fire and Rescue because of the many obvious differences that he made. In life our strength grows because of the reminders of those differences. Thankyou Don Toews - leaving is never the end - memories last FOREVER!

PROJECT RESCUE REFURBISH
INDIAN HEAD FIRE PROTECTION DISTRICT HAS RECENTLY FINALIZED ARRANGEMENTS TO PURCHASE A REFURBISHED RESCUE UNIT FROM WARNER AMERICAN LAFRANCE IN MOOSE JAW, SASKATCHEWAN. THE SALES ARRANGEMENTS AND COORDINATION OF THE REFURBISH CAPABLY HANDLED BY GREG KRAHN. THE FOLLOWING PICTURES SHOW THE STAGES OF DEVELOPMENT OF THIS PROJECT.
UNIT SPECIFICATIONS:
1979 1950B chassis powered by Detroit 6V53 and an Allison 4 speed Automatic transmission 18 foot Rescue body built by Superior with 16 exterior compartments and a 4 person crew compartment
RESCUE UNIT OFFERED FOR SALE BEFORE REFURBISH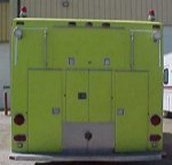 MEMBERS OF:

Saskatchewan Association of Fire Chiefs
Saskatchewan Volunteer Firefighters Association
Canadian Volunteer Firefighters Association
Indian Head Fire & Rescue Photo Gallery
Saskatchewan Fire Chiefs Association
Saskatchewan Volunteer Firefighters
Canadian Volunteer Firefighters
National Fire Protection Association
Sparkys Page
University of Extrication
Prince Albert Fire Dept.
The Fire and EMS Information Network
Indian Head Online