L & M Ranch and Stockdogs
News, Trial's, and Events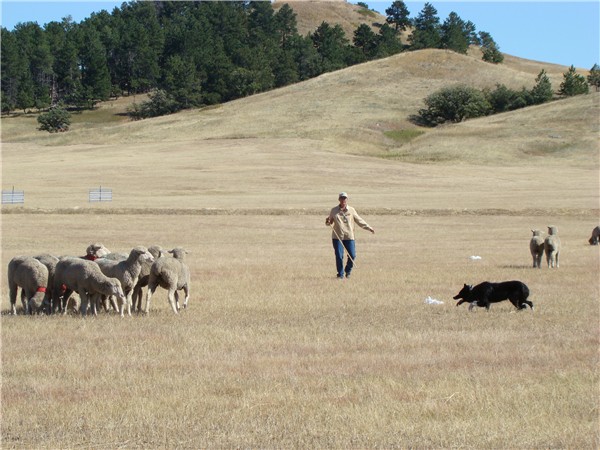 The National Sheepdog Finals found it's way to Sturgis, SD again in September of 2008. Rene LaBree and I headed up the Local committee. It was a ton of work but it was one of the most rewarding endeavors I've ever taken on. I was fortunate in the midst of all of this to make it through to the Double Lift finals with Jag. This was his first year to run at the Sheepdog National's and I couldn't have been happier with him. We had some trouble on the drive during the double lift that cost us but overall he worked like champ. I look foward to many more years with him on the trial field!
---
The winter time is a bit slow for us on the trial front but we did hit a few arena trials and had a great time! We traveled to the Denver Stock Show again this year. The Intermediate class was first and I ran Uno in it. She was a bit on the muscle and wasn't sure she could really remember what a steady was there! She did manage to complete the course but overall it was a learning experience for her and I.
Dustin ran Kat in the Intermediate as well and laid down a nearly flawless run (in my unbiased opinion)! He ended up 4th out of nearly 50 dogs and was so excited! He commented that he'd never heard a crowd scream that loud and he could STILL hear his mother over all of them. ;-) Then it was on to the Open class where Jag was 4th in the prelim's and Zac squeaked into the final's as well. Jag gripped off in the final's and Zac ended up 9th overall. It's cumulative time so Zac had a lot of ground to make up but laid down a really smooth run.
Then it was on to the Black Hills Stock Show in Rapid City. Zac ran first and had a solid run but just not fast enough to make it to the next round. Jag ran awesome all day. He was 4th in the prelim's, 3rd in the semi-final's and ended up 4th in the final's! I was so proud of him. Jag's littermate, Ryn, who is owned by Tim Naasz also ended up 3rd in the final's so we were thrilled for them! Tim and Ryn also ended up 4th out in Denver.
---

After Kaycee my Mom, Dustin, Brady and I headed for the National Sheepdog Final's in Gettysburg, PA. What a trip!! The boys and I had never been east of the Mississippi River before and the trip was an eye opener for us. Our country is so big with many differences but it was reassuring to see small town hospitality is the same no matter where you are. The battlefield's, monument's and picture's brought the Gettysburg battle and the entire civil war to life for my family.
The final's committee did a fantastic job and no detail wasn't taken care of. The sheep and course were challenging but manageable. Zac ended up squeaking into the semi final's but was unable to advance on to the double lift. We are very excited to announce that he won the
"ALL AROUND STOCKDOG" award sponsored by the Working Border Collie magazine. It's based on the dog who places the best between the cattle and sheepdog final's and recognizes the dog who works both species to a high standard. This is certainly a highlight in my trialing career and I'm SO proud of Zac!!
---

September 2007 - Dustin, Brady and I once again travelled to Kaycee, WY over Labor Day weekend. I just can't say enough good about this trial! The whole town pulls out all the stops to make this a spectacular trial and event. There were 50 dogs with two go rounds each. They take the top 10 averaged scores back for the Double Lift final's where all the money is paid out. Jag ran really well in both go rounds but a mistake on my part cost us making the final's by 4 points. Live and learn I guess! Zac didn't have his greatest run ever the first day but pulled it back together for the second go and made the double lift. We ended up 8th in the double lift finals.

---

June and July 2007 - Dustin, Brady and I went to Joni Swanke's trial in Bowman, ND. Zac ran really well both go rounds. He ended up 5th in the first go and 4th in the second go. This was Jag's first time in Open in a field sheep trial. He ran well the first day but out of the money. The second day he was on the muscle. Dustin and Kat competed in the novice and did a great job with the crafty ewes. He ended up winning.

Then we had a break until our trial in July. Jag ran decent the first go and Zac and I didn't get anything done.
The second go Zac was just out of the money and Jag had his head somewhere it shouldn't have been!
Dustin and Kat won the first go of Intermediate and had a good run going in the second go but ended up DQ'ing at the pen.

Next in July was a trip to Jordan, MN for the Upper Midwest Stockdog Trial. Zac ran well both days. He ended up 2nd in the first go and had a tough draw that he managed well but couldn't place with in the second go. Dustin and Kat exhibitioned one last time in Novice as he had been gone for 10 days right before this trial. He's getting much better about handling the "stress" that can come with trialing. Brady bought the new Harry Potter book at the beginning of this trip and he was obviously so fascinated by trialing that he somehow managed to read the entire book before the trial was over!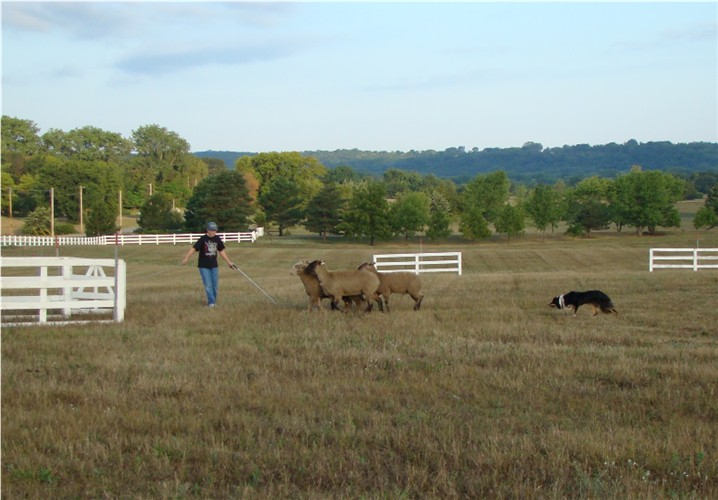 (Dustin and Kat in MN)

---

May 2007 - Zac, Jag and I travelled to Torrington, WY for the National Cattledog Finals. I had a great time and the dogs ran well. Both Jag and Zac made it into the double lift final's. Jag was 14th in the first go round and Zac was 4th in the second go. Zac ended up 6th in the double lift! Jag decided he'd rather play a different "game" than the one I was playing so I called it quits there. The local committee did a bang up job and the trial site was great.

(Zac in the second go round)

---

In January of 2007, Zac won the National Western Stock Show Open Sheep competition and Jag got 5th!
We were thrilled with how both dogs worked.
Dustin and Brady both traveled with me and we really enjoyed getting to visit all of our family in Denver.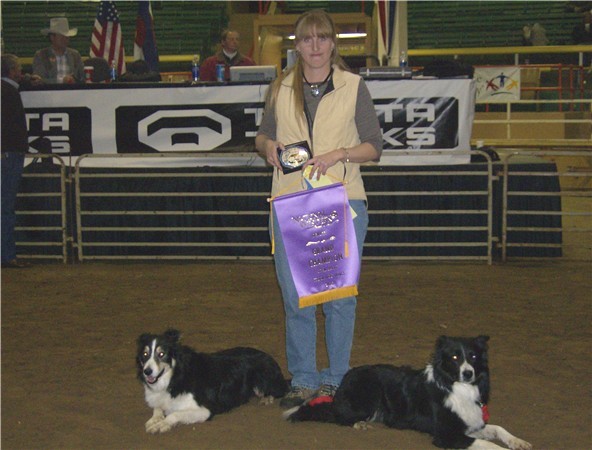 ---

The winter months plays hosts to several fun arena trials in our area. Dustin, Brady and I traveled to Gillette and Sundance, WY in both November and December for their monthly trials. Zac placed at both the Gillette trials. Dustin and Kat placed in the second Gillette trial and WON both of the Sundance trials. He warns me to watch out as he's gunning for me now!
You can see a picture of Dustin and Kat at Gillette in the Photo Gallery of the Wyoming Stockdog Website.

---

Tim and Sandy Naasz hosted a new cattledog trial in Platte, SD in November.
It was at the Yellow Rose Arena and was well received by the community and handler's alike.
The cattle were very even and respected a dog that treated them right.
Zac ended up in 2nd place and Jag got 6th.

---

In October of 2006 Zac got 1st and Jag was 3rd at the Old West Days Cattle Trial!
This was a first year trial hosted by Denice Rackley and we're hopeful that it will continue to grow.
---

September was a busy month for us.
Dustin, Brady, the dogs and I traveled to Kaycee, WY
where both Kat and Zac made the Double Lift Final's.
Kat got 3rd place there and Zac ended up 7th.
This is an OUTSTANDING trial and the whole town puts on a great event!!

---
Also in September Zac made the Double Lift finals at Meeker as well as winning the Best Drive award.
Kat just missed making the semi final's by 2 points.
Laura was awarded the Shining Star award!
This was our first time at Meeker and I was thoroughly impressed with how well it's run.
---

After we got back from Meeker we hosted our own Sheepdog Trial.
Zac ended up getting 4th in the Double Lift.
Dustin and Kat ran together for only the 2nd time (Intermediate class).
He ended up in 3rd place in the first go and 2nd place in the second go!!
We're SO proud of him!!!

---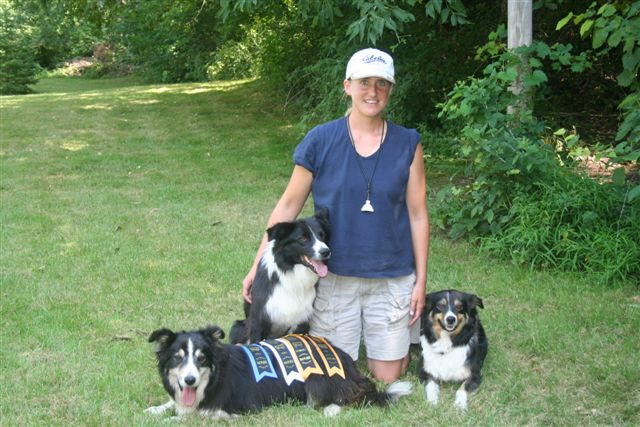 In July 2006, we traveled with Rene LaBree out to Jordan, MN for Kevin Bailey's trial during the Scott County Fair. It was HOT!
The dogs all seemed to handle the heat and humidity okay though. Rene and her good dog Glen, won the first go with Zac and I coming in 3rd. Jag ended up 3rd in the PN. The second day Jag had a decent run but was out of the money.
Kat ended up placing 4th and Zac won the second go. He also ended up winning the Open Overall award.

---