---
I LOST MY REFERENCE PAGE AND HAD TO REDO IT, IF YOU SEE YOUR REFERENCE AND PIC MISSING PLEASE FEEL FREE TO RESEND IT TO ME, I AM VERY SORRY FOR THE INCONVIENENCE. THANK YOU, LINDA
---
Linda, Thank you so much for your time, your knowledge and your patience with all of my questions. I told you what I was looking for and BAM you delivered. Swat is a cool boy and he is as gentle as they come with the kids and is like a lion (actually a baby cub) when someone that doesn't belong is around the yard. Again we thank you so much for the oppurtuity to own this boy..... We liked him so much that your Partner Greg shot us out his half brother..........here is a picture of them both. And again I say THANK YOU !!!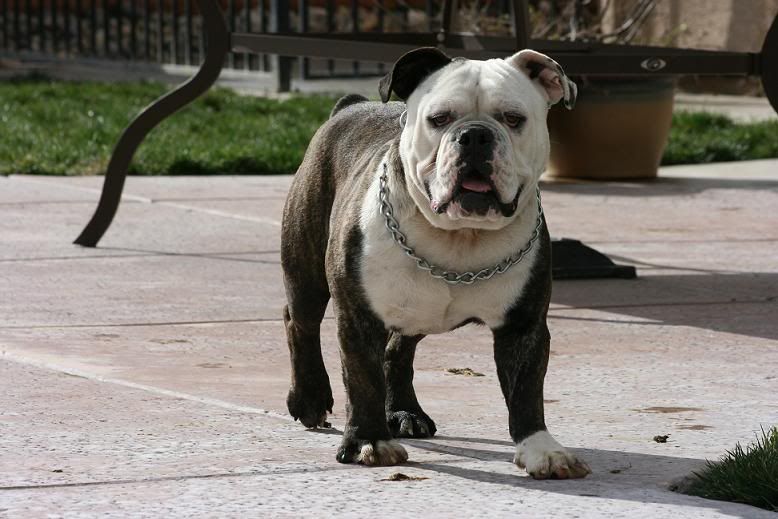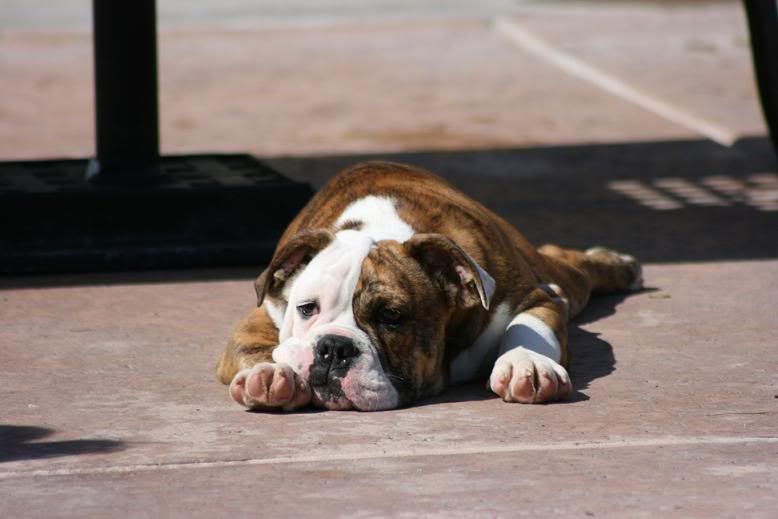 ---
Hi Linda! My name is Stephanie, and when I purchased my bully, I dealt with Greg-who was wonderful! I have a bully out of Royce and Phoebe...she is #38 on your slideshow. I wanted to let you know that she is spectacular! We just adore her! I have 3 others, but she is the clown of the family! Always happy-and if one of my girls has a bad day, she will keep on until she gets a laugh-then she'll keep going until they are in hysterics!! I don't have any pics of her on my work computer, but I will get some to you. Physically she turned out perfect!! I just wanted to say thank you for the work and dogges you produce! I breed 1-2 times a year, and you and Greg are the two breeders I look up to and hope to do as well as you both do as far as producing wonderful bullies and making people smile!! Stephani Florian
---
Hey Linda,just wanted to let you know that we picked up are male and he is everything we thought he would be.just to remind you about the registration form when you get it please send it.also wanted to say that when we picked the puppy up he looked very comfortable in his crate and was nice and clean and we appreciate that.thanks alot linda and look forward to buying another puppy from you in the future. brittney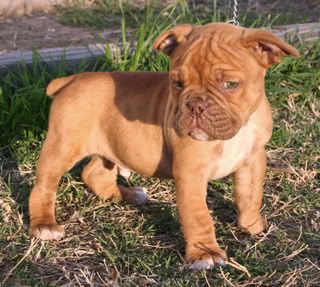 ---
---
Hey everyone...Just want to say that Linda at RockRoll Kennels was an excellent person to deal with...she was very knowledgable with the breed and made sure I was making the right decision for me. I did make the right decision as for going with a Olde English Bulldogge and an even detter decision going with RockRoll kennels as far as purchasing and delievery went.... Linda and I has even kept in touch every now and then just to know how everything is going with Maxine..(my pup) Thansk alot Linda and RockRoll I couldn't be happier with my pick!!!!! Jeff Pereira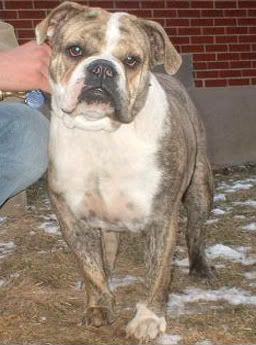 ---
Linda, We absolutely adore Rufas. He is such a good mild mannered dog. He is also a clown and loves to run and jump on our trampoline. He has been a great addition to our kennel. Thanks very much. Mark and Janice
---
Linda, you have always been a wonderful person to deal with. I have been happy in every transaction that I have made with you. When I purchased that first dog from you a little over four years ago I never expected to make a life long friend! You have always been helpful with any questions I have had. I have also seen first hand that you are just as wonderful with others who have purchased pups from you. Over the last few years we have done alot of growing and learning together and I look forward to many more years of partnership in business and friendship!-Tracy Hendricks
---
In the year of 2004, from the RockRoll Kennel, Texas, our puppy flew to California, Hollywood. He arrived very frightened by the experience he was put through but it didn't take him long to recover and give his new owners a grateful lick on their faces. We have been very happy with our dog, who turned out to be the most affectionate animal ever. He is very curious, he needs to know what are you doing, where you are. He hates to be outside in the backyard when somebody is home, and bangs at the screen door to check if he is allowed to get in. He gets along well with other dogs, and he is not afraid of stranges. On the opposite, he meets every human with a snif and a lick. He is about a year and a half old and has never growled at a human. But he still barks at things that scary him like a vacuum cleaner. We are very grateful to Linda for our furry freind and for her support whenever we have a question. Sincerely, Eva & Nathan.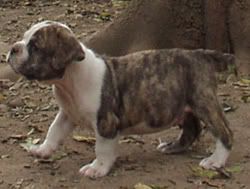 ---
Linda you are the best!!!!!!!! Top to bottom knowledgable,caring,pleasant,proffessional,on and on I could go!!!!!! Can not wait to come back to Texas to Bar-B-Que again!!-TOm & Terry
---
We studied your website very well and foud out that you guys sell quality dogs. We are very impressed with chopper and would recommend you to anyone. Thanks, Jeremy Stafford Kingfisher, Oklahoma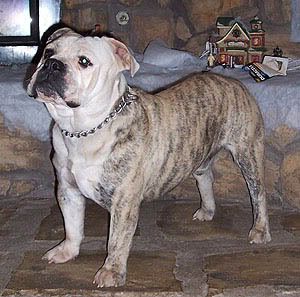 ---
We got Burkana shipped to us by plane. We drove four hours to pick her up in Louisville , Ky. She came in great health and has been a joy to own ever since. - BuffaloCreek Bulldogs
---
We here @ Buckeye Bulldogs like your breedings! And now we own 2 females from rockroll! We own Burkana now and we also have a female pup named Saphire from the Tank and Burkana Litter! we would also like to mention that i've talked with Linda a couple times and she'sa really nice person to talk dogs with! we also love the way diesel looks! Linda KEEP UP THE GREAT WORK! FROM YOUR FRIENDS @ BUCKEYE!
---
RockRoll kennels are among the cleanest kennels run. There dogges are happy, healthy, and well mannered. Linda is a courteous, knowledgeable and seasoned breeder. Her lines of OEB bring much though, time and consistence to the OEB breed. -James of Wired Kennel
---
I got my dogge Midnight,From RockRoll Kennel.Linda !!.. Is a great person to deal with.If there were any questions about Midnight i needed help with.Linda was right there.If anyone buy a dog from RockRoll Kennel will be very please am. -Sharon Dawson of Dawson Creek Bulldogges
---
I got Java over 2 years ago. She has stolen my heart, as well as my family. She has birthed and raised 2 litters of pups for us. The pups have all been awesome. We love her very much.-Jill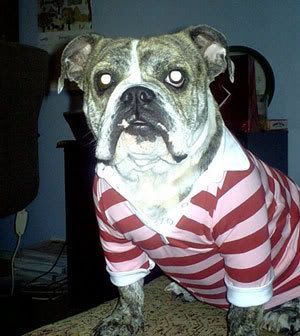 ---
I have known and been doing business with Linda of Rockroll Kennels for over six years or more and have loved every bit of it.She is a wonderful person to work with and very honest might I add.In all these years we have not once fallen out over anything including the dogs.A great potion of my success in this great world of bulldogges I credit it to her unselfishness to see someone else besides herself succeed.Thank you! Linda Harper of Rockroll Kennels for being the person that you are and may God continue to bless you exceedingly,Aboundantly,above all you can ask or think.-Greg of Goddog Kennels.
---