CANADA

THE FRASER RIVER FROM HELL'S GATE:
The setting for Robert Egby's novel CATACLYSM '79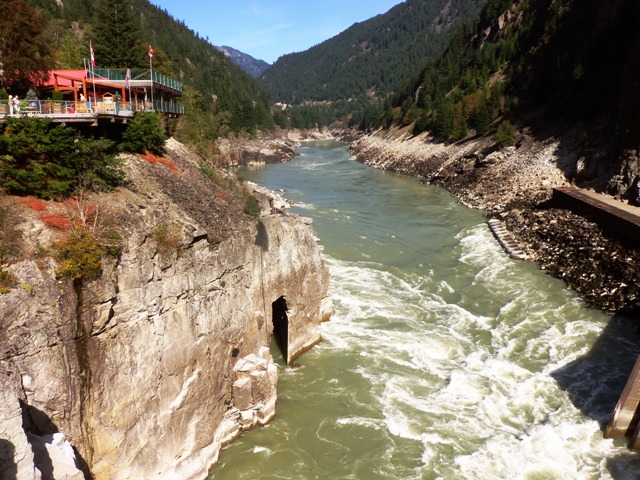 Hells Gate in British Columbia's Fraser Canyon with the historic
river at low ebb in October 2013. At peak run-off
in early summer Hell's Gate sees two million gallons a second
passing through. The Hell's Gate Airtram
Facility is at left and visitors are taken across the raging torrents
in what else? An aerial tramway. Interested in pictures?

Take a peek at a Special Photo Feature by author Robert Egby:
The Fraser River, the Airtram and the Mountains.

Then come back here and read about the novel set in this special place.
CATACLYSM '79: The day the river stopped.

An Epic adventure of true love, deadly intrigue and blatant political corruption
set against one of Canada's wildest rivers.

It is Canada Day weekend 1979 and war-injured international news correspondent Paul Rowan, reduced to writing travel columns, is assigned a job in British Columbia's Fraser Canyon. At the super-luxury Wagomaster Resort, he collides with his past in the shape of a long lost love, beautiful Natalie D'Andrea who secretly aborted his child.

Rowan is shocked to find Natalie now married to the Resort Manager, a blond-haired muscle man described as "too healthy to be honest." He's the blue-eyed boy of Victor Stavrakis, the Greek Tycoon.

Rowan wants to write his piece and get out, but fate intervenes. Vicar's Peak, a bare mountain that has overshadowed the Canyon for 50 million years crashes and blocks the Fraser River downstream from the Wagonmaster. The narrow waterway is packing 2 million gallons (7.5 million litres) a second and water is backing up fast.

I addition to nature's cataclysm Rowan discovers that just about all the guests are battling their own wars.

Then experts theorize that the great and relentless Fraser River will break through the dam in six days and a wall of water will devastate the Fraser Valley and Metro Vancouver. Rowan is desperate to win back his old love and together with newly acquired friends get out alive. Their only transport: a 40-year-old Dodge pickup.

VIDEO: Robert Egby talks about his Canadian thriller Cataclysm '73



Quote by publisher Tim McCoy to Paul Rowan: "Tell people the way you saw it…about the great hotel tycoon Victor Stavrakis…the greed and brutality of a smoothie like Wallace Harper…the rich kooky Keller-Jonnson woman. Tell them about the gold…about Vicar's Peak…about the Indian…about the girl called Jenny trying to recover from the hippie era…and tell them about Natalie."



What Reviewers write: A LOVE STORY REKINDLED By Peter Klein, Allbooks Review While this is a work of fiction, set in British Columbia's spectacular Fraser Canyon, it might not be as far- fetched as some might think because as recently as June of 2012, people were evacuated from the flood plain of the Fraser River.
This is a big book (464 pages) with a large cast of characters whose fates collide when a large portion of a mountain along the river breaks off and dams the river, setting the stage for a natural disaster of epic proportions. Hundreds of thousands could die if the rising waters behind the rock slide dam break free to rush downstream to Vancouver.
Events begin to unfold on Canada Day weekend, July 1, 1979, when a large section of Vicar's Peak crashes and blocks the Fraser River.
Main character, Paul Rowan, who was an international news correspondent but is in the valley at the Wagonmaster Resort to write a travel story, soon finds himself caught covering a story filled with stupidity, bigotry and greed run amok.
The story is topical and timely in the sense of human unwillingness to take into consideration the natural environment and the forces of nature in their pursuit of money. I couldn't help but think of Hurricane Sandy and the need to plan for disasters.
This is also a love story rekindled when Rowan meets his long lost love, Natalie D'Andrea, who secretly aborted his child while he was away covering war stories. Much in the way of background is given to the many characters, some of whom you will love and some of whom you will hate. This slows down the action some but not by much and you might find yourself thinking as I did that this would make a great disaster movie. Who will live and who will die when the dam breaks is what will propel you to read to the surprising and in some ways magical end.




Many Thanks!





Title: Cataclysm '79: The Day the River Stopped
Author: Robert Egby / ISBN: 978-0-9848664-3-4
Published by: Three Mile Point Publishing, Chaumont, New York
Distribution: LSI/INGRAM





BUY IT NOW!
In Print or Kindle!









AUTHOR SIGNED BOOKS: Each of Robert's books are available signed by ordering through Paypal. In the instructions explain who you wish the book or books signed for. Each book is $12.99 with FREE shipping in the US and Canada . Most orders are mailed the same day as they are received. Thanks.












SEO Services & ToolsSubmit Express