NEW A Tap site well worth visiting: Spinal Pap: http://www.spinalpap.com - Hello, Tommy



Get Tap lyrics here: Soundtrack BLTW


Shure is Tap - lots of Tap goodies from shure.com


Do you WAP? Intorducing the worlds first (and last?) Spinal Tap service for WAP:

PLEASE NOTE: the This is Spinal WAP- link works for WAP only, not for a standard web-browser.
This is Spinal WAP


If you don't own a WAP phone, try downloading Deck-It WAP viewer.Please mail me if you've got tips or anyting I can add to this WAP-service.
Svein I.



NEW Go back with this guy: Here's a collection of my postings to alt.fan.spinaltap over the last 5 years.
Some make sense, I hope.

Confessions from some Tap fans (Who?? :-)


This for real? Vinyl Tap


This is real: Vinyl Tap


Comments are as usual welcome: email: svein_i@yahoo.com
Yours Tappingly,
Svein I (the TIST script guy)

Platekompaniet selger Break Like the Wind, og 'Black Album' for bare kr 59 - løøøp og kjøøp!
Welcome to Tappus Norwegicus mark III

Nice to see that so much is happening in the Tap campus this year.
I am currently working on my third Spinal Tap site since 1994 - in the mean time - have a look at my collection of Tapabilia.
Tapstuff:
CD, CDROM, DVD, spinalvinyl, video, shirt
(back, l. to r.)
Vinyl: 12"shaped Stonhenge disc/poster: "Bitch school" 1992
"From the original Motion picture soundtrack This is Spinal Tap "1989
Hear'n'Aid 1986.
(front, l. to r.)
Videos: 1997 BMG re-rerelease (VHS-PAL)
("Theme/Other: Spoof rock documentary, Language: Occational, strong, Sex/nudity: One mild reference, Violence: None.")
This is Spinal Tap - (VHS-PAL) 1986 ed. (Statue of Liberty cover)
This is Spinal Tap 1992?(VHS-PAL) re-release ca 1994
Return of Spinal Tap - (VHS-PAL) 1999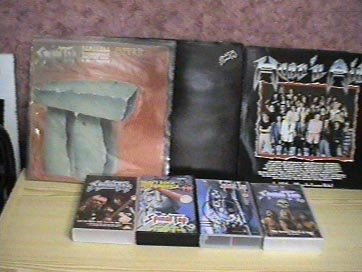 .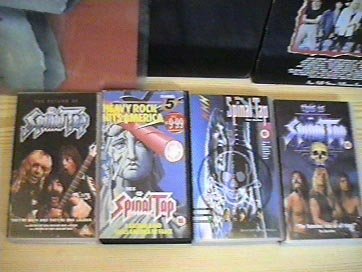 (back, l. to r.)
This is Spinal Tap Criterion CDROM 1994 (with bonus disc and guitar pick)
Book: Inside Spinal Tap
This is Spinal Tap Criterion DVD 1998 (now out-of-print)
(not pictured) This is Spinal Tap (zone 2) DVD 1999
Spinal Tap uncut 4.5 hour bootleg - VHS-NTSC
(front, l. to r.)
Spinal Tap "Access no Areas" backstage pass.
CD: 1990 Spinal Tap
CD: Break Like the Wind 1992
| | |
| --- | --- |
| () | (Notice the cricket bat...it comes in handy, sometimes) |
.


Not widely reported: Derek and David contributed on the 1986 Hear'n Aid album. Recognise these lovely lads?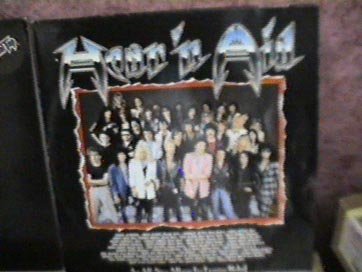 .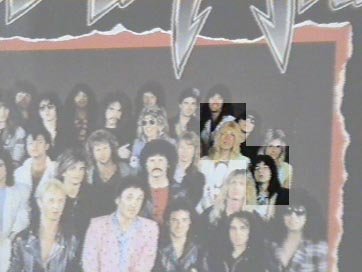 Only 25 made: custom Spinal Tap /Smell the Glove shirt.

.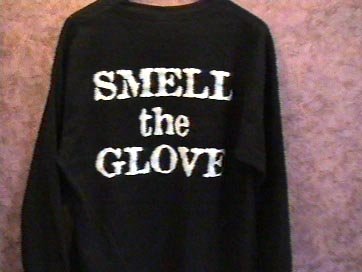 (c) Svein I. Halvorsen 2000 - All pictures for illustration purposes only