Old West Nostalgia
Hi! How are you doing?
OK! In the future I hope to increase the number of stories so, write in and send me yours, I will be glad to post them!
EosReia
---
Updates
08/30/01 - Chapter VIII of "Moment in Time" is up! It's a miracle!

10/05/00 - Chapter X of NBuddy54's "Secrets of Then" is up!
06/28/01 - Chapter XI, XII and XIII of NBuddy54's "Secrets of Then" is up!
10/05/00 - Chapter X of NBuddy54's "Secrets of Then" is up!
12/23/00 - Chapters VI, VII, VIII and IX of NBuddy54's "Secrets of Then" are up!
09/21/00 - A new story, by Jayme, is up, called "After The Rain, Part I".
09/19/00 - Chapters III, IV and V of NBuddy54's "Secrets of Then" are up!
09/06/00 - The rest of chapter I and new one of NBuddy54's "Secrets of Then".
08/10/00 - Finally some updated hum? Well, unfortunately none of them are on my fanfic. I will try to post the next to chapters some time this month! I promisse. Now, there are three new fanfic authors whose work is going to be posted on this site! Isn't that just amazing? One of them is NBuddy54. His story is already up, so go check it out! There is also Jayme and her story will be up in a few days.
To the author of Just Another One of Those Days
I started reading your story and I'm loving it. The prob is that my computer is down and I think it has erased your story along with my own. Unfortunately I deleted your email from my account so I don't have it anymore. Could you please email me back as soon as possible so I can post your story and give you credit for it? Thanx 02/25/00 - I'm really, really, really sorry I haven't updates this site as often as I would have liked, but my computer crashed and erased chapter seven just when I had finnished it (I don't know if I'll cry or destroy my computer). Any way it will take longer than I thought. Please be patiente.
I'm thinking of creating a list so I can tell you everytime OWN is updated.
01/11/00 - Just so you don't think I've quit writing TYR fanfic. No i'm still here. It's just that because of the holidays I haven't had much time to update, but don't worry. I'm in the middle of the next chapter and it should be up in a couple of weeks.
12/16/99 - Finally! Chapter seven is up.
12/07/99 - Unfortunately the 7th chapter is not up yet. But I have already written, it so it will probably be posted next week.
On a quick note, you might have noticed the banner below is from a Buffy site. I know, I know, this is a TYR site, but I also like Buffy a lot. If you don't know by now, FOX is bringing down a bunch of Buffy related sites and we are not about to just stand and watch and not anything about it. I mean, it's people's hard work that is being persecuted. So, if you support this cause, if you have also been a victim of this terrible persecution, or if you're just plane bored, please visit the site. It won't take too long, I promise.
11/20/99 - Sorry for taking so long to update! Chapter six added to "One moment in time"
10/5/99 - Chapter five added to "One moment in time"
---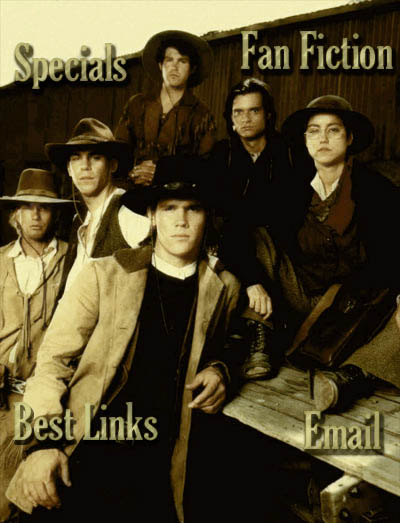 This great pic is taken from The Young Riders
---
---