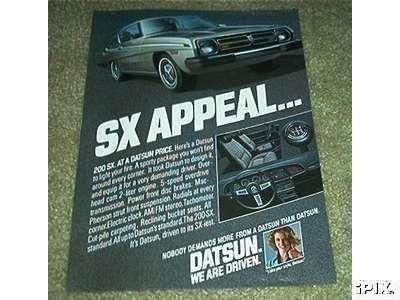 1977-1979

This my friend is the first body style 200sx sold in North America,designated by Nissan as the S10.The only engine these years have is the L20B,a 2 liter SOHC 4 cylinder with a single carburetor.Transmission options were the 3N71B 3 speed automatic or the FSSW63A 5 speed manual.Also note that this year had power front disc brakes.
1980-1983

This you see here is the S110 200sx,sold from 1980-1983 in North America.You could get these in hatchback or notchback form,and the engine options for the U.S.D.M. S110's were all NAPS-Z engines. Basically a NAPS-Z is just an L-series block with the NAPS-z low emmisions head sporting 2 spark plugs per cylinder. From 1980-81 the only engine was the Z20E,a SOHC fuel-injected 2 liter 4 cylinder. 1982-83 saw the Z22E,a slightly bored and stroked version of the previous engine.For transmission there was the 3N71B carried over from the S10,and then there was the new FS5W71B 5 speed manual.In 1982-83 the S110 could have been had with 4 wheel disc brakes and the H165 differential.
1984-1988

Ah here we are,at the S12.This was the last for the 200sx in North America,which was replaced by the S13 240sx in 1989.The S12 was also available as either a hatchback or notchback.The hatchback could have been gotten with the CA18ET 1.8 turbo SOHC (120hp) in 1984-86 and the VG30E 3.0 SOHC V6 (160hp) from 1987-88.The base engine was a non turbo CA20E 2.0 SOHC 4 cylinder (102hp) which was basically a bored and stroked version of the turbo engine.This engine was the *ONLY* engine in notchback S12's in the states,and the base in the hatchback.The S12 was availabe with a 4 speed automatic or a 5 speed manual tranny.The turbo was only available with the manual transmission.Also nice to know,all S12's except for the 84 non-turbo had 4wheel independant suspension and 4wheel disc brakes.Solid axle S12's had the H190 diff while the IRS CA20E has the R180 with a 4.11 final drive ratio and the V6 and Turbo cars had the R200 differential.These are really great cars and even with the base engine are alot of fun to drive,and respond great to modifications.If you have one,continue to improve it.If you don't,get one.