MY MOPED
My Moped Story
I own a 1975 Honda PC-50, and after some work it is now a mild custom. It is a four stroke engine and it drives great and starts so easily even in the dead of winter, a Canadian at that. When I got it it had a few damaged and missing parts so I set out looking for the parts I needed. It did not have a front light or speedo when I got it so I made my own with a universal ATV light that I converted it to a 6 volt system so it would work on the moped, I think this rectangular light looks better than the original. I also had the seats metal underneath re-wielded. I later met a guy at a motorcycle show who was very knowledgeable on mopeds and he already owned a few PC-50's ( what are the ods of that)and had parts. I got all the parts I need from him and was happy they were all original parts like fenders, gastank, and speedo, but I still kept my new light I designed for it on.
I than set out to take to moped completely apart, and re-build it again but my way, and cleen it through and through. I also had the handlebars re-chromed. I spent 3 months prepping the body and other parts for paint, I had to do a little body work (very little), sandblasting and priming, to get it ready a friend at a dealership who let me work on my bike there and it my bike would not be as nice or even close to the same without his help. I spent a long time prepping the bike so we could ensure a perfect paint job.
I had the new gas tank treated to remove any rust on the inside, and patched a small hole in the bottom. I did not go original colours for a few reasons, Itís my bike and I donít plan on selling it and this looks good.
The paint is a pearl paint (blue) this means it changes through different shades of blue in different lights, there are 2 coats of blue and 2 wet coats of clear coat on it to increase the pearl effects. This paint is also very glittery and actually glitters in the light. All little parts like the chain garde a glossy black, the paint had the base black and clear coats in it all already. I tried to make it so perfect that I actually painted the kick stand, and a little of the inside of the frame, if that can give you any idea of how much effort has gone into this moped.
Built it over a weekend it ran but the gas line leaked and the throttle stuck, so I dropped the motor back out of it and got a new fuel line shut off. I also tracked down a new tail pipe and put them on. I also spent some time making sure that the that all the cables are well lubed and in working order.
I have two original decals for the gas tank, I aslo have thin pinstrips running down the contours of the frame.

---
This Is My Honda PC-50
---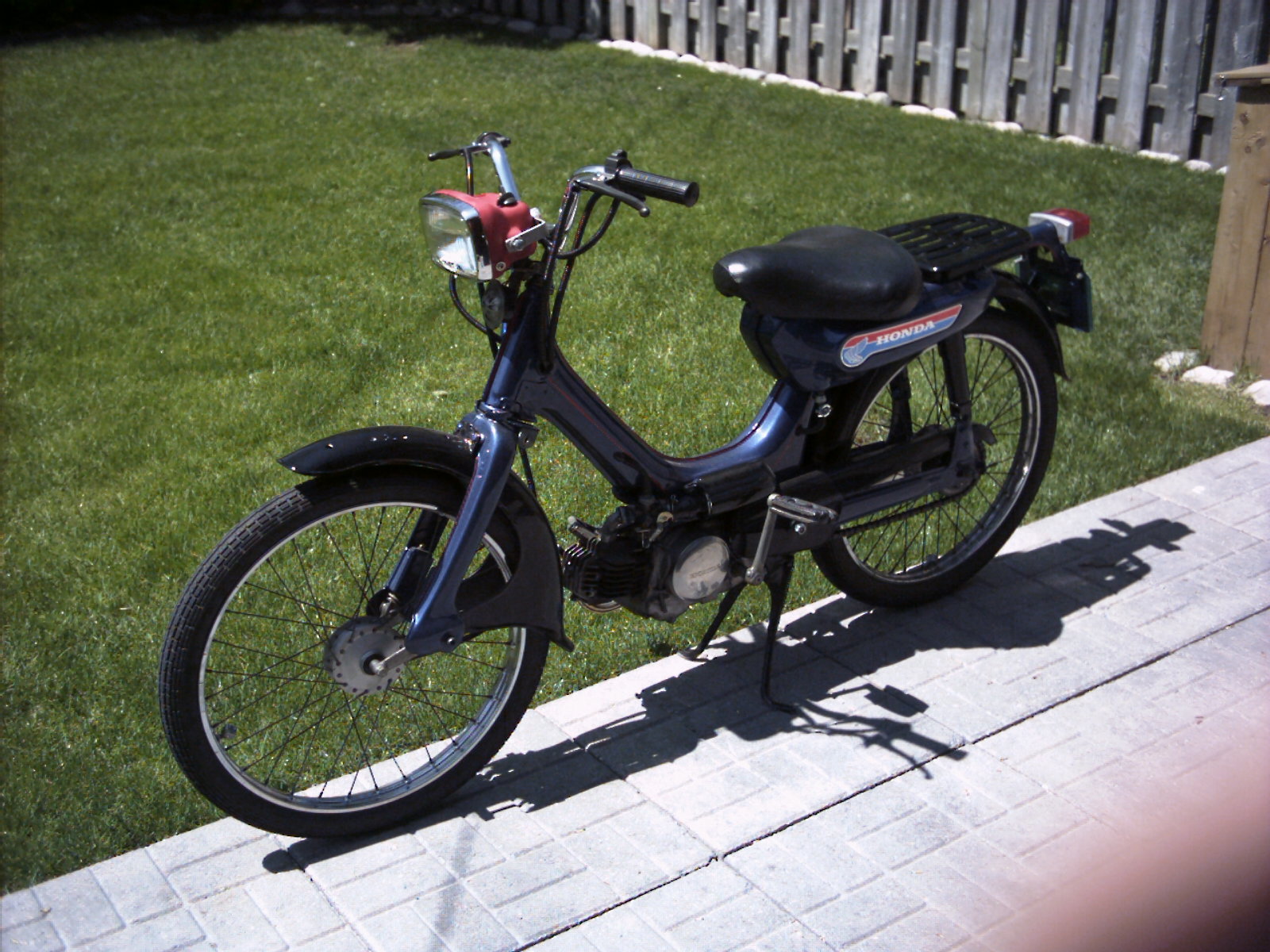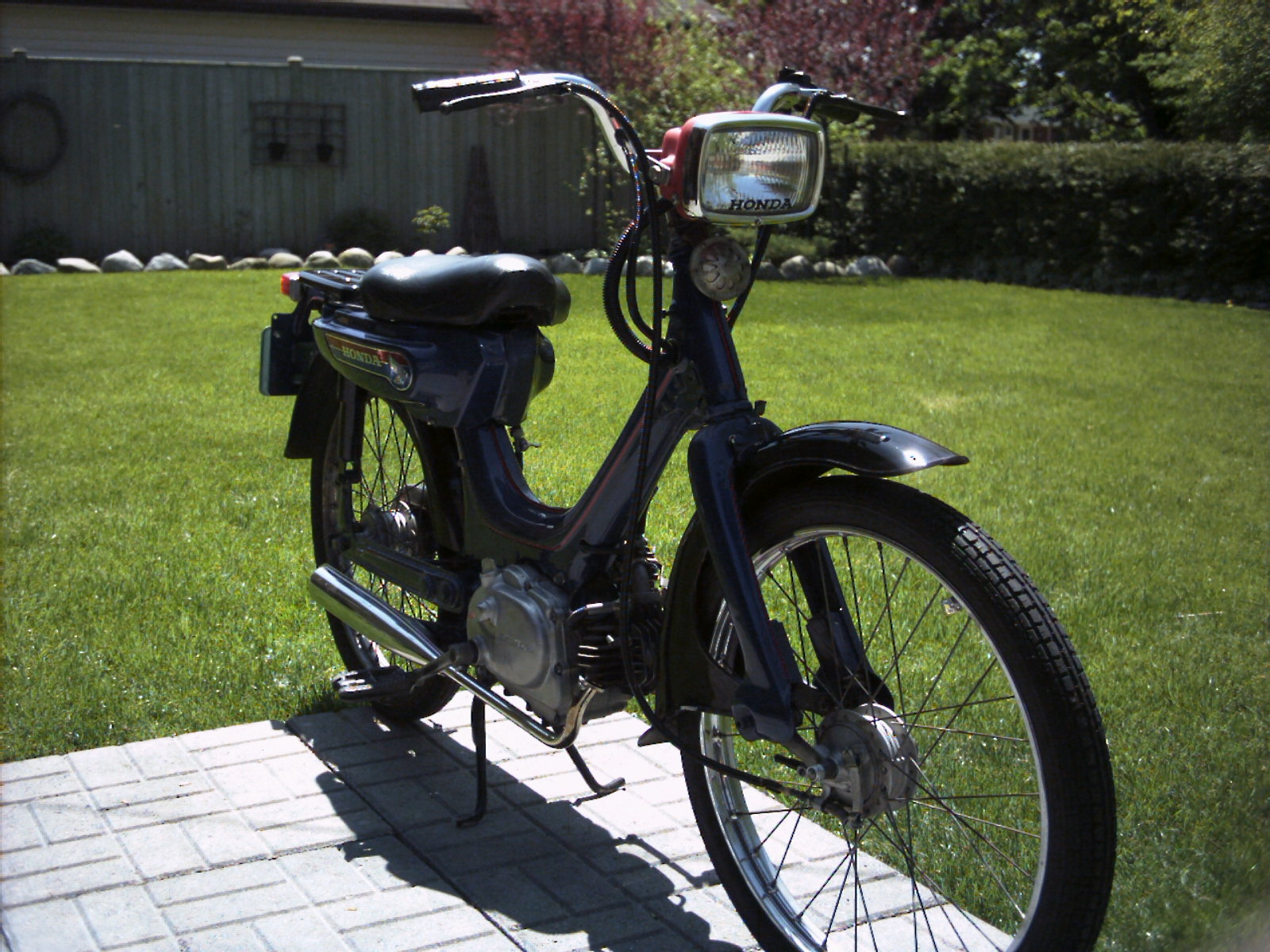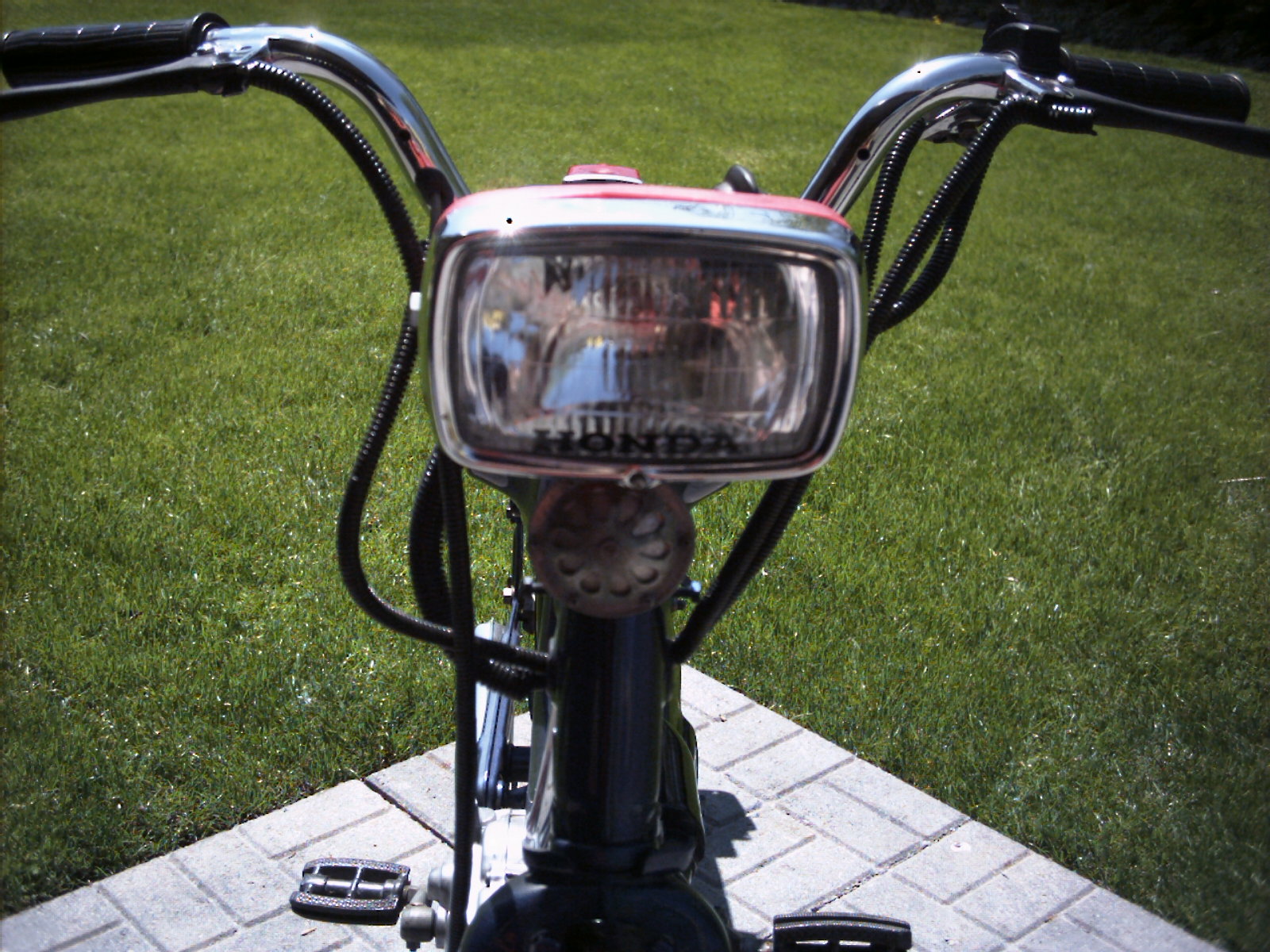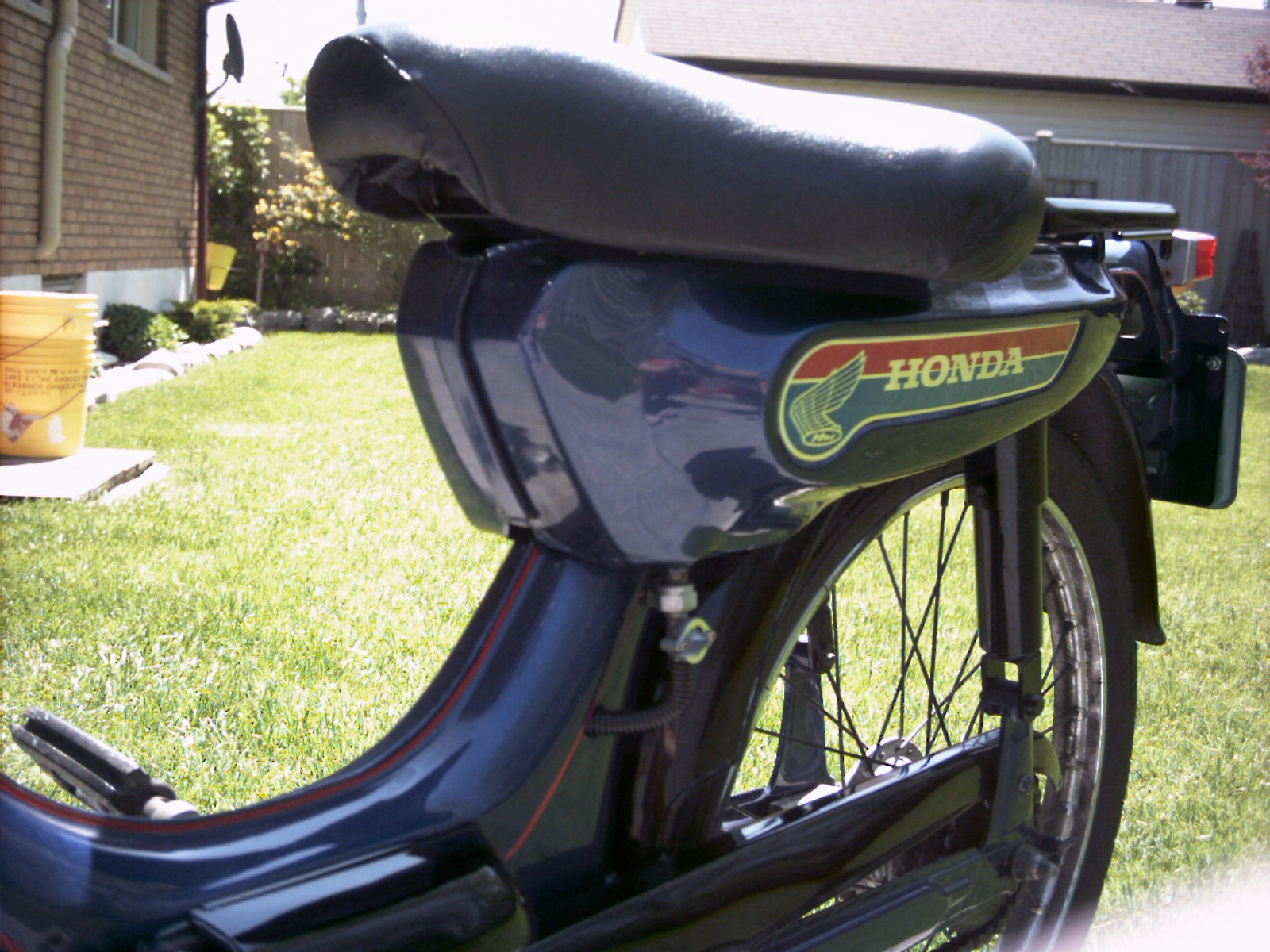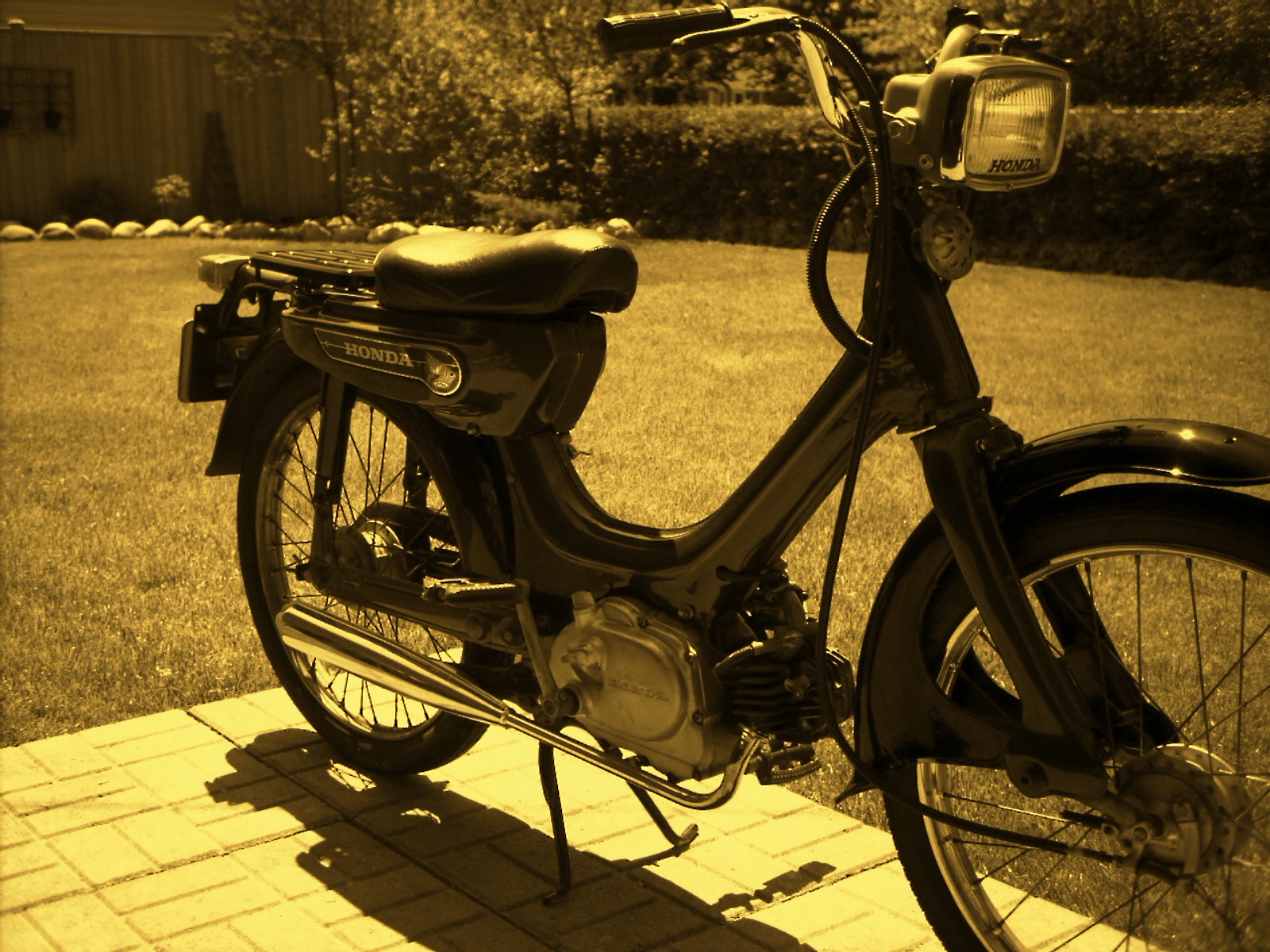 ---