KapCon XI is being held in the same venue as last year. Northland Community Hall, 5 Woburn Road, Northland during Wellington Annivesary weekend, 19 and 20 January 2002.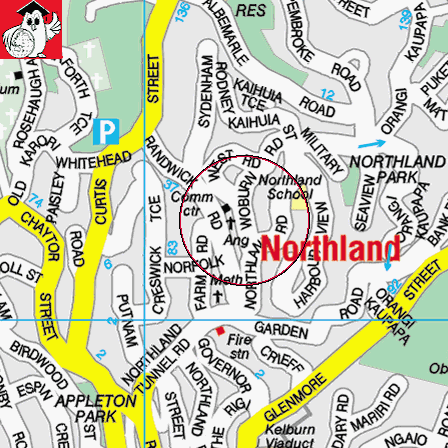 The bus route that goes through Northland via Northland Road (right past the top of Woburn Road) is the Mirangi, numbers 13, 22 and 23. For Timetable information for this bus please click HERE. Select the Mirangi from routes available and times should be provided.
Another bus alternative is the Karori bus numbered 12 or 17 but this does not go directly past the site (best to get out at Appleton Park and walk up the hill).
For those of you unfamilair with the location, the bus will pass over a large viaduct then through a tunnel, up a hill, then another tunnel. Beyond are the Northland shops. Get off the bus at the first stop after the shops and walk back to the first street that you come to. This is Woburn Road. The community centre is the large cream coloured building.
As mentioned, the community centre is close to the Northland shops which provide a selection of foods, including a fish & chip shop, Burger Wisconsin, Pizza Hutt and two dairies.
Using the nearby Garden Road you are 5 minutes (by car) from the central city.
---