Welcome to PAT'S PHOTO HISTORY PAGE!
This page like all the others is under construction. So PLEASE stop back. Thank you!



Chestnut Hill: Woodmere Art Museum Gets Jazzed Up from Philadelphia Neighborhoods on Vimeo.

Up in Harlem with the one and only Ruby Dee



ITCOP FGM Fundraiser, 2001
with special guest hostess, and our dear sisterfriend
Denise James



Proflin',stylin'and steady smilin"
with Tavis Smiley
now can you blame us:-)



Chillin Jill Scott, North Philly Diva's!



Sharing the stage and a writer's moment
with Mr. Charles Fuller
of "A Soldiers Story at the Art Sanctuary in North Phila.



ITCOPoets with the great poet, author, lecturer...
Professor Nikki Giovanni at Temple University.
See Nikki's review of our CD at Female Fire page



Honored to be in the presence
every poets mentor,
Dr. Sonia Sanchez



w/Jessica Care Moore
@ The Detroit Writer's Conference



w/author Lorene Cary
of The Art Sanctuary



with fellow word writing warrior
Bro. Damon Williams,
of the Philadelphia Daily News



In Brooklyn New York @ Valarie's Soulfood Lounge with Serene Bridgett Hollingsworth, Publisher & Editorial Director of Bahiyah Woman Magazine




Taking center stage with Gerald Veasley and the Electric Mingus Project at the Lowe's Hotel



With Sherry Wilson-Butler of SHERRVOCALISE' Performing Arts Studio.
Mrs. Wilson-Butler is one of Philly's most acclaimed jazz vocalist.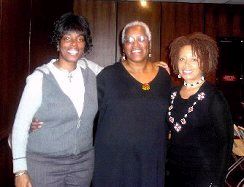 Dr.F.Elaine DeLancey of Drexel University
the Founding Editor of
BMa. The Sonia Sanchez Literary Review



with renowed storyteller
KALA JOJO



Yeah Mon! Pat & Freddie Mc Gregor,
on the Freddie McGregor & Dean Fraser Reggae Cruise!



with Ralph Carter
otherwise known as "Michael" JJ's little brother
on the 70's hit sticom "GOODTIMES"



Jazzing up the night with the Sam Reed Quartet as part of the 2003 Philadelphia Jazz & Poetry Festival.





with Abiodun of the Last Poets
@Gloria's Cafe, Phila Pa.



@DaimierChrysler Corporation's "The Spirit In the Words" Poetry Program
w/Beasley Reece of NBC News @ fellow poets



Reparation gathering with Senator John Conyers
@Mother Bethel AME. Church ITCOPoets performed "Repossessing Me"



With poet, Sekou Sudiata
at the Geraldine Dodge Poetry Featival,
in upstate New York 2001



w/Frank Jones
of the PEOPLE'S FESTIVAL @ Vernon Park



w/Jane Golden
of the Philadelphia Mural Arts Program



w/Syreeta Scott of DUAFE'S Holistic Care



w/Muriel Feelings,

Renowned Children's author @ Former Director of the PASCEP Progran



w/Sue Sorro
of "Fox's" GOOD DAY PHILADELPHIA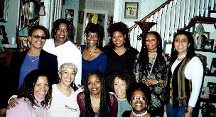 Sharing the stage with the women of
"ANOTHER WOMAN THANG."
A poetry-play, written, produced and directed by In The Company of Poets. Featuring the original poetry of all the cast members.


At the Diamler Chrysler "Spirit In The Word" Spoken Word Showcase in Philly.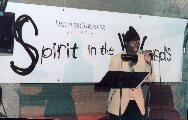 Performing at the Cecil B. Moore Community Festival.


I had the pleasure of performining at the Philadelphia Clef Club as part of Sherry Wilson Butler's Vocalise Showcase



Backed up by some of Philly's most talented musicians, I made my singing debut.



Sharing the stage with fellow performers at Community College for their Annual International Festival.



Performing on stage at the Painted Bride with fellow winners of the Significant Others Contest.



w/Duke Wilson
Master Percussionest



SINCLAIR COMMUNITY COLLEGE
Dayton, Ohio
Februay 2 - 3, 2007 Black Woman's Think Tank Conference
Performance & Workshop
Sinclair Community College



Cheyney University
Februay 4, 2007
Duckrey Social Science Building




Wednesday February 8, 2006
Pennsylvania Hospital Black History Month Celebration
8th & Spruce St



Saturday February 11, 2006
Mercy Hospital of Philadelphia
Black History Luncheon

Saturday, February 25, 2006
Town Hall Meeting
Reparations – Our Answer to Injustice



Monday, October 24, 2005
Cheyney University
Duckrey Social Science Building



Thursday, October 20, 2005
Drueding Center/Project Rainbow
@ Holy Redeemer Hospital

Thursday, October 27, 2005
"WORD-4-WORD"
Hosted by Nish Pugh
@The Art Noir Gallery



Saturday, October 29, 2005
Mad Poets Society
Arts Against Abuse
Media Pa


Monday September 26, 2005
The Gateway Clipper Fleet
Cruise Reception for NSVRC-National Sexual Violence Resource Center
Pittsburgh PA.

Tuesday, September 27, 2005
Pennsylvaina Coalition Against Rape-PCAR
September 26 - 30th, 2005
Sheration Station Square - Pittsburgh, PA.
Poetry Pulls Pain Workshop


Saturday, June 18, 2005
Juneteenth Unity Awards Gala
@The National Constitution Center
525 Arch St.
Info: www.juneteenthphilly.com

Saturday, June 25, 2005
"A Ladies Day Out Luncheon
@ The Historic Cauffiel House
in Wilmington, Delaware



Sunday, June 26, 2005
West OakLane Jazz & Arts Festival
@ Art Noir at 72nd & Ogontz Ave.
Time: TBD – FREE & open to public
Info: http://www.westoaklanefestival.com



Saturday, May 7, 2005
Billie & Malcolm ~ a play reading
Joe's Coffee Bar
11th & Walnut Street

Monday, May 9, 2005
Drexel University Main Campus
"My Blues Ain't Yours" Workshop
MaCalister Hall

Saturday, May, 21, 2005
"A Spring Poetry Event"
@The Point of Destination Café
6460 Greene St., Philadelphia, PA




Wednesday, April 6, 2005
International Heritage Week
@Community College
17th & Spring Garden St.
Bonnell Building/BG-10 Main Auditorium

Saturday, April 23, 2005
PANTENE TOTAL YOU TOUR
@ The Philadelphia Convention Center
On The Expo Performance Stage
Pantene Total You Tour

Saturday, April 23, 2005
"Poetic Madness"
@The Please Touch Museum
210 N. 21, Philadelphia Pa

Friday, March 11, 2005
Women Against Abuse, Inc.
@ The African American Museum
701 Arch St, Phila, Pa

Sunday, March 20, 2005
"Movers & Shakers Awards Program"
Mayor's Chambers in City Hall
Philadelphia Pa.

Tuesday, March 29, 2005
Women's History Month
Drexel University/Ross Commons House
34th & Powelton Ave. St.

Saturday Feb. 5, 2005
2005 ANNUAL NATIONAL BLACK HISTORY MONTH FILM & DISCUSSION SERIES
Baltimore Maryland Institute College of Arts Brown Center - 1300 Mount Royal Ave.
info: Urban Film Series

Monday Feb. 14, 2005
Community College
16th & Spring Garden St.
Black Heritage Celebration

Tuesday Feb. 15, 2005
"An Evening with Sonia Sanchez"
Drexel University
Living Arts Lounge
33rd Chestnut Street



Friday Nov. 5, 2004
ITCOP Four Year Anniversay Celebration
Well Grounded Cafe
Ridge & Midvale Ave.

Friday December 3, 2004
THE PERFROMANCE CAFE
Presented by the Philadelphia Committee
for Independent Culture
1904 Walnut St

Saturday December 4, 2004
SPEAKING OUT FOR OUR FREEDOM
Delta Sigma Theta Soroity, Inc
Quacker Alumnae Chapter
4th Annual Poetry Cafe
@ FRREDOM THEATRE

Tuesday December 28, 2004
Friends Select School
Burlington New Jersey




Wednesday October 20, 2004
At The Ogontz Grill
72nd & Ogontz Ave @ 7:00PM

Saturday, October 30, 2004
Celebration & Fundraiser for
The JOHN WHITEHEAD FOUNDATION
6815 Ogontz Ave.




w/Guest Poet, Barbara Edwards
Sept 11, 2004
"LET'S LOVE LOGAN COMMUNITY FESTIVAL
Broad & Wyoming Ave.

September 16, 2004
PASCEP-Pan-African Studies Community Education Program
Student Orientation
Anderson Hall, 12th & Berks St.



City of Philadelphia's
LOVE PARK Entertainment Series
August 2004



West Oaklane Jazz & Arts Festival
Cheltenham Mall, June 2004

Thera Martin Connelly Interview on WHAT AM 1340 Radio
@ October Gallery



Pantene Total You Tour @ Philadelphia Convention Center
Pantene Total You Tour


Talent & Fashion Show, Wyndam Hotel, Philadelphia




WORDSTOCK, INC. NEW YORK Poetry Festival
WORDSTOCK, INC

ALPHA KAPPA PSI @ West Chester University




TEMPLE UNIVERSITY, PHILA
SISTERS DEFINING SISTERS Conference



ANOTHER WOMAN THANG!
In The Company Of Poets 3rd Annual Benefit
TEMPLE UNIVERSITY ANDERSON HALL
This musical choreopoem featuring original works by PASCEP Poets
Produced by IN THE COMPANY OF POETS
Benefit for the Pan African Studies Community Education Program



SINCLAIR COMMUNITY COLLEGE
Dayton, Ohio
Black Woman's Think Tank Conference
Performance & Workshop
Sinclair Community College



DREXEL UNIVERSITY HOSPITAL STUDENT'S
African American Heritage Program



PENNSYLVANIA HOSPITAL EMPLOYEE'S
African American Heritage Program



LEBANON COLLEGE
Lebanon, PA



w/Tiffany Bacon
@ Power 99 "inner City" Progran



SHOWBIZ RAP TV SHOW, Philadelphia

DELTA SIGMA THETA SORIORITY, INC.
Delta Sigma Theta Sorority, Inc.



PEOPLE'S LIGHT & THEATRE CO.
MALVERN, PA




GUARDIANS OF OUR FUTURE
@ The African American Museum

NATIONAL ASSOCIATION OF UNIVERSITY WOMEN
Philadelphia Chapter
Poetry Workshop



1st ANNUAL PHILA. JAZZ & POETRY FESTIVAL
Pat McLean with Gerald Veasely & The Electric Mingus Project



NATIONAL SEXUAL VIOLENCE RESOURCE CENTER CONFERENCE
More Info:PCAR

17TH ANNUAL CARIBBEAN FESTIVAL



HEAL THYSELF GARDEN PARTY

NEO & FRIENDS NETWORK PARTY
NEO NETWORKS



Interview with Eyele Yetunde on "ETCHES"
PHILLY TALK RADIO - WHAT 1340 AM

SANKOFA DRUM FESTIVAL, HATFIELD HOUSE
Fairmount Park



2003 SUNOCO WELCOME AMERICA
National Convention Center Philadelphia

ART NOIR GALLERY, 7200 Ogontz Ave, Philly

THE WORD with Tracey Bryant on www.October Gallery.com online radio

ASHE ONLINE RADIO SHOW @October Gallery

RAINSTORM INTERTAINMENT @ Philadelphia Clef Club

THE NILE, Auser Auset Society



PAN AFRICAN STUDY COMMUNITY EDUCATION PROGRAM

MOM'S MOBIL MOTHER'S DAY EVENT



GRATERFORD PRISON
Lifer's Association Event
w/ Dr. Sonia Sanchez



McGuire Air Force Base
w/Doc & Jelani
in the Lyrical Lounge

MERCY HOSPITAL of Philadelphia, Black History Celebration



EAST STROUDSBURGH UNIVERSITY

UNITED STATES POSTAL WORKERS AA HERITAGE PROGRAM



INTERVIEW on WURD 900 AM RADIO
W/ STORYTELLER MOMMA SANDI and DR. EARLENE GREEN

FRIENDS SELECT SCHOOL RETREAT



AFRICAN AMERICAN HISTORICAL & CULTURAL MUSEUM of PHILADELPHIA
w/Guest Flautist - Dee Dooley
701 Arch Street Philadelphia, PA 19106 215.574.0380
AAMP Website...See exhibit page!

AFRICAN AMERICAN HISTORICAL & CULTURAL MUSEUM OF PHILADELPHIA
"JUKE JOINT"
An Installation by WILLIE LITTLE



AFRICAN AMERICAN WOMAN ON TOUR
AAWOT in Philly

THE HISTORIC PAUL ROBESON HOUSE
Paul Robeson House Info.



BUCKINGHAM FRIENDS PEACE FAIR
Debra Powell w/Nagohead Quaker Peace Fair



TENDERHEADED DIARIES
The Play @ Painted Bride, Philadelphia



CULTURAL CONNECTION TV SHOW
African and African American Studies Department
School District of Philadelphia

AFRICAN SISTERHOOD CONFERENCE
Howard University, Washington DC

BRYN MAWR COLLEGE, BRYN MAWR, PA

SISTAHS TOUR 2000/2001 - Philadelphia

SOCIETY HILL PLAYHOUSE - Philadelphia



MOTHER BETHEL REPARATION TOWN MEETING - Philadelphia
Opening for Congressmen Chaka Fattah & John Conyers



CHURCH FARM SCHOOL - Exton, PA

MANGO'S - Washington, DC

JUNETEENTH FESTIVALS - Philadelphia

POWER IS WOMAN!...BENEFIT - Philadelphia
Against FGM for Godparents, Inc.

THE NATIONAL ALZHEIMER'S ASSOCIATION - Philadelphia

LIGUORIUS BOOK STORE - CHELTENHAM MALL - Philadelphia



WALT WHITMAN CULTURAL CENTER - STOP WOMEN'S ABUSE BENEFIT

Hosted by Sandra Turner-Barnes

NNOBI'S NATURAL NACK - HAIR STORIES - Philadelphia

RICHARD ALLEN ELEMENTARY SCHOOL - Philadelphia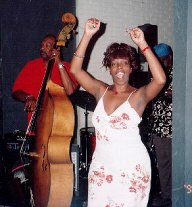 Poeting and grooving to the sounds of Philly's own Arpeggio Jazz Ensemble



At The Mad Poets Annual Elementry & Middle School Poetry Contest. Where my poetry partner of ITCOP, Debra Powell-Wright and I were asked to be judges.




Photo ops with the ladies of the National Association of Black Accountants, at their annual Woman's Tea, held at the beautiful Bellvue Hyatt. Of which I am proud to be the resident poet.




Keep checking back.THANKS:-)

HOME PAGE





In The Company of Poets

In The Company of Friends


Selected Poems

HOME | PAT's PHOTO PLACE | POETRY
For questions & comments