IMPRESSIONISM PAINTER: MARY STEVENSON CASSATT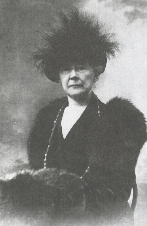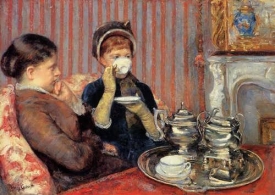 Mary Stevenson Cassatt (May 22, 1844 – June 14, 1926) was an American painter and printmaker. Born Mary Stevenson Cassatt on May 22, 1844, Mary was the second of the Cassatt's seven children. Her father Robert Simpson Cassatt was a stockbroker, while her mother, Katherine Kelso Johnson, who came from an old established Pennsylvania family, was an accomplished woman who spoke French and was well educated. The Cassatt family who were of French Huguenot descent, escaped persecutions and came to New York in 1662. Mary was the daughter of an affluent Pittsburgh businessman, whose French ancestry had inspired him with a passion for his ancestrial home. The ancestral family name carried the spelling of "Cossart."
After a stay in Paris the Cassatts lived for several years in Germany, where Mary's brother Alexander attended the prestigious Technische Hochschule in Darmstadt. In 1851,when Mary was seven, Cassatt family moved to Paris, France. After a stay in Paris the Cassatts lived for several years in Germany, where Mary's brother Alexander attended the prestigious Technische Hochschule in Darmstadt. But by 1855 the family was anxious to get back to Paris.
The Cassatt family returned to the United States, to reside in West Chester, Pennsylvania in 1855, settling in a house near the present Philadelphia City Hall. Mary lived much of her adult life in France. Although neither Mary not her sister Lydia ever married, but Mary loved children, doting on her nieces and nephews and the children of friends. Close relationships with relatives and friends sustained Cassatt's life and art. Mary Cassatt, is known as a "painter of mothers and children."
STUDYING IN EUROPE & THE USA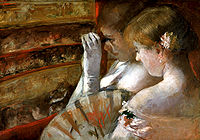 From 1860 to 1862, she studied at the Pennsylvania Academy of the Fine Arts. By 1865, she had convinced her parents to let her study in Paris, where she took private lessons from leading academic painter Jean-Léon Gérôme, copied works of the old masters, and went sketching. After three-and-a-half years in France, the Franco-Prussian War interrupted Cassatt's studies and she returned to Philadelphia in the late summer of 1870, Cassatt lived with her family in Altoona. Cassatt returned to Europe in 1871. She spent eight months in Parma, Italy, in 1872, studying the paintings of the Masters. In 1873, she visited Spain, Belgium, and Holland to study and copy the works of Velázquez, Rubens, and Hals. In June 1874, Cassatt settled in Paris, where she began to show regularly in the Salons, and where her parents and sister Lydia joined her in 1877.
CASSATTS PAINTING TECHNIQUES

In 1870, Mary Cassatt returned to the United States and her parents' home. Her painting suffered with the lack of support from her father. Her paintings in a Chicago gallery were destroyed in the Great Chicago Fire of 1871. Parisians saw their first formal exhibition of Japanese arts and crafts when Japan took a pavilion at the World's Fair of 1867. Japonisme was the French term used to cover a wide variety of Japanese visual art styles. Most often, these were woodcuts and prints from the Edo period. But already, by the 1860's, shiploads of oriental bric-a-brac—including fans, kimonos, lacquers, bronzes, and silks—had begun pouring into England and France. Cassatt's brother, Alexander, brought his family to Paris in 1880, the first of many trips the family would take. Mary Cassatt stated that she "hated conventional art." Mary Cassatt was inspired by Japanese prints to create some of her most formally and technically daring color etchings characterized by flattened figures, unmodulated planes of color, and strong linear design. She found in Japanese woodcuts like those of Utamaro a fresh approach to the depiction of common events in women's lives. The Cassat print on the right demonstrates the Japonisme influence on Mary Cassatt's artwork. Initially, Cassatt worked primarily in oil, but by the early 1890s, printmaking and work in pastels had become her central interests. She was skillful in her use of oils and used this medium predominantly in her early works. Cassatt had her first solo exhibition in 1891, revealing a talent for printmaking.
THE LATER YEARS
Diagnosed with diabetes, rheumatism, neuralgia, and cataracts in 1911, she continued painting, but after 1914 she was forced to stop painting as she became almost blind. Nonetheless, she took up the cause of women's suffrage, and in 1915, she showed eighteen works in an exhibition supporting the movement. She died on June 14, 1926 at Château de Beaufresne, some thirty miles northwest of Paris, and was buried in the family vault at Mesnil-Théribus, France. Within two years of Cassatt's death, the United States exhibited four memorial shows of her work. Finally, her art was honored in her native country. As of 2005, her paintings have sold for as much as $2.87 million. One of Cassatt's greatest accomplishments was a mural she was commissioned to do for the women's building at the Chicago World's Fair. Her sister Lydia died in 1882, and her brother, Alexander Cassatt, (president of the Pennsylvania Railroad from 1899 until his death) died in 1906. Below is a photograph of the Alexander Cassatt house.



5214 South 2nd Avenue Everett, Washington 98203-4113 Telephone (425) 252-2981
Main
Back
Page 26