LEONARDO DA VINCI
Leonardo da Vinci was born on Saturday the 15th of April 1452, at three o'clock in the night, equivelent to 10:30 pm by todays time. He was born in a farmhouse a short distance from the village of Vinci, in the heart of Tuscany, just a few kilometres from Florence, between Pistoia and Empoli, and a stone's throw from Pisa, or within an hour's drive from Lucca and Siena. The farmhouse in Anchiano, was close to "Monte Albano". Florence, at this time was by far the richest city in Europe when Leonardo was born. The family had lived here in this area since the 13th century. Leonardo's mother was a young peasant girl named Catarina. His father was Ser Piero, a 25 years old public notary at the time of his son's birth in 1452. In the year Leonardo was born Gutenberg perfected the printing press and
Girolomo Savonarola
was born in Florence.
MUSICAL ABILITY
It appears from Vasari's description that Leonardo first learnt to play the lyre as a child and that he was very talented at improvisation. In about 1479 he created a lyre in the shape of a horses head, which was made "mostly of silver", and of "sonorous and resonant" tone. Lorenzo de'Medici saw this lyre and wishing to better his relationship with Ludovico Sforza, the usurping Duke of Milan, he sent Leonardo to present this lyre to the Duke as a gift. Leonardo's musical performances so far surpassed those of Ludovico's court musicians that the Duke was delighted. A document from Milan states that Leonardo's mother Caterina died in that city on June 26, 1494, while Leonardo was in the service of Milan Francesco Sforza.
APPRENTICESHIP IN FLORENCE, ITALY
The first four years of da Vinci's young life were spent near Vinci. When, in 1468, his paternal grandfather died the family moved to Florence. Leonardo showed promise early on, with an innate talent in art and music and excellent social skills. His father was employed in Florence as a notary by Cosimo de Medici, il Vecchio, "the Old". In about 1466 he was apprenticed as a garzone (studio boy) to Andrea del Verrocchio, the leading Florentine painter and sculptor of his day. In Verrocchio's workshop Leonardo was introduced to many activities, from the painting of altarpieces and panel pictures to the creation of large sculptural projects in marble and bronze. Leonardo entered the San Luca guild of painters in Florence in 1472, indicating that he had attained a degree of professional independence, but he remained with Andrea del Verrocchio until as late as 1480. He was an excellent apprentice and soon became the head of the workshop.
His first known work, which he painted as an assistant, is the angel kneeling on the left of Verrocchio's picture The Baptism of Christ (c.1472-1475). Verrocchio, it is said, was so impressed by the implications of his pupil's genius that he gave up painting.
Leonardo started his apprenticeship with the mixing of colors and then he painted simple parts of paintings. There are no works of Leonardo known between 1466 and 1472, but Leonardo taught himself to paint in oils at this time. This art practice was developed by dutch artists. The picture shows Florence at the time of Leonardo. Another work of this period, The Annunciation (c.1472-1475) was attributed to Leonardo, but it is likely that the picture was not painted entirely by him. However, it is generally accepted that the overall composition, the figure of the angel and the landscape are his work.
In 1478 Leonardo became an independent master. His first commission at this time, to paint an altarpiece for the chapel of the Palazzo Vecchio, the Florentine town hall, was never executed. His first large painting, The Adoration of the Magi (begun 1481, Uffizi), and left unfinished, was ordered in 1481 for the Monastery of San Donato a Scopeto, Florence. Other surviving works from this period include Madonna with the Carnation (c.1475), Madonna Benois (c.1475-1478), Portrait of Ginevra de'Benci (c.1478-1480). Unfortunately, Leonardo's tendency to leave work unfinished was as characteristic of him as his artistic genius.
THE YEARS IN MILAN: LEONARDO COMMISSIONED TO PAINT THE LAST SUPPER
Leonardo painted The Last Supper because he was requested to by his employer Ludovico Sforza, Duke of Milan, for nearly eighteen years (1482-99). The Duke decided he wanted this religious scene painted and Leonardo, completed the painting, which measures 460 x 880 cm (15 x 29 feet). It covers an entire large wall. The original mural hangs on a wall of the refectory (dining hall) in the Convent of Santa Maria delle Grazie in Milan, Italy.
The Last Supper specifically portrays the reaction given by each apostle when Jesus said one of them would betray him. All twelve apostles have different reactions to the news, with various degrees of anger and shock. From left to right:
Bartholomew, James, son of Alphaeus and Andrew form a group of three, all are surprised.
Judas Iscariot, Peter and John form another group of three. Judas is wearing green and blue and is in shadow, looking rather withdrawn and taken aback by the sudden revelation of his plan. He is clutching a small bag, perhaps signifying the silver given to him as payment to betray Jesus, or perhaps a reference to his role within the 12 disciples as treasurer. He is not the only person to have his elbow on the table; the painting also shows Jude Thaddeus with his elbow on the table, traditionally a sign of bad manners. Peter looks angry and is holding a knife pointed away from Christ, perhaps foreshadowing his violent reaction in Gethsemane during Jesus' arrest. The youngest apostle, John, appears to swoon.
Thomas, James, son of Zebedee and Philip are the next group of three. Thomas is clearly upset; James the Greater looks stunned, with his arms in the air. Meanwhile, Philip appears to be requesting some explanation.
Matthew, Jude Thaddeus and Simon the Zealot are the final group of three. Both Jude Thaddeus and Matthew are turned toward Simon, perhaps to find out if he has any answer to their initial questions.
These names are all agreed upon by art historians. In the 19th century, a manuscript (The Notebooks Leonardo Da Vinci pg. 232) was found with their names; before this only Judas, Peter, John and Jesus were positively identified.
In common with other depictions of The Last Supper from this period, Leonardo adopts the convention of seating the diners on one side of the table, so that none of them have their backs to us. However, most previous depictions had typically excluded Judas by placing him alone on the opposite side of the table from the other eleven disciples and Jesus. Another technique commonly used was placing halos around all the disciples except Judas. Leonardo creates a more dramatic and realistic effect by having Judas lean back into shadow. He also creates a realistic and psychologically engaging means to explain why Judas takes the bread at the same time as Jesus, just after Jesus has predicted that this is what his betrayer will do. Jesus is shown saying this to Saints Thomas and James to his left, who react in horror as Jesus points with his left hand to a piece of bread before them. Distracted by the conversation between John and Peter, Judas reaches for a different piece of bread, as, unseen by him, Jesus too stretches out with his right hand towards it. All of the angles and lighting draw attention to Christ.
THE ENIGMATIC MONA LISA & THE SECRET OF LIFE
Leonardo da Vinci painted the Mona Lisa between the years 1503 to 1506. It took him four years. On July 9, 1504, he received notice of the death of his father, Ser Piero. Through the contrivances of his meddling half brothers and sisters, Leonardo was deprived of any inheritance.
For many, there was a spiritual awakening from out of those centuries called "the dark ages." But the Catholic church yet ruled, telling artists what to paint, and what subjects to paint and even what not to paint. Painters would paint enigmatically. A fox in the corner of a medieval painting was the symbol of the corrupt clergy. Art was utilized as spiritual warfare.
From 1513 to 1516, Leonardo lived in Rome, where Raphael and Michelangelo were active at that time.
Allorical artwork was well known, such as that of Giuseppe Arcimboldo, who was born in Milan into a highly distinguished family, which boasted archbishops, jurists and artists. He painted people with their heards adorned with fruitfulness. And the Dutch artist Johannes Vermeer. The scriptures define the fruit of the Spirit as a partaking of the divine nature through union with Christ.
The painting of Mona Lisa appears allegorical. Now 500 years old, it depicts a woman sitting on atop a mountain thinking about life. There is a paradise surrounding her containing an ancient path or road in the background. In the summer of 1502 Leonardo made numerous maps of the valleys around Arezzo for Cesare Borgia. He was profoundly moved by this countryside and, in particular, by upper Valdarno, which he used as a background for his most famous works of art: from the Mona Lisa to the Sant'Anna. There is also a clear similarity between the bridge over the River Arno at Buriano and the bridge in the background of the Mona Lisa. The woman in the painting is seated, as scripture states true believers who have received true salvation through the shed blood of Christ which atones for sins, are seated together with Christ. Ephesians 2:6-7 says, "And God raised us up with Christ and seated us with him in heavenly realms in Christ Jesus, in order that in the coming ages he might show the incomparable riches of his grace, expressed in his kindness to us in Christ Jesus." For this is what the Lord says: I will extend peace to her like a river and the glory of the nations like an overflowing stream. (Isaiah 66:12)
From wherever you stand she seems to be gazing in your eyes as if she possesses a knowledge of something that gives her this incredible peace. The background contains mountains which typify kingdoms and and a lake. In his notebooks there are many references to his fascination with water, fires, floods and apocalyptic visions of the end of the world. He executed drawings of Arno floods, Florentine fires and storms near Swiss the Alps combining prophetic visions with catastrophes. The painting was painted more than 450 years ago.
Mona Lisa, or La Gioconda (La Joconde), is a 16th century oil painting on poplar wood by Leonardo Da Vinci. It took him ten years to paint Mona Lisa's lips. It is the most famous painting in the world. It is owned by the French government and hangs in the Muse du Louvre in Paris. The painting, a half-length portrait, depicts a woman whose gaze meets the viewer's with an expression often described as enigmatic. The portrait full of mystery and secrets is painted on a 77x53 cm large poplar-wood. It is the most famous work of Leonardo da Vinci. He kept this portrait all his life, but in the end, sold it to the French king Louis XIV for four thousand gold crowns. When Louis XIV moved the French court to Versailles, he took La Joconde with him. But his son, Louis XV, hated the picture and ordered it removed from the palace. After hanging in the apartment of another noblemen, and also being stored in a warehouse during the French revolution, Napoleon Bonaparte restored the enigmatic lady to a place of honor in the emperor's luxurious bedroom. At one time, there were two columns surrounding Mona Lisa (barely viewable at the height of her sleeves), but the portrait was heavily cropped. For this reason, it's more difficult to see that Mona Lisa is sitting on a terrace.
Leonardo had never been as busy as he was while painting this work. During this period he was designing a canal for the river Rhone, as well as drawing a series of sketches depicting the Battle of Anghiari. As an artist he was renowned throughout Europe and was commissioned to do a great variety of work. He was at the peak of his career, the perfect age, the high point of genius and audacity. He felt he could take on any challenge.
Little by little his dream of flying and this enormously important portrait would become the focus of his life. Two projects that will become his greatest goals; on the one hand to see the world from above and discover the secrets of the birds, and on the other to paint a portrait containing symbols that encapsulate the very essence of a human being, symbols that transcend time and its limitations.
Leonardo Da Vinci began Mona Lisa in 1503, the same year when he was immersed in creating his fly machine. Each time he observed the fluttering of birds, he became more and more eager to imitate them, to rise up to the sky, to look down from there at the world was an image that had obsessed him since childhood.
In 1515, Francois I of France retook Milan. Leonardo was commissioned to make a centrepiece (a mechanical lion) for the peace talks between the French king and Pope Leo X in Bologna. In 1516, Leonardo received an invitation from Francis I to come to the French court, which he accepted. He was given residence in Cloux, not far from the King's residence in Amboise, and was appointed "the first painter, engineer and architect of the King". However, his only obligation was to converse with the 22-year old King, who visited him almost daily. In 1516, the move was made to France where Leonardo was to work for Francois I. The King provided him with lodgings in a house called Cloux which still stands and has been carefully restored. Though still able to draw Leonardo was already a very sick man and his right hand was partially paralysed due to a stroke. Most of his time was spent organising his notebooks and the King did not require he carry out commissions, though Leonardo had to suffer frequent royal visits and produce plans for festivals and plays. The King would enter the manor house of Cloux via a stretch of tunnel connected to the castle at Amboise. One of the items Leonardo made for him during this period was a "mechanical lion with a breast that opened to reveal lilies." Leonardo died on the 2nd of May, 1519 in Cloux and was buried in the Church of St. Florentine in Amboise. It was here that he spent the last three years of his life. The King granted Leonardo and his entourage generous pensions. In 1518 Salaino left Leonardo and returned to Milan, where he eventually perished in a duel.
THE ARTIST'S DEATH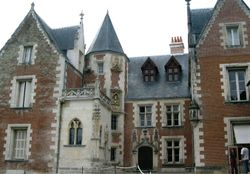 In 1516-17 Leonardo left Italy for France on the death of Giuliano de' Medici. He was given the gift of the Castle at Cloux, Amboise, and received a visit form the Cardinel of Aragon to whom he shows his last works. On 23 April 1519 Leonardo wrote his last will.
Leonardo died on 2 May 1519 in Amboise, at 67 years of age. His health had been declining for some, so his death was not unexpected. Leonardo had a paralysis on the right side of his body since 1517 and Vasari had told about his illness some weeks before Leonardo died. This year Magellan began his first circumnavigation.
Most of the rooms of the house where Leonardo lived and worked have now been painstakenly restored to their original 1490 simplicity. Period furnishings fill a small chapel, a studio and hall where Francis I and Leonardo discoursed, a kitchen, and the bedroom where Leonardo died. Frescoes discovered on the walls were probably painted by Leonardo's students.
Franois I had become Leonardo's close friend. Vasari records a story that there at Leonardo's house as he lay dying, the King held Leonardo's head in his arms as he passed away. Vasari also tells us that in his last days, Leonardo sent for a priest to make his confession and to receive the Holy Sacrament. According to his wish, sixty beggars followed his casket. He was buried in the Chapel of Saint-Hubert in the castle of Amboise.
During these last years of his life Leonardo began to arrange and edit his scientific papers, a task left unfinished at his death. Leonardo died in his home in France on May 2, 1519. His notebooks and paintings passed into the possession of his favorite student and long-time friend Francesco de Melzi, who had traveled to France with Leonardo in 1516.
He was buried in the Church of St Florentine, but his remains were scattered during the Wars of Religion. Three centuries later the French artist Jean Auguste Dominique painted a romantic deathbed picture showing the King of France leaning over the dying Leonardo and cradling him in his arms. In reality, the king was not present at the death, but was off celebrating the birth of his second son.
History records that Leonardo was buried in the palace church. This photograph shows the Chapel of St. Hubert which is situated inside the area of the king castle in Amboise. Inside the chapel is the last resting place of Leonardo da Vinci. Originally Leonardo was buried in the heart of the king castle in the cloister of San Fiorentino. After destruction of the church during the French Revolution, parts of the castle the mortal remains of Leonardo da Vinci were transferred to the Chapel of St. Hubert.
5214 South 2nd Avenue Everett, Washington 98203-4113 Telephone (425) 252-2981
Main
Back
Page 17
Email: adazio@lycos.com