BRUCE SPRINGSTEEN
AND THE E STREET BAND
The reason I'm running for president is because I can't be Bruce Springsteen.
– Barack Obama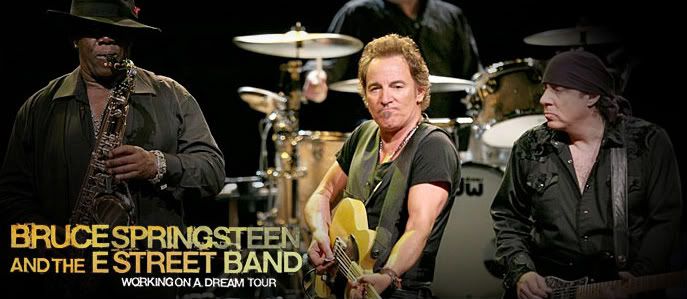 Official
Backstreets
Wikipedia
General Information
Bruce Springsteen: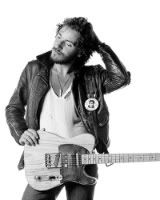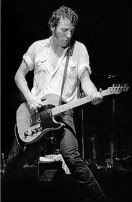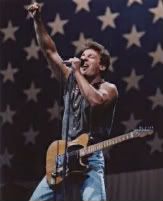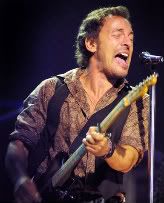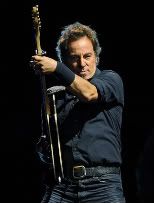 Last Thursday, at the Harvard Square theatre, I saw my rock'n'roll past flash before my eyes. And I saw something else: I saw rock and roll future and its name is Bruce Springsteen. And on a night when I needed to feel young, he made me feel like I was hearing music for the very first time.

– Jon Landau, Rolling Stone magazine (1974)

When music critic Jon Landau made this proclamation during the summer of 1974, Bruce Springsteen was struggling to hold on to his fledgling career. Raised in Freehold, NJ, in a working-class family, Springsteen had been signed to Columbia Records by the legendary John Hammond, the man who had discovered Bob Dylan, and Springsteen was, in fact, touted as the "Next Dylan." Springsteen had already released two albums both of which had garnered him plenty of critical acclaim but no commercial success, and he was in danger of being dropped from the label if he did not produce a commercially viable album. Landau believed so much in Springsteen that he joined the band in the studio, helping them to finish the new album, Born to Run. The release of Born to Run in 1975 catapulted the 25-year-old Springsteen from a cult favorite along the Jersey Shore to national fame. Over the next thirty years, Bruce Springsteen would prove to be one of the most important figures in American music.

The E Street Band: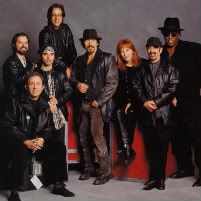 There'll be no oiling up with this band. The oil has been there for years and it only gets better.

– Clarence "Big Man" Clemons

Bruce Springsteen's backing band went through a number of changes in the early years, but since then membership in the E Street band has remained remarkably stable. The band reportedly formed in October 1972, but did not become officially named the E Street Band until sometime in 1974. The original lineup included Garry Tallent (bass), Clarence Clemons (saxophone), Danny Federici (keyboards, accordion), Vini "Mad Dog" Lopez (drums), and David Sancious (keyboards). The band actually got its name from the street in Belmar, NJ, where Sancious's mother lived. She would sometimes allow the band to rehearse in her home. In February 1974, Lopez was asked to leave the band and he was replaced by Ernest "Boom" Carter. Carter did not play with the band for long, but he made his mark as he is the one playing the drums on the album cut of "Born to Run." Sancious and Carter left the band in February 1974 to pursue a career in jazz and were replaced by Max Weinberg (drums) and Roy Bittan (piano). This new lineup remained intact until "Little Steven" Van Zandt decided to leave the band prior to the Born in the U.S.A. tour in the mid-1980s. He was replaced by Nils Lofgren. Patti Scialfa also joined the band at this time. The E Street Band continued performing with Springsteen up until 1989 when he informed the members that their services would no longer be needed as he was pursing a different direction in his music. Springsteen periodically used the E Street members on his projects, but the band did not officially reunite until 1999 when they embarked on a world tour which is often called the "Reunion" tour. During this time period, Van Zandt rejoined the band meaning that every member of the E Street Band back in 1975 was playing with Springsteen almost thirty years later. Unfortunately, the E Street Band lost its first member on April 17, 2008 when Danny Federici lost his battle with melanoma. The Band Today Other Musicians

Discography and Suggested Listening







When Bruce Springsteen sings on his new album, that's not 'fun', that's f**king triumph, man.

– Pete Townshend on Born to Run (1975)

As is to be expected of an artist nearing his 60th birthday and who has now been recording for over 30 years, Bruce Springsteen's catalog is immense. Since 1973, Springsteen has released: 16 studio albums, 5 live albums and 5 compilation albums. During that time span, he has sold over 65 million albums in the United States and over 120 million worldwide. While Springsteen is widely known for heartland rock, poetic lyrics, and Americana sentiments centered on his home state of New Jersey, the diversity of his catalog is quite surprising. From his first two albums which are filled with dense lyrics conveying the wild stories of characters such as "Crazy Janey," "Wild Billy," and "Spanish Johnny" to the straight-laced rock of Darkness on the Edge of Town to the lush, pop arrangements of the songs off his latest album Working on a Dream, Springsteen has never been afraid to take chances with his music. In fact, many people argue that the only reason the man who once shelved an album for "being too pop" decided to fully embrace radio-friendly songs with vast commercial appeal when he released Born in the U.S.A. in the mid-1980s was so that he would forever have the freedom in his career to explore other avenues which might deviate from the type of music expected from him. Case in point, during this past decade, Springsteen has recorded three albums with the E Street Band, one solo acoustic album, and one folk album covering songs made famous by Pete Seeger. Below is a listing of all his studio albums to date.

Studio Albums:

Albums with the E Street Band Other Albums

Where to Begin:

The diversity of Bruce Springsteen's catalog makes it very difficult to recommend a starting place without knowing the type of music a person likes. Perhaps the easiest way for somebody to get acquainted with at least some parts of all his albums is to start with The Essential: Bruce Springsteen (2003). Unlike Greatest Hits (1995), The Essential at least touches on his entire career. Once somebody decides on some songs they like, then the best course of action is to listen to the album from which the songs come from in its entirety. The majority of Springsteen's albums have a common theme running through the songs and many times, a song can strike somebody in an entirely different way when heard in the context of the album. For people wanting to go straight to the albums, Born to Run is the place to start. For lack of a better way of putting it, this album represents what Springsteen is all about and, hence, is the best starting place. People who really enjoy songs like "Night" or "Born to Run" off this album would then probably enjoy Darkness on the Edge of Town while people who prefer the epics, "Jungleland" and "Backstreets," might want to check out Springsteen's earlier works. However, these are just some very loose guidelines. Brian Fallon of the Gaslight Anthem was right when he said the best way to experience Springsteen is to "JUST START FROM THE BEGINNNG."

Influence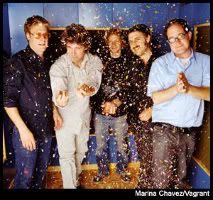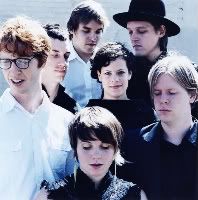 I couldn't believe how happy his music made me and how good it was. He's a gift, and I didn't know. I mean, I knew 'Born in the USA' and 'Glory Days,' but I didn't know that he covered so much ground, and there was something in his music that touched what I was going through, the process of falling back in love with my America.
– Brandon Flowers of The Killers

  Against Me!           The Gaslight Anthem    The Killers
  Arcade Fire           Juliana Hatfield       Ted Leo    
  The Avett Brothers    The Hold Steady        Sara Quinn 
  Bon Jovi              Wyclef Jean            Tegan and Sara
  The Bouncing Souls    Mat Kearney            Josh Ritter
  Pete Yorn        
Live Show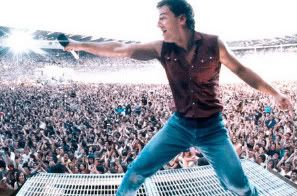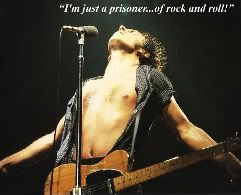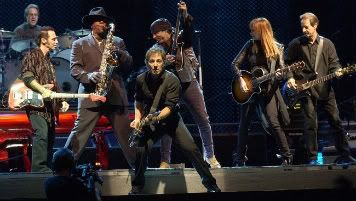 Do you like joy? If you do, you should go and see Bruce Springsteen.

– Jon Stewart, host of The Daily Show

Ask any Springsteen fan and they will tell you that there only two types of people in this world, those that love Bruce Springsteen and those that have never seen him perform live. For all his strengths as a songwriter, any fan will tell you that the one thing that truly sets him apart from his contemporaries is his ability to put on fantastic shows night after night, year after year, decade after decade. There is absolutely nothing fancy about what he does onstage, but with one of the strongest song catalogs of any artist and a tight band behind him, Springsteen is able to create magic every time he steps on a stage.

Live Recordings:

While listening to Bruce Springsteen's studio albums will demonstrate his often genius songwriting, the best way to truly experience Springsteen is through live recordings. Springsteen has released five live albums, three with the E Street Band. For years, fans had been begging for a live release and finally they were rewarded when Live/1975-1985 was released in 1986. This three disc compilation contains some of the band's best performances from their first decade. Early Springsteen can be seen on the Hammersmith Odeon London '75 CD and DVD which was released in 2006. However, probably the two best representations of the E Street Band in its present form are the Live in New York City (2000) and Live in Barcelona (2003) DVDs. The officially released material is often fantastic, but everyone knows that bootlegs are many times the best way to judge a band's performance since they are unencumbered by the heavy editing that official releases often undergo. Springsteen is one of, if not the, most heavily bootlegged artists and today it is rare for him to perform and a bootleg not eventually surface. Below is a very small sampling of some of the more famous bootlegs from past tours:

What to Expect at Bonnaroo:

With a Springsteen concert, there is really no "show" besides the band playing on the stage. Sure, there are lights that change colors and every once in a while a symbolic video may play along with a song, but Springsteen would be vilified by his very devoted fanbase were he to fall too far into the trappings of a typical concert these days. Instead, all there will be is a relatively bare-bones stage (although footage from the rehearsals seem to indicate something slightly more extravagant than in tours past), a stage full of musicians dressed in black, and a man who plays and performs with more passion and conviction than most anyone to ever step foot on a stage. As for what might be played, the fact that anybody is attempting to predict what to expect from Bruce Springsteen more than two months in advance of the show is laughable. The spontaneity and unpredictability of a Springsteen show is what keeps fans intrigued enough to attend hundreds of shows. However, once the Working on a Dream Tour begins on April 1, 2009, the setlists of the shows will be posted on both Springsteen's Official Site as well as on the main Fansite and general patters may start to develop. One thing people should be aware of is that they should not go into the show expecting to hear all of Springsteen's "hits." The chances that he would play "Born in the U.S.A.," "Glory Days," "Dancing in the Dark," "I'm on Fire," "Secret Garden," "Streets of Philadelphia," and "Hungry Heart" are pretty much slim to none. In fact, barring a huge change from the direction this tour seems to be heading, the chance of him playing more than two of these songs at Bonnaroo isn't very good. Since there really is no way to make a strong prediction on what possibly will be played, below are ten songs that have been heavily rotated in tours past and may be strong possibilities for Bonnaroo:

Badlands Born to Run No Surrender The Promised Land Out in the Street

She's the One The Rising Lonesome Day 10th Avenue Freezeout Dancing in the Dark

Random Trivia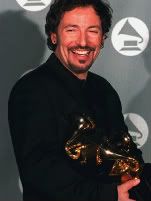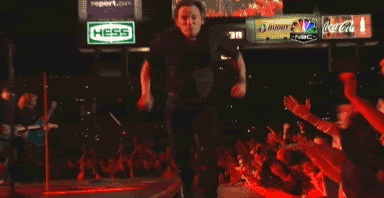 IN MEMORY OF ORIGINAL E STREET BAND MEMBER "PHANTOM DAN" FEDERICI WHO LOST HIS BATTLE WITH MELANOMA ON APRIL 17, 2008, PLEASE CONSIDER CONTRIBUTING TO THE DANNY FUND