N E W S
(Last Update: March 7, 2000)
The Rage Against The Machine new video premiered yesterday in MTV. The video is for the song "Sleep Now In The Fire". Director Michael Moore and Tom Morello went to Mtv to World Premeir it. The band set up and shot a clip of the video in front of Federal Hall in downtown Manhattan, drawing a crowd of several hundred people. The video mocks the game show "Who wants to be a Millionare?", the New York Stock exchange, Wall Street, the economic system and the era of greed we live today. Director Michael Moore says: "Their song is about the evils of our economic system and the era of greed in which we live."

Rage Against The Machine was nominated for several awards in the California Music Awards.

Rage Against the Machine graced the cover of SPIN Magazine for the March Issue.

"The Battle of Los Angeles" alternate album covers released. Click here to see them.
If you are a fellow TRL hater please show your support and add this button to your page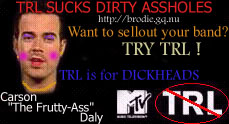 DIE CARSON DIE!!

if you would like to put a link to my page u may use this banner.

or copy this html code into your page:
<p><center><a href="https://www.angelfire.com/pe/ratm"><img src="https://www.angelfire.com/pe/ratm/images/bannerratm.jpg"></a></p>