!-You must remember this a kiss is just a kiss, a sigh is just a sigh. The fundamental things apply as time goes by.-!>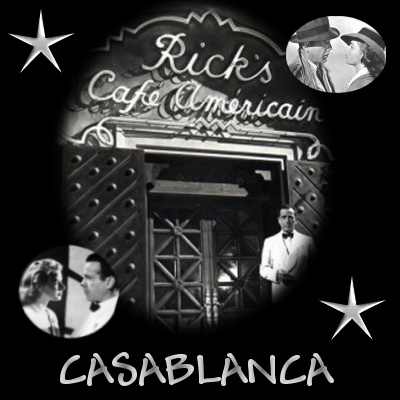 Casablanca (1942)
Movie Synopsis


Nightclub owner Rick Blaine (Humphrey Bogart) is a bitter American expatriate living with
regrets amidst the glamour and turmoil of Morocco during World War II.
His life takes a few unexpected turns, first when he comes into the possession of
two valuable letters of transit, and again when his one-time love Ilsa (Ingrid Bergman)
arrives in town with her husband Victor Laszlo, leader of the Czech underground,
who is wanted by the Nazis. Rick is faced with a series of dilemmas,
concerning his feelings towards Ilsa and the possibilities that the letters of transit
may hold for them both.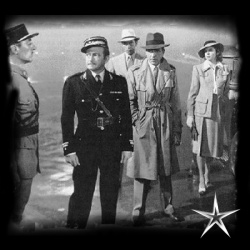 As Time Goes By



[This day and age we're living in
Gives cause for apprehension
With speed and new invention
And things like fourth dimension.
Yet we get a trifle weary
With Mr. Einstein's theory.
So we must get down to earth at times
Relax relieve the tension
And no matter what the progress
Or what may yet be proved
The simple facts of life are such
They cannot be removed.]


You must remember this
A kiss is just a kiss, a sigh is just a sigh.
The fundamental things apply
As time goes by.

And when two lovers woo
They still say, "I love you."
On that you can rely
No matter what the future brings
As time goes by.

Moonlight and love songs
Never out of date.
Hearts full of passion
Jealousy and hate.
Woman needs man
And man must have his mate
That no one can deny.

It's still the same old story
A fight for love and glory
A case of do or die.
The world will always welcome lovers
As time goes by.

Oh yes, the world will always welcome lovers
As time goes by.


music and words by Herman Hupfeld
© Warner Bros. Music Corporation, ASCAP




Cast


Humphrey Bogart as Richard "Rick" Blaine
Ingrid Bergman as Ilsa Lund
Paul Henreid as Victor Laszlo
Claude Rains as Captain Louis Renault
Conrad Veidt as Major Heinrich Strasser
Dooley Wilson as Sam


CREDITS
Executive Producer Jack L. Warner
Producer: Hal Wallis
Director: Michael Curtiz
Screenplay: Julius J. Epstein, Philip G. Epstein and Howard Koch
Based on the Book by Murray Burnett and Joan Alison
Cinematographer: Arthur Edeson
Film Editor: Owen Marks
Score: Max Steiner
Art Director Carl Jules Weyl
Set Decoration: George James Hopkins
Costumes: Orry-Kelly


CASABLANCA ACADEMY AWARDS (1943)

WINNERS
Best Picture
Best Director: Michael Curtiz
Best Screenplay: Julius J. Epstein, Philip G. Epstein and Howard W. Koch

NOMINATIONS
Best Actor: Humphrey Bogart
Best Cinematography: Arthur Edeson
Best Editing: Owen Marks
Best Score: Max Steiner
Best Supporting Actor: Claude Rains


| | |
| --- | --- |
| Click on note | |
| | |
| --- | --- |
| Click on note | |

As Time Goes By (Tony Bennett Singing)
If no music right click on button and click on play


Page design and contents Copyright © 2003 by Fanny,
unless stated otherwise. All rights reserved.

Script by kurt
Backgrounds by The Newbie Hangout