This page is dedicated to my sister, Pam, whose hard work, persistence and dedication has been an inspiration to me.
I'm so proud of you!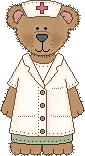 A Nurse's Prayer



Dear Lord this day is filled with many busy hours,
Help me to see me through,
The many things that I may have to do.
Help me to make my beds the smoothest way,
Help me to make more tempting every tray.

Help me to bring to every patient's room,
The light of life that brightens up the gloom.
Help me to sense when pain must have relief,
Help me to comfort those born down by grief.

And if tonight some patient in my care,
Should face that great adventure we call death,
Sustain them Father in their parting breath.
When weary quiet I turn to seek my rest,
May I truly say, "Dear Lord I've done My Best."

Author Unknown
Special Needs Nurse
American Heart Association
Centers for Disease Control and Prevention
Food and Drug Administration
MedlinePlus
National Council of State Boards of Nursing (NCSBN)
National Kidney Foundation
Oncology Nursing Society
World Health Organization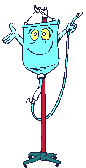 Fun Links



Cartoons
Nursing Cartoons

Nurstoons
Nursing Cartoons






Gifts for Nurses



AllHeart.com

NursingGifts.com






Click here for the
latest R.N. news!
Page Created May 12, 2004
Last Updated Sunday, November 6, 2005