DODGE A-100 .SERIES VANS AND TRUCKS
......................... FEBRUARY 2021 .......
A-100 VANS AND TRUCKS WERE PRODUCED FROM 1964 THRU 1970
NOW THIS RETRO LOOK IS MORE POPULAR THAN EVER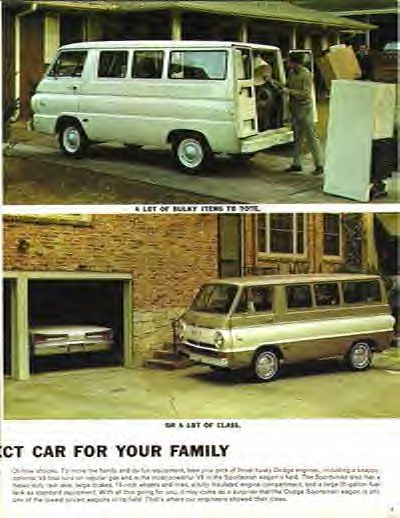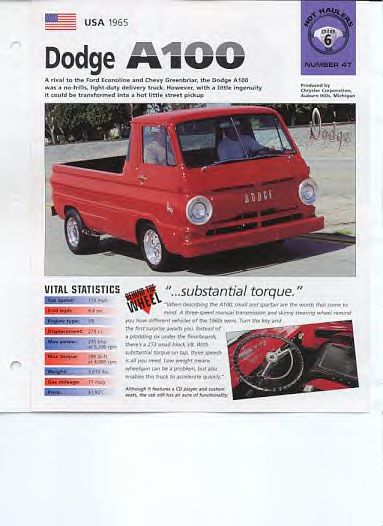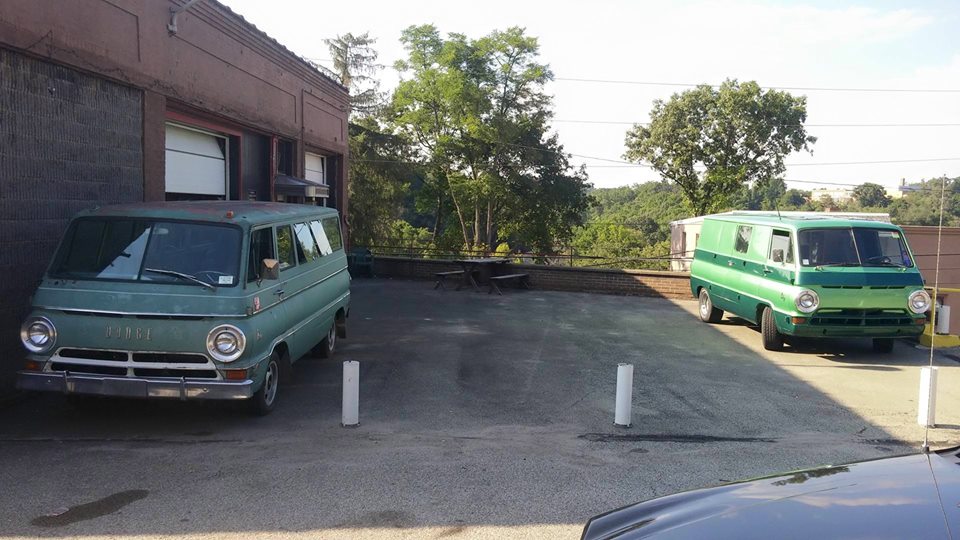 MY 68 AND 67 VANS HANGING OUT
DELIVERY IN AUGUST 08 IN THE 69
GET READY FOR NORWALK 2012

L-700 FLATBED COMING SOON
with the invention of high speed I have decided to add more pix to clog your hardrive enjoy
.,

A-100s of 2008
KENT'S 67 8 DOOR
Dodgevanman.com | All A's All the Time/LINKS AND FACTS
A100 Van A100 Truck INFO/SPEC PAGE
Randy's 1965 restoration video
XPLORER 21 RV
LITTLE GREEN WAGON STORY 2010
LITTLE GREEN WAGON PAGE
SAD YOUTUBE CRASH VIDEO'S
NEW RIDES 2006
THIS IS MY BUDDY RON'S L-600, OF ALL THE PLACES TO MOVE TO
I MOVE ACROSS THE STREET OF TWO A-100s lol, HIS TRUCK IS COOL AND IS COMMING ALONG NICE,

SHORTENED WITH 318 AND A 4 SPEED.

.,
NEW RIDES 2005
GET TANKED UP ON THIS
.,
THIS BEAUTY MY BE THE LAST ONE OF THESE STILL IN SERVICE,
RUNS AT RAINBOW ESTATES AS A HOSER.

.,
JANUARY 2009 THE SHAGGIN WAGGIN LIVES AGAIN,
1967 108 PANEL,

SLANT 6 CRATE MOTOR, 3 SPEED,

NICE PAINT, CARPETED FLOOR WITH PLYWOOD,

323 REAR GREAT HIGHWAY VAN DRIVE ANYWHERE NOW
BOORIDE
.,
VAN UPDATE NOVEMBER 2008
who got this great van, owner died and it was sold, is the story i was told.
UPDATE 11/30/08 MEET NICK HE BUILT THIS GREAT VAN,

ENDED SELLING IT, I MET SOMEONE AT CARLISLE THAT SAID THEY OWNED THIS VAN,

DID THEY BUY IT FROM NICK OR ANOTHER PERSON,

PLEASE CHECK IN IF YOU OWN THIS VAN FOR AN UPDATE TO THE STORY ,, .
Hi Dan, I was guy who did all the body mods. Roof was chopped 5 inches, gutters removed, body seams welded, side doors removed with a drivers side section welded in. The flares and rear spoiler were hand formed metal. The wing windows were removed and one piece tinted door glass installed. The seats were 914 Porsche the tops of the wheel wells were removed and flat steal tops welded in to lower seats a couple of inches. I had a full pro style roll cage bent up and was just starting to install it when I sold it. It had a late model 318 truck motor and a 727 trans, posi 8 3/4 rear. Gauges were Stewart Warner stage 3 in a custom aluminum panel. Both bumpers I made. The van was owned by me for almost 20 years, I bought in California where I grew up. It started as a super clean 6 cylinder with 3 on the tree
UPDATE 2009 HI DAN, THE CHOPPED VAN ON YOUR WEBSITE BELONGS TO ME,CHRIS PRYOR FROM NEW JERSEY,I HAVE ONLY HAD THE VAN FOR 2 YEARS,I AM ALSO A MEMBER OF THE A100 VAN ASSOCIATION BUT HAVE NEVER BROUGHT THE VAN TO SHOW AT CARLISLE BECAUSE I AM A PARTS VENDOR AND SPEND MY TIME ON MY SPACES .THE VAN IS DOING GOOD ,ITS NOW POWERED BY A REBUILT 360,IS IN PRIMER AND LOOKS / SOUNDS LIKE ITS CLOSE TO THE SAME CONDITION IT WAS IN WHEN NICK SOLD IT. JUST NEEDS SOME TLC. I BROUGHT THE VAN FROM SOMEONE IN NJ WHO SAID IT WAS HIS BROTHERS VAN WHO HAD DIED WHILE IT WAS BEING BUILT IN OHIO?? BUT THERE IS NO DOUBT NICK BUILT THIS HE DESCRIPTED IT ,TO A TEE,AND WHAT EXCELLENT WORK HE DID SHOWS,THE WELDING ON THIS VAN IS FANTASTIC. I WILL PROBABLY NOT HAVE THE VAN AT CARLISLE THIS YEAR BUT WILL BRING IT THE FOLLOWING YEAR WITH OUT A DOUBT,HOPEFULLY ALL COMPLETED. MY CARLISLE SPACES ARE F1 THRU 7 IF ANYONE WANTS TO STOP BY ,PLUS I ALWAYS MAKE MY WAY UP TO THE CLUB TO CHECK OUT EVERYBODYS COOL A100"S. MY EMAIL IS BROKENGAZELLE@AOL.COM IF YOU HAVE ANY QUESTIONS ETC... GREAT WEBSITE,THANKS,CHRIS-

.,

VISIT NICKS'S NOMAD GARAGE
CARLISLE 2001
NEW (CLICK HERE) NORWALK CHRYSLER CLASSIC 2002 PICTURE PAGE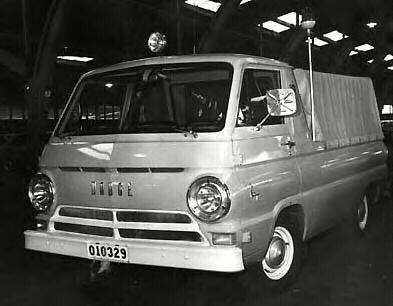 THIS 1969 I GOT FROM SOME HIPPIE DUDE IN 1994 WITH A BLOWN HEAD AND MORE.
NOW ITS A 318 AUTOMATIC PINBALL MOVER, well now 10 years later it still runs like a top but but the drivers side lower is all rotted now time for some work.jan 2009, well she has served me well as it is time to put her to rest, i will pull the motor for my pickup and part her out for good this summer, december 2012 SHE IS STILL WHOLE until ?
THIS IS MY 1969 A-108, FOUND IT IN 1990 WITH A BLOWN TRANSMISSION,
ITS COME A LONG WAY SINCE THEN. pulled the motor bored and rebuilt the 318 to 340, rebuilt tranny, new king pins, turn signal cluster, drag link, pitman arms,has interior high back buckets,duals, needs some carpet,

, custom sportsman with missing power steering booster,sad to say, I might sell it for $ naa, well hold money in my face, maybe, with keystone classics now it lives in kentucky i will miss her except i now have the 68 window.



THIS IS MY FINE HERD, THEY STILL TO GET TO GRAZE TOGETHER SOMETIMES..,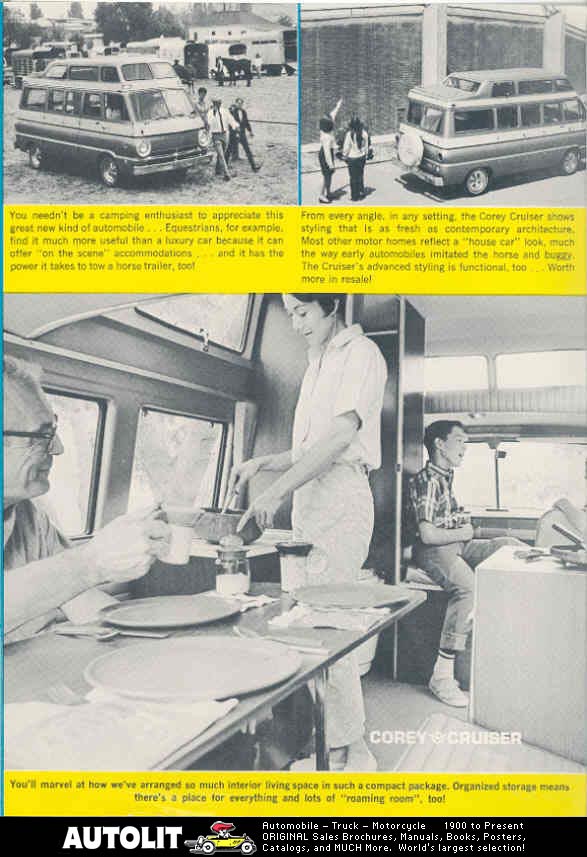 RUSTED AND SAD, BUT NOT FORGOTTON SECTION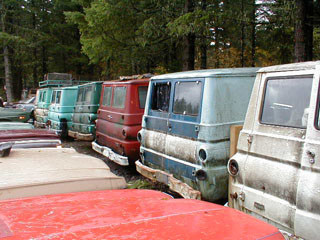 SUPER COOL LOOKING STUFF,


This GREAT FIRETRUCK IS OWNED BY GEORGE WOW...!!!!!
THIS BUS WAS SEEN IN CHICAGO? IS REALLY A - 'B' BUT I COULD NOT RESIST
THIS IS AN AWSOME TRUCK, LIVES IN PORT ALBERNI BRITISH COLUMBIA CANADA,
LYLE(LYLELAC) TALK OF THE TOWN.,
THIS 1969 IS OWNED BY DUCK DAVE it has a 1968 bored out "340" built by carlon and jeff hine at hine racing. "727" trans. and a 8 3/4 posi. the blue is bahama blue and it has american racing wheels. the interior is equipped with rci racing seats with 5 point harness.the custom cover was made by my son.we call it "the uglyduk" in reference to what it looked like when i drove it home from iowa. ,
THIS ONE IS CALLED THE PLATYPUSS ? ,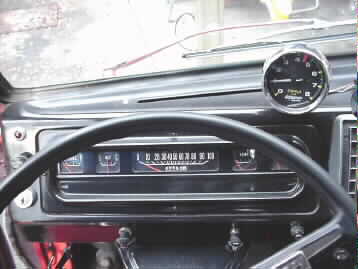 THIS 1967 BELONGS TO JOHN, ITS A 318- AUTO, VERY NICE ,
LOTS OF SMOKE ON THAT POOR FORD......,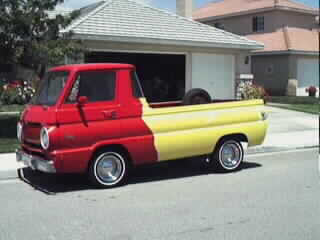 This awsome truck owned by ROWE 1964. It has a tan tuck and role interior with gold carpet. Power windows and door locks.
Slightly built 6, cam, 4 barrel carb on a Offinhouser manifold, Headers, and a dash mount shifter working a automatic trans with a shift kit.

Getting ready to paint it all yellow. What a fun truck to drive!!
RICK'S 66 FROM CHICAGO............... ............... .............. .........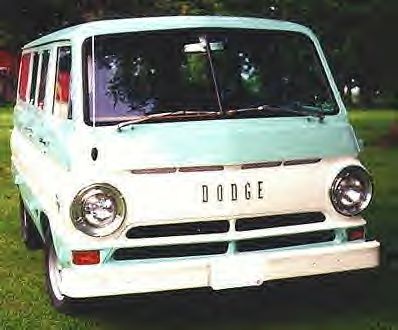 this is a great looking van..owner ?,
THIS CUSTOM CHOP TOP IS OWNED BY GEORGE!!!! AND LIVES IN TAMAQUA PA.
CHOPPED ROOF , LOWERED AND CUSTOM INTERIOR , 6-CYL AUTO. NICE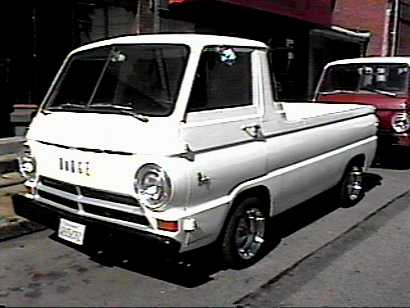 THIS 1967 , 6 CYL AUTO IS OWNED BY PINDAN,
THIS IS A CUSTOM 108 VANTRUCK OWNED BY BRUCE,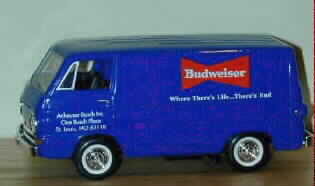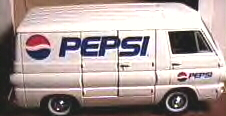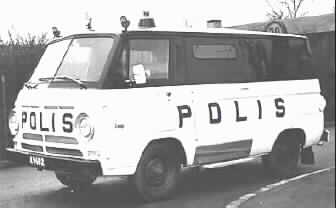 THIS 1968 DODGE A-108. IS OWNED BY ROGER HE GOT THIS TRUCK ABOUT 15 YEARS AGO FROM A LOCAL FIRE DEPARTMENT. THEY HAD ORIGINALLY BOUGHT THE TRUCK NEW FOR HAULING EQUIPMENT FOR THE DEPARTMENT. I GUESS THEY DECIDED IT WAS TO SMALL FOR WHAT THEY NEEDED, SO THEY PUT IT UP ON BLOCKS IN 1969. THATS WHERE IT SAT UNTIL ONE OF THE FIRE DEPARTMENT GUYS BOUGHT IT. HIS WIFE COULDN'T BACK IT UP, SO HE PUT IT OUT IN HIS DRIVEWAY AND I BOUGHT IT.IT HAD 1900 DOCUMENTED MILES ON IT AT THAT TIME! THE TRUCK NOW SHOWS 43,000 MILES ON IT. IT HAS NEVER BEEN WRECKED, HAS NO RUST; IT WAS RUSTPROOFED WHEN NEW. IT HAS BEEN PAINTED ON THE BOTTOM, ONLY TO COVER THE DEPARTMENTS NAME. THE TRUCK HAS THE USUAL 225 SLANT SIX WITH THREE ON THE TREE. PROBABLY ANOTHER REASON THEY PARKED IT, THEY SHOULD HAVE GOTTEN THE 318! IT HAS THE ADDED SPOT LIGHTS AND FIRE EXTINGUISER UP FRONT. I PUT IN A CLARION STEREO AND CB RADIO. IT HAS A REMOVABLE BENCH SEAT IN THE BACK, SHORT BLACK CARPET AND PANELING. IT STILL HAS THE ORIGNAL SILVERSTONE 6.75X14 SPARE WITH THE GREASE PENCIL MARKINGS ON IT FROM THE FACTORY!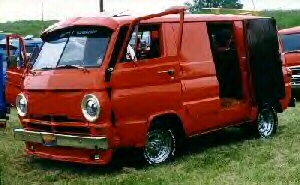 check out this awsome 8-door shorty
THESE ARE SOME OF SCOTTIES INCREDIBLE RIDES, INCLUDING THE FAMOUS 4X4
THIS IS HIS DAILY DRIVER..
THIS 66 SHORTY IS OWNED BY CALVIN.IT HAS BEEN HIS DAILY DRIVER FOR 9 YEARS
IT HAS A REBUILT 273 V-8 WITH REBUILT AUTO TRANNY AND SHIFTKIT,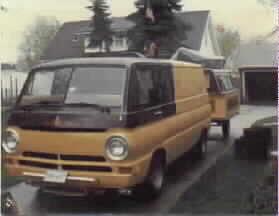 WILL SOMEONE PLEASE CLAIM THIS AWSOME INTERIOR, I THINK ITS LAR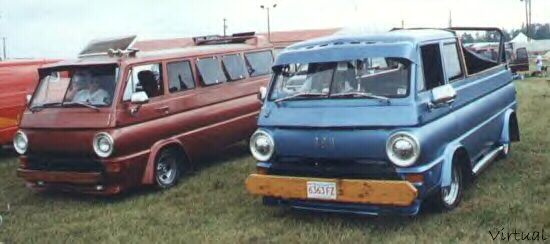 Nice ground efx. and chop job, These were at the vannin,
not sure who owns these but all I can say is WoW
THIS VAN WAS USED IN AN AUCTION COMPANY, IT WAS GOING FOR $1000.00 ON EBAY,
THE NEW 2002 A-100 GET YOUR ORDERS IN. OH I WAS DREAMING keep your eye out for an H-100 from mexico..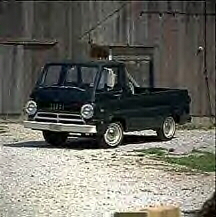 ................... ...... RON'S 66. . ..... ...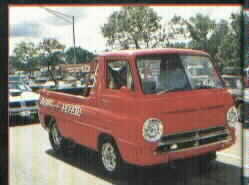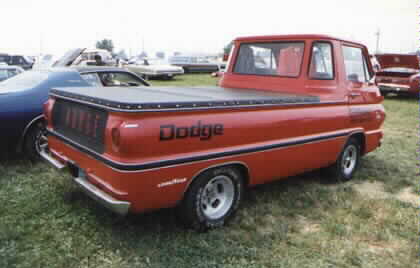 This truck owned by Terry our fearless leader ,it has a 440 and is a beauty, he also worked on lots of the wheel standing trucks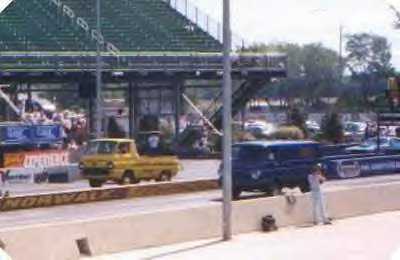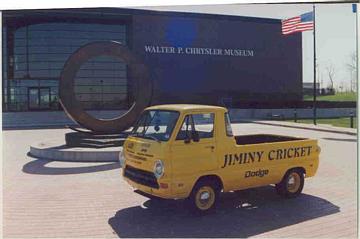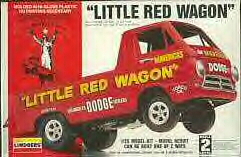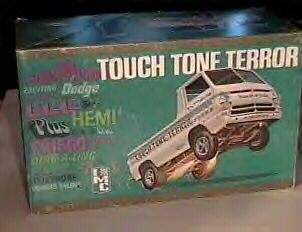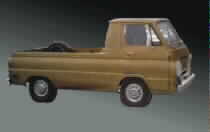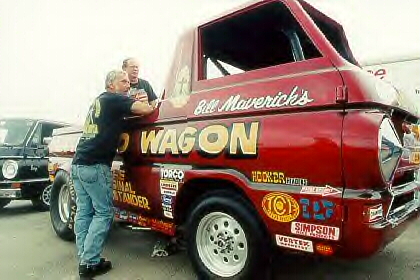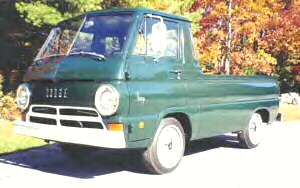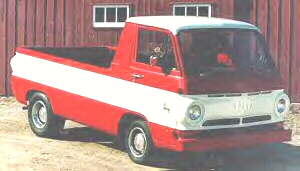 IF YOUR RIDE IS HERE SEND IN YOUR INFO. OR ADD YOUR PIC BY EMAIL
NORWALK WAS GREAT
NEW (CLICK HERE) NORWALK CHRYSLER CLASSIC 2002 PICTURE PAGE

[A-100s IN THE MOVIES 2015 ] HONDA "HUMAN" ROBOT][
][RealPittsburgh.com][Local Nets & Hamfests][ Keyboard Central]LIVE CAMS[Parkway West CAM ][ Realtime Camera Paradise ][ Snapshot out of Andrew's Window ][ Drum Network ][ Adele's ][ Rarewhere Archives: Pin Bot ][ TV Listings ][Michigan Live Slots ][ Aeros Rigid Airships ][ ZEPPELIN ][ Game-Land Games Menu ][ Welcome to TUCOWS][ Jazz Music Stores around the World ][ Web resources for Japanese food][ Holy Spirit - Millvale ][ WildwoodPA Play Meter Magazine ][ The Sands Mechanical Museum ][ The Ultimate List Of Screensavers!!][ Before You Buy New Fishes ][ Gums N Roses Bulk Vending Co. ][ Mark's Website][PITTSBURGH MOVIE TIMES][ FREE SHOCKWAVE SLOT MACHINE][ NORTHERN MOPARS AUTO CLUB ][ 61-'71 Dodge Truck Swap Forum][ EGROUPS DODGE A-100 BOARD ][ ECONOLINE PICKUP PAGE. ][ POR-15 ANTIRUST ] [ DODGE A-100 BUSHINGS ][ FORWARD CONTROL BY DODGE [ Haulin' 1996 A-100 ] [ GERMAN A-100 ] [ HEMMINGS DODGE CLASSIFIEDS ] [ EPAGE DODGE CLASSIFIEDS ] [ LITTLE RED WAGON ] [ GEMPLERS RUST CONVERTER ] [ WILL'S DODGE A-100 ]
DODGE A-100 VAN ASSOCIATION
VISIT: PINBALL PERFECTION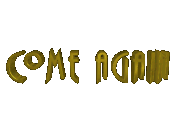 WANT MORE GOTO THE A-100 PICTURE GRID
NORWALK CHRYSLER CLASSIC 2002