"DARE TO BE THE BEST"

---
READING, PA.
( sponsorship provided by Owls Sports Club, Casner Equipment, Beacon Container)
https://www.angelfire.com/pa2/henne2/index.html
2000 SOFTBALL HIGHLIGHTS
CB OWLS 2000 OVERALL RECORD
(102 - 25)
---
CONGRATULATIONS
CB OWLS / CASNER / BEACON
ASA "B" NATIONAL TOURNAMENT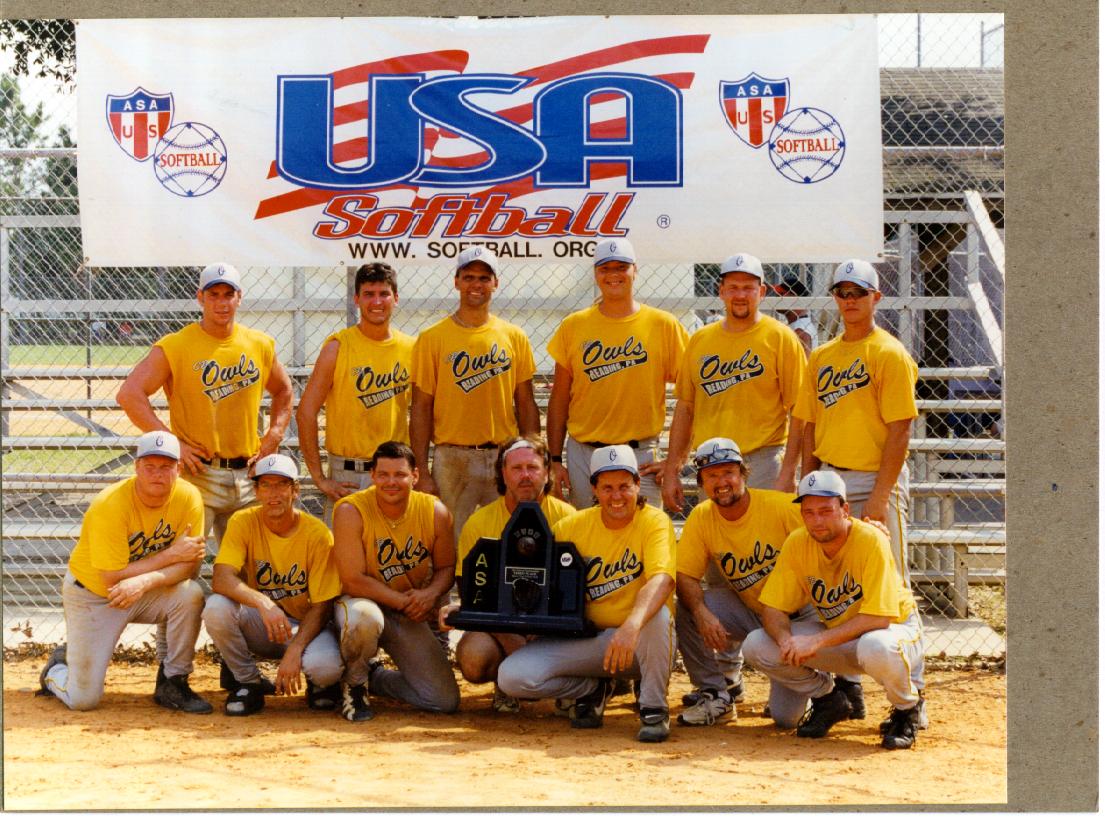 (Row 1 - Garry Mauger, John Messner, David Boone, Donny Wolfe, Glenn Henne, Dennis Gassert, Derek Wilson)
Row 2 - Peter Coldren, William Wilbert, Dave Mauger, Benjamin Kavalcik, J. Taylor Campbell, Jesse Brown)
Record of 6 -2
Game #1 - CB OWLS (23 - 22) COMPUTERLAND, LAKELAND, FL.
Game #2 - CB OWLS (15 - 9) FRESH PAK, SPOKANE WA.
Game #3 - CB OWLS (26 - 14) TEAM RAGE, JACKSONVILLE, FL.
Game # 4 - CB OWLS (19 - 15) LUFKIN MAVERICKS, LUFKIN, TX.
Game # 5 - CB OWLS (15 - 10) BELOLI/TAILGATERS, PA.
Game #6 (semi-final) CB OWLS (25 - 13) THARALDSON'S, FARGO, ND.
Game # 7 (winners bracket final) CB OWLS (19 -21) CENTEX SPURS, TX.
game #8 (losers bracket final) (17 - 25) BRADOCK MOTORS, MD.
Job Well Done to:
CB Owls All American Team Selections:
1st team - Benny Kovalcik
2nd team - Garry Mauger
2nd team - Jesse Brown
3rd team - David Boone
(complete All American team info:)
(complete tournament results:)
(Individual player stats for Lakeland, Fl.)
---

CB Owls/Casner/Beacon - 2000 Civic I League, Playoff, and Overall Champions
League record of: 31 - 2
Overall Record: 34 - 2

---
9/15/2000 CB OWLS will be playing in the ASA Class "B" National Tournament on Sept. 22,23, and 24th at Lakeland, Fl. Check in for results. Have a "great tournament"
9/04/2000- Congratulations to CB Owls/Casner/Beacon for their 5th place finish in the Northeast National Championship USSSA Tournament held this past weekend in North Brandford, CT. They finished with a ( 4 - 2 ) record and qualified for the National Word Series to be held at the end of Sept. in Detroit.

9/03/2000- Congratulations to CB Owls/Casner/Beacon, the winner of the Civic I regular season
with a record of 31 - 2. Good luck in the playoffs.

5/31/2000- CB Owls/Casner/Beacon finished with an 5 - 3 overall record this past weekend at the World's Largest Softball Tournament ASA Class "B" at Richmond, VA. The CB Owls finished
3rd in their bracket with a 4 - 3 record and were one of five remaining undefeated teams at the time of tournament cancellation because of rain. The CB Owls qualified for the Tournament of Champions at Orlando, Fla. Oct. 14-15, 2000.

(see CB Owls 2000 Tournament Schedule for details)

Congratulation to Derek Wilson for his 2nd place finish in the throwing contest this past weekend in Richmond, VA.

Also wishing John Grady a speedy recovery from injuries he received this past weekend in Richmond. Your teammates and coaches are awaiting your return to the softball field.
5/25/2000 - The following teams will be playing in the world largest softball tournament this weekend in Richmond VA. (Best wishes and success to the following: Stud Softball, CD Entertainment, Candyland Express, and CB Owls/Casner/Beacon)
5/17/2000 - CB OWLS will be playing in the Class "B" National Qualifier this coming weekend (May 20th, 2000) at York, PA.
(CANCELED DUE TO RAIN - RESCHEDULED JUNE 3/4, 2000)
5/07/2000 - Congratulations to Studs softball for finishing first this past weekend in the ASA CLASS "C" STATE REGIONAL QUALIFIER at Angelica Park with a 8 - 2 record.
CB OWLS 2000 LEAGUE SCHEDULE
(links to game stat. and scores)
CB Owls 2000 tournament schedule
(links to games stat. and scores)
CB Owls 2000 league roster
CB Owls statistical info.
(league and individual)
ITEMS OF INTEREST
GLENN.HENNE@N2SOFTBALL.COM
G_HENNE@LOOKSMART.COM

last updated Sept. 29, 2000