Personal Stuph :)



I love penguins so here's a hard working penguin for ya!








:) Bonjour toute le monde! Wie geht's? :) I'm 46 years old and have just earned a certificate in Advanced Paralegal Studies at Clarion University in Clarion, Pennsylvania. I made the Dean's List during three of the four semesters I've been here and was inducted into the NSLS national honorary during the Spring Semester of 2019. (NSLS stands for the National Society of Leadership and Success). At some point, I am hoping to study abroad again with International Business Seminars and spend a week or two in Asia. I hope the covid-19 hasn't completely ruined my dreams of going to Asia. I am currently an undergraduate transfer student with a BA in psychology from Wittenberg University (Springfield, Ohio) and a MS from Shippensburg University (Shippensburg, Pennsylvania). I have finished my second masters degree from Leiden University in Leiden, The Netherlands, in 2004. My first masters is in general psychology and my second masters is in health psychology.

I was in Holland for roughly ten months. I got a mark of a "7" on my thesis. My adviser emailed me and wrote that "7" in Holland means "well done; more than sufficient." So, I'm very happy with my mark.


I just got back from my second trip to Las Vegas and Los Angeles this past June. I bought a new bike I love riding around too.



As for my future, I want to work for awhile and then decide my next step. I was pre-med my first two years of college and took biology, chemistry, calculus, and physics.


Last year, I saw Aida, a play about a timeless love story. The music was by Elton John, the lyrics by Tim Rice, and the play itself is very moving. It's about a Nubian princess, Aida, who falls in love with the man who conquers her country. The end is so sad! They are both considered traitors and are buried alive in one tomb. It made me cry. The guy was white and Aida, the Nubian princess, was black. I think interracial relationships are beautiful. Aida and her lover lived in a time where their love could not be. They vow to find each other after death....and in the present day, the play shows a museum and Aida and her lover meet each other again. I think it's so powerful that love can survive even death and be reincarnated and given life again. I think there is something to that.

In 2005 I saw the St. Petersburg Ballet Company from Russia perform the production Giselle. OMG! The dancing, the acting, the music was SOOOOO beautiful!!! And all the choreography is from the 1800s.


PLEASE! GO AND SEE GISELLE! YOU WON'T REGRET IT! :) :) :)


I went two years ago to Florida and South Carolina where I visited relatives and had a really nice time. My family spent one day at Disney MGM and one day at Universal Studios as well. We couldn't ride all the rides because we didn't have time, but I feel we hit the main ones. It was an awesome trip and I've created memories that will last a lifetime. I hope I'm as successful in life as my relatives are.

Also in 2005 I went to LA and Las Vegas and had an AWESOME time! I saw the Hollywood Walk of Fame, Beverly Hills, the HUGE mall in Glendale, waded in the Pacific Ocean at Santa Monica, and saw the world famous Hollywood sign in Hollywood. :) I loved all the shows in Las Vegas, especially Cirque du Soleil at Treasure Island and Airplay at the Tropicana. Buffets are VERY popular in Las Vegas and I do feel you need to have a car to really get around. It's not so bad walking from one casino to the next, but when you need to go far distances, the heat is just WAY too much and you're much better off getting a ride (and cars should have AC too!!!). We stayed in the Stratosphere Hotel and my sister and I rode two of the rides on top of the tower. We rode the Big Shot ride and the Insanity ride. My dad can't believe we actually rode them that high off the ground! The Stratosphere Tower is the highest observation deck in the United States. The rides on the Stratosphere Tower are the highest thrill rides in the world. My brother already wants to take us BACK to Las Vegas. Oh, and I got my hair colored red violet (mahogany violet). It looks really pretty, esp in the sunlight when the purple hues come out. I could get addicted to this. ;) I bought a knock off watch for $10 and it "looks" like the $700 one! :) It's my fave watch in the world now! :) My sister and I also went to a salon and had professional french manicures done....manicures AND pedicures. It was $33 for each of us....plus $5 each for the french manicure. It was a nice treat. I usually do my own nails....good thing too, because I can't afford always having my nails done for me like that. I got quite a few postcards mailed out here in LA and back in Las Vegas. It feels so wonderful to be traveling again. I love it. It was neat to see the "baby" Eiffel Tower in Las Vegas too. I was told the one in Vegas is 1/3 the height of the actual Eiffel Tower in Paris! They charge money to go up the "baby" tower, but the Stratosphere Tower is higher and you get a better view. (I'd say take a picture of the "baby" tower, but save your "viewing" money for the Stratosphere Tower.) In Las Vegas I also visited The Liberace Museum, home to one of the greatest pianist's who ever lived. I also got to PLAY one of Liberace's pianos. I had to tell them my training in music and on the keyboard. I told them I took private lessons for 5 years, have won awards for my playing, and still play on my own to this day. I played the accompaniment part to "One Moment In Time" and everyone clapped for me at the end! Wow! I guess that means I did Liberace proud! :) I also played a lyrical piece and a fast classical piece. What I couldn't believe is that one of the women who volunteers there told me that there was one woman who came who had a masters degree in music education and was a teacher. So, of course, they gave her access to Liberace's piano. Well, I was told that this highly educated woman at the keyboard just sat there and sat there and couldn't think of a THING to play. I told the woman at the museum that I couldn't believe that, especially with the fact that the woman was a TEACHER. I told the volunteer that my first piano teacher always said to have five songs memorized that you can play at anytime. He said if you don't have this and you're asked about your playing and then can't play anything, it really makes it look like you have nothing to show for all the work and all the lessons you've been taking.

All I can think of is maybe that masters music ed lady was just in so much AWE that it was LIBERACE'S piano she was about to play on....all her music left her memory. (?) I hope that woman at least played some chords.....I mean, she can't say she "played" Liberace's piano if she never pressed a key, right? I assure all of you that yes, I _DID_ play Liberace's keyboard. I especially loved the way he played Paderewski's Minuet in G. That song is so beautiful.

Liberace had SO many outfits, cars, pianos, and won 2 Golden Globe Awards....as well as an award for being the best show in all of Las Vegas! (Impressive indeed!) He loved playing with those big rings on his fingers and started off playing the piano by having weights on each finger. So, the volunteer woman told me that he built up muscles that most people don't....and it made him a virtuoso player. Liberace wants to be remembered as a good and kind person. He will be. I only wish I would've gotten to see him perform in Las Vegas before he died. The largest Rhinestone in the world is in the Liberace Museum. It was a gift to Liberace for always ordering crystals from this one shop in Austria. Liberace's orders kept the crystal shop from going into bankruptcy. It's a beautiful stone! It would be hard to make a ring or a necklace out of that one! :) Maybe someday I can look into if anyone has recorded DVD disques that I can buy and watch Liberace that way. I'll look into that sometime.



I am the oldest of five children and have three brothers and one sister. My brothers' names are Sammy, Robert, and Chris. My sister's name is Holly.



Sam is interested in the entertainment industry and lives in Los Angeles (LA). His first movie has a distributor and you can buy it online! To check out my brother's site and projects, click here. My brother Robert graduated from Lock Haven University. Chris earned his masters in computer science from Kutztown University and has done work for Lockheed Martin. He's thinking of going on for his PhD in computer science as well.




Here's Holly, my sister (left), and Me (right)



I spent spring semester 1996 studying abroad in Wien, Oesterreich. My favorite thing to do in Vienna was to go biking on Donauinsel. It was so peaceful and gave me a sense of freedom that I have seldom known. It was a great feeling to know that no one in the world knew exactly where I was and that no one could reach me. I was totally alone and everything was entirely my schedule. Even though I missed my family and it was great to return to America, that feeling I had on the island is something I recaptured in the Netherlands....although I'd have to say always having a cell phone around made me still feel "connected" to the world. I didn't carry my cell phone with me that often and my classmates were somewhat put off by that.



I also travelled to Berlin, Potsdam, Hamburg, and Dresden, in Germany, as well as to Budapest, Hungary (while residing in Vienna). While residing in the Netherlands, I went to Amsterdam (of course), Spa, Belgium, and Oberwesel, Germany. I went to Spa and Oberwesel with my church in Amsterdam. (Unitarian Universalist). They're such a neat group of people. I miss them and wish I was still over there to go to the fall and spring retreats. There are neat people everywhere so I don't feel too depressed. I bet I could find a neat person wherever I went! :) I'm indebted to all the great, wonderful, helpful people I met in Europe who helped me out when I was utterly lost and confused. I wouldn't be here today without them and, with most of them, I don't even know their names. But I must say that there are friendly people all over the globe and I feel the crime and violence we hear so much about is overemphasized. I was vulnerable so many times to people overseas that it has served well to increase my faith in the goodness of humankind, especially with regard to the great guy I met in Dresden named Michael. We have gone our separate ways, but I'll never forget the wonderful eight hours we spent together. I have a fond memory that will stay with me until the day I die. Going abroad has increased my self-esteem as well as my belief in my capabilities concerning self-reliance. My words of advice to anyone planning to study abroad:



The young ones with glasses

(and contact lenses, as has been pointed out to me in an email, *smiles*)

know english.
From fourth grade to eighth grade, I took dancing lessons at Casey Sisters School of Dance


I took three years of acrobats, five years of jazz, four years of tap, and six months of ballet. (I don't like moving so slowly. I enjoy watching ballet though, because it's so graceful.) SEE GISELLE!!! :) :) :) :)


I was selected as a Casey Sister School of Dance Student of the Year in 1989.



Here's a picture of me in one of my dancing costumes.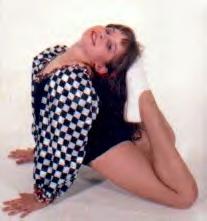 To see more pictures of me in dancing costumes, click here.


To see a collage of photos from my childhood and teen years, click here.

To see my parents, click here.




My honors thesis I did as an undergrad was published in the professional journal entitled Child Abuse and Neglect in 1999. My study focused on patterns of child abuse that vary according to the chronological age of the child. What I found after retrieving data from a children's services center for the years 1990-1996 was that there are no significant age differences for physical abuse and emotional abuse, sexual abuse increases as a child grows, (girls are more likely to suffer sexual abuse), and neglect decreases as a child grows. (This is most likely due to teachers being able to observe the child in school. Of course, if a child is home schooled, it may take longer for authorities to notice the abuse.) If anyone needs motivated as to why we have a long way to go concerning children's rights, watch the true-life movie Bastard Out of North Carolina. It moved me to tears and it will undoubtedly shock the hell out of you.







I'm glad I've gotten so many compliments on my web page. :) Friends are people who accept you as you are. They see your flaws, but love you anyway. Friends help to make life worth living and have taught me that the meaning of life is in the living of it. Everyone must make their own path in life.