EGGS~traordinary Treasures©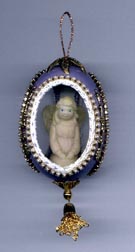 Welcome to EGGS~traordinary Treasures.

If you're looking for a very unique and affordable treasure, I hope you will find what you're looking for here.

Eggshell art is now one of the most sought after collectibles. If you thought these unique treasures were too expensive to collect or to give as a gift, I invite you to take a look around. My goal has been to create high quality, one-of-a-kind REAL EGGSHELL designs that can be treasured for a lifetime--

IN AFFORDABLE PRICES --to allow almost anyone to give a very special gift or start their own collection. Most of my eggs are designed in the "style of Faberge," using a variety of REAL eggs such as emu, rhea, goose, duck, pheasant, and quail. For those who are still not convinced that egg art can be affordable, please know that I include FREE STANDS with ALL display eggs, to make it easier than ever to afford your own special treasure!
---
EGGS AS GIFTS
For centuries, eggs have symbolized, among other things, expressions of love, luck, loyalty, beauty, and eternal life, which makes egg art the perfect gift for holidays, rememberances, weddings, anniversaries, and births. And because the egg symbolizes eternal life, it is also a treasured gift to offer those in mourning, as a reminder of their loved one's eternal life.
Although I have had an attraction to decorated eggs for as long as I can remember, my obsession began when I designed a personalized WEDDING EGG for a friend who was getting married. From there it took off and I have since expanded my GOOSE EGG designs to include everyday collectibles, including FLORAL BASKETS and BIRDCAGES. After another friend had her first child, I created a "BABY'S FIRST TOOTH" TRINKET BOX. "BABY'S CURLS" BOXES have also been added to my baby line.
As an expression of my faith, my designs now include CHRISTIAN-INSPIRED EGGS as well as designs for other holidays, and my "ANGELIC BIRTHSTONE SHADOWBOX" quail egg can be made to be displayed on a stand or worn as a necklace.
All eggs are SIGNED, NUMBERED (if applicable), and come with a "CERTIFICATE OF AUTHENTICITY," to assure you that your egg is a ONE-OF-A-KIND treasure. All eggs also come with a FREE STAND unless otherwise noted.
I hope you'll enjoy viewing some of these eggs. I have tried to make this easy with the links on each page. Please feel free to e-mail me with questions or for information
---
If you're looking for egg shows and other information, I have created an "EGGERS INFORMATION PAGE" and an "EGGER'S RESOURCES" page to help direct you to other eggeurs and suppliers. If you are an egg artist or supplier, please feel free to add your info HERE. As a member of the IEAG, I also encourage you to check out the International Egg Art Guild's website.
---
TO ORDER You can order by email or phone. Please include your name, address, phone number and E-Mail address (in case I would have any questions), along with the name and description of the egg you wish to order to:


(570)645-5016


QUESTIONS OR COMMENTS? CLICK HERE TO E-MAIL ME!
---
THE FINE PRINT:
**US orders-$6.00 P&H FOR EACH EGG ORDERED (International orders pay actual cost).
**Be sure to indicate BASE and ACCENT COLORS desired.
**Please allow 4 weeks for delivery. All orders consisting of more than 3 items will require additional time and will be sent separately.
**As these are one-of-a-kind items, please remember that your egg will be similar, but not identical, to the eggs shown in photos.


processed through PAYPAL. Just CLICK ON THE PAYPAL GRAPHIC BELOW OR E-MAIL FOR INFO.
SATISFACTION GUARANTEED
As a member of Web Chamber©, I am committed to responsible, ethical business practices. Although I do my best and package items as carefully as possible, due to the nature of the product, breakage can occur. If your egg does not arrive safely, simply return within 15 days of receipt for FREE REPLACEMENT.
---
HOLIDAY EGGS
/
QUAIL EGG TREASURES
/
CHILDREN'S TREASURES
/
SPECIAL DAYS EGGSHELL TREASURES
/
EGGS~traordinary GOOSE EGG TREASURES
/
EVERYDAY EGGS
/
ANGELIC EGGS
/
EGGERS INFORMATION PAGE
/
EGGER'S RESOURCES
Eggeurs and suppliers: Leave your info here!
Eggeurs Links


QUESTIONS OR COMMENTS? CLICK HERE TO E-MAIL ME!
---
For more affordable eggshell art in both Fabrege-style and Psanky, visit Mary's Shells
---

The ICQ Art Ring
The use of the ICQ Rings Navigator is subject to the ICQ Tools Notices








A Round Net
---
copyright© 1998-2002