---
---
---
---
11-12-06
Well it looks like my season has come to an end so I figured I would take the time to update this section of my website which I have continued to neglect over the season. It was a pretty good season in between some mid summer rain as I managed to attend seventy-six races at nineteen tracks in five states which included five new tracks. Other than the new tracks my only first for 2006 was that I posted a new personal best streak by attending at least one race every weekend for thirty-five weeks straight.
As far as the website goes 2007 will be the 10th year for my site, thanks to everyone for visiting over the years, I plan on being around for another ten, hopefully more. I have tons of photos that have never seen the light of day so I've added the new "Photo of the Day" feature for the winter months, maybe I'll keep it around if it proves to be popular, let me know what you think, I'm always looking for feedback.
I know this is a short update, but hey at least its an update. Be sure to keep checking back for the latest, February will be here before you know it.
---
---
5-14-06
I figured I would do a quick update here while its raining. Up until this weekend the weather has been pretty decent and I've been able to make it to a few races. So far this season I've been to twenty races and seen twenty-four sprint car features with most of them being really good races too. So far this season I've seen at least one race every weekend for twelve straight weeks, hopefully I can keep that alive all season.
Breakdown as follows:
Lincoln 7
Mercer 5
Williams Grove 4
Lernerville 2
Tri-City 2

Congrats to Skip Dougherty, Tony Beaber, and Kevin Nouse on their wins this season and thanks to all the other drivers running my stickers on their car this season. If youd like one for your car, drop me a line. Hoping to stay close to home this weekend and watch the World of Outlawas at Lernerville and Sharon then Tri-City for a regular show. Hopefully all the rain is gone by then.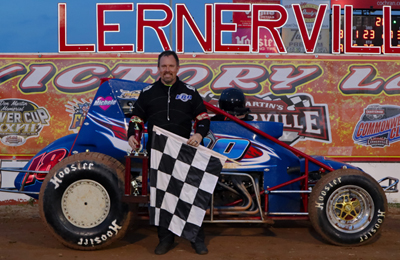 Check out my pic of Arnie Kent on the J&J ad
---
---
3-20-06
Well its been forever since I've updated my Weekend Review, at this rate I should probably change the name to monthly or bi-monthly review.
Hopefully I can get back to updating this everyweek for anyone that reads it. I have to say the 2006 season is off to a great start. So far I've attended all but one of the shows out east which include four shows at Lincoln Speedway and two at Williams Grove. The day time racing has been as good as any night time racing so far this season with no driver dominating as Lance Dewease is the only repeat winner so far.
The only race I have missed so far is the 410 show at Selinsgrove Speedway which sounded like a good one as TJ Stutts passed Greg Hodnett and out ran invader Joey Saldana for the his first win in the Beam 88. On the other hand former Beam driver Todd Shaffer has struggled in his new ride the Allenbach 5w
Its been good to see some western Pa drivers making the trip east to run with the big dogs including Bob Felmlee, Ed Lynch Jr. and Kevin Schaeffer who have all run at the Grove so far. Felmlee is hoping to make it to Port Royal and back to the Grove this weekend, good luck to him and the team.
I know this is short but at least its an update and like I said hopefully this will be a great season and I'll have lots to talk about and can keep this section updated regularly. This Saturday night I'll be at either Port Royal or Lincoln and then Williams Grove Sunday for their final day show. The following week will be the Lernerville and Mercer openers if the weather cooperates. Thanks for reading and drop me a line!
---
---
7-4-05
Thanks to rain and thunderstorms my Speedweek didn't go as planned, but hey what else is new? Tuesday I made the trip to Raceway 7 where the All-Stars were visiting for the first time since 1994. Kevin Huntley picked up the win driving the Walhie 1w in 94 and the defending winner was back to try and do it again, this time driving the Fisher 2x. A nice field of cars had assembled when a nasty storm with heavy downpours and lightning rolled through the grounds and washed out the show. Dave Blaney's return to sprint car racing would have to wait another night.
Wednesday I had better luck as the rain stayed away and Sharon Speedway was able to get their show in.The first thing I thought when I walked in the pits was where are all the local drivers??? Track champion Jarod Larson wasn't even in action. I thought the Matus team cars would be on to try and make some more provisional money but they also were MIA. The only locals to venture out included Jack Sodeman Jr who finished fifteenth in the feature, Bob Felmlee who finished twenty-first in the feature, Ed Lynch Jr who broke in the feature, Andy Mckisson and Scott Bonnell, who missed the feature and Mike Kekich who picked up the track provisional and was able to start the feature. Despite the small turn out of locals the car count was still good with thirty-nine entries.
In the feature Danny Smith dominated the first half of the feature but with the second half things got very interesting as Chad Kemenah came from his thirteenth starting spot to take the lead with just four laps to go and had to do everything he could to hold off Kelly Kinser who came from his twenty-first starting spot to nearly catch Kemanah for the win. Another lap I think Kinser would have won but he had to settle for second while Danny Smith held on for third. Dale Blaney and Randy Hannagan rounded out the top five.
Dave Blaney's return to sprint action didn't go as well as expected, Dave finished sixth in his heat and the b-main and was relegated to dnq status. Lee Jacobs was the only car to get upside down all night; Lee was ok after contact with the turn three wall and the tip over. Congrats to Kelly Kinser who was crowned the Speedweek champion by just four points over Chad Kemenah. You can check out lots of photos from Speedweeks at www.fscpictorial.com
Thanks to www.golivesports.com I was able to listen to the Muskingum and Fremont shows online live, both sounded like great races with Danny Smith winning with a last lap pass Monday and lots of action at Fremont where Chad Kemenah won. If you can't make it to the track you can listen to all of the All-Star races online live all season long at the website. The All-Stars will enjoy some time off after a busy week as their next race isn't until July 23rd when the series returns to St. Francois Speedway in Farmington Missouri which is a neat little track I visited last year.
Saturday it was east for Pennsylvania Speedweek at Port Royal Speedway where the Pa Posse would do battle on the super fast half mile. Thirty-one of the Pa Posse's best were on hand and it was Fred Rahmer setting quick time. Daryl Stimeling, Lance Dewease, and Alan Cole scored heat race victories and Justin Seigler won the B-main. The feature saw Mike Erdley take the early lead only to be caught by Todd Shaffer. Shaffer would go on to win the five thousand dollar top prize, but not easily as thirteenth starter Mark Smith would make his way to front and pass Shaffer for the lead only to be passed back. Ninth starting Jason Johnson also made his way to the front and got up to second before relinquishing the place back to Smith and finishing third in the final rundown. Mike Erdley held on for fourth and Keith Kauffman rounded out the top five. Ms. Motorsports Ashley Deihl was on hand for the show with her new posters, Be sure to pick yourself up a poster at the track or at Ashley's website www.ashleydeihl.com
Something interesting I noticed on the Al Hamilton 77 sprint driven by Greg Hodnett was the fact that despite the 77 being loyal to J&J chassis for so many years the team is now running a Maxim chassis after struggling earlier this season. Although the car is a Maxim you'll still find J&J stickers on the car and on the down tubes where the chassis name usually is you'll find the name Hamilton not Maxim. Hodnett did score a couple wins a few weeks back when they made the switch to Maxim but the 77 seems to have cooled back off.
If there is anyone out there looking to sponsor a sprint car get a hold of Kevin Nouse. Kevin has consistently run in the top five all season at Port Royal and can wheel a car! Kevin is a true racer not only has he been near the front all year he's done it with one car, one motor, one top wing , Used tires, and no crew chief. If this guy got some money behind him he would be winning races regularly. If you want to get your name out there and sponsor a winning car and one of the top up and coming drivers contact Kevin through his website at www.kevinnouse.com or email at Kevin@kevinnouse.com You won't be sorry!
Sunday it was my usual trip up to Tri-City Speedway for their five division show which is hands down the best run track in western Pa always starting on time and getting the fans home at a decent hour. There was a new winner in victory lane but not a new car as Gary Rankin scored his first ever 410 sprint car win driving the Rod George #4. Rankin used the low line like George and ran down race leader Jody Keegan on lap thirteen and then held off Bob Felmlee for the win. Keegan held on for his best Tri-City finish in third while Andy Priest came from the tail to finish fourth and Jarod Larson rounded out the top five.
Andy Priest did double duty picking up a third place finish in the modified feature to go with his fourth in the sprint feature. Brent Covell walked away from a nasty flip on lap nine when he clipped the fence in turn two riding his patent high line. Despite the flip Covell still turned the fastest lap of anyone in the feature. Hopefully Brent and the crew can get the 81 back together for next Sunday. Tracy Potter was the only new car in the pits, Potter usually runs Clinton County on Fridays and drove his 360 to a thirteenth place finish in his first Tri-City start. Tri-City will be back in action this Sunday with another five division program.
It was a busy weekend for Jack Sodeman Jr as he made his first start of the season in his own 23jr Friday at Lernerville but motor problems limited him to a tenth place finish. Jack was back in the Blackshear/Rudzick 49 on Saturday and finished second at Sharon Speedway. Sunday with Gary Rankin driving for Rod George Jack got behind the wheel of the Rankin 16 but ended up with a dnf when the checker flew on the feature.
One of the biggest shows in the area is coming up as Attica Raceway Park honors one of sprint car racing's greats; Brad Doty with the "Brad Doty Classic" presented by Mopar on Wednesday July 13th. Headlining the show will be the World of Outlaws in their first visit to the speedway in nearly fifteen years. Joining the Outlaws will be most of the top All-Star teams and the tough Attica regulars which should make for one of the strongest fields anywhere all season. This is one show you won't want to miss, be sure to check out Attica's website www.atticaracewaypark.com for tickets and more info on the show.
Chris Pochario who was a regular in western Pennsylvania during the early 90's has returned to action after several years off. Chris won races at Hickory and Mercer in his Diamond Steel sponsored car and is back with the familiar #24. Chris has two Kriner motors and a former Hamilton J&J car. Chris was one more local that did show up at Sharon for the Speedweek show but the team is still working the bugs out of the car and he failed to qualify. Hope to see him back in victory lane soon…..Phil Walter returned to Clinton County Speedway on Friday and won the thirty lap Ed Shaffer Memorial. Walter is the all time winner at the speedway…..Chad Blonde had a good weekend winning the MASS race at Gas City then winning the feature at Butler Battlegrounds the following night from his twelfth starting spot. If you get to see Chad in person be sure to check out the picture on his top wing……After finishing in the top five in his first two starts then winning at Williams Grove in his third start Brian Leppo and the Apple team have struggled to crack the top ten. Should be interesting to see what happens with this team in the upcoming weeks…..Brook Tatnell has finished in the top ten in fifteen straight races with the World of Outlaws if it weren't for missing several races at the beginning of the season Tatnell would be near the top five in the point standings……With wins at Grandview, Lincoln, and Selinsgrove Fred Rahmer was crowned Pa Speedweek champion while Lance Dewease was a distant second…..Plans right now are for Jac Haudenschild to remain in the Dennis Roth owned Beef Packers 83jr for the month of July. Jac picked up his first win in the car at Lima on Friday over Greg Wilson who has many 360 wins at the Ohio bullring…..After struggling most of the season Brian Paulus has come around in the last twelve races scoring eight top tens and three wins moving him from 16th to 12th in the point standings aboard the Who Monsters 28…..Rumor has it Dale Blaney is no longer in the Elden 22 in favor of Todd Kane and that the Hampshire 63 driven by Greg Wilson will be parked and Wilson will drive the Barry Ruble 63 for now. We'll see how that all shakes down…..Get well wishes go out to Jim Ford's son who was hit by a 305 sprint in a freak accident at Fremont Speedway…..I was hoping to go to a race on the 4th of July but the nearest sprint car race is a good ten hours away, what's up with that?.....No idea where I'm headed next, but hopeufully it wont be raining wherever i go.
---
---
2-25-05
I know, I know, its been forever since I've updated here, but I promise I'm going to try to update it more often. I was planning heading east to Lincoln and the Grove for the openers but of course snow changed my plans, I guess I shouldn't be suprised. Maybe next week. I do plan on hitting both of the Tri-City mall shows in Cranberry and Clarion the next two weeks, and the Lernerville show at the Clearview Mall in Butler. Not much else to report that isn't on the main page. I just dumped 500.00 dollars in my car to get it ready for racing season, hopefully I can hit 100 races this year, its been a few years since I hit triple digits. Hopefully this weekend isn't a sign of things to come.
---
---
12-10-04
Well the off season is well underway, this will probably me my last or next to last update here for 2004. No big news, my next adventure will be in Jan when I head out to Motorsports 2005 with Deon. Sounds like it will be the best show yet.
I'll be posting a driver profile on Tri-City regular Brent Covell in the next few days, and should have some more driver profiles in the next coming weeks.
I'm still looking for columnists for 2005, so if you think you have something interesting to write about drop me a line, I'd love to hear from you. Or if you even have any ideas of things you'd like to see on the site let me know.
Hopefully I'll have my year in review up sometime soon, that always seems to take longer than expected though so don't get too excited, I will get it up eventually though, I promise.
I'll be ordering my new Sprintcarnews.com stickers soon, so if anyone out there is interested in one, drop me a line.
Well thats about it for now, but keep checking the main page for new photos, driver profiles and other news. Thanks for stopping by.
---
---
10-19-04
Once again its been a while since my last update here, I guess I should change the name from "Weekend update" to monthly update. My racing season is about over, this Saturday's race at Lincoln will probably be my last show of the season. It will be my 79th race. Along with 30+ rainouts. I have tons and tons of pictures I haven't posted yet from this season so I hope to get them up on the site in the next few months. I've also brought back the Question of the month after about a five year absence, So be sure to vote! Now that the season has all but come to a close I'll try to update this a little more often. Thanks for visiting.
---
---
8-16-04
Well my week went nowhere near the way I had hoped. First I had to nix my trip to the Knoxville Nationals, then rain washed out a trip to Susquehanna Speedway for their 360 Sprint car show. Friday my plans were to make my first visit to Lake Erie Speedway for the USAC Sprint Car show. I found out the track had a rule that didn't permit photographers in the infield to take pictures which I didn't like but I had been looking forward to this show all season and figured I would head up anyway. Even though it was cloudy it never rained my whole trip up and the sun was out most of my trip back. I arrived to the track where the grounds were dry only to find out they had cancelled the show, I guess they don't race there if its cloudy. I found out the hard way not to waste my time and drive to Lake Erie Speedway again. I just makes me sick when a track won't even make a half-assed attempt to run a show.
Thanks to the Lake Erie mess I missed out on the first ever wingless sprint show at Clinton County Speedway where Ronnie Rough scored his first ever sprint car win picking up the wingless feature. "These cars were meant to driven without wings," said Rough in victory lane. "My father never drove with a wing when he raced. Without the wing, it is all about the driver." Clinton County will be back in action this Friday night with another five division show and the Sprint Cars will have the wings back on this week.
Saturday my plans were to head out to Port Royal Speedway but with the effects of hurricane Charlie headed that way I decided to just run over to Sharon Speedway watch the sprint car heats and then run home and watch the Knoxville Nationals Live on the Speed channel. The feature wasn't your normal Knoxville starting feature with guys like Terry McCarl, Chad Kemenah, Kenny Jacobs, Jessie Hockett, and Fred Rahmer starting near the front I was hoping we would see a different winner for the first time in a long time. But as I figured that didn't happen as Danny Lasoski smoked the field with ease, Terry McCarl made it interesting the first ten or so laps but then faded as Lasoski drove off out of site.
KNOXVILLE BROADCAST NOTES
It was hard to believe how much better the broadcast quality was on the Speed channel compared to the Outdoor Channel that televises the World of Outlaw races each Wednesday night. The Outdoor Channel has definitely improved since the beginning of the season but the Speed channel did a tremendous job with the Nationals and I would love to see more sprint races on the channel. Hopefully the people at the Outdoor channel took in the Knoxville broadcast. Fred Rahmer is known for his colorful victory lane interviews, or any interviews for that matter and didn't hesitate to cuss like a sailor in his interview before the feature during his interview on Speed….Billy Alley's flip was wild, but seeing it from the in car camera view was even wilder, Wow!…..Brian Paulus, Randy Hannagan, Brian Carlson, Craig Dollansky, and Bob Bennet were a few of the drivers with new or special paint jobs for the race…..The Hard Charger Award went to Shane Stewart, who came home 7th after starting 24th making it in on the final transfer spot from the B-Main. He also picked up the Mr. Sprint Week honors for points awarded durning the week of racing in Iowa…..Jason Solwold, who finished 14th in the B-main was named Rookie of the Nationals…..A big tip of the hat to the Speed channel for the great job covering the Knoxville Nationals. My only complaint was they didn't interview the 2nd, 3rd, and 4th place finishers. That might be because the broadcast ran over about 20 minutes due to all the flips too.
Curtis Boyer went for a very scary ride at the start of the D-main. I saw Curtis race earlier this season when he qualified for the all-star show in Missouri with a 360 under the hood. He is a gasser and I sure hope he has a full recovery. The last report I had heard was that he has bleeding on the left side of his brain.(His helmet was cracked on the left side). A cat scan was done that showed the swelling hadHe also has a cracked vertebrae and broken nose. They are keeping him sedated for now. Get well Curtis!
Sunday I decided to venture back up to Sportsmans Speedway for the second time this season as the Sprint Cars were back on the card. The sprint car count was up from the first week as a nice field of nineteen cars filled the pits. Jack Sodeman Jr finally broke his season long streak of bad luck by holding off a hard charging Gary Kriess for his first win of the season. Another driver who's had nothing but bad luck, Scott Priester had his best run of the season leading early and coming home in third. Gary Edwards and Jason Dolick rounded out the top five. Clinton County Speedway co-promoter Jeff Weaver made his first start of the season at Sportsmans and finished seventh. Jeff said Sportsmans is his favorite track and is going to try to make the remainder of the shows. Scott Groves had his best night of the season finishing third in his heat and eighth in the feature. Rookie Robert Kohan failed to start the feature after a wreck in the heat race when he got together with another rookie, Cory Good. Former sprint car racer Brian Woodhall scored the mod lite (dwarf car) feature win. This Sunday at Sportsmans the sprint cars will be back in action but without the wings.
Here's something to ponder, Why would tracks that start late on a regular basis want to have a clock on their scoreboard?....My plans this week are for Susquehanna on Thursday night for the 410 sprints, then to Williams Grove Speedway for the always exciting triple 20's. Saturday it will be the MASS show at Mercer Raceway Park, then wingless sprints at Sportsmans Speedway on Sunday. Until next time..........
---
---
7-26-04
I know, I know, its been forever since I've updated my weekend review!
This past Tuesday the World of Outlaws made their final stop at Lernerville Speedway for the Don Martin Memorial Silver Cup race. This years edition paid 30,000 dollars to the winner. A broken front wing on leader Steve Kinser's car helped Sammy Swindell get by for the lead and go on for the win. Steve Kinser debuted his new Popeye paint scheme on his Quaker State #11 which he will run through the eastern swing. Popeye t-shirts were selling for twenty-five dollars a pop…..Danny Wood was behind the wheel of the Wright Construction #35 normally driven by Jonathan Allard. Allard is out with night vision problems, no word on when he will be back…..The Pa Posse was represented by Lance DeWease, Greg Hodnett, and surprise visitor Mark Smith in the Zemco #1. All three made the feature as Hodnett was the highest finisher with a fourth place finish….Sammy Swindell's black and gold TMC #1 Sprint Car that he drove in the early 90's was on display under the grand stands, it's still one of the nicest looking cars around…..Rob Eyler had a good night as he won his heat race and was the higest finishing local with a sixteenth place finish. Chad Hill also won a heat race. The next big Sprint race at Lernerville will be the Bauman Memorial featuring the All-Star Sprints on September 3rd.
After a Thursday rain out, Friday would find the Pa Posse beating up on the Outlaws in a big way. With Thursday's rain out Friday's show was converted into a full points race that would pay 10,000 to win. The Posse scored the 1-2-3 sweep of the Outlaws as Lance DeWease scored the win over Fred Rahmer and Greg Hodnett. Rahmer was the star of the show however as he was a bullet coming from his 18th starting spot and handing out slide jobs the whole race. Another lap or two and I think it's safe to say Rahmer would have won. The Saturday show the Outlaws were able to get back at the Posse as Danny Lasoski won the show. The Outlwas will head to New York for some easy money then be at Sharon Speedway on Wednesday night where Dave Blaney is suppose to be back behind the wheel of a Sprint Car for the first time in some seven years.
Saturday Mercer Raceway held their annual wingless show. The car count was a bit light with only seventeen Sprints and seventeen Midgets, but the racing was great in both divisions. I really wish they would have more than one wingless show a year. After Saturday night I would think Arnie Kent was ready to retire. In the wingless feature it looked like Kent was on his way to victory until three laps to go when he spun out and had to go to the tail. Rob Eyler inherited the lead and held off Jamie Smith the final three laps for the surprise win.
In the winged feature Kent again was leading the feature, this time until the final lap when he got high and slid off the track giving the lead to Rod George. That didn't last long as George only held the lead for half a lap until Smith got by and took the win. George settled for second while Kent managed a disappointing third place. The night went smooth with no flips in winged or wingless competition. Ray Bull swept the midget program leading the entire wingless feature, then coming from 12th to win the winged feature. A tip of the hat to the track crew as the track was the best I've seen it this season. Pictures from Mercer are posted at Jim Fisher's Sprint Car Pictorial.
Sunday the weather didn't look too good with lots of showers headed for the area. I really didn't think I would be seeing races, but some how Tri-City just missed the wet stuff and got their show in. A big crowd filled the stands under cloudy skies. Rob Eyler was on his way to a great weekend as he started eighth in the feature and raced to the lead. He looked like he was on his way to his second win of the weekend until he appeared to run out of fuel with three laps to go. That handed the race to Rod George who led the final laps for the win. Bobby Clark had to settle for second once again, his third second place finish in three starts this season. With the off and on again rain the track was in super shape. Twenty-one Sprints filled the pits, Scott Bonnell and Gary Rankin both lost motors in their heats ending their nights. Cameron Dodson won his heat then spun twice in the feature and pulled off. Dodson's second spin collected Mike Kominski who was driving the Altmeyer #14 again, and sent him upside down. That gives Kominski three flips in three starts for Dr Bob. Tri-City will be back in action this Sunday with a regular show, plus the return of the late models.
NEWS, NOTES & WHATEVERS
Clinton County Speedway announced they will have a wingless race for the Sprint Cars on Friday August 13th along with the Sprints the 358 Late Models will have their roofs off making it a topless double header. This will be the first ever wingless race in the track's history…...Jimmy Weller won the first ever fifteen lap Green Flag Sprint feature over a six car field at Sharon Speedway…..Sprint Cars will make their season debut at Sportsmans Speedway in Knox, Pa this Sunday, gates open at 4pm, racing at 6pm.…..Jody Keegan spend the weekend racing in western Pa again, its nothing new to Keegan though, he used to tow his 305 sprint to Hickory Speedway in New Castle, Pa to run weekly…..Karl Baker made the two from York Pa to race all weekend in western Pa with his #51 sprint…..Be sure to check out Andy McKisson's new T-Shirts, they are on sale now…..Congrats to Bobby Clark who finally scored his first 410 Sprint Car win at the Fremont Speedway……Joey Hershey picked up another 305 Sprint win, this time at Port Royal Speedway, there were 38 Pa305 cars in the pits…..Erin Crocker scored her best finish of the year with a 4th at Lebanon Valley. Danny Wood also recorded his best finish of the season with a 2nd place run behind winner Steve Kinser…… Mike Lutz was a surprise visitor to Lebanon Valley, he finished 17th in the feature…..Fremont Speedway will hold the 5,000 to win Chuck Kear Memorial race this Saturday……I visited bike week at the Carlisle fairgrounds before the races at Williams Grove on Friday. I got to meet the girls from the New Jersey Bikini Team, be sure to check out their website at www.njbikiniteam.com ……I'll be at Sharon Wednesday for the World of Outlaws and Sportsmans Speedway on Sunday, not sure where else I'm headed. Until next time thanks for visiting and drop me a line.
---
---
5-31-04

It was a Busy week

FRIDAY - Another different winner at Clinton County as Alan Cole picked up his first win at the track since 1991.

SATURDAY - It was back to one of my favorite tracks, Lincoln Speedway where Greg Hodnett got his first win of the season at the track he has struggled at.

SUNDAY - With Ed Lynch Jr not racing Rod George took advantage and scored his first Tri-City win of 2004.

TUESDAY - The World of Outlaws were 55 cars strong and missed the rain as Steve Kinser broke back into victory lane over Sammy Swindell.

WEDNESDAY - It was the ill fated trip to Wayne County where the one division show ran till midnight. Hopefully new ownership will take over before Ernie Coffman runs the place into the ground.

FRIDAY - Back to Attica Raceway for the All-Stars, Dale Blaney wins again, this time minus a header. Always great racing at Attica.

SATURDAY - It was off to Hagerstown where they treat the media like garbage, I won't be back to Hagerstown, and hopefully neither will the Outlaws.

SUNDAY - Back to Tri-City where Jimmy Weller put together a great run leading early and holding on for second behind Jarod Larson.

MONDAY - Plans were for Port Royal but Mother Nature had other plans, Time to relax and do it all over next week.

Jimmy Weller races with Mary Anne Williams
4-20-04
I planned to go to Susquehanna for their opener but it was postponed to Sunday so that went down the drain. Friday and Saturday I planned for Attica. But thanks to Mother Nature the Coors Spring Nationals was shortened to a one day show. It was just like old times as the feature saw Mark Keegan back behind the wheel of his farmiliar X car running at the front of the pack. Keegan led the feature until the final laps when sixth place starter Chad Kemenah ran him down in traffic and went on for the five thousand dollar win. Keegan held on for second followed by Byron Reed, Danny Smith, and Dale Blaney rounded out the top five.
Saturday it was back to Attica, this time with DJ Johnson. As the cars took the track to get heat in the motors the rains came, along with lightning, thunder and some nice sized hail. The show was cancelled with forty-two cars pitside, as of now they are planning on resceduling the show at later date. This Friday the NRA 360 Sprint Cars will headline the show at Attica, along with the 305 Sprints and Limited Late Models.
After the races were cancelled me and DJ headed to town to eat mexican. Were joined by "the sign man" Dana Blair along with Gene Frankert, and Todd Tapple, it was an insightful dinner to say the least.
Talked to childhood friend Tony Beaber, son of Sprint Car great Johnny Beaber. Tony has been helping out 305 driver Joe Laugherty this season. Tony will be competing in alot of wingless races this season, mostly in Indiana and will run a handfull of winged 410 shows along the way.
After winning the 2003 track championship at Clinton County Speedway Daryl Stimeling and Chiappelli Motorsports team have parted ways.The Chiappelli's have not decided on a full time driver yet, but look for Chad McClellan to be driving the Golden Flavor Seseme Sticks #98 at the Sharon Speedway opener. Daryl won't be sitting at home though as he plans to do some driving for Mark Whitebread at Selinsgrove on Saturdays in 358 action, he also plans to do some racing at Clinton County, and has a few other options in the works to keep him racing this season.
Be sure to check out Jim Seigel's new T-Shirts, they are super cool. Jim drives the blue and white 59 in central Pa and scored his career first feature win last month at Lincoln Speedway.
Ms. Motorsports 2004 Cara Foss is now online, be sure to visit her site at www.carafoss.com
I think western Pa Sprint Car tracks should only start twenty cars in the feature. This would make the heats more meaningful and keep cars that are four or five laps down out of the feature, making for better, safer racing and with less accidents, Just my opinion.
Not sure where I'm headed this week, probably out to central Pa or wherever it isn't raining. This Sunday Tri-City Speedway gets their season underway so I'll be there for sure. Until next time, see you at the races!
---
---
4-5-04
It's been a while since my last update here, but I had to take some time to touch on this past weekend. With rain all around the area Mike Leone talked me into making the long tow west to Missouri for the All-Stars at St. Francois County Raceway. It was 37 degrees when we left Pennsylvania and 71 when we got to the track. Forty-six cars were on hand and a pretty decent sized crowd. The racing was very good all night until the track slicked off around the half way point in the feature. That allowed Chad Kemenah to pick up the win with Dale Blaney in second. Terry McCarl, Ricky Logan, and Jerrod Hull rounded out the top five.
There were lots of good regulars on hand to do battle with the All-Stars, and they had some nice looking cars. I should have pictures posted in the next day or so.
Not sure where I'm headed this weekend, but after the 700 mile trip (each way) to Missouri, no matter where I go this it will seem close!
Sprint Car action at St. Francois County Raceway
---
---
1-26-04
Well, its been quite a while since my last update here, Since the last race actually. I've just been trying to stay warm and waiting for racing season to return.
My first race of 2004 will be Lincoln Speedway's opener. I was hoping to make to East Bay but it doesn't look like I will. My cousin is planning on going and will probably have some pictures for the site, so watch for those.
I'd like to welcome Race Outfitters to my site, they will be with the site for the 2004 season. Be sure to check out their website located at www.raceoutfitters.com
I will be doing something new this season as I will be writing and taking pictures for the Meadville Tribune and the Titusville Herald starting in mid march. I will be covering the racing here in Western Pa. I'm looking forward to the new opportunity. I will also continue writing for RPM Racing News so I'll be keeping busy.
I have also taken on webmaster duties for two new websites. They are for western Pa drivers Scott Groves and Jack Sodeman Jr, You can check them out at www.scottgroves.net and www.jacksodemanjr.com If there's any drivers out there looking for a site I'd be happy to help.
Thats all I have for now, but be sure to keep checking back for new pictures and columns as the season draws closer.
---
---
10-31-03
I ended my 2003 season this past weekend with a trip to central Pa and Maryland. Friday I visited a track I've wanted to see for a long time, Path Valley Speedway. It was Path Valley's final Friday show of the year and the 305 Sprints were on the card. I'd really like to see 410s there but I was just happy to see full size Sprints. Being late in the season and the cold weather there were only thirteen Sprints in the pits, but they did put on a good show and got around the high banked quarter mile pretty good. The feature saw a first time winner Brandon Keller pick up his first feature win in his first year of Sprints. Coming home second was another fast youngster Chris Meleason. Former 410 Sprint driver Von McGee was third while Jason Shultz and Scott Ellerman rounded out the top five. McGee and Meleason won the heat events. The 600cc Micro Sprints put on a good show and Jim Brookens was the winner of their feature. The 270cc Micro feature was interesting as Kevin Nouse had the field covered, Until the last lap that is. Running second was Nouse's teammate Mike Dicely, with Dicely going for the most wins in the northeast, Nouse let his teammate go by for the win. I can't say I've ever seen that done before in any kind of Sprint race.
Path Valley Notes....Scott Ellerman was crowned the 305 track champion for 2003, it was Scott's third title at the track.....Rookie 305 driver Brent Comp completed his first full season in a Sprinter. He looked smooth with a seventh place finish and has run in the top ten most of the season. The team is good friends with the Middleswarth team as they ran Keith Kauffman's car from last year this season, and they had Todd Hestor's old top wing on their car this past Friday.....Cowboy Jim Kennedy was in action Friday he finished tenth in the feature with a missing motor....Path Valley is done racing for the season and will have their Awards Banquet Saturday, November 15th at the Pleasant Hall Fire Company, the doors will open at four o'clock.....Path Valley has a nice website that is updated regularly you can check it out at www.pathvalley.com
After Path Valley it was on route seventy-five south and down to Hagerstown Speedway for Octoberfest. I got there from Path Valley before midnight Friday night and there was already a ton of race cars in the parking lot. There was a steady flow of haulers all night long. By race time Saturday the total was two hundred and forty nine cars! The bulk of the field was made up of Modifieds as the big block and small block mods totaled over one hundred and sixty. There were only thirty-one Sprint Cars, but plenty of hard hitters. Winning the qualifying heats on Saturday were Lance DeWease, western Pa's Scott Bonnell, Kevin Frey and Don Krietz Jr, while Pete Green won the B-Main. It was a rough day of qualifying for Fred Rahmer as he didn't finish his heat due to a flat tire and had to run the consi. In the consi Rahmer was running in a qualifying spot when he was penalized for jumping on the restart. It looked like a normal Sprint restart to me. Instead of giving Rahmer a warning or moving him back a spot they sent him to the rear. Rahmer did make it back into a qualifying spot but couldn't have been happy as it was a long hard road for a starting spot at the rear of Sundays feature. Fred's luck only got worse Sunday as he was involved in a crash, went off on the double hook, and ended up not finishing the feature, he was credited with a twenty-second place finish. The best thing about Sunday's Sprint feature was it was run second in the running order instead of last like so many times before. With a threat of rain I couldn't be any happier about it. The track was still in good shape and had two grooves which made the race pretty entertaining. The fifty lapper was lined straight up from the heats putting DeWease and Bonnell on the front row. DeWease took early command on the start with Blane Heimbach chasing him in second. Eighth starter Greg Hodnett ran down Heimbach and passed him for second on lap seven and ran down DeWease. Hodnett and DeWease battled until lap seventeen when Hodnett took control and led the rest of the way for his twenty-fifth win of the season, and his first Octoberfest victory. DeWease held on for second followed by Stevie Smith, Don Krietz Jr, and Billy Pauch rounded out the top five.
Hagerstown Notes.....Hodnett's win was worth ten thousand dollars and came in a coil over car with a wider front end on it. The Apple car was powered by a fresh Capetta engine.....Ed Lynch Jr. and Bonnell were the only two western Pa cars on hand, Bonnell held on for a tenth place finish while Lynch ended up with a dnf. Rod George and Gale Ruth were both pre-entered but both were no-shows...Joey Hershey made his 410 debut driving one of Mike Wagner's old cars. Hershey had problems in his heat and didn't make the feature. Hershey has won 305 Sprint features at Path Valley this season.....Last years Octoberfest winner Chad Layton lost a wheel in the feature ending his day, and a chance to repeat....Hagerstown is also done for the season and will have their banquet on December 20th. You can contact the Speedway office for more information at 301-582-0640
Speaking of Banquets the Clinton County Speedway awards banquet will be held Saturday, November 15th at the Yearick Center at the Howard Fire Company in Howard, Pa. Happy Hour at 5pm, follwed by dinner with the awards ceremony to follow. Tickets must be purchased by November 6th. To order tickets call 570-726-3870 or 570-494-4169 You can also get info at www.clintoncountyspeedway.com
Photographer Jim Fisher is now offering photo cds from over thirty different races from the 2003 season. The pictures print similar to a 3x5 photo but may be enlarged to 8x10 size with aid of a photo program on your home computer. This would be a great idea for any photo collectors, as you could really add alot of pictures to your collection without spending a ton of money. You can get all the info on them at www.fscpictorial.com Also, be sure to check out Jim's new column "From behind the Lens" right here at Ohio/Pa Sprint Car Racing.
Well my season is over, I had plans to attend the Midget show at the Pontiac Silverdome but that has been cancelled, so it looks like I'm done until February. I'll be keeping the site updated over the winter with lots of pictures and news. Watch for improvements along with new columnists and so on. Feel free to drop me a line, Thanks for reading, Until next time.........
---
---
10-8-03
There is one show left at Clinton County Speedway this season and thats the biggest of the season, the Pa Posse shootout presented by U.S. Tobacco paying three thousand dollars to the winner this Sunday Ocotber 12th. This is one show you don't want to miss. Posse members Greg Hodnett, Lance Dewease, Keith Kauffman, Fred Rahmer, Don Kreitz Jr, and Todd Hestor among others are expected to be in attendance. These guys are used to running on the big half miles so you won't want to miss them on the tight third mile known as Clinton County. See how the Posse does against eleven time winner Blane Heimbach and track champ Daryl Stimeling and the rest of the Clinton County regulars. You can get all the latest info at their website www.clintoncountyspeedway.com
Daryl Stimeling wrapped the Clinton County Speedway track championship in Clinton County's last regular show two weeks ago with a win over Port Royal invader Alan Cole. It was a great race with Stimeling, Cole and Dan Shetler all racing for the lead and all leading at one point until Stimeling took command. It was Daryl's fourth win of the season and his second championship, the first came in 1996. Blane Heimbach picked up the win this past Friday as Clinton County had their Fall Brawl two day show.
Scott Bonnell was the winner of the final Sprint show at Mercer Raceway Park. It was a 360 show with twenty one Sprints in the pits. It was Bonnell's third win of the season. Even though Bonnell runs more 410 shows than 360 shows, all three of his wins were 360 events. He won the Patriot Sprint show early in the season at Eriez Speedway. Then recorded his biggest win ever in the Bully Hills Nationals worth four thousand dollars. Mercer is done for the season you can get info on the track in the off season at www.mercerracewaypark.com Mercer was by far the biggest supporter of 360 Sprint Car racing this season. I think it would be cool if they went 360s full time next season, but I guess we'll have to wait and see. While at Mercer I got a chance to talk to 360 Sprint driver Tim Aldrich from Lindsey near Fremont Ohio. Tim ran at Lakeville's 360 show on Saturday, was involved in a wreck. Tim and crew worked on the car all day Sunday and made a dash to Mercer getting there about an hour before the feature took the track. Tim didn't get to run a heat and had to start 24th in the feature. He managed to stay out of trouble and come home 12th at the finish. Tim is definitely a character and a lot of fun to talk to. If your ever in Ohio and see the #58 of Tim be sure to stop and say hi, you'll be glad you did.
The World of Outlaws invaded Port Royal Speedway Thursday night under frigid conditions. It was the final show at Port Royal for 2003. I'm sure the crowd was not as big as Port management wanted to see, but considering the weather it wasn't too bad. A stellar field of forty Sprints were in the pits, definitely the strongest field I've seen all season. Feature time saw Jason Myers wire the field in the twenty-five lap feature for the win in the Dollansky VMAC #7. Daryn Pittman crossed the line second followed by Steve Kinser, Tim Shaffer, and Danny Lasoski. Jac Haudenschild was running second and Greg Hodnett was running fifth but both dropped out with four laps to go. Sean Michael debuted the Barry Jackson owned #8 Sprinter but failed to qualify. Erin Crocker looked good and finished 8th in the feature. Something you don't see very often was Sammy Swindell getting upside down all by him self coming out of turn two on the first lap of his heat race. Sammy was ok, but done for the night. Paul McMahan set quick time over the field with a lap of 15.843 seconds, an average speed of 114 mph. Johnny Herrera was driving the Kevin Frey #2k Sprinter, Herrera finished 10th in the A-Main. Jonathan Allard was in from California he won his heat and finished 20th in the feature. Allard plans to run the full WoO schedule in 2004. Mike Erdley was the highest finishing Pa Posse driver with a 9th place finish. You can check out my pictures from Port Royal online at Jim Fisher's site the link is posted on my main page.
NEWS, NOTES & WHATNOT Eldora Speedway cancelled Saturday's All-Star final early Friday with rain in the forecast. The show won't be made up and Chad Kemenah is the All-Star Champ.....Probably the biggest surprise of 2003 is the fact that Fred Rahmer is O for twenty-two at Lincoln Speedway this season, Fred will have one more chance this Friday as Lincoln runs their final show of the season.....Look for Ed Lynch Jr to compete in Muskingum Speedway's "Ohio State Championship Race" on October 11th and Octoberfest at Hagerstown on October 25th and 26th.....Look for 410 Sprint Cars to headline at Clinton County again in 2004 along with 358 Late Models.....Ryan Coniam was the only All-Star driver to show up at Williams Grove after Eldora cancelled their show.....Gary and Shelia Rankin made their Clinton County debut this past weekend, only Gary made the feature, he finished 16th.....Congrats to Racestud.com driver Bruce Robenalt on his 9th place finish with the Haulmark All-Stars....On October 18th Grandview Speedway will present their House of Thunder Halloween Party. It will be a features only program with five twenty five lap features for the Terrifying 410 Sprints, the Monstrous Modifieds, the Spooky URC Sprints, the Slithering Keystone Legends and the Looney Late Models.....Bob Altman has put together his 2004 Knoxville trip which includes roundtrip airport/hotel transfers, hotel accommodations at Hampton Inn with daily continental breakfast, roundtrip transfers to & from track all four days and reserved race tickets for all four night. You can call 1-888-874-7712 to reserve your spot or get more info.....I hope to have news and pictures from Lincoln, Muskingum, and Clinton County next week, hope to see you there!
---
---
9-25-03
Its been a while since my last update here, but I thought I had to mention the Mopar Million at Eldora. It was the race everyone has been talking about and waiting for all summer long, and what a weekend of racing! I headed out Friday morning and drove through about three hours of rain before the skies started to clear. Mother Nature had mercy on Sprint Fans at Eldora over the weekend and I don't think there was one unsatisfied fan in the stands. One hundred and thirty eight cars filled the pits for qualifying. Friday was a bit rough as about nine cars got upside down, but luckily everyone walked away ok. Tracy Hines set fast time over the field but then took a nasty flip on the start of his heat race. The two fastest cars, Hines and Tyler Walker who also failed to qualify through his heat, thanks to a flat tire would make it into the show, but would have to start near the rear of the field. Heat race action saw the Winged drivers do very well as Jac Haudenschild, Dean Jacobs, Stevie Smith, and Rob Chaney win their heats. Part-time Winged drivers Kevin Huntley and Bill Rose also won heats while Wingless runners Critter Malone, Jonathan Vennard, Brad Noffsinger, Russ Gamester picked up the remainder of the ten heat races. Friday was a long night with all the time trials and ten great heat races. The track stayed smooth and dust free and the cushion was right against the wall.
Saturday went much smoother as only one car got upside down all night, and the F, C, and B Mains all went non-stop. The feature was a classic as Dean Jacobs took the early lead and set the pace until fifteenth place starter Dickie Gaines ran him down and took the lead on lap nineteen. Gaines then battled with "the Wild Child" Jac Haudenschild until lap twenty-nine when Haud took the lead for good. Stevie Smith took second from Gaines next and ran Haud down and was right on his bumper but ran out of time as they came across the line for the checker. Gaines held on for third followed by thirteenth starter JJ Yeley and Rob Chaney. Three of the top five were Winged drivers, not too bad. The Million was also the first time Stevie Smith had ever run without a wing. The win was Haudenschild's biggest ever worth 200,000 dollars. Here is the rest of the top ten and their earnings, talk about some serious cash. Stevie Smith 125,000, Dickie Gaines 100,000, JJ Yeley 60,000, Rob Chaney 35,000, Bill Rose 25,000, Dean Jacobs 23,000, Tracy Hines 21,000, Jonathan Vennard 20,000, Russ Gamester 19,000. Last place finisher Jimmy Stinson picked up 10,000 dollars just for starting the feature, thats more than most races pay to the winner. Other winners Saturday night included F-Main winner Justin Marval , E-Main winner Jimmy Laser, D-Main winner Troy Cline, C-Main winner Boston Reid, and B-Main winner Brian Tyler.



Winner Jac Haudenschild

MOPAR MILLION NOTES & THOUGHTS.....Alot of the talk before the Million was the danger of racing without the wings at Eldora and how that would be all turned up a notch with all the money on the line. Alot of people thought the show would be a crashfest, it was anything but that. Saturday went as smooth as anyone could have hoped for with only one car getting upside down. It just shows the talent of these drivers as they raced so close all night not only with each other but with the big Eldora wall. A big tip of the hat to all the drivers on a safe night and close side by side racing all weekend long....JJ Yeley had a wild looking car that looked something like a modified and had a cool new paint scheme with Mopar and Million dollar bills all over his car.....Western Pa's Brent Matus took Jamie Smith's place and headed to Eldora where he qaulified 134th, but loaded up after failing to qaulify through his heat Friday.....Tyler Walker brought the fans to their feet in time trials as he stuck his Curb Records #35 right against the wall and never let off giving him second quick time.....Third place finisher Dickie Gaines was running a #69 Kroger team car to Tracy Hines.....I miss the 50/50 at Eldora, that was the one track you always made sure you bought a ticket.....John Ivy was behind the wheel of the Sabo #8s, but only made it to twelfth in the C-Main.....Greg Wilson loaded up and headed to Mercer on Saturday for their All-Star show after failing to qaulify for the feature on Friday.....Todd Kane was driving the #1w 360 car that Greg Wilson usually drives. They put a 410 motor in for the weekend, Todd finished 17th in the A-Main.....Don Droud Jr was in the Stanton #75 for the first time ever and took a nasty flip in time trials, he came back to get eleventh in the B-Main.....Roger Rager won five hundred dollars from the Hosers of Hoseheads.com for the best appearing car, while Dave Darland was the winner of the Halfway award.....There were lots of cool Mopar Million T-Shirts and Hats for sale, I picked up a new hat.....The next National USAC Sprint Race will be the "Fall Harvest Classic" at Action Track Terre Haute in Indiana on October 4th.....I got lots of good pictures Friday and Saturday, you can check them out at my website www.racestud.com .....Jim Fisher was also at Eldora and got some great pictures. He has about all the cars in action on Saturday along with pictures of all the feature starters during their driver introductions. You can check those out on his site at www.fscpictorial.com .....We had lots of fun camping out over the weekend, ate lots of good food and met some very interesting people to say the least, including a sleep walker dressed in full camo that wandered through a few times and spent alot of the night wandering through the field by our camp. He always had his sunglasses on too, even in the middle of the night. Our other neighbors were nice enough to bring a T-Bone steak over for my dog, she enjoyed that for sure. All in all it was one great time and some awesome racing. I know this race was suppose to be a one time deal but I would love to do it all again!

This weekend my plans are Clinton County Friday their last regular show, then Mercer Saturday featuring the 360 Sprints. Next race after that will be the Outlaws at Port Royal October 2nd, then either the National Open at Williams Grove or the final All-Star race at Eldora Speedway.
---
---
8-8-03
It was a busy week as there were races every night this past week in the Ohio/Pa area. Monday the World of Outlaws were at New Egypt Speedway in New Jersey where Donny Schatz picked up his third straight win after two in a row at Williams Grove. The field was split right down the middle with about eighteen 360 Sprints and eighteen 410 Sprints. Tuesday night there were two shows going on as Attica Raceway had their first ever Jack Hewitt Challenge featuring winged and wingless Sprints. There was also an open Sprint show in Fonda New York where Outlaw regular Daryn Pittman invaded and picked up the win. Pittman was aboard the Jenkins #55. Wednesday the World of Outlaws returned to Sharon Speedway and ran double features, after that they headed to K-C Raceway for the Freedom 40 where Daryn Pittman picked up another win, this time it was in the #21 he normally drives.
Of all these mid-week shows I was able to make two of them, the first being the Jack Hewitt Challenge at Attica Raceway Park. Car counts were thirty-six winged Sprints and twenty-four wingless Sprints. I thought the wingless count was down but it really didn't matter as the racing was great in both divisions all night long. The wingless feature saw Matt Westfall come from his ninth starting spot to pick up the five thousand dollar win over Dickie Gaines, Jerry Coons, Corey Kruseman, and Greg Wilson in fifth. Jac Haudenschild was running third until he clipped the wall on the final turn putting him in the seventeenth finishing spot. Gaines, Wilson, and Tony Elliott won the heat events. In the Winged feature it Dean Jacobs setting the pace until misfortune struck as he slid off the track and into the fence trying to avoid a wreck ending hi great run. That handed the race to seventh starting Jason Johnson who cruised the final nine laps for the win. Finishing second was Byron Reed followed by early race leader Lee Jacobs. Phil Gressman came home fourth behind the wheel of the Miller Rigging #2, and Mark Keegan rounded out the top five. Reed, Jacobs, and Rob Chaney were heat winners.
Attica Notes.....Chad Kemenah, Alvin Roepke, Jason Courtney, Ryan Coniam all scratched from their heats deciding not to run without the wings.....Rob Chaney and Greg Wilson both brought two cars for the event, while Danny Smith ran the same car in both features.....Kenny Jacobs did some wingless racing as he drove the Sabo back up car but didn't have much luck being credited with an eighteenth place finish in the feature.....Jac Haudenschild only competed Wingless during the evening skipping the Winged racing.....Terry McCarl was in competition driving the Kraylek #21. Terry finished a disappointing fifteenth in the feature....I was really surprised Bill Rose was not in the pits, when I think of drivers who like to run both winged and wingless he is one of the guys I think of first.....Short night for Jeremy Campbell who scratched early and wasn't able to even run a heat.....Overall I thought it was a great show, I really hope this becomes an annual event.....Attica's season is almost over as their next race will be the Season Championships on August 23rd featuring 410, 360, 305 Sprints and Limited Late Models. Then they will wrap up the season with the Attica Ambush with the All-Star Sprints August 30th & 31st. If you haven't been to Attica yet this season Get there before its too late!
The other show I made it to was the O'Reilly World of Outlaws at Sharon Speedway. A strong field of thirty-seven Sprints were on hand, but Steve Kinser was the star of the show. First up was the final twenty-three laps of the rain shortened May 30th feature. It looked like Dale Blaney might get the win but rear end problems on lap eighteen ended his night handing the win to Steve Kinser. Joey Saldana, Danny Lasoski, Tim Shaffer, and Tyler Walker rounded out the top five. The second feature was a good one with Joey Saldana and Steve Kinser with a smoking motor traded the lead several times while Greg Hodnett came from his ninth starting spot to make it a three car battle the final five laps. Kinser was able to get by Saldana for good on lap twenty seven and hold on for the win despite a smoking motor. Hodnett came home a strong second and probably could have won with a few more laps. Saldana was third followed by Dale Blaney and Daryn Pittman in fifth.
Sharon WoO Notes.....Rob Chaney lost a wheel and crashed in the make up feature ending his night.....May 30th Fast time Jimmy Hawley and Johnny Herrera did not return for the make up feature while Scott Groves replaced Jack Sodeman Jr in his own #54 and Phil Gressman replaced Jeff Shepard in the Miller Rigging #2.....It was a short night for Brandon Wimmer who scratched after time trials.....Brian Paulus changed motors after his heat and came back to qualify in the B-Main.....Lance DeWease was there but not racing, only to pick up a couple Kistler motors and then he left.....Mike Kekich and Chad Hill used Sharon provisionals to start the A Feature.....Tyler Walker flipped down the backstretch on lap four of the second feature ending his night, he was ok.....Danny Lasoski set fast time and it was also a new track record at 12.844
For the weekend I had planned to see three races, thanks to Mother Nature I saw none of the three races I had planned to see. I did manage to see racing two of the three days though. Friday my plans were for Clinton County Speedway. Luckily I decided to call the track before I left and found out they had cancelled saving me the drive for nothing and giving me time to head to Lernerville as the skies were sunny in Sarver. Twenty-three Sprints were in the pits and the St. Barnabas Health Systems Sprint Car feature was a good one. Kittanning's Kevin Schaeffer led the entire distance for his first win of the season. It wasn't an easy win as he had Chad Hill behind him the first half of the race, then the duo of Rod George and Ed Lynch Jr all over him the final laps. Schaeffer held on for a much needed win as the team has had a rough season so far, Hopefully the win will turn things around. George finished second with Lynch in third, Hill held on for fourth and Dan Shetler had a nice run finishing fifth. Roger Bennet and Eric Smith won the heat events. Eric Smith took a nasty flip in turn two during the feature and Brent Matus got upside down in the same incident. Both drivers were ok. Lernerville will be back in action this Friday with another four division show.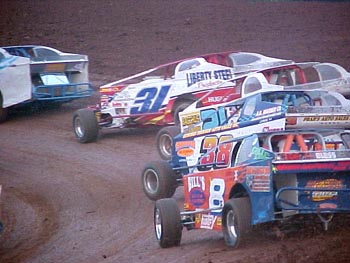 Check out the Big Block Modified action at Lernerville Speedway.

Saturday I headed to Mansfield Speedway for the USAC National Sprint and Midget double header. The closer we got to the track the worse the weather looked. As we got about five miles from the track we saw the haulers headed our way and knew the show was cancelled. I think we drove right into the eye of the storm as we were forced to spend some quality time at the Mansfield Rest stop as it rained so hard you couldn't see where you were driving. after about forty-five minutes the rain slowed down enough and it was back on the road. Made a call to Sharon Speedway and they were racing , I arrived at there just before 7:30, in time for the first heat event. Twenty-three Sprint Cars were in the pits and the track was in great shape, tacky with a nice cushion. Jarod Larson wired the field in the Sunburst Enviromental Sprint feature holding off a hard charging Ed Lynch Jr. for his fourth Sharon win of the season. Lynch came home second followed by Chad Hill, Kevin Andrusky and Mike Kekich in fifth. Goob Schuller, Craig Keel and Lynch won heat races.

Sharon Notes.....Craig Keel made a surprise visit starting twelfth in the feature and finishing sixth....Chad Livingston made his first Sharon start a short one as he got upside down on the first lap of his heat ending his night.....West Virginia driver Wayne McPeak was on hand driving a orange #30 .....Dan Taylor got upside down in the feature aboard his 6t, He was ok.....Clinton County Speedway point leader Daryl Stimeling made his second Sharon start of the season but dropped out of the feature while running in the top ten.....Deon Beane has pictures posted online at www.keystonebreakdown.com from all the action which included Topless Modified, Emods, stocks along with the Sprint Cars.....Sharon will be in action Tuesday August 5th with Tony Stewart night featuring the BRP Modified tour and again this Saturday with another four division program.

Sunday was to be my usual trip to Tri-City Speedway but one look at the radar told me the chances of me seeing racing on Sunday anywhere were going to be slim. For the second week in a row Tri-City cancelled their program. With the ugly radar they cancelled around 2:30. It never did rain here in Franklin as somehow all the rain cleared out and missed us, that sucked. Tri-City will try again this Sunday with another five division program along with a Compact Car Demolition Derby and the Pittsburgh Circle Track Senior Series. For more details check out www.tricityspeedway.com With no races I spent my day watching the Brickyard 400, not much fun.

NEWS, NOTES, & WHATNOT

The USAC double header at Mansfield Speedway that was rained out has been rescheduled for Sunday August 17th.....Clinton County regular Jimmy Seger made his first ever trip to Mercer Raceway where he finished seventeenth.....Erin Crocker was the highest finishing 360 Sprint at the Fonda Sprint show earning her an extra five hundred dollars. Of the thirty-one Sprint Cars at the Fonda show it only looked like about six or seven of them were 410s....John Barnett Jr. was the winner in Limited Sprint action over at the Bridgeport Speedway in New Jersey.....Mercer Raceway's Sprint Slug-Out paying three thousand to win is coming up July 16th, look for some of the Fremont Speedway regulars to make the trip in.....The Man from Mifflintown Keith Kauffman is now online, check out his new website at www.keithkauffman.com Kauffman was the winner Saturday at Port Royal, his third win of the season....Daryn Pittman won at Fonda in the Jenkins #55 car then drove it again at Fremont on Saturday in the Chuck Kear Memorial where he finished fifteenth.....After a flip at New Egypt Greg Hodnett turned his luck around with a second at Sharon and wins at Williams Grove and Lincoln. The Apple team is showing no signs of slowing down.....Jason Dolick had his best career finish coming home third in his 360 Sprinter at Mercer Raceway.....The Zemco team has not named a new driver yet but I'd like to see Chad Layton get the ride. I think Chad could be a major player in the 410 division given the oppertunity......Until next week, Thanks for reading
---
---
7-24-03
I started my week with a trip to the Brad Doty Classic at Attica Raceway this past Wednesday. The Doty classic always brings a strong field of cars, and this years edition had to be one of the strongest. The forty-one car field included most of the top All-Star teams, World of Outlaw racers Tim Shaffer and Daryn Pittman, Knoxville regular Terry McCarl, Nascar Busch rookie Kasey Kahne, and a host of Ohio's top locals. When it was all said and done it was Ohio All-Star Dean Jacobs getting the biggest win of his career over the hard charging pair of Outlaws, Shaffer and Pittman. Byron Reed had a strong run finishing fourth, while Jeff Shepard in the Ashworth #92 finished fifth in the star studded field. I have pictures posted from Wednesday nights action at on the main page if you haven't already seen. A tip of the hat to all of the Attica crew as the entire show was in the books by ten o'clock.
Attica Notes.....Jac Haudenschild debuted his brand new ride the Race to Hawaii.com #4 Sprinter. Jac had a rough night spinning twice in his heat and spinning out during the B-Main while running in a transfer spot. Jac was able to tail the feature with a provisional and managed to work his way through the field for a eighth place finish. The car is a Maxim powered by Fisher motors.....Chad Kemenah set fast time for the night but went backwards in the feature and finished twelfth.....Western Pa rookie Scott Groves made the trip out to Attica and had a rough night. Groves flipped hard in the B-Main. He was sore but ok, and hopes to be back out next week with a new car and a new paint scheme on his #54.....The only other Western Pa driver to go out was Arnie Kent, Kent dropped out while running mid-pack in the B-Main and was done for the night.....Kyle Sauder was back behind the wheel of the Miller #2 formally driven by Jeff Shepard. Sauder qualified through his heat and was credited with a 22nd place finish in the feature.....Lance DeWease and Sammy Swindell were both mentioned as entries for the race but neither showed. Lance raced at Grandview while Sammy was down on motors.....Don't forget Attica has another big show coming up on July 29th as they will run the Jack Hewitt Challenge for Winged and Wingless Sprints. Five thousand to win each feature and a five thousand bonus to win them both, Should be another good one!
Friday Clinton County Speedway dodged the rain drops and got their five division program in. It was Daryl Stimeling back in victory lane for his third win of the season. Daryl started sixth and passed race leader Randy Mausteller on lap thirteen for the win. The win came with a Chevy powerplant not the normal Ford we're used to seeing Daryl run. Daryl says they are getting used to the new motor and seem to be getting faster and faster. Joe Diehl followed Stimeling for second while Chuck Roan finished third. Mausteller held on for fourth place while Jeff Weaver rounded out the top five. Stimeling and Mausteller won the heat events. Clinton County will be back in action this Friday with another five division show sponsored by Auto Locator who will be handing out bonus money in all divisions. If you haven't already be sure to check out Clinton County's new website located at www.clintoncountyspeedway.com While your there be sure to check out Clinton County's new shirts by RaceWear.
I got a chance to meet with Daryl Stimeling's new car owners Tom and Fran Chiappelli. They are very nice people and I'd like to thank them and Daryl for carrying my website racestud.com stickers on their cars. The new team also has a new sponsor Golden Flavor Sesame Sticks, which is owned by the Chiappelli's. I was able to sample the sesame sticks which come in a bunch of flavors. I got to try the Cheddar, Sour cream and onion, and the cajun sticks, all were very good. They are the perfect snack to eat while your watching the races and a lot less messy than peanuts. You can check out all the info on their full line of snacks at www.goldenflavor.com
Saturday it was off to Mercer Raceway Park for Wingless the Return presented by Chevron East. This years edition included not just Wingless action but Winged also as both the Sprints and the ARDC Midgets ran both wingless and winged features. Only the wingless Sprints ran heats. In the ARDC Midget features it was Ed Stimley making the sweep by winning both features. Jamie Smith seemed to be everyones favorite to win the Luxaire Heating & Cooling Wingless Sprint feature and he did just that. Smith came from his ninth starting spot on lap twelve to take the lead from race leader Arnie Kent. Kent held on for second followed by Rob Eyler, Scott Bonnell and Ralph Spithaler in fifth. Jamie almost made it two wins for the night in the winged feature but just couldn't get by Ralph Spithaler in time as Ralph went on for the win over Smith, Bonnell, Kent, while Troy Preston rounded out the top five. 360 driver Chris Shuttlesworth, Jamie Smith and Randy Kriegisch won the three wingless heats.
Mercer Notes.....Hats off to all the drivers as everyone managed to keep their cars upright and there were no major flips. It was nice to see some of the 360 drivers up front during the wingless events. I would love to see Mercer or any track here in western Pa start running wingless 360 Sprints ona regular basis, I think it would be affordable and make for some great racing. The drivers put on a great show Saturday and they only run wingless once a year. I'm sure if they ran wingless more often the racing would only get better.....Tommy Quarterson was racing again as he competed in the wingless feature driving the #57 formally driven by Rusty McClure and Rob Chaney among others. Quarterson finished seventeenth in the wingless feature. Quarterson did not race in the winged feature.....Also on hand was wingless star Johnny Heydenreich, he dropped out of the wingless feature finishing twenty-first and didn't compete in the winged feature....Michelle Miller of Reading Pa had her best ARDC run with a second place finish in the winged feature. Michelle's father Mike Miller ran his Sprint car, with his best effort of the night being a ninth in the winged feature.....Scott Priester made his first Mercer appearance of the season with a tenth place finish in the wingless feature but failed to finish in the winged feature.....Rumor has it Jamie Smith is planning on going out to Eldora for the Wingless Million race, hopefully he'll be able to go out and make the show.....Jeff Banyas was the highest finishing 360 car in both Sprint features earning him a three hundred dollar bonus.
Sunday night it was back to Tri-City Speedway to see if anyone could break the Ed Lynch Jr/Rod George stranglehold. In last weeks column I mentioned that someone should step up and put a bounty on the two as they have won every regular feature at the track the past two seasons. Well Paul Eredatario owner of Northpointe Automotive and sponsor of the division did just that. He has put up a one-hundred dollar bonus that will go up a hundred dollars each week until someone can beat the pair. Ed Lynch Jr started on the front row of the Northpointe Automotive Sprint Car feature and led the entire distance of the non-stop feature. Rod George finished a distane second. The real race was for third as Jarod Larson won the three car battle finishing third over Rob Eyler and Jason Jacoby. Lynch and Eyler won the heat events.
Tri-City Notes.....Todd Allen, nephew of Bobby Allen and Todd Zinn were in from Central Pa for the wekend racing at Lernerville on Friday and Sharon on Saturday. Sunday Allen finished tenth in the feature while Zinn finished fourteenth in his #23 Sprinter.....Two E-Mods flipped in their heat events.....Andy Priest won the Big Block Modified feature, good to see Andy in victory lane.....Now that Susquehanna Speedway has closed its doors on weekly racing, Tri-City is once again the only track in Ohio and Pennsylvania running 410 Sprint Cars on Sunday nights....Tri-City will return to action this Sunday with another five division program along with a compact car demo derby.
Lernerville's WoO Silver Cup race was rained out Tuesday, then again Wednesday after time trials, doesn't look like the show will be made up. I'll be at Clinton County this Friday, not sure about Saturday, and Tri-City Sunday, See you there.
NEWS, NOTES, WINNERS, & RANDOM THOUGHTS
There has been alot of talk about the car counts dropping over the last few years at Eldora's big Sprint shows. This past Saturday forty cars signed in for the 50,000 dollar to win Kings Royal. The way things have been going forty cars had to make everyone happy. The winner was no real surprise as Steve Kinser swept the two days of racing, earning him 60,000 dollars, not bad for two days work. Some good cars were loading up early on Saturday night as Dale Blaney, Daryn Pittman, Jeff Shepard, Greg Wilson, and Kraig Kinser were just a few of the teams that failed to make the Kings Royal starting lineup. Congrats to Greg Hodnett on his second place finish in Saturday nights feature. It's good to see at least one Pa car make the trip out west.....Congrats to Chappy Knaack who picked up his career best finish this past Saturday at Lincoln Speedway with a second place run after leading the first twenty three laps of the Gohn/Glenn Gohn Sr. Memorial.....The Pa 305 Sprints made their first visit to Gamblers Raceway where former 410 racer Von McGee scored the win in his #1/2 Sprinter. Deon Beane was there and has pictures from all the action at Keystone Breakdown.com .....Double your pleasure at Sharon Speedway on July 30th as the World of Outlaws return for their final appearance of the season. They will run a complete show along with the make up feature that was rained out on their last visit. Should be lots of great racing and a huge crowd for that show so get there early.....Both Grandview Speedway and Muskingum County Speedway had 410 shows the same night as Attica'a Brad Doty Classic. Greg Hodnett picked up the win at Grandview over a field of fifteen cars which included a few 360s, while Muskingum had twenty-nine cars and Brandon Wimmer got his first career win over former All-Star Craig Keel and K-C regular Craig McGuire.....If your online you'll want to check out Jim Fisher's site at www.fscpictorial.com Jim has all the action from the Kings Royal weekend on his site, along with tons of other great pictures.....I don't know about you but I miss seeing Jack Sodeman Jr race. Hopefully he can get a new car together before the season is over. Before his crash at Sharon it looked like he was on his way to having his best season ever. We should at least get to see Jack race at the WoO show at Sharon as he qualified Scott Grove's car into the make up feature.....Don't be suprised if Bill Jones makes his season debut this weekend, possibly at Mercer. It's been a few years since the Irvona driver has been behind the wheel of a Sprint Car.....Ohio fans will want to check out this years edition of the "Freedom 40" at Jim Nier's K-C Raceway on July 31st, as the World of Outlaws will invade the super banked speedplant.....Get well wishes to Modified driver Guy Griffin who was in a nasty crash Friday at Lernerville Speedway, It sounds like Guy will make a full recovery, thats good news.....Get well wishes also go out to Super Sportsman driver Richie Hartman who suffered injuries in a four wheeler accident.....Until next week, thanks for reading
---
---
7-3-03
There has been more upsets and first time winners in 2003 than I can ever remember. This Friday at Lernerville Speedway was no different as the St. Barnabas Health Systems Sprint Car feature produced yet another first time winner. After several years of coming close, Chad Hill finally put it all together and picked up his first career Sprint Car win. Scott Bonnell looked like he was going to get his first Lernerville win as he led the race until lap fifteen when lapped traffic worked to Hill's advantage giving him the lead and his first win. The happy Hill celebrated by doing donoughts in turn two, then followed that up with a wing dance in victory lane. Bonnell held on for second, followed by Kevin Schaeffer in third. Scott Barris had his best finish of the year as he came home fourth, while Ed Lynch Jr. rounded out the top five. Rod George, Kevin Schaeffer and Ralph Spithaler won the heat events.
Lernerville notes.....There was a very good crowd on hand as the Sprints were joined by the MACS Late Models who were fifty-one cars strong.....K-C Raceway regular Craig McGuire was on hand but could only muster a sixteenth place finish in the feature.....Dan Shetler driver of the Red/Yellow 7k had his new T-Shirts on sale, check them out, they are sharp.....Last weeks feature winner Mike Shearer dropped out of his heat race and scratched for the evening.....Lernerville will be back in action this Friday the 4th with a regular four division program, it will also be Kids night sponsored by Save-a-lot Supermarkets
Speaking of how there has been so many upsets and first time winners this season, here is a list of most of them and to think, the season is only half over. Chad Hill's win Friday made it two first time winners in a row at Lernerville as Mike Shearer surprised everyone a week earlier winning at Lernerville then at Mercer the following night. Chad Hill wasn't the only first time winner the past Friday as Joe Diehl finally got his first career win under his belt at Clinton County Speedway. Another winner at Clinton County this season was Jeff Weaver, it wasn't his first win, but it was his first in four years. Down at Lincoln Speedway Kevin Drury, Chris Knopp, and Niki Young all scored their first career Sprint Car wins. Blake Feese upset the World of Outlaws at Lowe's Motor Speedway back in May. At Port Royal Mark Coldren scored a big upset by getting his first win aboard his own I07. Two Ohio drivers got their first career wins a few weeks back, Ricky Ferkel at Lernerville and Lee Jacobs at Fremont. Unfortunatey both drivers have had nothing but bad luck since. What drivers do you think will be the next to score a big upset or their first win? If the season keeps going like it has, there should be quite a few more.
Sunday night it was my usual trip to Tri-City Speedway where sixteen Sprint Cars were on hand. Anyone who says Rod George can only win on a dry slick track should have been there. The track was anything but dry and then a twenty minute rain shower made the track lightning quick. In the NorthPointe Automotive Sprint Car feature George jumped into the lead with Ed Lynch Jr in pursuit. Lynch tried everything but had nothing for George. Lynch got caught up with a lapped car on lap fifteen but it didn't matter as George had the field covered for his fifth Tri-City win of the season and his twenty-first career Tri-City win. Daryl Stimeling came home second. Scott Priester was third, Jason Jacoby fourth and Lynch came back to finish fifth. Lynch and Stimeling won the heat races. Kevin Schaeffer made his first visit of the season. I have to mention it was another great Modified feature as Kevin Bolland came from fifteenth spot to pick up the win this week. Tri-City will be back in action this Sunday as the York Triathlon Sprint series will try for the third time to get their season opener in the books. The York Sprint show will be presented by Chevron East and there will be no e-mods. As always you can check out pictures from all Tri-City's action and there are pictures from this weeks action at Sharon Speedway over at Deon Beane's www.keystonebreakdown.com
Monday night I headed a couple hours west to Wayne County Speedway for night two of the Haulmark Ohio Sprint Speedweek. It was the Pete Jacobs Memorial and thirty-nine cars were on hand. Kenny Jacobs set fast time aboard the Grove #70 normally driven by Western Pa's Jimmy Hawley. Word has it due to work Hawley couldn't make speedweek so Kenny is in the car for this week and then Hawley is suppose to be back behind the wheel. Feature time saw Kelly Kinser take early control with fourth starting Jeff Shepard right behind him. Shepard was able to get by on lap seven, but a caution put Kinser back out front. That caution might have just won Kinser the race as Shepard was never able to get back by him. Kinser didn't win without a fight as both Shepard and Chad Kemenah ran together battling for the top three spots the final fifteen laps making for a heck of a show. Shepard held on for second when the checker flew while Kemenah had to settle for third. Jason Johnson came home fourth from his ninth starting spot and last years winner of the show Byron Reed rounded out the top five.
Wayne County Notes.....Craig Keel set fast time, then lost fast time after it was found he had a MSD box in the cockpit of his car. Instead of starting at the tail of his heat Keel loaded up and left.....Local racer Tim Hunter had his best All-Star run coming home in the sixth spot.....Sharon Speedway regular Marty Ling picked up a heat race win.
Wednesday night it was off to Clinton County Speedway where Daryl Stimeling got the win over Andy McKisson in Andy's first start. That made for a 1-2 finish for racestud.com drivers! I'll have more on Clinton County later, and also pictures from Wednesday nights show along with Friday's 50 lapper. Saturday I'll be at Mercer for the URC show and Sunday to Tri-City for the York Triathlon race. See you there.
---
---
6-9-03
After rain most of the week the skies cleared on Friday and it was east on 80 to Clinton County Speedway for Free night. I figured it was going to be a success when i followed a line of cars up the road to the speedway entrance. Then when i pulled into the parking lot I knew it was going to be a success as the parking lot was nearly full already. The free night was definitely a hit with the fans as it was standing room only, I don't think you could have fit another person in there with a shoe horn. The racing action saw eighteen Sprint Cars signed in and seventeen take the green for the feature. It was Mike "the hurricane" Walter taking the early lead and setting the pace. Walter set the pace with a comfortable lead and looked to be on his way to his first win of the season. That was until lap twenty when contact with a lapped car caused Walter to get high in turns three and letting second place Jeff Weaver slip by and take the lead. Walter almost rebounded and got the lead back but couldn't quite catch Weaver before the checker flew. The win for Weaver was his first in four years and had to come in front of the biggest crowd the track has ever seen. Walter held on for his best finish a second place, New Jersey's Bret Romano also put together his best run of the season with a third place finish. Chuck Roan came home fourth while Daryl Stimeling came from his seventeenth starting spot to finish in fifth. Weaver and Walter also won the heat events
CLINTON COUNTY NOTES
Fifth place finisher Daryl Stimeling switched cars after his heat race and that is why he started last in the feature. They ran a new car in the heat that was put together for the bigger tracks, and it is the car they will run Tuesday at Bedford Speedway Sprint Car show.....Bret Romano was happy with his third place finish, Bret and the team make the Long three and a half hour tow each week from New Jersey with their #80R Sprint to race at Clinton County.....Rookie Jimmy Seger was on hand, he is on the gas and exciting to watch. Seger bought former 358 driver Adrian Shaffer's equipment so he's got good stuff and looks like he could be a future star.....Friday's Free Night was sponsored by The Clinton County Economic Partnership, Avis America Homes, Bill MacIntyre,The GM Giant, First Quality Enterprises and ClearChannel Communications.....Clinton County will be back in action this Friday with a regular five division show. Keep up to date at www.clintoncountyracing.com
Saturday was another rain filled day. Mercer Raceway Park was one of the few tracks that managed to get their show in. With all the rain it made for a very heavy and super fast track. The feature saw all twenty-four cars on hand take the green. Gary Kriess set the pace for the first seventeen laps until Jamie Smith caught him in traffic, made the pass and took control to lead the last three laps and pick up his first win at Mercer in almost a year. Rob Eyler passed Kriess a lap later to finish second while Kriess held on for third. Ralph Spithaler rode home fourth while track champ Troy Preston rounded out the top five. Kriess, Preston, and Brian Ellenberger won the heat events.
MERCER NOTES
Jamie Smith's win was his twenty-third career Mercer win.....It was evident that some of the drivers were not used to the heavy surface and the big cushion as Jeff Banyas and Leonard Ripper Jr both took nasty flips, and Randy Kriegisch took a nasty ride in turn four crashing hard into the wall ending his night, all three were ok.....Pup Nystrom picked up the 150 dollar bonus for being the highest finishing 360 car.....The School Buses were on the card with Bill Clepper getting the win. I wonder why none of the tracks here in western pa don't pick up the buses on a regular basis..... Mercer will be in action this Saturday night with "the Main event" featuring Sprint Cars, Modifieds, Late Models, and Sportsman Mods.
Sunday night it was my regular trip up the road to Tri-City Speedway where the York Triathlon Sprints were set to open their season, but things didn't go quite as planned as Mother Nature put a hault to the show after the heats were run. And I was just saying last week how Tri-City hasn't been rained out all season, guess I better keep my mouth shut. Anyway, a very dissapointing field of only fourteen Sprint Cars were on hand. Where was everyone??? The only western Pa cars that don't normally run Tri-City were Gary Kriess, Deana Barbara, and Chris Mathews. Hats off to those three for supporting the show. There was also a suprise visitor as All-Star regular Ryan Coniam made a stop on his way home from the All-Star race at Butler Michigan Saturday night. Coniam looked good finishing second in his heat race. Kriess and Jason Jacoby won the two heat events. The Triathlon Sprint event has been rescheduled and will be run on Sunday July 6th. Tri-City will return to action this Sunday with a regular four division program along with a Demolition Derby.
I don't think im going to make it to Bedford Tuesday, Sharon on Thursday is a possibility, Friday I'll be at Clinton County, Saturday is up in the air, Sunday I'll be back at Tri-City. Until next week, hope for sunny weather!
---
---
6-2-03
Another late update, I know. I'm sure everyone has already heard about the Outlaw's problems in North Carolina. There weren't any WoO T-Shirts on sale Friday at Sharon but that didn't effect the racing as thirty-four cars signed in to do battle for the ten thousand dollar top prize. The track dried out quick in time trials which made drawing a good pill for qualifying very important. Jimmy Hawley was one of the first cars out and was awarded with quick time for the night. As dry as the track was the heat races were some of the best I've seen all season and there was hardly any dust where I was sitting on the backstretch. In the feature it looked like Steve Kinser's race as he was up to second place from his sixth starting spot by lap five and closing on leader Dale Blaney before the rains came on lap seven brining out the red flag. The rain never stopped and the show had to be called. The feature will be made up on Wednesday July 30th when the Outlaws are scheduled to return. Heat wins went to Joey Saldana, Tim Shaffer, Chad Kemenah and Tyler Walker. Rob Chaney and Blaney won the dashes and made up the first row of the feature. One of the big stories was local favorite C.W. Harshman was the surprise winner of the B-Main. Mike Kekich and Jarod Larson both used track provisionals to make the feature.
SHARON NOTES
Sharon point leader Ed Lynch Jr was a no show Friday deciding to race at Lernerville instead of with the Outlaws.....After destroying his car in a nasty crash last Saturday at Sharon Jack Sodeman jr was back behind the wheel, not in his own 23jr, but in the G-Force Motorsports #54 normally driven by Scott Groves. Jack did a great job qualifying for the feature by finishing second in his heat. Jack may run the car at a few more of the bigger shows in the area before the year is over....Brian Ellenberger qualified third fastest in time trials but finished seventh in the B-Main and failed to make the feature.....I wasn't able to get any pictures Saturday but Deon did and you can see them at www.keystonebreakdown.com ....After it started raining and fans were leaving the grandstands, a lower walkway collapsed. Medical personnel reported no serious injuries, thankfully it looks like everyone will be ok. Sharon is planning on being back in action this Saturday with a regular four division show sponsored by ADESA Pittsburgh. You might want check their website www.sharonspeedway.com ,or give the track a call just incase though.
I didn't get to go anywhere Saturday as Mother Nature almost made a clean sweep washing out every Sprint Car track here in Ohio and Pa with the exception of the Outlaw show at Eldora Speedway where Steve Kinser picked up the win. Even Lincoln Speedway rained out, when they rain out you know the weather is bad. Rain also washed out Latrobe Speedway where the York Triathlon Sprint Car series was scheduled to get their season underway. No word right now if the race will be rescheduled or not.
Sunday night it was my usual trip to Tri-City Speedway as they were able to complete their sixth show in a row. They are one of the few tracks if any that have not had a rain out this season. Sixteen cars were on hand under sunny skies. It looked alot nicer than it actually was as it was very windy with temperatures in the fifties, Doesn't seem like June to me.The North Pointe Automotive Sprint Car feature saw Jarod Larson take the early lead over fellow front row starter Brian Ellenberger. Larson rode out front until lap twelve when fifth place starter Rod George passed him on the bottom for the lead. After that George cruised to his third Tri-City win of the season. After making contact with second running Larson, Jason Jacoby finished second, with Ellenberger third, Ed Lynch Jr finished fourth and Larson held on for fifth. Lynch and Deana Barbara in her first Tri-City start of 03' won the heat events.
TRI-CITY NOTES
Next week the York Triathlon Sprint Car series will hold their first of two shows at Tri-City presented by Chevron East....In heat race action Charlie Holben got into Brian Ellenberger going into turn one spinning Ellenberger and putting Holben in the wall and ending his night.....Todd Bauer and Rob Eyler both made their second visits of the season, look for them to return this week for the Triathlon event.....Number four point man Scott Priester was missing in action after a crash Friday night at Lernerville Speedway.....Rod George and Ed Lynch Jr are now even with three wins each for the 2003 season, George and Lynch have combined to win every Sprint race at Tri-City during 2002 and 2003 with the exception of the 02' All-Star show won by Jeff Shepard.
This week looks like Clinton County Friday where it will be FREE night, Great time to check out this place if you haven't been there yet. Saturday I'm not sure where I'm going. Sunday Tri-City for the 2003 York Triathlon Sprint Series debut. Tuesday June 10th, I may make the trip south to Bedford for the 410 show. Until next time, Thanks for reading!
---
---
5-20-03
My Friday trip to Clinton County Speedway was ended by rain as they were forced to pull the plug on what was to be their third program of the season. Williams Grove also got plenty of the wet stuff as they lost not only their Friday night Outlaw program but Thursday's as well. Mother Nature also spoiled the World of Outlaw race at Hagerstown on Saturday and the All-Star/NCRA show at K-C. Hagerstown did reschedule their show for Monday. There were a few tracks that managed to dodge the rain drops though. For the second week in a row Lernerville Speedway snuck their show in. It was cold and windy but the show went on. A decent crowd of die-hard fans were in the stands and the pits were full of cars. Ed Lynch Jr once again had no problems picking up the win in the St. Barnabas Health Systems Sprint Car feature. it was his second win in as many weeks and third at Lernerville for the season. Lynch started twelfth and was in the lead by lap seven, after that Lynch cruised the rest of the way for the victory. Jamie Smith was second followed by Rod George, Jack Sodeman jr, and Arnie Kent rounded out the top five. Lynch, Sodeman, and Ralph Spithaler won heats while Davey Jones won the b-main.
With the Outlaws getting rained out at Williams Grove Mark Smith made a visit to Lernerville to get a tune up for Tuesdays Outlaw show. Mark looked fast getting second in his heat and was moving up in the feature until he pulled off with problems.....Former WoO2 regular Brian Carlson made a surprise visit from from Linden, Indiana but could only muster an eighth place finish in the feature. Carlson ran Sharon Saturday night, and plans on staying in Butler and running the Outlaw show on Tuesday.
Sprint Cars, Sprint Cars, and more Sprint Cars! That was the story at Mercer Raceway Park Saturday as they had their Slidewayzzz Sprint Car double header. Twenty nine 410 Sprint Cars and fifty-two 360 Sprint Cars filled the pits. The "Tri-State Clash" 360 field included eighteen cars from the new Patriot Sprint group from New York, fourteen of Ohio's NRA cars, seven Wayne County cars, and ten Mercer 360 regulars. But getting the win in the twenty-five lap feature was former western Pa regular turned ESS regular Mike Lutz. Lutz started fifth and got the lead from Tim Hunter on a lap six restart. Mike Dussel caught Lutz a couple times in traffic and actually looked like he had the faster car but Lutz was able to get through the traffic faster and went on for the win while Dussel held on for second. Tim Hunter returned after flipping in the 410 feature to finish third. Doug Stanley finished fourth and J R Stewart rounded out the top five. Chris Matthews, Mike Lutz, J R Stewart, Chris Shuttleworth, Darren Long, and Scott Cramer won the six heat races, while Steve Leiber, Dwain Leiber, and Gordy Button won the three B-Mains.
In the Luxaire Heating & Cooling 410 feature it was Michigan invader Chad Blonde stealing the show. Chad started on the front row and raced hard through heavy traffic for the two thousand dollar win. Rod George, Scott Bonnell, and Jimmy Hawley battled hard the second half of the race for the second spot with George winning the runner up spot while Hawley was third in his new eagle. Bonnell came home fourth with Rob Eyler rounding out the top five. Bonnell, Jamie Smith, and Brian Ellenberger won the three heats while Gary Kriess won the B-Main.
Sunday it was my usual trip to Tri-City Speedway, they had their highest Sprint Car count of the season Sunday as sixteen cars signed in to do battle. The NorthPointe Automotive Sprint feature looked like it would be another episode of Ed Lynch running away with the show as Lynch got the lead on lap eight and drove away from the field. A lap fourteen caution for Shelia Rankin who spun and collected fifth place Andy McKisson changed all that. On the restart Rod George found the fast way around the bottom, he passed second place Jarod Larson on lap eighteen then drove by Lynch on the final lap to go on and get his second win in a row at the Franklin oval. Lynch had to settle for second while Larson was third. Daryl Stimeling made his first visit to Tri-City and finished fourth after starting thirteenth. Brent Matus had one of his best runs coming home in the fifth spot. Stimeling and Lynch won the heat events.
This week my plans were Lernerville Tuesday, but thats now Wednsday thanks to rain, I hope to get some good pics at Lernerville so watch for those. Friday its back to Clinton County, Saturday its west to Fremont Speedway for the Budweiser Shoot-Out at Fremont Speedway this Saturday featuring twin features for the 410 Sprint Cars. The first feature will be twenty-five laps paying 2500 to win, while the second feature will be inverted and pay 3000 to win for thirty laps. There will also be a 2000 dollar bonus for any driver that can win both features. Sunday its Tri-City and Monday afternoon I hope to make my first trip of the year to Port Royal Speedway. Until next time, See you at the track!
---
---
5-15-03
Friday night I made the trip east on interstate 80 to Clinton County Speedway for their second show of the season. With all the rains that fell the track was the best I've ever seen it. It was super fast and smooth making for some excellent racing action. In victory lane for the second week in a row it was Selinsgrove's Blane Heimbach. During his victory lane interview Heimbach said the win was one of him most memorable races ever, and I have agree as it was definitely one of the most exciting features I've seen this season. Feature time saw eighteen of the twenty Sprint Cars take the green. Jeff Weaver took the lead at the drop of the green, but that lasted only one lap as Troy Whitsel took control on lap two. Whitsel paced the field through heavy lapped traffic as Heimbach mirrored Whitsel's every move. That was until lap twelve when Heimbach made a daring move between traffic to take the lead. Whitsel wasn't going to let Heimbach get away that easy as he battled Heimbach in traffic down to the last lap with the two racing side by side many times until the checker flew. Behind Heimbach and second place Whitsel was Jeff Weaver in third, Daryl Stimeling fourth and Chuck Roan rounded out the top five. Weaver, Whitsel, and Stimeling won the heat events.
CLINTON COUNTY NOTES
New Sprint cars on hand this past Friday besides second place Troy Whitsel included New Jersey's Bret Ramano who finished thirteenth in his first Clinton County visit. Romano plans on being a regular on Friday nights....."The Hurricane" Mike Walter made his return, but not in the familiar #88, he was driving the #49 Sprint Car. Walter finished tenth in the feature.....Nyle Burkes looked good in his first Clinton County start finishing eighth in the feature.....A regular last year, Vince Snyder also was back and finished sixth in the feature.....Jim Gearheart and Joe Deihl both failed to start the feature.....Don't forget about FREE night coming up on June 6th when grandstand admission will be free for everyone......Clinton County will be back in action this Friday night with a five division program featuring the 410 Sprint Cars. Keep up with Clinton County online at their website www.clintoncountyracing.com
Saturday I had planned on visiting the Port Royal Speedway for the first time this season, but that wasn't meant to be as the Port pulled the plug on the show at ten in the morning. Interesting enough even with the Port canceling so early only one Port regular made the trip down to Lincoln Speedway to race, and that was Keith Kauffman who finished a disappointing sixteenth in the feature. Here in Western Pa the same thing happened as Mercer Raceway cancelled early in the afternoon while Sharon Speedway just a half hour up the road raced. This time only two Mercer Sprint Cars were in the pits at Sharon, it was Jimmy Hawley who finished third and Butch Beasley coming home twelfth. With all the rain outs we've had this season you think more guys would want to race.
Speaking of drivers wanting to race, where was everyone Sunday night at Tri-City Speedway? I got to the track to find only thirteen Sprint Cars were signed in for the evening. With rain around the area the show was able to get started on time and the track was back to defending track champion Rod George's liking as he was able to stop Ed Lynch Jr's winning streak by leading all twenty laps of the NorthPointe Automotive Sprint Car feature for the win. George hugged the bottom and held off Lynch who came home second followed by Jason Jacoby, Brian Ellenberger and Scott Priester rounded out the top five. Lynch and Andy McKisson won the heat events. There were two short rain delays but they were able to get the entire show in. There were lots of rainbows for the fans to look at as some strange weather was in town. One minute it was sunny, then the sky was black, then it was both. There was lots of wind to go along with the strange weather. Once again you can find lots of photos from Tri-City at Deon's www.keystonebreakdown.com Tri-City will be back in action this Sunday with another five division show.
NEWS, NOTES, & WHATNOT
Marty Ling returned to Sharon Speedway after his horrible flip a few weeks ago and finished fourth in the feature.....Congratulations to Jack Sodeman Jr on his win at Sharon Saturday, hopefully its the first of many.....Ohio's Tim Hunter had a good weekend here in western Pa as he finished third Friday at Lernerville, then second at Sharon on Saturday....Fred Rahmer is now O for eight at Lincoln Speedway, How long can this go on???......Congrats also go to Lee Jacobs on his first 410 Sprint Car win, I know Dana Blair was happy about the win.....I have a few websites I want to mention, the first being www.racesuit.com Drivers can find all your race wear needs there including helmets, suits, gloves, shoes, belts, nets, teamwear, and lots more. Be sure to check them out next time your looking for racewear......The next site is www.fastlaneart.com They specialize in motorsports printing and graphics including Autograph show cards, Track schedules & flyers, Team posters & calendars, prints, posters, and lots more, be sure to check them out.....Former ESS racer turned All-Star regular Ryan Coniam is now online with his new site. Check it out at www.ryanconiam.com Watch his progress as he shoots for 2003 All-Star rookie of the year.....Stevie Smith has had a very slow start this season as he has returned to the wheel of his own black #19. Smith is going to try and turn his season around at the Susquehanna Speedway on May 25th at the $5,000 to win Coors 410 Sprints York County Nationals. Smith is the all-time leading feature winner at the track.....This Saturday Mercer Raceway will have their Slidewayzzz dual Sprint Car event featuring the 410 Sprints running for 2000 to win and the 360 groups of Ohio's NRA and New York's Patriot Sprint Car group going for 1,500 to win.....Don't forget the World of Outlaws will be making their first visit to western Pa on May 20th at the Lernerville Speedway, will anyone be able to beat Steve Kinser or Danny Lasoski????.....I want to send out get well wishes and a happy Mothers Day to my Mom and Happy Birthday to my Dad....This weekend I should be at Clinton County Speedway, Mercer Saturday, and Tri-City on Sunday, then Lernerville Tuesday for the World of Outlaws. See you at the track!
---
---
5-8-03
The weather finally looks to be warming up as Mother Nature graced us with three sunny, somewhat warm days of racing this past weekend. Friday it was off to Clinton County Speedway near Lock Haven Pa for their 2003 season opener. 410 Sprint Cars headlined the show as they will do for the entire season for the first time since 1996. A nice field of seventeen Sprint Cars filled the pits to do battle on the tight 1/3 mile. In the feature defending track champ and runner up Daryl Stimeling left off right were they did last season finishing one-two. For the first half of the twenty-five lap feature Heimbach held off the challenges of Jeff Weaver, but for the final half of the feature it was Stimeling giving Heimbach all he could handle. Heimbach was able to hold off the hard charging Stimeling for the opening night honors. Jeff Weaver held on for third, while Joe Davis had a steady run in fourth followed by Charlie Anderson in fifth. Weaver and Chuck Roan won the heat races.
CLINTON COUNTY NOTES
Clinton County has introduced a new restart format. Instead of having lapped cars start between the leaders, lapped cars will go to the rear on restarts keeping the faster cars together at the front and slower cars towards the back on restarts. I think this is a good idea that will be easier on equipment and make for better racing. Hopefully other tracks will follow suit, but I doubt it.....Tracy Potter, who has spent many years behind the wheel of an asphalt late model, made his first ever start in a Sprint Car and looked very good. He started seventeenth and finished tenth in the feature. I wouldn't be surprised to see him in victory lane before the year is over.....Feature winner Blane Heimbach picked up his second win in as many nights, winning the 358 feature at Selinsgrove Saturday night. Heimbach also has a new sponsor as he now has Middleswarth's new Beef Jerky on board as a sponsor.....Jeff Criswell has made some changes with his Sprint Car he has gone from blue to white and number eight to number ninety-one.....Bret Romano was on his way to the track from New Jersey until they had hauler problems. Bret plans on being there this Friday and running weekly at the track.....Two Clinton County top runners, Shawn Stidfole and "The Hurricane" Mike Walter were MIA, Hopefully they will debut this Friday.....URC racer Todd Rittenhouse was on hand and looking fast until Kyle Ganoe spun in front of the field at the start of the feature taking out Rittenhouse and ending his night early.....Be sure to mark your calendar for Pack the Track night on June 6th as Clinton County will offer free admission to the grandstands for everyone!....This coming Friday, May 9th will be another five division program is offered featuring the Sprint Cars, Super Stocks, Pro Stocks, Daredevils and Enduros. For more information check online at www.clintoncountyracing.com
Saturday night it was a trip east to Lincoln Speedway for the Haulmark All-Star circuit of Champions. Thirty-five Sprint Cars strong in the pits made for a great show. Sean Michael ended a dry spell by picking up his first win since Pa Speedweek last year. The real race was behind Michael as Jeff Shepard, Greg Hodnett, Lance DeWease and Jason Johnson waged war most of the race. In the end Hodnett came home with the runner up spot over Jeff Shepard who was losing air in his right rear tire in the final laps. DeWease dropped out with a flat tire with just two laps remaining. Cris Eash raced from his fourteenth starting spot to finish fourth while All-Star champ Chad Kemenah crossed the line fifth. Niki Young, Lance DeWease, Cris Eash, and Jeff Shepard picked up heat wins.
LINCOLN NOTES
Dean Jacobs set a fast time of 13.437 for the night but went backwards in the feature as he was only able to muster an eleventh place finish.....Check out Niki Young's new shirts, they are sharp.....Doug Esh made contact with the turn two wall while racing for the lead in his heat race ending his night as he was unable to start the B-Main.....All-Star racers Kenny Jacobs, Danny Smith, Byron Reed, and Kelly Kinser all opted to stay in Ohio for the weekend rather than make the trip to central Pa.....Lincoln will be back in action this Saturday with a three division show of 410 Sprint Cars, 358 Sprint Cars, and the Thundercars.
More good weather on Sunday as Tri-City Speedway got their second show of the season in. For the second week in a row only fifteen Sprint Cars showed up, and for the second week in a row Ed Lynch Jr. cruised unchallenged for another victory. Last week Lynch was second at Lernerville then won at Sharon and Tri-City. He did the exact same thing this weekend. Rod George was the only car close to Lynch as he came home second while Brian Ellenberger was third in his first Tri-City start. Jason Jacoby finished in the fourth spot followed by Scott Bonnell in fifth. Bonnell and Jacoby won their heats.
TRI-CITY NOTES
Gary Rankin had a motor go up in smoke during his heat ending his night. It was a rough night as Andy McKisson, Ricky Ferkel and Brent Covell also had motor problems.....Scott Groves and Phil Mott both made their first Tri-City starts with Mott finishing eighth and Groves tenth.....After winning the night before Rob Eyler was absent in the Tri-City pit area.....Be sure to stop by www.keystonebreakdown.com for lots of pictures from Sunday nights action.....Tri-City will return to action this Sunday with another five division program along with the Mother's Day Powder Puff Pro Stock race. This weekend look for me at Clinton County, Port Royal and Tri-City>
---
---
4-29-03
Just another cold weekend here in Western Pennsylvania. Ed Lynch Jr didn't mind as he was able to break his string of bad luck and pick up his first feature win at Sharon Speedway and his third overall for the 2003 season. Kevin Andrusky and CW Harshman paced the field for the twenty-five lap feature with Andrusky taking control and leading until lap thirteen when Lynch was able to work his way to the front from his eighth starting spot and get by Andrusky coming out of turn four. Lynch cruised the rest of the way while Andrusky held on for second by just inches over Gary Edwards, and Mike Kekich. Harshman had his best run of the season as he held on for fifth place. Tim Hunter, Jason Jacoby and Nick Daugherty picked up heat wins.
SHARON NOTES: Tim Hunter was in from Central Ohio making his first Sharon appearance. He was dialing in his new 410 motor. Tim said it was by far the best power plant he has ever had. Tim won his heat and finished seventh in the feature. He plans on doing more racing in Western Pa in the near future.....Nick Patterson who usually runs Wayne County Speedway made his first ever appearance at Sharon in his green and white #33 but got upside down in the feature ending his night.....Lernerville winner Ricky Ferkel was running with the leaders till he cut a tire ending his good run.....Sharon will be back in action this Saturday with a regular four division program presented by Tom's Sewer and Septic Service.
Sunday night Tri-City Speedway got their season underway. The Sprint Car count was down a bit with only fifteen cars in the pits. The track was the best I've seen it in some time as there was moisture in the track all night making it a little rough in turns one and two but very fast. Rob Eyler and Ed Lynch Jr. won their heat races. A heads up start put Lynch on the front row for the NorthPointe Automotive Sprint Car feature, Lynch took the lead in the first turn of the first lap and walked away from the field for his second win in as many nights. The 1997 Tri-City track champion from Fremont Ohio, Bobby Clark made his first Tri-City start in several years. Clark started sixth in the feature and made it up to second at the end of the twenty lap affair. 2002 track champion Rod George followed Clark for third, while Rob Eyler slipped to fourth after running second most of the race. Jason Jacoby rounded out the top five.
TRI-CITY NOTES: Erin Crocker and Mike Woodring towed into Tri-City with their 360 Sprints after getting rained out at Attica on Friday and racing in Michigan with the SOD series on Saturday. Crocker took a nasty flip in turn two during her heat but was able to get the car back together to finish tenth in the feature.....Shelia Rankin made her first start of the 2003 season, and husband Gary made his first start in his own #16.....Tri-City will be back in action this Sunday with a regular five division program.
Here in Western Pennsylvania you always hear the debate about what class should run first come feature time. Us diehard Sprint Car fans think the Sprint Cars should run first everytime out, no questions asked. But alot of people think the little guys deserve a chance to go first sometimes too. In Central Pa where most tracks only run two or three divisions its Sprint Cars first every week. But here in Western Pa most tracks run four or five divisions and rotate them so all classes get a chance to run their feature first. I am not going to argue with Central Pa's way of doing things, Sprint Cars first is music to my ears. But here is my idea on how we could do things here in Western Pa. Each week the features for each class would be timed. The division that ran their feature off the quickest, would go first in the feature line up the following week, second quickest would run second, and so on. This way the driver's fate would be in their own hands. I think this is a fair way to run the features here in Western Pa for both the fans and the drivers. What do you think?
Who doesn't love an upset? I know I do, and its been great to see so many this early in the season. Chris Knopp got it all started opening day at Lincoln, then Kevin Drury added his name to the list, then Niki Young got his first win, giving Lincoln three new faces in victory lane. This past weekend not one, but two more upsets were scored. After knocking on the door for so long and making the long tows here to Western Pa each week Ohio's Ricky Ferkel finally got his first career win at the Lernerville Speedway, a track his dad has won many races at. Ferkel had to feel good about his win as it came over Ed Lynch Jr, the all time feature winner at Lernerville. Saturday night it was Port Royal getting in the action as Mark Coldren sat in victory lane for the first time ever after leading every lap of the twenty-five lap feature. Coldren said in victory lane the motor he won with wouldn't even run earlier in the morning. Coldren is a relatively unknown driver in Central Pa as he doesn't have the money of most teams, and never really runs a full schedule anywhere. I got a chance to talk to Mark last season at Lincoln, he is a real nice guy, hopefully this win can open a few doors for this talented driver.
Clinton County Speedway, near Lock Haven Pa will get their season underway this Friday at 7:30pm. 410 Sprint Cars will headline their weekly program there along with Super Stocks, 4-Cylinder Pro Stocks, Daredevils and Enduros. 2002 Track Champion Blane Heimbach is expected to be there to defend his Sprint Car title. Former track champion Daryl Stimeling is hoping to regain the championship in 2003 as he will be in a new ride for the season and will be driving the Chevy powered #98 instead of the Ford powered #30 we are used to. Daryl is excited to be a driver this season and not have the worries that come along with being the car owner too. New clay has been added to Lock Haven oval and everything is a go for this Friday, it should be a great season of Sprint Car racing at the 1/3 mile. Other news from Clinton County is the announcment of the first ever "Free Friday at the Races" Fans of all ages will be admitted into the grandstand area at no cost on Friday night June 6th with June 13th being the rain date. You can stay updated on their website located at www.clintoncountyracing.com
WINNERS & WHATNOT
The Trackside racing radio show hosted by Tim Reeher, Gene Habbyshaw, and Tom Langis now on the web. You can listen at www.nsnsports.com the shows will be kept on record so if you miss one you go back and listen to it later. Trackside aires on WPIC 790 AM every Tuesday at 7pm.....Jim Nier's K-C Raceway will open its doors this Saturday with a three thousand to win double header of 410 Sprints and Late Models.....Rick Lafferty picked up a career best second place finish at Port Royal Saturday, Len Thompson's third place finish was his best for the Crawford team so far this season also.....Fred Rahmer is now O for six at Lincoln Speedway, hard to believe.....Brian Ellenberger was MIA once again, looks like his plans to run all of the All-Star shows east of the mississippi have changed.....Get well wishes go out to Gary Gollub who was injured in a crash at Wiliams Grove Speedway.....This weekend my plans are Clinton County's opener Friday, The Haulmark All-Stars at Lincoln on Saturday night, and Tri-City Speedway on Sunday. Until next time........
---
---
4-21-03
My weekend got off off to a rainy start as I headed to Lernerville Speedway Friday. It skies didnt look good but the rain finally stopped and Lernerville got their show in. Gary Kriess survived a wild sprint feature for his first win of the season. Saturday it was over to Sharon Speedway for their first regular show of the season. it was another wild one with Jarod Larson coming out on top. This weekend looks like Lernerville again on Friday, not sure about Saturday, and Sunday I'll be at Tri-City Speedway as they get their season underway.
---
---
4-14-03
My original plans for the weekend were Lernerville Friday and Attica Saturday, but the usuall cold and wet weather changed that as Lernerville called their show. Williams Grove's Early bird championship also fell victim to Mother Nature. A call to Attica and they were still running so I got a hold of Deon and we headed west. It was clear sailing with the exception to a 20 minute dely in Akron due to a car accident. A stellar field of 52 Sprints were on hand and Chad Kemenah was super fast picking up the win. At the end of the weekend he was the All-Star point leader.
Saturday it was closer to home as I attended Mercer Raceway's season opener. 28 Sprint Cars were on hand and the feature was dominated by Ed Lynch Jr as he started on the pole and led every lap. It got cold and windy after the heats, but a good size crowd braved the elements.
Sunday it was off to Sharon Speedway where the All-Stars made their return with a strong field of 35 cars. Jason Johnson put on a show for the crowd as he drove the Harrison 22 as hard as it would go passing race leader Lance DeWease on lap 19 and led the final 21 laps for the 5000 dollar win. I can't say enough about all the improvments at Sharon. The place is quickly becoming one of the nicest tracks around. The track was super fast, hopefully it will be like that all season.
I've added pictures from Sharon to the main page, and also a link to Scott Grove's new column Sprintfreak's Adventures. Scott will be doing a column from the driver/owner perspective, It should be interesting to keep up with his progress over the season. This weekend looks like I'll be staying close to home with Lernerville Friday, and Sharon Saturday. Till next week, Happy Easter
---
---
4-06-03
Just another crappy weekend here, Snow, Cold, and Rain are becoming the norm, The only two tracks that ran this weekend were Lincoln, and Selinsgrove. Since I didnt get to go to any races Ive been working on the site, ive added some more pics, and working on some other things, Looks like more cold and snow in the forecast this weekend. If it ever clears up, I plan on going to Lernerville this Friday, Attica Saturday for the All-Star show , and Sharon for their opener also featuring the All-Stars. Hope for warm weather!
---
---
3-30-03
It warmed up long enough for Lernerville Speedway to get their 2003 opener in the books this past Friday night. It was "the Apollo Rocket" Ed Lynch Jr. making it look easy as he grabbed the lead from his fifth starting spot by the end of the first lap and led the distance for his first win of the season. Coming home second was the always consistent Jamie Smith, while the Baden Bandit Davey Jones had one of his best runs in some time coming home in the third spot. Gary Kriess returned from the tail of the field to finish fourth ahead of Eric Smith. Ohio invader Tim Hunter was sixth followed by Brent Matus, Gary Rankin, Mike Dehner, and Rich Kominski rounded out the top five.
Lynch's opening night win was his fifty-seventh career win at Lernerville increasing his lead as the all time Sprint winner at the track.....Next Friday will be the first point race of 2003.....Ricky Ferkel and Dan Shetler both had good runs going until they had mechanical problems, Ferkel was running a strong second when his motor let go on lap fifteen, while Shetler was running third when he broke.....Scott Priester, Jack Sodeman Jr., and Brian Woodhall all hope to be racing by next Friday....Bob Walters took a nasty flip in his heat race, he was ok.....Top runners Brian Ellenberger and Rod George both failed to finish the feature.....Jamie Smith and Rod George were both heat winners
---
---
3-25-03
What an awful start to the season its been, this is my first update, i made it to Lincoln for their second show , and Williams Grove's opener, Lance DeWease and Cris Eash were the winners there...More later...
---
---
---
---
www.SprintCarNews.com
---
---