Driver Profile - SHANE STEWART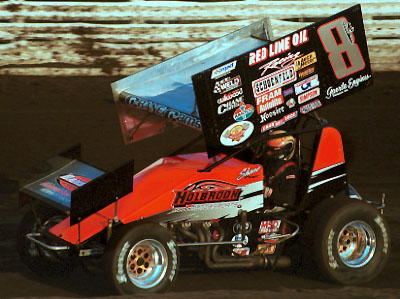 Jim Fisher Photo
Driver - Shane Stewart
Car Number - 8h
Birthday - May 24, 1976
Hometown - Bixby, Oklahoma
Marital Status - Unmarried-Not single
Children - None
Occupation - Race car driver
Hobbies - Being with my family and Kimberly, Riding horses,Riding motorcycles, Stand up comedy clubs, Watching a movie.
Favorite Resturant - Sho Gun (Japaneese Steakhouse in Oklahoma)
Favorite Food - Mexican
Favorite Music - I like a varity of Music
Favorite Band - Dave Matthews Band
Favorite Track - Eldora Speedway
Started Racing - 1/4 Midgets when I was seven years old
Divisions Competed in - 1/4 Midgets, 250 cc Micros, and Sprint Cars
Career Wins - 30 or so (9 so far this season)
Chassis - Eagle
Motor - Gaerte
Sponsors - Autolite, Banshee Graphics, Brodi, Crane Cams, Fram, Gaerte Engines, Goodridge, MPD, MSD, Quarter Master, Pro Shocks, Red Line, Schoenfeld, Simpson, Saldana Racing Tanks, Wilwood, Weld Racing
Car Owners - Holbrook Motorsports, Inc
Crew Members - Craig Stevens, BJ Irwin, Tom Wood
Career Highlights - Several A Feature wins, Tulsa Speedway Rookie of the Year, NCRA Rookie of the Year, (Nominated for Sprint Car Rookie of the Year), making the Knoxville Nationals A feature this year (14th place).
Career Lowlights -I've had several struggles throughout my racing career.
Future goals - Race full time with the WoO.
Racing Heroes - Doug Wolfgang, and AJ Foyt
If you wasn't racing what would you be doing? I'd probably own and run my own resturant.
How long have you been interested in racing and how did u get started in racing?
I've been involved in racing for eighteen years by the encouragement of my father who also raced cars.
Who has had the biggest impact on your racing career and why?
My dad Mike Stewart, and family who always encouraged me to do my best, and has made many sacrifices to help myself and my brother Darren able do what we love.... racing.
Where do you see Sprint Car racing five years from now?
I see Sprint Car Racing becoming more popular, on TV more, a larger fan growth, and better track facilities.
Do you plan on staying in Sprint Cars or would you like to move to another division?
I am satisfied with Sprint car driving but I do not object to advancing to another division of racing if the opportunity arises.
---
Ohio/Pa Sprint car Racing
---