Driver Profile - JESSICA ZEMKEN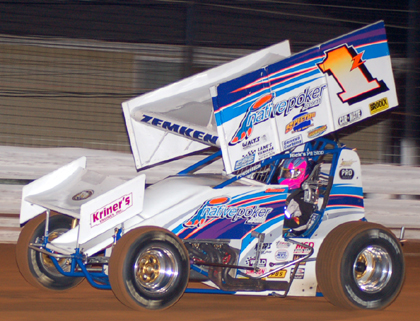 Jessica at Williams Grove Speedway
Name: Jessica Zemken
Birthdate: 5/5/86
Hometown: Sprakers, NY
Marital Status: Single
Family: Mom-Shauna, Dad-Ray
Occupation: Student at Hudson Valley College in Troy, NY
How did you choose your car number? It was my Dad's number
Chassis: Eagle
Engine Builder: Kriner's
Crew: Seeking
Sponsors: Nativepoker.com
Favorite Track: Eldora
Divisions competed in: Karts, Dirt Modifieds, 360 Sprints, 410 Sprints
Years Racing: 12
Wins: over 100 in karts, 16 with Mod and Sprint combined
Championships: 04 Utica-Rome Speedway Sportsman Track Champ
Regular Tracks/Series : 06 Empire Super Sprints
Hobbies: Racing, Swimming, Sports, Snowboarding, Snowmobiling
Favorite TV show: Anything short and sweet, not much for sittin in front of the TV
Favorite Music: Variety
Favorite Band: Nickleback at the moment
Favorite Food: Chicken Wings
Favorite Beverage: Ice Tea
Favorite Restaurant: Outback
Favorite Driver: Smoke
Website: JessicaZemkin.com

When and how did you get started in racing?
My Father raced since before I was born. I grew up at the track, attending my first race when I was 2 weeks old. It was something I always wanted to do from as far back as I can remember. I started racing Karts when I was 8.
Who had the biggest impact on your racing career and why?
Going to watch my dad when I was growing up made me develop the urge to get out there and do it myself someday.
What would you be doing if you weren't racing?
Living in NC working in the marketing department of a racing team. Although if I wasn't brought up around racing I may be living the normal college life like many of my friends. Couldn't really see myself doing anything not race related.
What is your favorite aspect of racing?
The traveling and meeting new people every week
What is your greatest accomplishment/best memory?
Winning a track Championship at 18 and winning my first 360 sprint race in my rookie season with a sprint car
What is the worst thing that has happened to you in racing, or your worst season?
Back when I was 14-17 struggling to make it to the track each week and missing lots of weekends due to lack of finances.
In your own words, describe your 2006 season:
Eventful !!! 2006 went well, It had it's up's and downs. Got to travel more then ever, see and race at tracks that I had either only seen on TV or read about. Two wins with the 360, a top 5 in a 410 with the NST, and a heat win and a top 10 with the WoO. More then I could have asked for in my rookie season. With out the support of my NativePoker.com sponsors none of the 2006 season would have been possible. Thank You!!!
What are your plans for the 2007 season?
Plans are still ALL up in the air. As of October I have no idea what the 07 season will bring or not bring.
Where do you see Sprint Car racing five years from now?
It's where its at!!! One could only imagine?
What is your ultimate goal?
Hard to say honestly. If I was asked at this time last year what I would be doing for the 06 season and where I would expect to be in my racing career I would have never imagined that I would have gotten the chance like I did in the 06 season. Racing sprint cars is something I have wanted to do since I was about 6 years old, when i saw my first sprint car. I got the chance to do that a lot sooner then I would have ever imagined. I would love to get some more laps in a 410 sprint. Someday maybe try going south? Right now every day is a new learning experience. I'm racing, having fun, and loving life!
Anything else you would like to add?
Thank's to Nativepoker.com for their support in the 2006 season. Most of all, I have to thank my family for sticking with me and always supporting me, even when it wasn't easy.
---
www.SprintCarNews.com
---