DRIVER PROFILE - ADAM ZABONICK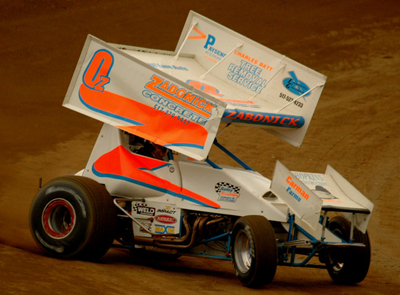 Adan in action at Butler Speedway this season
fscpictorial.com
Name: Steven Adam Zabonick
Birth date: November 5th, 1979
Hometown: Coldwater, MI
Marital Status: Happily married for one year-Together for 10yrs
Family: Wife, Jessica Zabonick and Son, Keavyn Speed Zabonick
Occupation: Work finishing concrete for Zabonick Concrete
How did you choose your car number? My Dad started racing in the 40z car I just lost the 4
Chassis: Maxim
Engine Builder: Bailey High Performance Racing Engines
Crew: Driver of the 40z(Jeff Rankin) Phil and Brice Barber, Jeff Bearbower,Josh Hilyard, Steve ,Brenda ,Jess, and Keavyn Zabonick, and the Rankin family
Sponsors: Zabonick Concrete, Bailey Engines, Lightning Graphics, Batt's Tree Service, Peyseno Builders, and Hopkins builders.
Favorite Track: Eldora Speedway
Divisions competed in: Sprint cars
Years Racing: Going into my 4th year
Wins: 1 A-Feature
Championships: none YET
Regular Tracks/Series: Butler Battlegrounds in Quincy, MI
Hobbies: Racing
Favorite TV show: NASCAR races and Outlaw races
Favorite Music: I like most all, but rock the most
Favorite Bands: Listen to a lot of the Killers, Green Day, and the Foo Fighters lately
Favorite Food: Taco Bell
Favorite Beverage: Red Bull
Favorite Restaurant: Taco Bell
Favorite Driver: Kasey Kahne
When and how did you get started in racing?
About four years ago my dad told me I could put together my own car, one of his old frames so I did and raced it the following year, and was bitten by the bug. Couldn't live without that feeling now.
Who had the biggest impact on your racing career and why?
Two people really. My Dad, Steve Sr. ,first and foremost, for the opportunity and the support. Jeff Rankin is the other person who has made an impact on my racing career. Again because of the support and all the tricks of the trade he has taught me.
What would you be doing if you weren't racing?
I'd be at home with my wife and son.
What is your favorite aspect of racing?
I think that besides winning I like being part of a race team. Our team rocks. Everyone goes above and beyond to make things happen.
What is your greatest accomplishment/best memory?
So far it would be my A-feature win. It was sweet not only to win but to see everyone that backs me so happy. Big confidence and moral booster.
What is the worst thing that has happened to you in racing, or your worst season?
Well this will be my fourth season this year and I don't really think that I've had a bad one yet. As for the worst thing to happen to me, I would say my crash at Eldora. Not because it hurt but because it sucked to have to see everyone have to build me another car in a week.
In your own words, describe your 2006 season:
I had a good 2006 season. I reached a lot of milestones but would say I plan on better years to come.
What are your plans for the 2007 season?
BIG. I cant wait for the next season. We have a little different look this year and I have a little different mindset this year.
Where do you see Sprint Car racing five years from now?
More widely known and more competitive.
What is your ultimate goal?
I'm unsure right now. I do know my first goal. CHAMPIONSHIP
Anything else you would like to add?
Big thanks to anyone that supports the Z Team. It's much appreciated.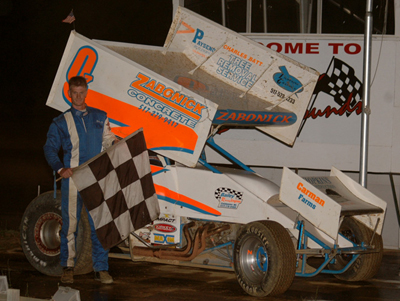 Adan in victory lane after his first career win
fscpictorial.com
---
SprintCarNews.com
---