DRIVER PROFILE - ERIC WILLIAMS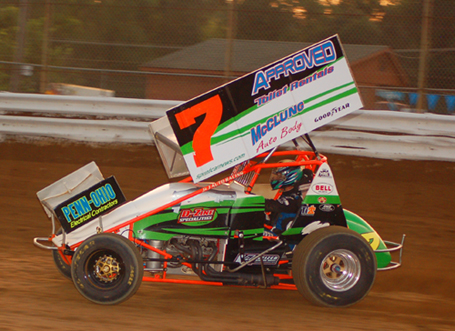 Eric in action at Mercer Raceway Park
Name: Eric Williams
Birthdate: April 8th, 1985
Hometown: Greenville, Pa
Marital Status: Haven't tried it yet
Family: I have a mom and a dad. I also have a couple brothers and they have families
Occupation: Electrician
How did you choose your car number? Someone told me #7 was lucky, they lied....
Chassis: J&J
Engine Builder: HRE
Crew:My Dad, Steve and brother Mike, Richard McClung and Mark Bert
Sponsors: Approved Toilet Rentals, McClung Auto Body, Rentools and Equipment, Penn Ohio Electrical Contractors, Bell Helmets
Favorite Track: I'll take any of them..... Bigger the better
Divisions competed in: 250cc Micros, 1 year in the Greenflag Sprint Division (now warrior sprints) and now 410's
Years Racing: 10
Wins: Never Enough..... 4
Championships:None, I have never raced for points
Regular Tracks/Series: None, I like to go all over.
Hobbies: I ride four wheelers with some friends and like to have a fire in the backyard and drink a couple beers.
Favorite TV show: The Price is Right
Favorite Music: Rock or country
Favorite Food: COCO Wheats
Favorite Beverage: Miller lite
Favorite Restaurant: Pizza Hut
Website: www.ericwilliams7.com
Favorite Driver:I remember being just a lil kid watching Lou Blaney battle it out with Tommy Kristyak every week. One day I saw Lou driving by without his helmet on and I was amazed a man with white hair drove a racecar. Ever since he was always my favorite driver.
When and how did you get started in racing?
When I was 15 my dads girlfriend bought me a micro sprint from a guy they worked with. Haven't stopped since
What would you be doing if you weren't racing?
Saving a lot of money? What fun would that be.
What is your favorite aspect of racing?
The people involved are all, for the most part, good people. .
What is your greatest accomplishment/best memory?
First feature win was pretty exciting
What is the worst thing that has happened to you in racing, or your worst season?
Hmm, leading a feature at Mercer and watching my right rear wheel pass me going through the turn. It broke and, well... I didn't win
In your own words, describe your 2011 season:
Successful on some levels, but not nearly consistent enough.
What are your plans for the 2012 season?
Ask me in November. Time will tell.
Where do you see Sprint Car racing five years from now?
It will still be here provided the tracks don't keep trying to create more divisions to split up the racers into even smaller ones.
What is your ultimate goal?
I wanna win more races!
---
www.SprintCarNews.com
---